The King's reign on Broadway officially came to an unceremonious end on Wednesday, with the New York Rangers buying out the final two years on the contract of longtime goaltender and face of the franchise Henrik Lundqvist.
It was a business move for the betterment of the team's future, and one that didn't come as a surprise. Still, when a future Hall of Famer who was synonymous with the success of an organization is bought out, it's a massive development.
He may find a new home to chase a Stanley Cup before next season, but for now, let's look back at some defining numbers from Lundqvist's illustrious tenure in the Big Apple.
205: The draft pick the Rangers used to nab their future netminder in 2000. Pretty good value for an unheralded prospect out of Are, Sweden.
459: Regular-season wins, the sixth-most in NHL history. Lundqvist's highest single-season win total was 39 in 2011-12.
.918: Lundqvist's career save percentage, the fourth-highest clip in NHL history among goaltenders to play 500-plus regular-season games.
64: Regular-season shutouts, a league-best since his career began in 2005-06.
887: Games played, the eighth-most among goalies. Lundqvist also ranks seventh on the Rangers' all-time list, which spans 94 years.
80: The percentage of first-place Vezina Trophy votes Lundqvist earned in 2011-12. It was the only campaign when he won the award, and over 62 starts the five-time All-Star was more than deserving after posting a .930 save percentage, 1.97 goals-against average, and 28.37 goals saved above average - all career bests.
23,509: Lundqvist's career regular-season saves to date, the seventh-most ever.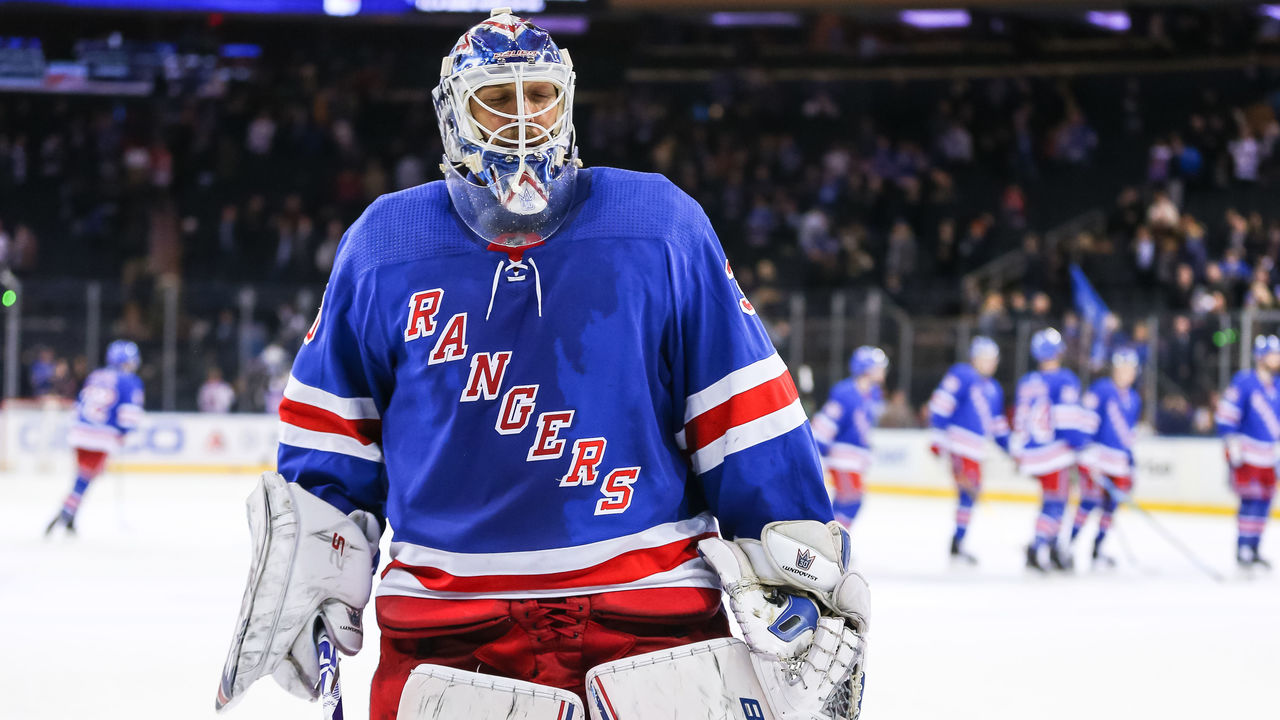 61: Lundqvist's playoff win total, which ranks 12th all time.
.923: Lundqvist's save percentage in the lone Stanley Cup Final of his career. The Rangers fell in five games to the Los Angeles Kings, but Hank played well, stopping 88 of 92 shots across two games after New York found itself in a 3-0 hole.
15: The elimination games Lundqvist won between 2012 and 2015 against just four losses. In those contests, he registered a 1.74 goals-against average and two shutouts.
6: The consecutive Game 7s Lundqvist won between 2012 and 2015, an NHL record.
57.2: The number of wins above replacement Lundqvist has provided since 2007, which is 20 more than the next goalie, according to Evolving Hockey. Over that span, The King stopped 278 goals above expected, nearly 200 more than the next netminder on the list.
$99,283,390: Lundqvist's estimated career earnings, according to Cap Friendly.
30: The next Rangers jersey number to be hung from the rafters at Madison Square Garden.