Inside Marco Rossi's rise and singular drive to reach the NHL
Photo illustration by Nick Roy / theScore
Several times a week for four years, Michael Rossi got home from work in Rankweil, Austria, to find his teenage son's equipment bag placed outside the garage, a silent signal to dad that no night off was ahead. Even then, Marco Rossi didn't take nights off. Suggesting, say, on a drab Tuesday in January that he should rest, kick back, maybe catch a movie with friends, tended only to rile him. Better to load the Fiat Freemont and drive 90 minutes to practice in Zurich, west across the Swiss border in the general direction of the NHL.
"I've always thought since I was younger, if I don't train, I don't get better," Marco said.
"People thought, 'That Rossi father, he's f------ crazy. He's sick, what he's doing,'" said Michael, reflecting on his and his son's nightly commute. "Marco is 10 times crazier than me. He's really a beast, I'll tell you."
Here we have the signature trend of Marco Rossi's hockey upbringing: onlookers questioning Michael's judgment, and Marco, a potential top-five pick in next week's entry draft, acting to alleviate their angst or dispel doubts. As the elder Rossi tells it, they figured Marco wouldn't succeed at each stage of the game that he's surpassed. He was too small to excel against Swiss competition; too young to keep pace with men there at age 16.
Certainly, he couldn't withstand the physicality of the Ontario Hockey League. As it happens, he's now the OHL's reigning MVP.
A 5-foot-9 center from the Alps is hardly the archetype of an elite prospect. Indeed, the unusual story of how Rossi became a junior star - the kind of player who older Canadian teammates swear they look up to, and whose self-assurance at age 19 leads him to swear he can crack the NHL this coming season - originates with those drives to Zurich. Michael's SUV logged close to 500,000 kilometers, and the resolve needed to stick with the dream came into crystalline focus.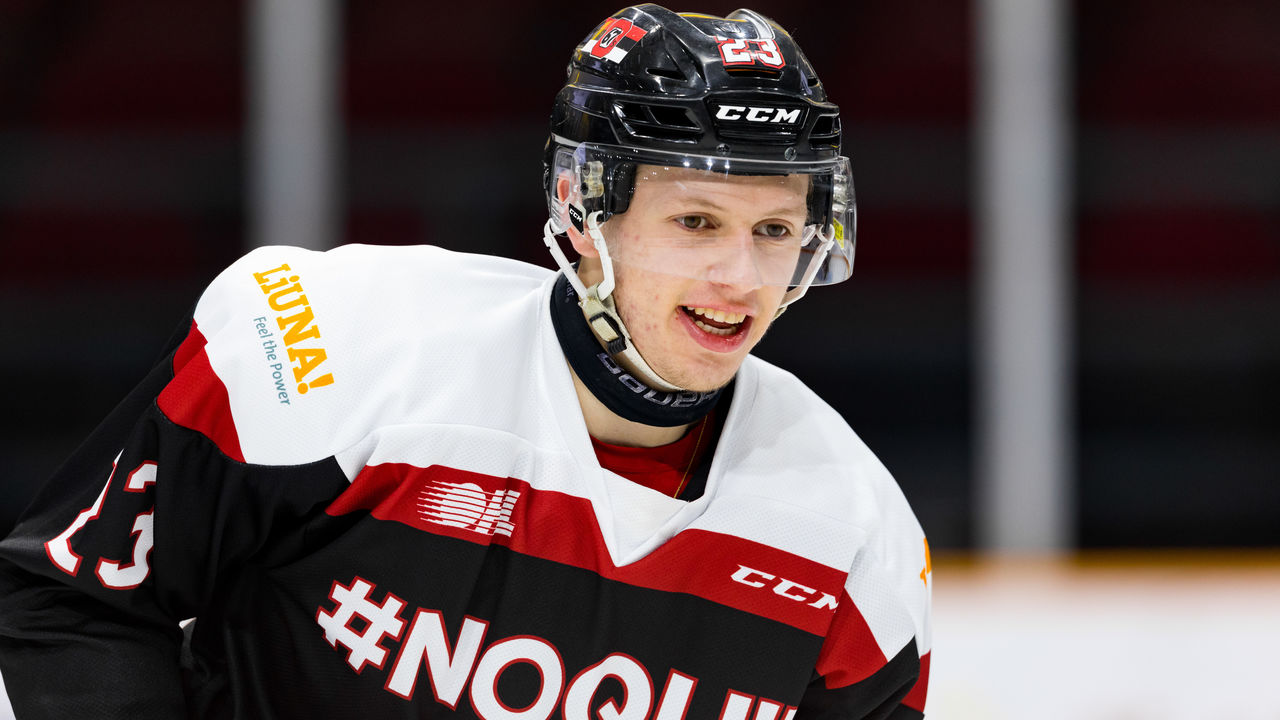 The Rossis required a strict routine to live at home and commit to the ZSC Lions, the Swiss parent club of Marco's youth teams from 2014-18. Marco rose at 6 a.m., shortly after his dad did. He was back from school by 3 p.m. to finish homework and eat. Forgiving traffic patterns and lively conversation - about school, current events, choice memories from Michael's own 20-year pro career - got them to Zurich on time and energized by 6:30.
The retired defenseman stood waiting in the rink hours later with heated pasta or chicken in hand, ready for the return leg that got Marco to bed by midnight.
"Up at 5 again, 5:30," Michael said, "and let's go."
The schedule was a grind and was made more difficult, Michael acknowledges in hindsight, because he lost two jobs in sales during this period. Still, he won't entertain the notion that his participation entailed sacrifice. "You do it (because) you love your kid," he said, and he's adamant about one point: he never pressured Marco to do anything.
Marco confirms this, knowing that bristling at relaxation was his call. He was the one who kept his bag at the ready.
"If you see the mental part, I got so strong," he said, thinking back to the demands of the commute. "I think I'm mentally so strong that nothing can (affect) me."
Once the New York Rangers draft Alexis Lafreniere first overall next Tuesday and Quinton Byfield and Tim Stutzle, in all likelihood, are selected next, several remaining standout forwards will headline the top of the board. Teams may balk at Rossi's height or find another reason to downgrade him to the bottom of the tier, below Cole Perfetti, Lucas Raymond, and Alexander Holtz. Maybe defensemen Jamie Drysdale and Jake Sanderson each go before him. A scenario exists whereby the class' strength pushes Rossi out of the top 10.
If that happens, it certainly wouldn't negate all he's accomplished to date. Rossi was a force for the Ottawa 67s in 2019-20, as his 120 points led Canadian major junior hockey when the pandemic halted the season in March. Members of the 67s and analysts who watched them tend to draw the same conclusion; his potential is that of a future No. 1 center, size be damned.
"You normally would use the phrase 'complete package' with a player who's bigger than 5-foot-9," NHL Central Scouting director Dan Marr said. "But as it is, he's the complete package with skills, smarts, skating, and a competitive game. These are all the ingredients that you need today."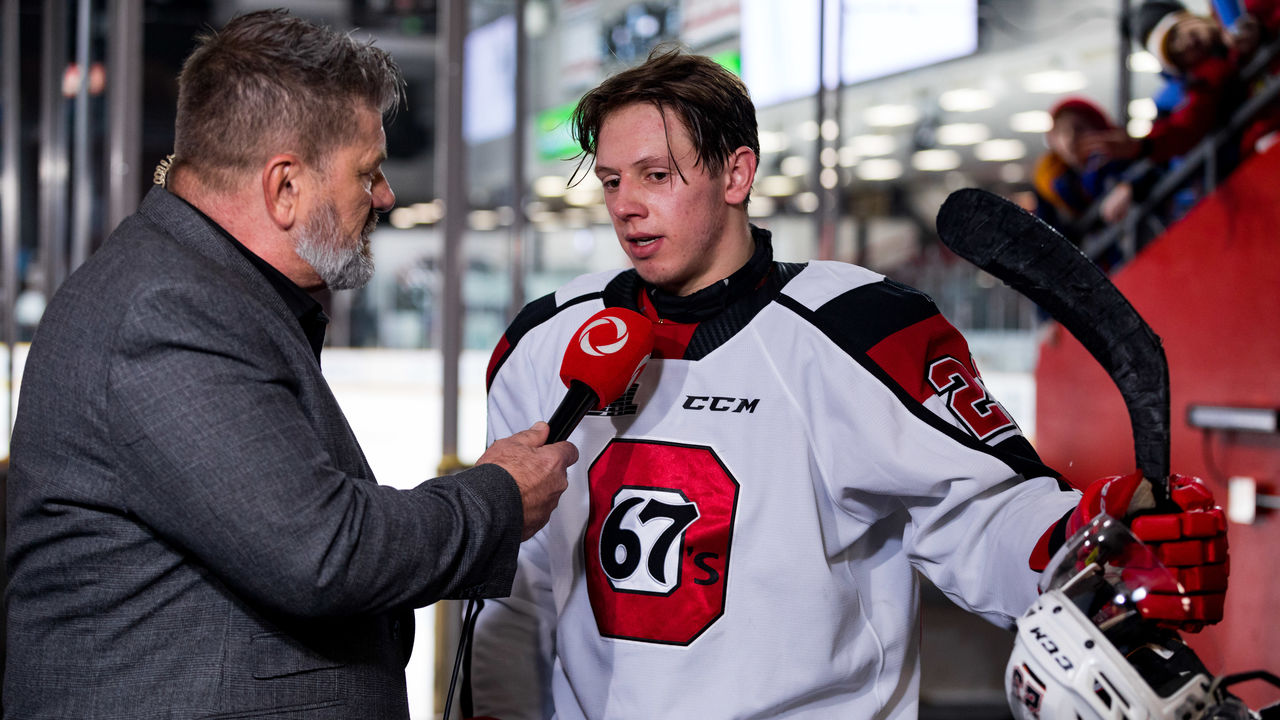 In Rossi's case, those ingredients amount to an astute playmaker who thinks a beat or two ahead of the action, enabling him to tilt the ice in his squad's favor and exploit unseen scoring opportunities. He's a capable shooter and his stride, though not the fastest, is powerful and quick. He defends with gusto, protects the puck with force and leverage, and is a workhorse in all phases of the game. Rossi's idol is Pavel Datsyuk, but his favorite active player is Stanley Cup champion Brayden Point, the best shorter center around.
"I've talked with a lot of people about his size, and some people say, 'Do you think he'll play center (in the NHL)?'" said 67s head coach Andre Tourigny. "I guarantee he'll play center, but one thing I know even more: Whatever he will play, his coach will trust him, because he knows he will be prepared. He knows he will be focused. He knows he will compete."
Rossi's teammates, coaches, and front-office executives rave about four facets of his game: hockey sense, lower-body strength, defense, and maturity and drive. It's worth running through each attribute in turn.
'His brain is just fabulous'
If anyone within the 67s can be said to have discovered Rossi, it's assistant general manager and director of scouting Jan Egert, a Swiss who grew up near Zurich. Egert and Ottawa GM James Boyd were with the OHL's Mississauga Steelheads five years ago when Egert's contacts in the ZSC Lions organization suggested he keep tabs on their top prospect.
Egert listened. He made some calls, cued up footage of Rossi dazzling in the Lions' system, and urged Boyd to be prepared to target him in a future Canadian Hockey League import draft. Before Egert ever tracked him live, Rossi's intelligence and vision were plainly discernible on screen.
"He did things, even when you watch it on video and you slow it down and you stop it freeze-frame, it makes you wonder: How did he do that? How did he come up with that idea? How did he see that teammate or that player in that situation? How did he know to change that angle to give himself a better opportunity to make a play?" Egert said. "All those innate things, Marco showcased those assets when he was 14, 15 years old."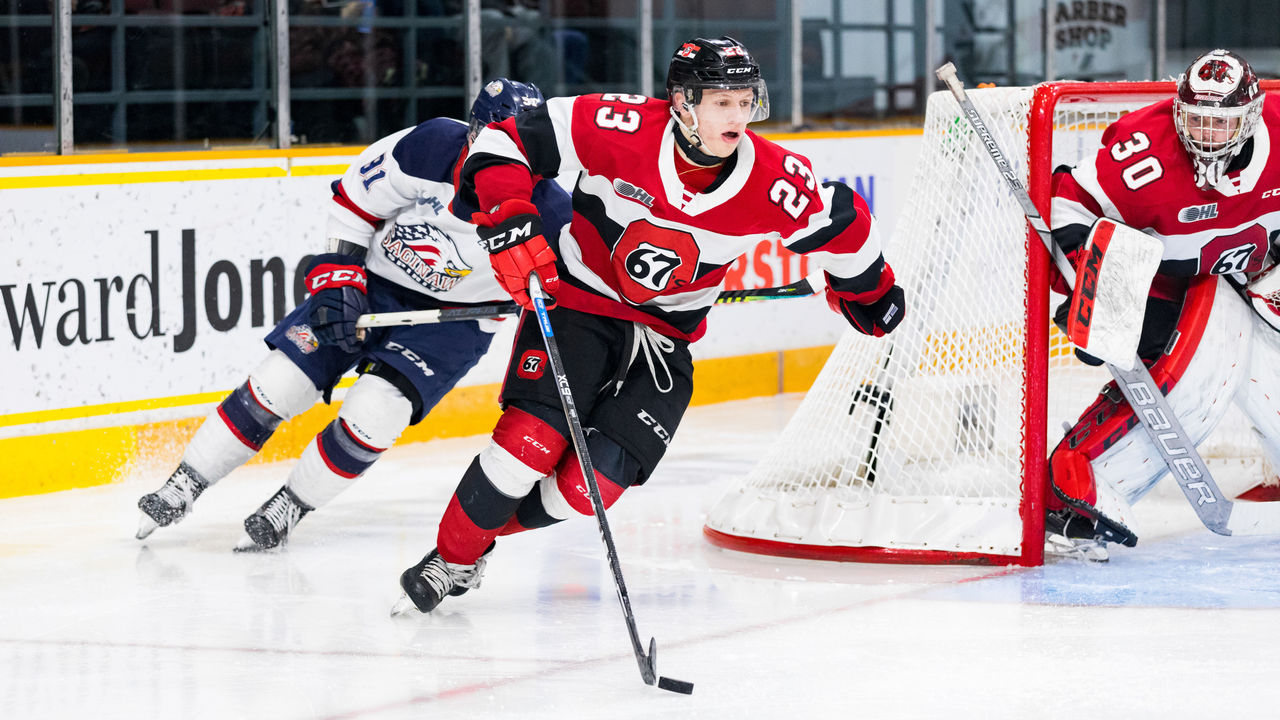 Rossi continued to showcase his playmaking chops in Ottawa, where bench staff and former linemates alike marvel at how he reads sequences and dictates offense. "His brain is just fabulous," Tourigny said.
"He can get (passes) over two, three sticks like it's nothing," said Austen Keating, Rossi's left winger for two years, contextualizing how Rossi slung an OHL-best 81 assists in 56 games last season.
Rossi notched a point in 52 of those 56 games. He tallied at least three points 23 times. The numbers substantiate a startling claim from his father: that he can count on one hand the bad games he's ever seen his son play.
"Marco is good any Friday night, any Saturday night, any Tuesday morning practice," Tourigny said. "His consistency, not just game to game - shift to shift in a game - is almost perfect."
Slackline strong
In an interview during the NHL playoffs, Mark Seidel, director of the independent North American Central Scouting agency, observed something about the rigors of the postseason: Guys have to play remarkably hard to make a positive impact. He connected the thought to his faith in Rossi; some shorter forwards who score prolifically in junior stagnate as pros, he noted, when they're hesitant to leave the perimeter, muck about in traffic, and attack the net.
The knock doesn't apply to Rossi, Seidel said: "This kid has no fear."
Rossi wins battles and makes plays through contact at 5-foot-9 because of his balance and build. His legs are trunks, his center of gravity is low, and his weight is listed at 183 pounds on NHL Central Scouting's final draft rankings. When Rossi asserts that no one can knock him off the puck, that includes Serron Noel, the 6-foot-5, 216-pound Florida Panthers prospect whom he flipped over his back as an OHL rookie.
Unorthodox training methods have helped. In addition to deadlifting and running hill sprints in the Alps, Rossi has tweeted throughout the long offseason videos of him squatting on exercise balls and walking, turning, and landing jumps on slacklines.
"I would never be able to do that in a million years," Keating said, adding, "You wouldn't expect him to be that strong in the corners, especially with the amount of skill he has. But when you dump the puck in, he's going to be the first guy in the corner, making a hit, making a play, grinding it out."
200-foot player
To the extent that plus-minus is a useful stat, it's telling that Rossi's plus-69 rating last season was one tick shy of the OHL record. On a 50-11-1 juggernaut, the Austrian wasn't merely the Ottawa offense's driving force. He didn't shirk his defensive responsibilities, either.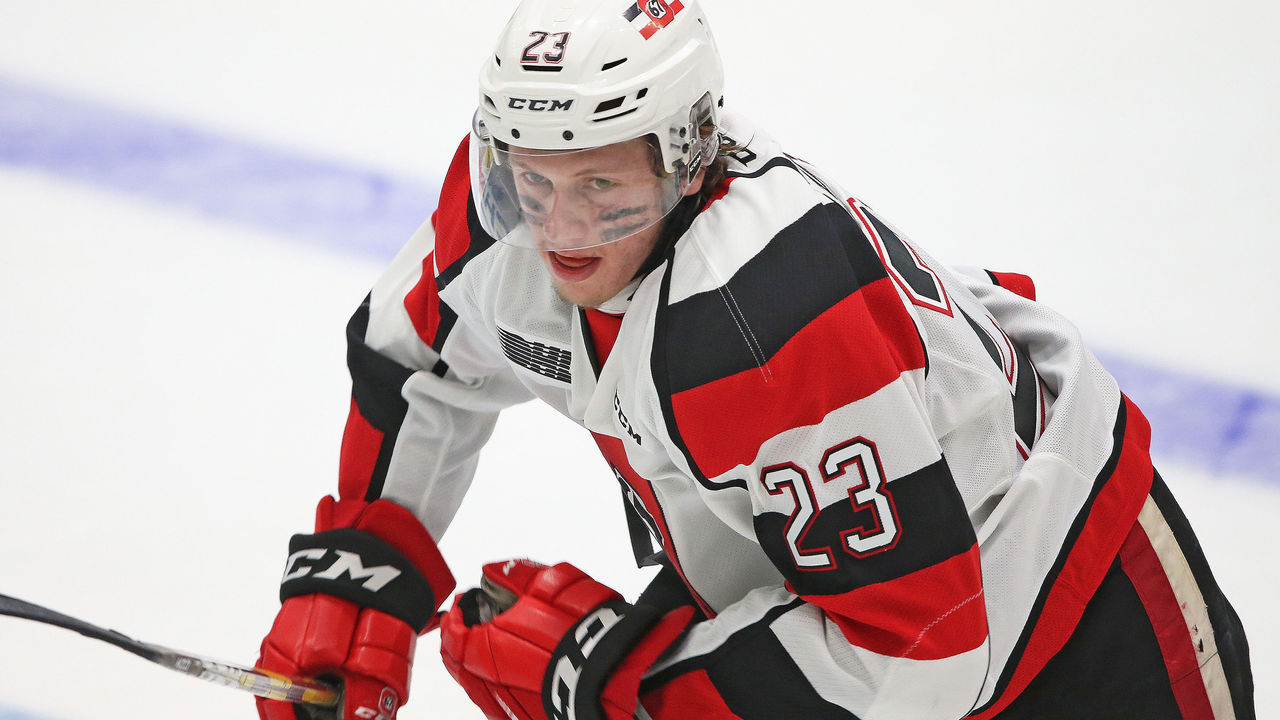 Rossi attributes his attentiveness at that end of the ice to two inspirations. One is Datsyuk, whose Selke Trophy-caliber backchecking and doggedness shone through on the YouTube highlights Rossi binged as a kid. The other is his dad, a stay-at-home rearguard in his playing days who convinced his son that defending with discipline is a surefire way to regain possession.
"To tell a kid who's 8, 9, 10, 11, to play in the defensive zone, it sounds very, very boring. It is," Michael Rossi said. That Marco applied the advice nonetheless won the notice of his coach in Ottawa. Tourigny praises Rossi's willingness to forgo undue risk in order to maintain sound position, which is key to thwarting any possible opposing rush.
"In the NHL, you'll see Sidney Crosby stopping on top of the puck. You'll see Jonathan Toews doing that. Marco already does it," Tourigny said. "He takes as much pride in his defense as his offense. When you're 30 years old, I can see that. When you're 17, 18 years old, it's rare."
Influence beyond his years
Keating and Noel Hoefenmayer, another recent 67s alumnus who signed an AHL contract in the offseason, brought up in separate interviews the peculiar dynamic that shaped their final years in Ottawa. They looked up to Rossi, who's 30 months younger than each of them.
Rossi, they say, has long acted like a consummate pro even as he waits to get paid like one. Teammates take cues from his habits at the rink, in the gym, and elsewhere. He works hardest in battle drills. He eats well and, his dad noted, abstains from alcohol to remain in tip-top shape. He locks in to whatever task is at hand with striking, contagious focus.
"Whatever he did or he said went," Keating said. "It didn't even matter that he was an 18-year-old and 21-year-olds were on the team. That's just the amount of respect he (commanded)."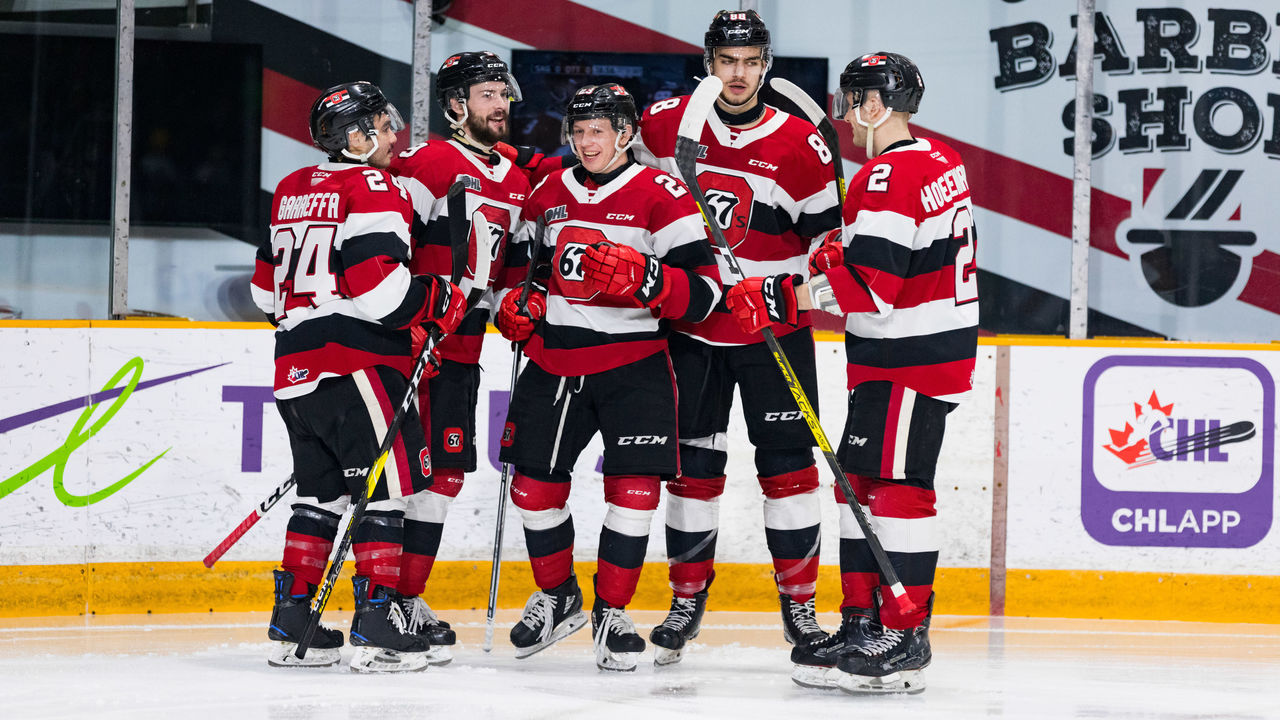 Stories from across the pond evince Rossi's quiet confidence and the impression he leaves on those around him. In 2017-18, he dressed for 18 games with the GCK Lions in Switzerland's second pro division, a wunderkind promoted to face men. Current Lions coach Michael Liniger, who was 38 at the time and about to retire as a player, recalls a clarifying moment from the lone game he skated alongside Rossi: the 16-year-old, devoid of apprehension, nonchalantly excusing Liniger for missing a pass.
Forced to wait longer than expected for his draft day and debut training camp, Rossi opted against signing in Europe this fall, anticipating he'll be in the NHL whenever the 2020-21 season begins. His family and his agent, retired forward Serge Payer, are hardly Rossi's only believers. Marr, the Central Scouting director, said Rossi's maturity suggests he's closer to making the show "than he is having to bide his time and develop."
In recent weeks, Rossi has remained sharp by skating with a couple of Austrian pro teams and his old club in Zurich. Consider it a throwback to his roots as he awaits the breakthrough he figures is imminent.
"Marco's going to be an outstanding NHL hockey player," said Egert, the 67s executive. "He wouldn't allow himself not to be."
Compared to Switzerland, let alone any traditional hockey power, Austria's NHL track record is negligible. Seven born-and-bred Austrians have seen ice time, none before 2002, and just three - Thomas Vanek, Michael Grabner, and Michael Raffl - have managed to stick in the league for several seasons. Until Tuesday night arrives, Grabner and Andreas Nodl, members of the class of 2006, will remain the country's most recent draft choices.
It's with relief and eagerness, then, that Roger Bader, head coach of the Austrian men's national team, expresses his hope that a record handful of homegrown prospects will be selected next week. Thimo Nickl, a mobile defenseman who plays in the Quebec Major Junior Hockey League, may be worth a look by the third round. QMJHL center Senna Peeters has an outside shot at going late. Might a team take a flier on Benjamin Baumgartner, a 20-year-old center from Swiss club HC Davos?
Bader's aspirations for Rossi, the jewel of the cohort, are ambitious in the short and long term. Bader pulls double duty as the Austrian hockey federation's director of national teams, and in December, Austria will return to the world juniors having toiled in the second tier since 2011.
Maybe Rossi joins his Under-20 counterparts in the IIHF's planned Edmonton bubble. Maybe he's entrenched by then in the pros. Rossi says he upped his stamina and explosiveness to new heights this offseason. He trusts his psyche, curiosity, and experience; how he's already matched up with men double his age and asked the likes of Liniger endless questions, as he did of his dad on so many Zurich-bound drives.
"I see no big problem going to the NHL right now," Rossi said. "I'm not underestimating the league or anything like that. I know it's a really good league. But I have a lot of confidence, and I know how good I am."
He has another backer in Bader. The NHL is where the national coach envisions Rossi elevating the game back home.
"I felt this when Mark Streit (became one of) the first NHL players from Switzerland," said Bader, who is Swiss himself. "He had a good career. Many Swiss guys wanted to do this, and at the moment we have about 15 players in the NHL.
"We hope that if Marco plays regularly in the NHL, it'll be a good example for young (Austrian) kids to work hard," he said. "They can make the step."
Nick Faris is a features writer at theScore.
Comments
✕
Inside Marco Rossi's rise and singular drive to reach the NHL
  Got something to say? Leave a comment below!