Carter Hart has aced the start to his playoff education
The last time Carter Hart lost a playoff series, he had no chance to save the deciding goal.
Game 6 of the 2018 Western Hockey League final was scoreless when Hart's visiting Everett Silvertips took an early slashing penalty. The Swift Current Broncos had moved within a win of the title by occasionally making good on the measures an opponent tries against a star goalie: crowd his sightline with screens; pass with zip instead of lollygagging with the puck; force him to move laterally and hope he's a beat slow to the far post.
Hart - Canadian major junior's two-time netminder of the year - logged a .947 save percentage in 2017-18, his last season before he graduated to the NHL, but the Broncos' power play was ruthless. Swift Current made two passes in the slot to discombobulate the defense, sandwiching Hart between teammates. Broncos center Giorgio Estephan had an open net to pot the eventual winner, an opportunity he knew to cherish.
"Any team that underestimates (Hart's) ability is in for a rude awakening," Estephan said over the phone. "Any team has to get to him to win a game, to win a series. It proves the elite status that he's definitely come into."
Elite sure describes the rarefied level to which Hart - who turned 22 earlier this month - has ascended in his debut NHL postseason. He's racked up a .935 save percentage in 10 starts for the Philadelphia Flyers and a .953 mark at even strength, historic numbers for a young goaltender and an affirmation that few goalies of any age can match his form right now.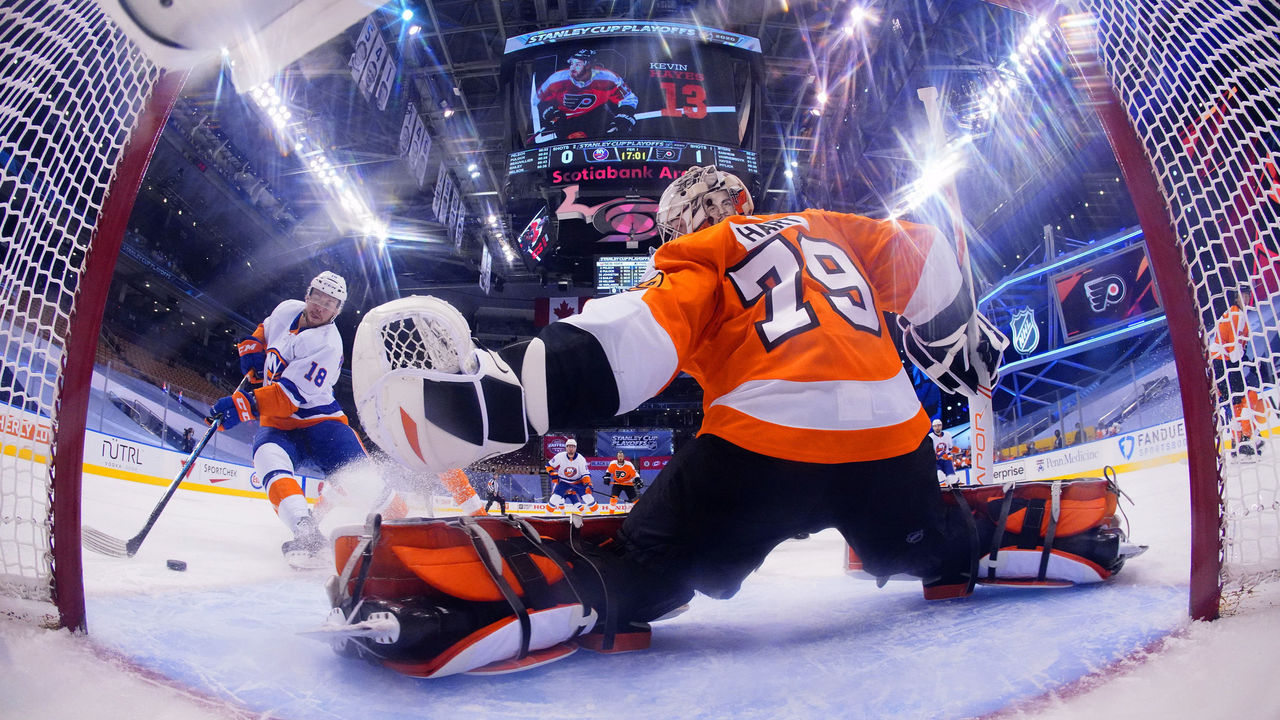 Hart and his defense held firm while Philadelphia's offense struggled against the Montreal Canadiens, and they've kept the team in position to seize control of its second-round matchup with the New York Islanders. The netminder's playoff education will continue in Game 3 of the deadlocked series, now set for Saturday night after NHL players joined the sports world's mass walkout to protest racism and police brutality.
Not all of Hart's outings have gone to plan. He was blown out once by the Canadiens, and he didn't inhibit a 4-0 New York rampage in Game 1 or stymie the Islanders' three-goal comeback that forced overtime in Game 2. Yet, going back to the seeding round when the Flyers surged from No. 4 to the East's top seed, Hart's reliably afforded his club chances to win.
"He's obviously very talented and his track record speaks for itself, but maybe the most impressive thing about Carter is if he gives up a bad goal or a game doesn't go as well as he wants it to, he just has this uncanny ability to bounce back," Flyers general manager Chuck Fletcher said ahead of the Islanders series.
"As he continues to grow, he's going to give us a chance to be competitive here for a while."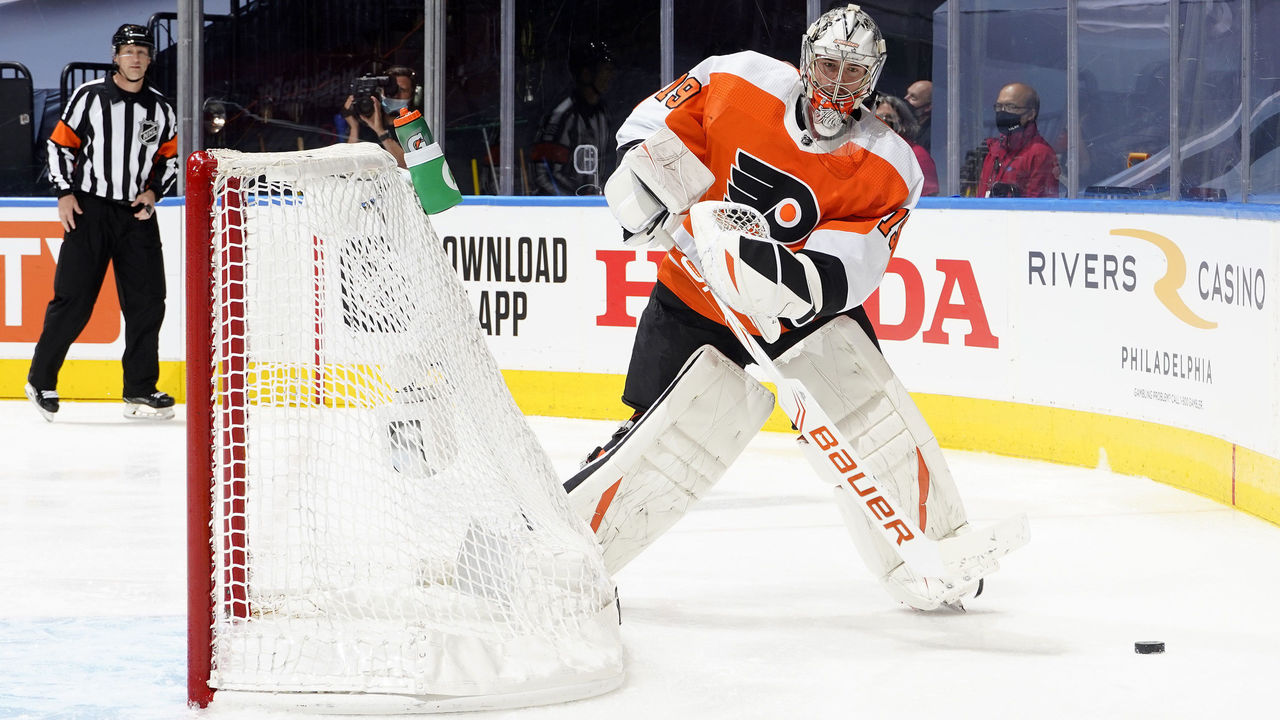 Rarely in recent decades has a Flyers goaltender instilled such confidence. Since Ron Hextall retired in 1999, 29 goalies have cycled through the Philadelphia crease, including the eight - Hart among them - who appeared last season, setting an ignominious league record. Few were memorable, though Roman Cechmanek was the Vezina Trophy runner-up in 2000-01.
Even when Philly reached the 2010 Stanley Cup Final, the Flyers had to endure a Michael Leighton-Brian Boucher carousel. It's not for nothing that Hart's showing has invigorated the lone player to backstop the franchise to championships.
Hart's emergence as Philly's No. 1 in 2019-20 - and what he's done in the Toronto bubble - is both a massive development for a team with a 43-season Stanley Cup drought and a confirmation that he's historically precocious.
The NHL's next-youngest regular starter this season, the New Jersey Devils' Mackenzie Blackwood, is 20 months older than Hart. Only two younger goalies saw any action whatsoever: Cayden Primeau started twice for Montreal and the Vancouver Canucks tapped Michael DiPietro for eight minutes of relief work.
As for Hart's rise in the bubble, only three other goalies aged 24 or younger have posted a save percentage above .930 across 10 or more postseason games, according to Stathead.
| Goalie (age) | Season | Team | GP | SV% |
| --- | --- | --- | --- | --- |
| Matt Murray (23) | 2016-17 | Penguins | 11 | .937 |
| Braden Holtby (22) | 2011-12 | Capitals | 14 | .935 |
| Carter Hart (22) | 2019-20 | Flyers | 10 | .935 |
| Marc-Andre Fleury (24) | 2007-08 | Penguins | 20 | .933 |
"I met him when he was 14. I watched him come into the WHL at age 15 and win games," said Shane Clifford, Hart's former goalie coach with the Silvertips. "It's hard to do everything that he's done. But when you just watch him and see how focused he is, it doesn't really surprise me."
Both Clifford and Mario Petit, Hart's backup goalie in Everett from 2015-17, painted a picture of how Hart's fastidiousness and uncommon discipline got him to this point.
"Everything that you can do to be ready to go stop a puck, he does," Clifford said.
In junior, Hart would start four games in five days and wake up to jog on the sixth morning. Before sleeping early on nights off - by 9 p.m., according to Petit - he'd power down his phone and stretch.
"There's not another kid under 20 or 21 that does (that) in the country," Clifford said.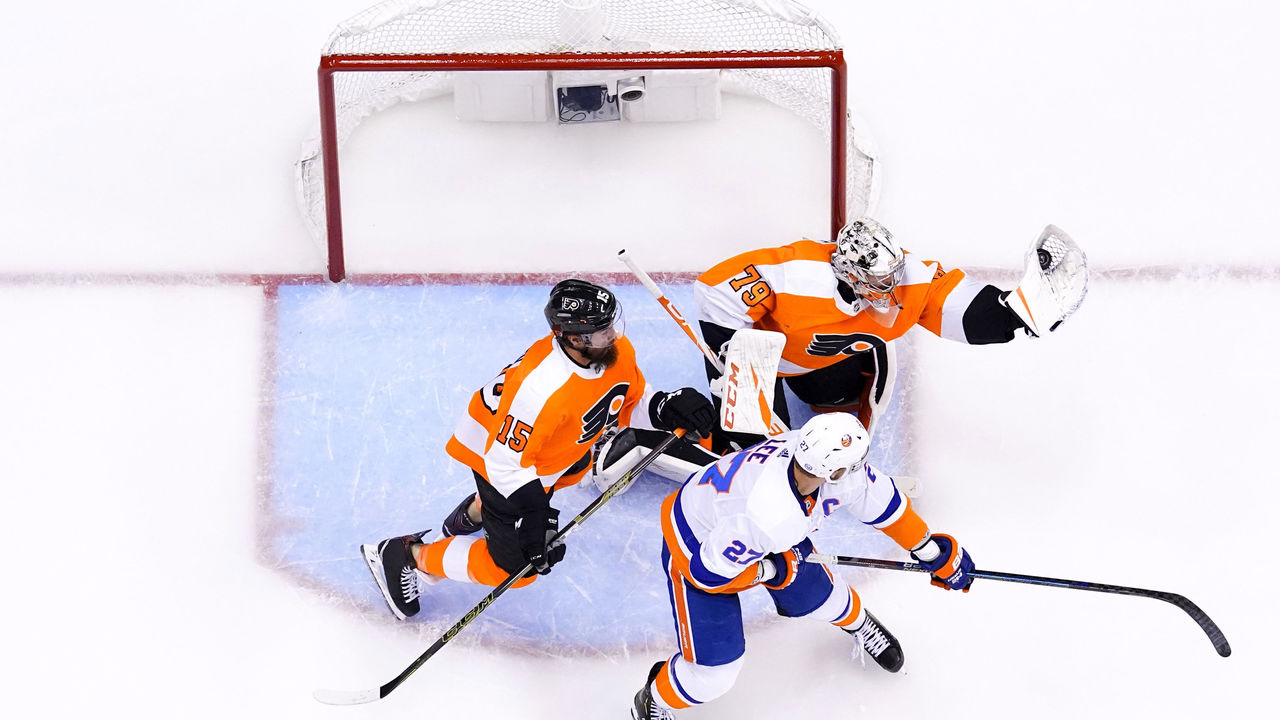 Rooming together on the road gave Petit firsthand knowledge of Hart's myriad routines.
"I'd see every single step," Petit said, from Hart's tendency to pack the same shirts to how he'd lie in bed and watch comedy clips - "Key & Peele," "South Park," some "Saturday Night Live" - while Petit tried to nap pregame. ("I'm sure the other rooms could hear him laughing," he said.) At the rink, Hart sat in the same seat in the stands to lock in and visualize before he donned his gear. He listened to the same songs at particular points on the game countdown clock, synced to the second.
Petit recounts these quirks in service of a larger point: Hart is money under pressure, partly because his preparation and mindset remain constant no matter the situation.
"He's just calm," Petit said. "A lot of younger goalies, you don't really see that."
Hart displayed that steadiness to open Game 2 against the Islanders after showcasing his wizardry with the glove - like in the above denial of Brock Nelson - in the Flyers' Game 1 loss. He made a few big stops that kept New York off the board as Philadelphia raced to a 3-0 lead. Ultimately, his 31 saves, tied for the second-most he's recorded in the playoffs, were enough to preserve the club's impressive streak of avoiding consecutive losses. That hasn't happened since Jan. 7.
"This group has been very competitive, very combative," Flyers head coach Alain Vigneault told reporters after Game 2. "When we've lost a game, there's been an extra sense of urgency and preparation."
That Hart has brought the urgency is of no great shock to Estephan, the former Swift Current playoff hero who now has two ECHL seasons under his belt. Estephan is from Edmonton and Hart is from nearby Sherwood Park; the Albertans had mutual friends growing up and Estephan has shot on Hart in the summer. In what would appear to be a casual setting, Estephan says Hart doesn't treat it as such.
"There are times when you're going into a battle even playing in the offseason, just trying to score a goal on him," Estephan said.
The premature conclusion to the 2019-20 minor-league season ended Estephan's personal championship run, which began with that 2018 defeat of Everett and continued last year when he raised the Kelly Cup with the ECHL's Newfoundland Growlers. His takeaway after a point-per-game sophomore campaign: he's discovering how to contribute to winning at different levels.
"It's the same premise of team success and how you need to play," Estephan said, indirectly establishing another link between himself and Hart. "That's something I'm fortunate enough to have been able to learn earlier in my career."
Nick Faris is a features writer at theScore.
Comments
✕
Carter Hart has aced the start to his playoff education
  Got something to say? Leave a comment below!