How Mathew Barzal's dynamism is helping the Islanders shine
Brendan Burke, the television voice of the New York Islanders, turned to Twitter last week to enlighten the hockey-watching public about the pitfalls of narrating playoff action remotely.
No team broadcaster is inside either NHL hub city; a central feed transmitted from Toronto to MSG Networks' Manhattan studio is Burke's view to all live goings-on at Scotiabank Arena. That's how he saw Islanders winger Jordan Eberle rush the center line in overtime of Game 3 against the Washington Capitals - the setup for what he thought was just a garden-variety dump-in.
Burke is used to hailing the presence and proficiency of Mathew Barzal, the 23-year-old center whom we now know was standing at the blue line to accept Eberle's pass and score the game-winner. The same can't always be said for his opponents. For a noted speed demon (not even Connor McDavid could edge him during the All-Star Weekend's fastest-skater event), Barzal is slippery, too: he eludes the notice of a distracted defender and is quick to prey on their preoccupation.
It's an invaluable tool at this advanced stage of the postseason, as Barzal headlines a roster that's unexpectedly reached the second round in consecutive seasons. That's nothing to sneeze at, given the legends whose title aspirations the Islanders have snuffed en route - Sidney Crosby in 2019 and Alex Ovechkin this month - and the depths to which they slumped before Barry Trotz's hiring as head coach.
The Isles were the NHL's shoddiest defensive team when Barzal was a rookie. Now they're firmly among its most stout, and in a workmanlike lineup that has smothered rival offense all playoffs, Barzal is a rare dynamo, the kind of element that, if needed, could swing a series against the comparatively stingy Philadelphia Flyers.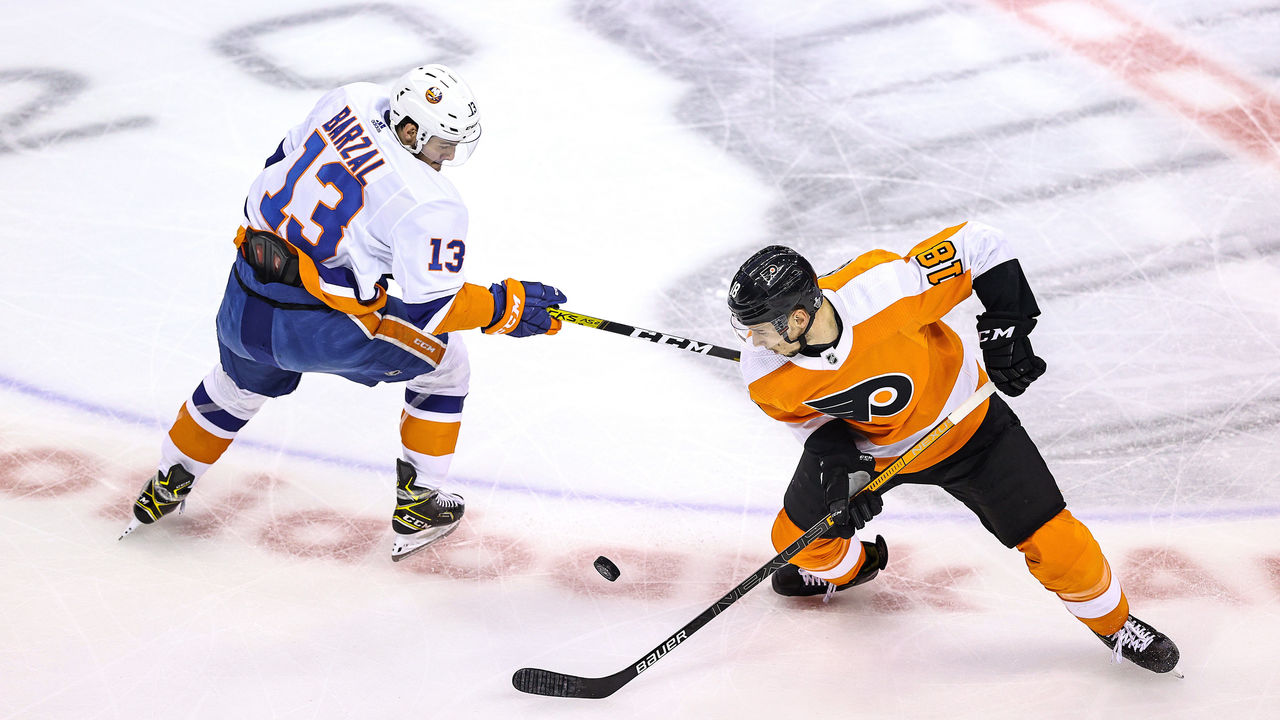 Barzal's verve has helped complete New York's transformation into the turnaround team of the Eastern Conference bubble. It's easy to forget the Islanders endured a terrible end to the regular season; they lost seven games in a row and 11 of their last 13 when the onset of the COVID-19 pandemic paused the season in March.
The NHL's reset was a reprieve. No one has touched the Islanders in Toronto, a trend that continued with Monday's 4-0 Game 1 win. Through 10 playoff contests, the Isles have outscored the Flyers, Capitals, and Florida Panthers 34-15 overall and 21-6 at five-on-five, aided tremendously by the return of No. 1 defenseman Adam Pelech from his Achilles injury and Semyon Varlamov's .965 even-strength save percentage.
Philadelphia's Carter Hart is the active starter with the closest mark (.955) to Varlamov's at even strength, portending the likely dearth of goals in this series. With Anthony Beauvillier, Jean-Gabriel Pageau, and captain Anders Lee contributing a combined 15 playoff tallies, Barzal is hardly New York's only answer, too. But he's led the Isles in scoring his whole career, starting with the 85-point campaign that won him the Calder Trophy in 2017-18.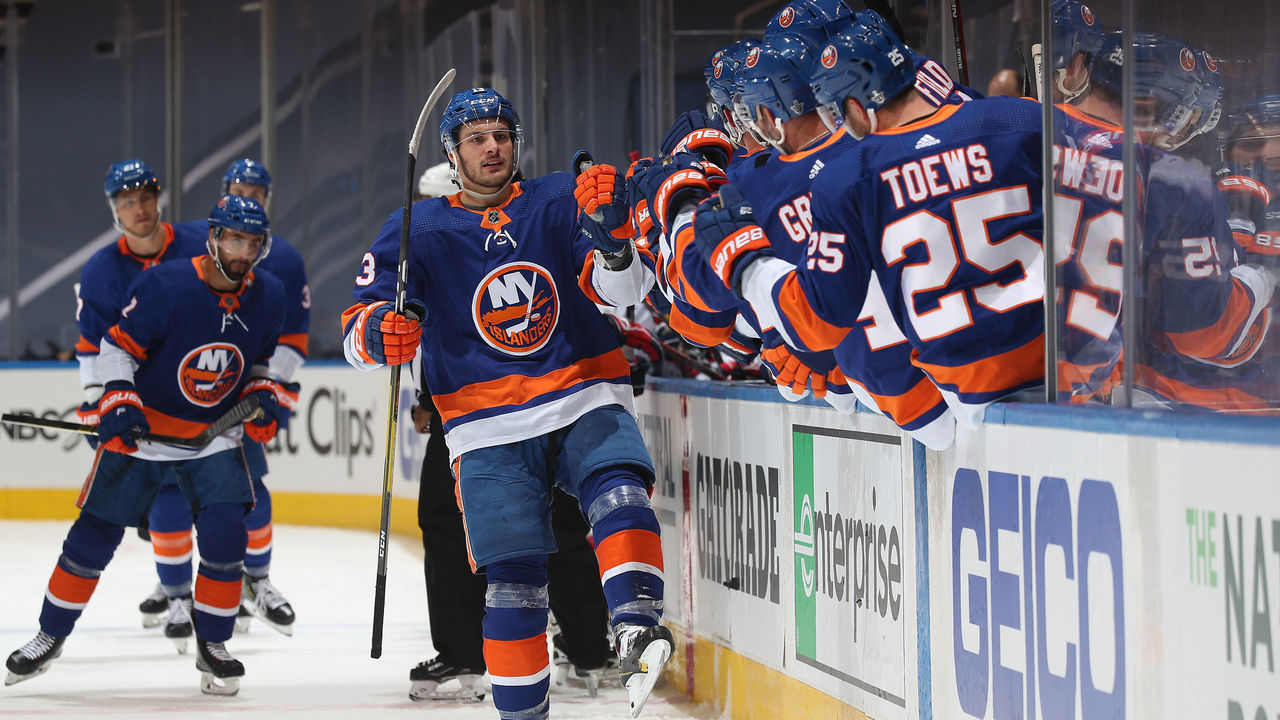 "Just like it does for any other team that has a dynamic young man up front, (Barzal's offense) gives you more balance. It makes you more dangerous. It makes you a deeper hockey club," Trotz said ahead of the Flyers series. "If he's having success or if he's not having success, that dictates your level of anxiety on the bench for your team."
"When (Barzal and his linemates) move up the ice, special things happen," Islanders defenseman Scott Mayfield said. "He's one of my favorite players to watch out there."
Barzal has always been a scorer. When he was 15, he racked up 103 points (three per game) at the Under-18 AAA level in Vancouver, according to his Elite Prospects profile. By nightly average, his 79 points in 41 games (1.93 PPG) for the 2016-17 Seattle Thunderbirds is a top-10 mark this century in the Western Hockey League. That Thunderbirds squad won the WHL championship, a fine coda to his junior career that segued into his Calder Trophy campaign.
New York's philosophical reset under Trotz has curtailed Barzal's numbers, but even airtight defensive units still need to score, and his bountiful offensive arsenal - the capacity to stickhandle, pass, rip shots, and fly around the ice - is undeniably an asset. When a blocked shot, forced turnover, or successful puck battle secures the Isles possession, they rely on Barzal to make things happen from there, as these regular-season stats attest:
Barzal averaged 20:03 in overall ice time and 17:24 at even strength, most among Islanders forwards.

His 20 primary assists at five-on-five tied for fifth in the NHL among forwards, according to Natural Stat Trick.

At five-on-five, Barzal tied for 15th among forwards in high-danger shot attempts (71), tied for 21st in penalties drawn (17), and was second to only Auston Matthews in takeaways (66), further exemplifying his ability to track down the puck and wreak havoc with it.

However, he also led all forwards in five-on-five giveaways by a wide margin, conceding 80 to Mathew Tkachuk's second-place 67. Such is the burden the habitual puck-handler bears.
To review Barzal's playoff production, meanwhile, is to find that he's driving the offense within the Isles' trusty system. All eight of his points have come at even strength - a team high and saving grace for New York's scuffling power play - and most were the product of counterattacks he took the initiative to create.
In Game 4 of the play-in round against the Panthers, Barzal (No. 13 below) lurked at the far blue line - similar to the way he did against Washington in OT - to spur a quick breakout, take a stretch pass, and spring Beauvillier with a pretty saucer feed.
Later that game, Barzal punished Keith Yandle's ill-timed and fruitless pinch by outracing Mike Hoffman - a speedster himself - for the puck and inside position as he bore down on Sergei Bobrovsky.
In Game 4 against Washington, Barzal spearheaded a rush during an Isles line change and outmaneuvered several defenders and Braden Holtby in another display of his transcendent handiness and footwork. (Nice return pass from Nick Leddy, too.)
In Game 1 against the Flyers, Barzal hit his opponents in transition, hustling to stretch the Philadelphia defense and deliver a perfect pass on the move to an open Lee.
"We've been following his goals and his assists pretty closely to show to our guys the way that he uses the open ice to be able to attack the opposition blue line with speed," Thunderbirds head coach Matt O'Dette, an assistant on the Seattle staff throughout Barzal's time there, said in a recent phone interview.
"It's very difficult for the defense to handle that type of speed he has," he added. "Combined with his vision and playmaking abilities, that's a tough assignment for any pair of defensemen."
Shortly before New York bumped his team from the bubble last round, Capitals blue-liner Nick Jensen explained during Zoom media availability what has to be done to keep Barzal in check: defenders have to respect his skills but remain ready to exploit his tendency to turn the puck over. If he can be thwarted long enough and is inclined to force the issue, that might beget offense the other way.
"But it's a double-edged sword," Jensen said. "You've got to make sure you keep him from getting those scoring chances and make sure you're playing very defensive against him to get him frustrated first."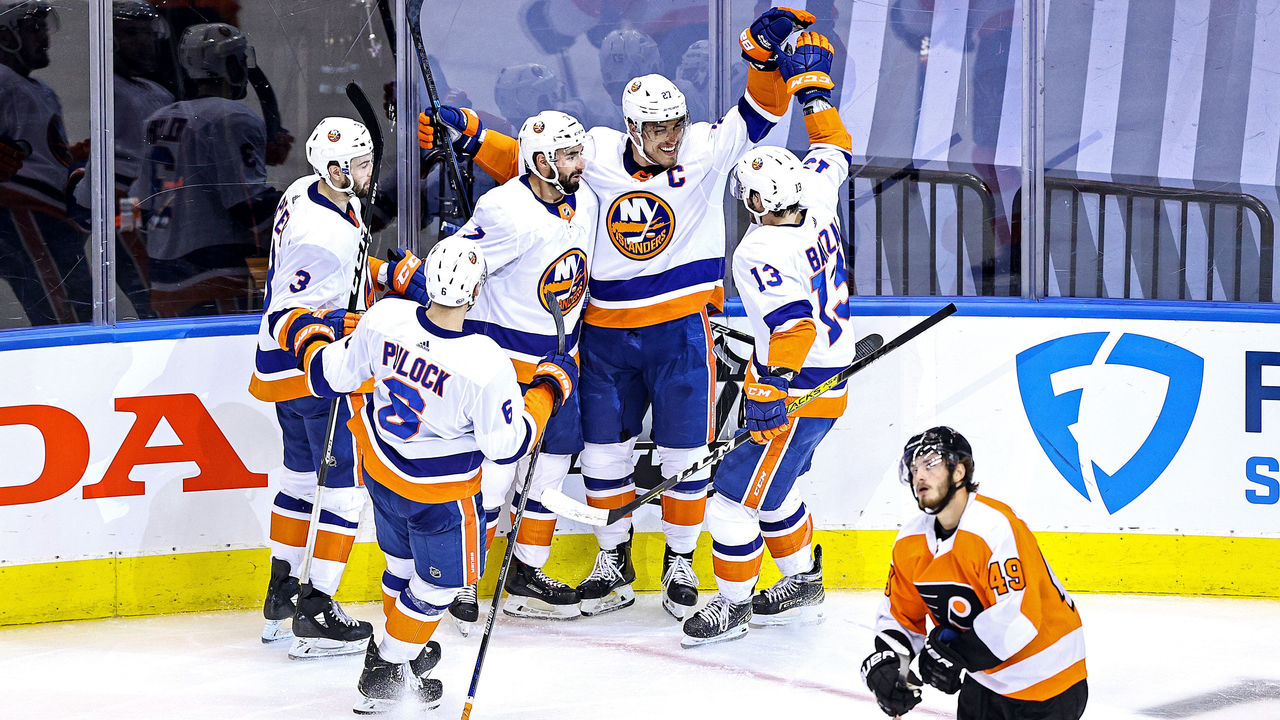 Lee's goal notwithstanding, the Flyers' top pair of Ivan Provorov and Matt Niskanen played well against Barzal's line in Game 1, pitching in to limit them to a 31.03% Corsi For figure at five-on-five. As an add-on to Jensen's point, meanwhile, Washington had fleeting success capitalizing on Barzal's occasional carelessness. The Islanders led 2-0 in Game 4 of that series when he took holding minors 2:17 apart; Evgeny Kuznetsov and Ovechkin scored soon after each of them, which keyed the Capitals' lone win.
Of course, the Caps had trouble beating or corraling New York's whole roster, the same problem the Flyers faced Monday. Varlamov and his defense are riding a 136-minute shutout streak, and the addition of Pageau at the trade deadline has gifted Trotz an impact third-line center to supplement Barzal and Brock Nelson. With the exception of Cal Clutterbuck, who's barely under the 50% threshold, every Islanders regular owns a positive expected-goals figure during the postseason.
Basically, the Isles haven't yet needed Barzal to swing or steal any matchup. It's telling, though, that his capabilities characterize much of what they're doing right offensively. O'Dette saw that dynamic with Seattle's title-winning team, and, from a distance, he considers New York a sweet situation for his former charge. Trotz is there to exhort Barzal to mind details and round out his game, and he still has leeway to remind everyone of the risk that overlooking him entails.
"The competitive fire that he has is contagious," O'Dette said. "For a lot of those highly talented players, to have that competitiveness, that's a dangerous combination. Those guys that have that, they live for these moments - the big moments, the big stage. You can see that Mat's in that zone right now."
Nick Faris is a features writer at theScore.
Comments
✕
How Mathew Barzal's dynamism is helping the Islanders shine
  Got something to say? Leave a comment below!