Dominant as ever, Vegas is out to prove 3rd year is the charm
Andy Devlin / NHL / Getty Images
On Saturday, before the Chicago Blackhawks avoided getting swept, Mark Stone pickpocketed Duncan Keith at the Vegas Golden Knights' blue line and peeked over his right shoulder as he headed a counterattack. Breezing into the middle of the ice was William Karlsson, Stone's fellow penalty killer and the jewel acquisition - one of a few, anyway - of the 2017 expansion draft.
Two backhanded flips of the puck followed: Stone's pass to his teammate, and Karlsson's shot beating Corey Crawford top shelf, nimbly executed on the rush as Keith and Kirby Dach trailed in helpless pursuit.
It was among the sweeter goals of the 26 the Golden Knights have scored in the playoff bubble. The composition of the play was fitting, given what Karlsson and Stone represent regarding the process for Vegas to build a powerhouse.
Like Karlsson, several core Knights have prospered since now-inferior teams cast them aside. Stone arrived in a shakedown of a trade, which is also why he gets to play with Max Pacioretty and Robin Lehner. Talent abounds on this buzzsaw of a Stanley Cup favorite, a team with a record going back to mid-February - 17 wins in 20 games, including six of seven in Edmonton - that's the franchise's finest run in three years of existence.
After surging to the final as expansion darlings in 2018, the Golden Knights no longer surprise anyone. Stone and Karlsson's Game 3 linkup on the penalty kill showed the squad is capable of bullying also-rans and overshadowing Western Conference heavyweights as it edges closer to the next stage of this unprecedented NHL postseason.
Vegas was the last team to lose in either hub city, with the 3-1 Blackhawks victory to snap the Knights' six-game winning streak coming Sunday in Game 4. But the Golden Knights nearly tripled Chicago in scoring chances, and based on the history of NHL clubs winning the first three games in a best-of-seven series, it remains 97.9% likely they'll progress past this round.
"This is what we live for as coaches. It's the best time of year," head coach Peter DeBoer told reporters after Game 3. "If you have a good team at this time of year in the middle of the fight, you have a real chance. That's what every coach at this level is looking for."
| Vegas in the playoffs | Opponent | Score |
| --- | --- | --- |
| Round robin | Stars | 5-3 W |
| Round robin | Blues | 6-4 W |
| Round robin | Avalanche | 4-3 (OT) W |
| Game 1 | Blackhawks | 4-1 W |
| Game 2 | Blackhawks | 4-3 (OT) W |
| Game 3 | Blackhawks | 2-1 W |
| Game 4 | Blackhawks | 3-1 L |
Even this early in the playoffs, no observer could be faulted for pegging Vegas as a potential conference champ.
Chicago survived on Sunday, but combined with a spotless round robin - and, pre-pandemic, the .727 points percentage Vegas posted under DeBoer after he replaced Gerard Gallant - the Golden Knights' stranglehold on the series sure suggests they're legit. Moreover, they're substantiating the savviness that's come to characterize George McPhee and Kelly McCrimmon's front office, which assembled a contender in record time.
That contender became good enough to quickly learn the torment playoff hockey can cause. The five-game loss to Alex Ovechkin's Washington Capitals in the 2018 final was a letdown, as was the 3-1 series lead Vegas blew to the San Jose Sharks (with DeBoer on the opposing bench) in last year's first round. No fan will soon forget Sharks goalie Martin Jones stopping 58 shots in Game 6 - nor, obviously, the dubious Cody Eakin cross-checking major that triggered the nightmare end to Game 7.
After subpar netminding from Marc-Andre Fleury and Malcolm Subban hindered Vegas' start to 2019-20, first-year general manager McCrimmon swung a deadline deal with Chicago, acquiring Lehner - the NHL's seventh-best goalie by Goals Saved Above Average this season - for Subban, college defenseman Slava Demin, and second- and fifth-round picks. Lehner's old side beating him in Game 4 doesn't devalue the trade, as his save percentage (regular season and playoffs) since arriving in Vegas is strong at .921.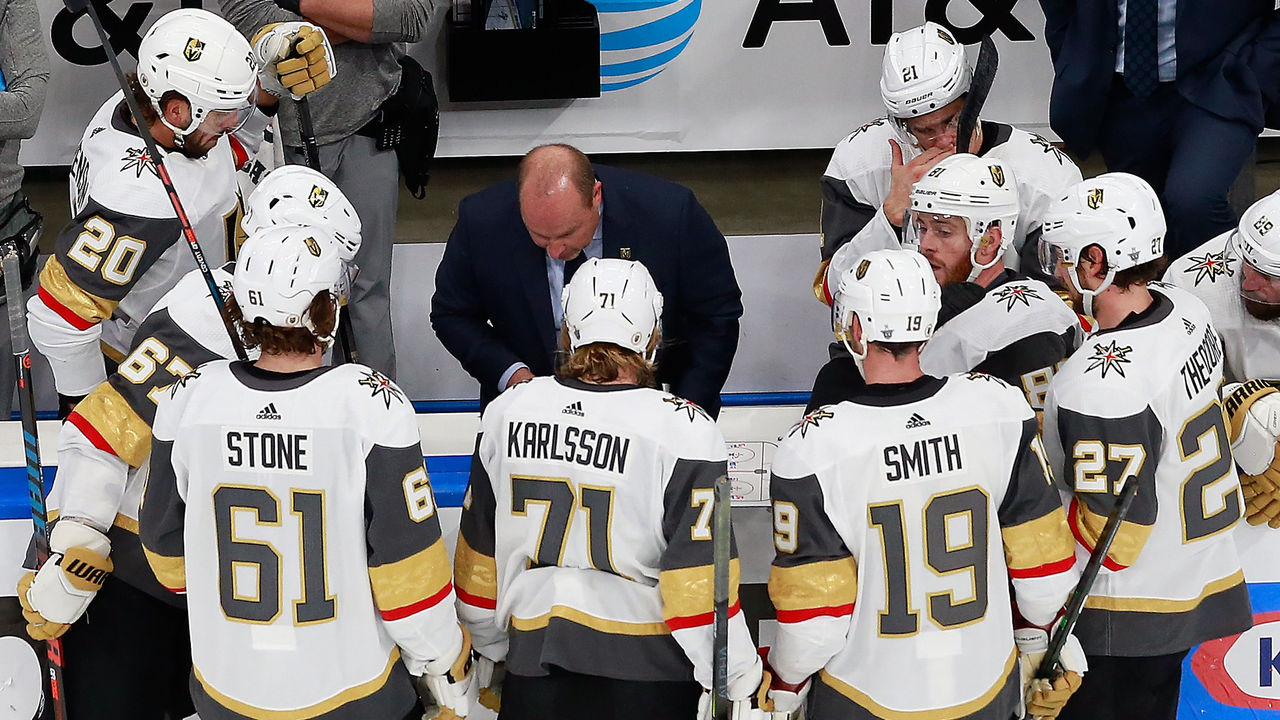 Outside the crease, Vegas' well of influential players runs deep.
Stone has logged 18 months of meshing with Pacioretty and Paul Stastny. Sensible tinkering this season brought to town top-pair defenseman Alec Martinez and top-nine forwards Chandler Stephenson and Nick Cousins. Then there are the mainstays from the expansion draft, six of whom - Karlsson, Reilly Smith, Jonathan Marchessault, Alex Tuch, Shea Theodore, and Nate Schmidt - are among Vegas' top 10 scorers in the bubble.
The sum of these parts leads to a roster that's sound defensively, good at forcing turnovers, and perpetually dangerous in the offensive zone. The Golden Knights' 54.8% shot-attempt rate led the league this season. Upping that mark to 59.8% in the playoffs means Vegas is driving possession and hounding netminders like Crawford as adeptly as ever.
"The way that we want to play, that grind-you-down type of mentality - we play fast, we play direct, we try to play in your face - I think that type of game benefits us," Schmidt said.
"You've got guys up and down our forward lineup that can hurt you in a lot of ways," he added.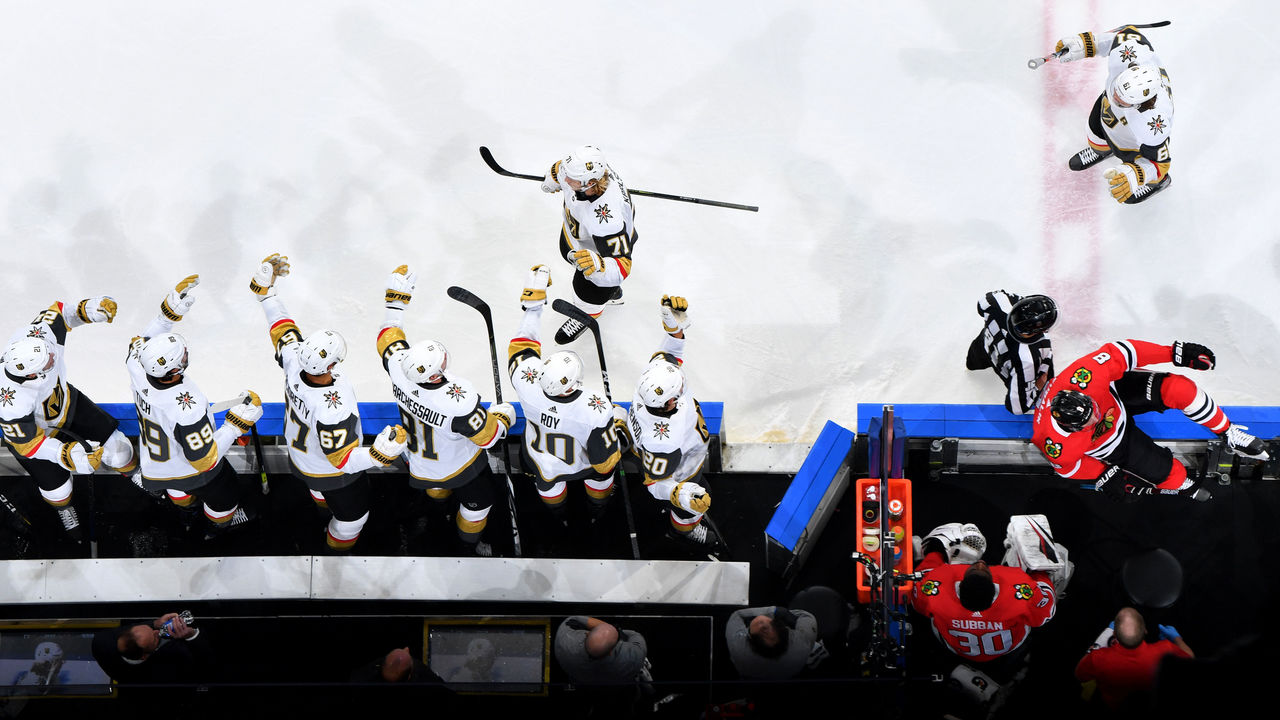 That much happened in the Western round robin, when the Golden Knights racked up 15 goals across consecutive wins over the Dallas Stars, St. Louis Blues, and Colorado Avalanche. Their production has slowed over the last two games against Chicago - on a rare down note, Vegas is 0-9 on the power play this series - but not for lack of trying or analytical might. Since Game 1, the Golden Knights have generated 63.89% of scoring chances in the matchup at five-on-five.
The imbalance in Game 4 was especially stark. The Golden Knights engulfed Chicago, creating 36 chances to the Blackhawks' 10 and amassing a 74-29 edge in shot attempts at five-on-five. The Vegas skater with the lowest individual Corsi For figure surpassed the highest-performing Blackhawk by a wide margin. Crawford's mastery was the difference, with his 48 saves the most he's notched in a playoff game since Chicago's 2015 championship postseason.
"That's the irony of playoff hockey, right? You play your best game and you lose, and you win other games that you're not playing at that level," DeBoer said. "Let's come up with the same effort again (in Game 5). If we can keep throwing that game at them, eventually we'll get a break."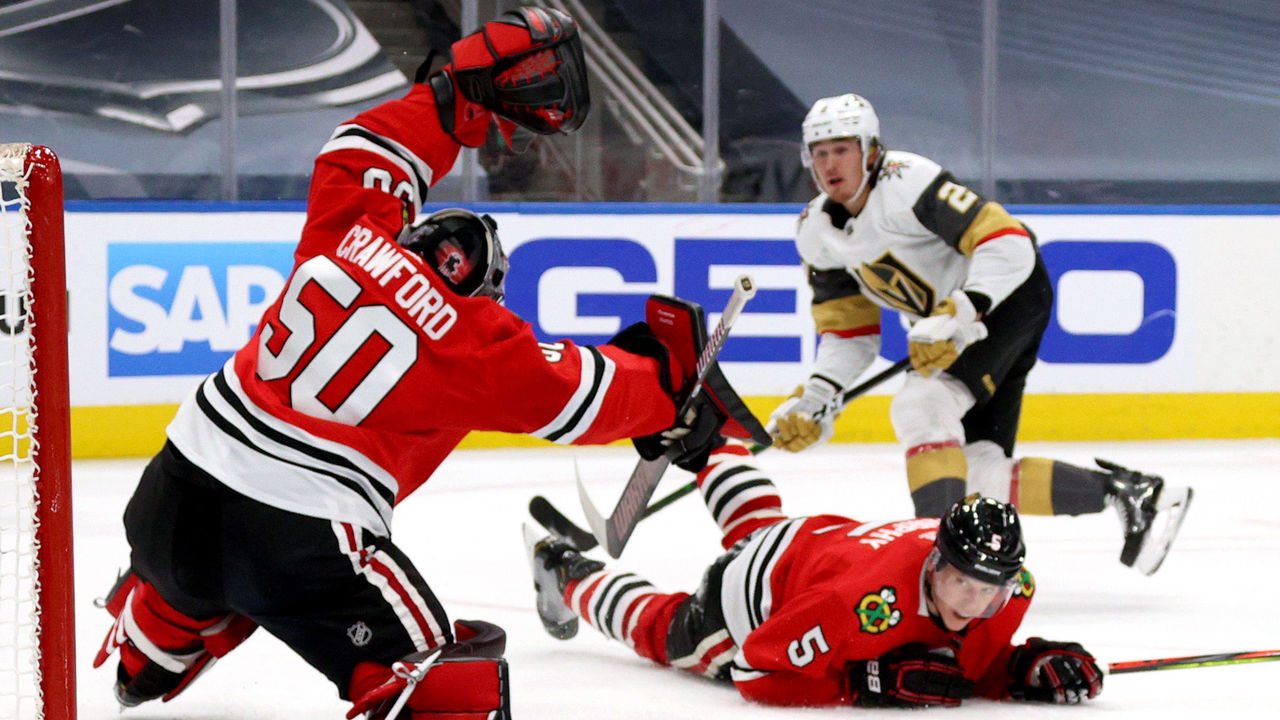 As the top seed in the West, the Golden Knights' possible opponents in the next round if they move on include the Calgary Flames, who've split four games with Dallas, and the Vancouver Canucks, who still lead St. Louis despite losing Game 3 in overtime on Sunday night. The second-seeded Avalanche have generally controlled their matchup with the Arizona Coyotes, legitimizing Colorado's hope to go deep with a loaded roster that's finally healthy.
The Avs encountering Vegas would make for one heck of a conference final. No doubt it'll be enthralling until then to see if the Golden Knights can continue to uphold their own towering standard. Before Sunday, they hadn't lost a game since March 6, a staggering fact regardless of how long the season was paused.
"I love our group. I love the commitment of our group. Every day, we're getting a little bit better," DeBoer said after Vegas won Game 3. "There's a lot of tough obstacles and tough games left to play. But we're doing the right things to keep advancing here."
Nick Faris is a features writer at theScore.
Comments
✕
Dominant as ever, Vegas is out to prove 3rd year is the charm
  Got something to say? Leave a comment below!