The first round of the Stanley Cup Playoffs is well underway. Here are key takeaways from two of the four games on Thursday's schedule, which featured the Vegas Golden Knights' 4-3 overtime victory over the Chicago Blackhawks and the Columbus Blue Jackets' 3-1 triumph over the Tampa Bay Lightning.
Vegas doesn't let it slip away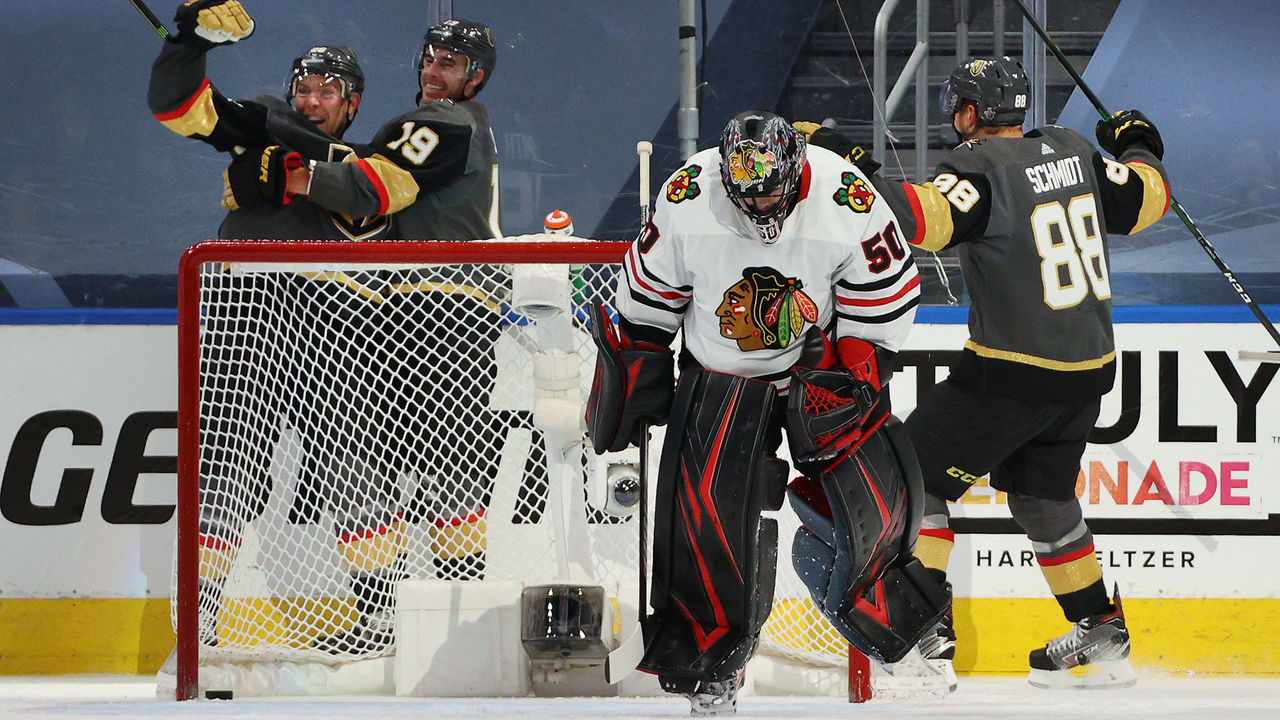 On paper, this is the biggest mismatch of the first round, and it's not particularly close. Vegas is one of the few true Stanley Cup contenders, and Chicago is a flawed team that is rather lucky to still be playing hockey in 2020 after finishing with a 32-30-8 regular-season record.
History tells us the Golden Knights are most dangerous when they're attacking in waves, and the Blackhawks are disorganized and porous on defense. Reilly Smith's overtime goal in Game 2 - which sealed a 4-3 victory for Vegas after it coughed up a 2-0 lead - exposed the extreme stylistic differences:
In the buildup to Smith's goal, Vegas' fourth line of Will Carrier, Tomas Nosek, and Nick Cousins applied pressure on Corey Crawford. Cousins stayed out as his linemates changed, chipping the puck deep into the Blackhawks' zone. From there, Golden Knights center Paul Stastny snatched the puck in the corner and immediately fired a pass to Smith. All alone at the foot of the crease (despite four defenders standing in close proximity), Smith redirected the pass through Crawford and into the net.
The Blackhawks got to overtime only because they managed two of the few things that need to happen for them to even compete with the Golden Knights. First, superstar winger Patrick Kane was the offensive catalyst with three assists. Second, Crawford stood on his head. It worked for a while but not long enough to overcome the superior squad.
"It's a very tight-knit group," said Vegas goalie Robin Lehner, who hasn't lost in seven games since being acquired from Chicago in late February.
"Everyone buys into the system and does the right things. In the long run, I think, you get rewarded," he added. "From a goalie's perspective, letting in a goal (doesn't induce) panic. Letting in two goals, you trust your team that we know that we can come back. It's a very well-structured team here and (we have) a lot of skill at the same time."
The Golden Knights are a perfect 5-0 in the restart. They've dined off the third period, outscoring opponents 10-1. (Ironically, Thursday's third period was scoreless, though the Golden Knights did pepper Crawford with 16 of their 39 total shots.)
More often than not in this series, Chicago will bleed scoring chances and Vegas will push the pace until it scores. This is a recipe for disaster for the Blackhawks, which is why Game 2 might ultimately stand as their lone opportunity to claim victory in a lopsided matchup. Sweep, anyone?
Jackets' train keeps rolling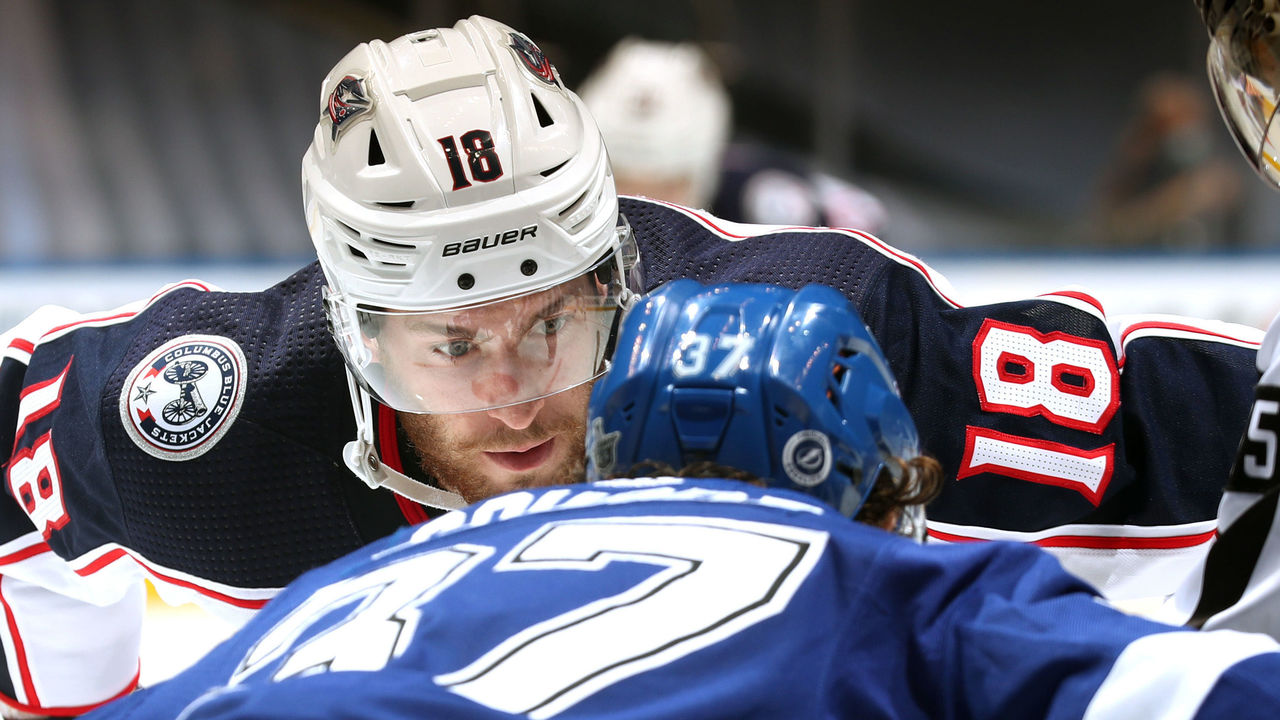 The biggest question during this NHL postseason is when will the Blue Jackets hit a wall. For now, the appropriate answer might be ... never.
On Thursday, Columbus capped an eight-day stretch during which it went 3-2 in five hard-fought games that featured seven overtime periods for a total of 421 minutes of hockey. By beating the Lightning 3-1 to tie the Round of 16 series at 1-1, the Blue Jackets added yet another impressive chapter, refusing to buckle under the pressure of a ridiculous workload.
"I don't know how many overtimes we had the other day, I forget," star center Pierre-Luc Dubois said while laughing postgame.
"I don't think any of us are lacking (in regard to) timing and stuff like that," Dubois added. "We're feeling good, the team's playing great. (Goaltender Joonas Korpisalo) is playing really well for us, giving us confidence to try plays and we know he can repair our mistakes. On the back end, it's the same thing: blocking shots, making good plays. Defensively, the team's feeling really well right now."
Blue Jackets head coach John Tortorella's squad was outplayed by the Toronto Maple Leafs and is getting outplayed so far by Tampa Bay, with shot attempts and prime looks (measured by high-danger attempts by Natural Stat Trick) favoring the Lightning 257-157 and 37-21, respectively.
But there's an argument to be made that the Blue Jackets have wholly deserved positive results during the restart because the team's defensive system has done such a fine job keeping its netminders - namely Korpisalo, who has an outrageous .961 save percentage on 239 shots - protected from the seemingly endless firepower on the other side.
Tampa Bay was noticeably annoyed on Thursday.
"That's kind of the way we want to play," Blue Jackets forward Alexander Wennberg said of the team's perimeter defense frustrating opponents. "We want to give them a hard time out there."
An unlikely source of offense, Wennberg scored an absurd goal midway through the third period to make it 3-1 - the 25-year-old Swede has bagged just 40 goals in 440 career regular-season games.
The Blue Jackets failed to register a shot during the first 13 minutes of action Thursday, but that's how things are going for them at the moment. Dubois may lead the team with four goals, and Cam Atkinson - who was "unfit to play" Thursday - and Oliver Bjorkstrand have a pair of markers each, but there are also nine other skaters who've pitched in a goal.
Columbus is not just surviving, it's thriving in a way few NHL teams can.
Tampa's 3rd line doing it all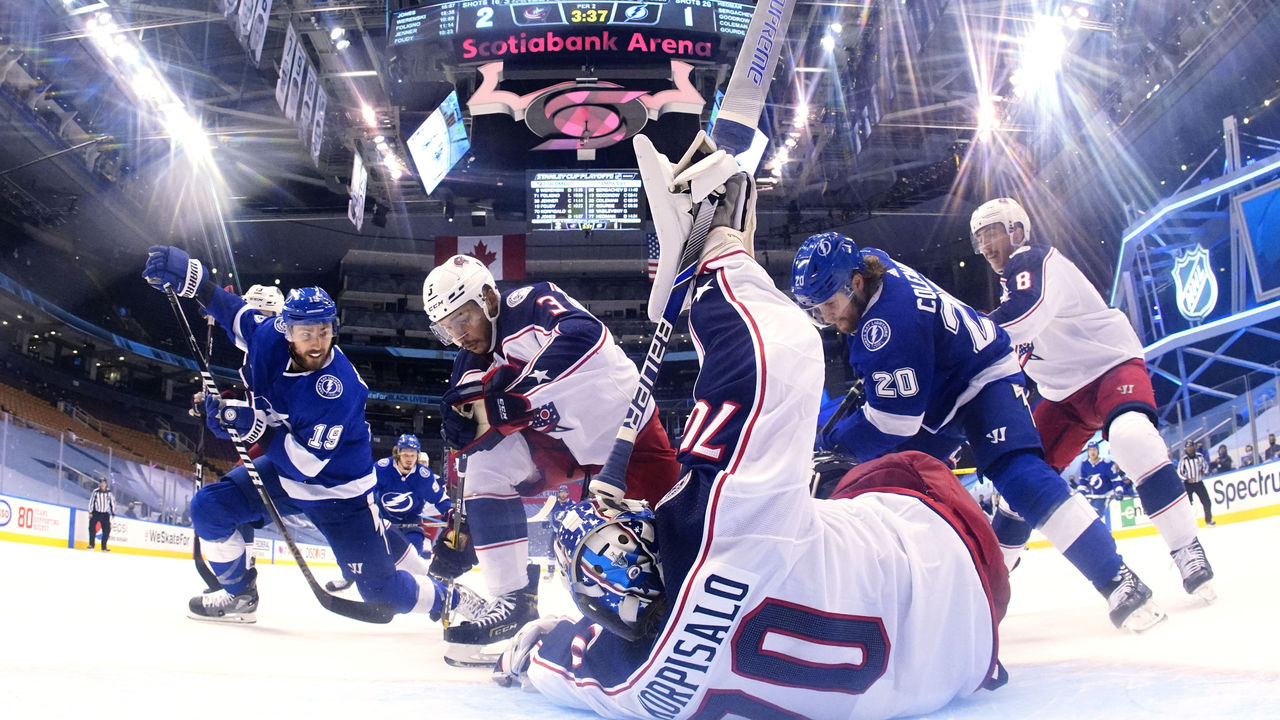 The silver lining for the Lightning after Thursday's loss is that the trio of Yanni Gourde, Barclay Goodrow, and Blake Coleman continue to dominate.
Gourde and his third-line wingers have generated 28 scoring chances in 41 even-strength minutes, according to Natural Stat Trick. The Blue Jackets, on the other hand, have mustered just nine chances against the trio. From an expected goals perspective, the line made up of one free agent (Gourde) and a pair of trade-deadline pickups has racked up a 2.23-0.54 edge over the opposition - a gigantic gap thanks to feverish puck pressure and active sticks.
"They've neutralized all the lines they've played against," Lightning head coach Jon Cooper told reporters. "They give us energy. They kill penalties well. You can't ask much more than that from those guys."
With sniper Steven Stamkos missing the first five contests of the restart, Tampa Bay's forwards have been tasked with elevating their games. The third line and top producers Brayden Point (seven points) and Nikita Kucherov (six points) have led the charge at even strength. The second line - centered by Anthony Cirelli - has scored three goals, while the fourth - centered by Mitchell Stephens - has been OK if not unspectacular.
The special teams battle could ultimately determine this series, which pits a defensive giant against an offensive juggernaut, much like the Columbus-Toronto matchup. So far, the Lightning are 0-for-6 on the power play.
"We had some looks and they didn't go in for us," Cooper said of the two missed power-play opportunities in Game 3.
They'll do it all again Saturday night.
John Matisz is theScore's national hockey writer.