2020 NHL Mock Draft: Big decision at 2nd overall, intrigue high at No. 5
With the 2020 NHL Draft just a few days away, theScore's John Matisz and Josh Wegman project the first round of selections.
1. Rangers - Alexis Lafreniere, LW, Rimouski (QMJHL)
Lafreniere is the no-brainer No. 1 pick of the 2020 draft. He tore up the 'Q' last season with 112 points in 52 games while earning MVP honors at the world juniors. Lafreniere, who turns 19 on Oct. 11, receives rave reviews for his skill and hockey IQ, yet it's his compete-level and physical play giving him a high floor and should help make him an impact player at the NHL level almost immediately. The Rangers have an influx of young, talented wingers and could use a center, but drafting for need here would be foolish.
2. Kings - Quinton Byfield, C, Sudbury (OHL)
Lafreniere is the top talent in the class at this moment. However, a significant portion of the scouting community believes Byfield, one of the youngest draft eligibles, will eventually blossom into a more impactful NHL player. Drawing comparisons to Evgeni Malkin, the 6-foot-4, 220-pounder has an enviable skill set headlined by breakaway skating and high-end puck skills. He's a tremendous consolation prize for the Kings, who have likely considered Tim Stuetzle in their scouting meetings. At the end of the day, you don't pass on a player like Byfield at the No. 2 spot.
3. Senators (via SJ) - Tim Stuetzle, C/LW, Mannheim (DEL)
Several draft analysts have Stuetzle ranked ahead of Byfield, so snatching the German phenom is an easy decision for the Senators with their first of three first-round picks after L.A. took the Sudbury Wolves product. It's unclear whether Stuetzle will play center or wing, but the Sens have an organizational need in the former and he'd likely start down the middle. A fabulous skater, Stuetzle possesses an elite skill set that allowed him to rack up 34 points in 41 games last season playing against men as a 17-year-old.
4. Red Wings - Cole Perfetti, C/LW, Saginaw (OHL)
Detroit went off the board at last year's draft by selecting defenseman Moritz Seider sixth overall. Don't expect another shocker in 2020, with the highly coveted Perfetti available in the No. 4 spot. The Red Wings are in desperate need of dynamic forwards, and Perfetti fits the bill perfectly. The Whitby, Ontario native is a crafty two-way playmaker whose hockey sense is off the charts. There shouldn't be any problems commanding his attention, with Perfetti's obsessive habits leading some scouts to label him a hockey savant. He racked up 37 goals and 74 assists in 61 OHL games in 2019-20.
5. Senators - Jamie Drysdale, D, Erie (OHL)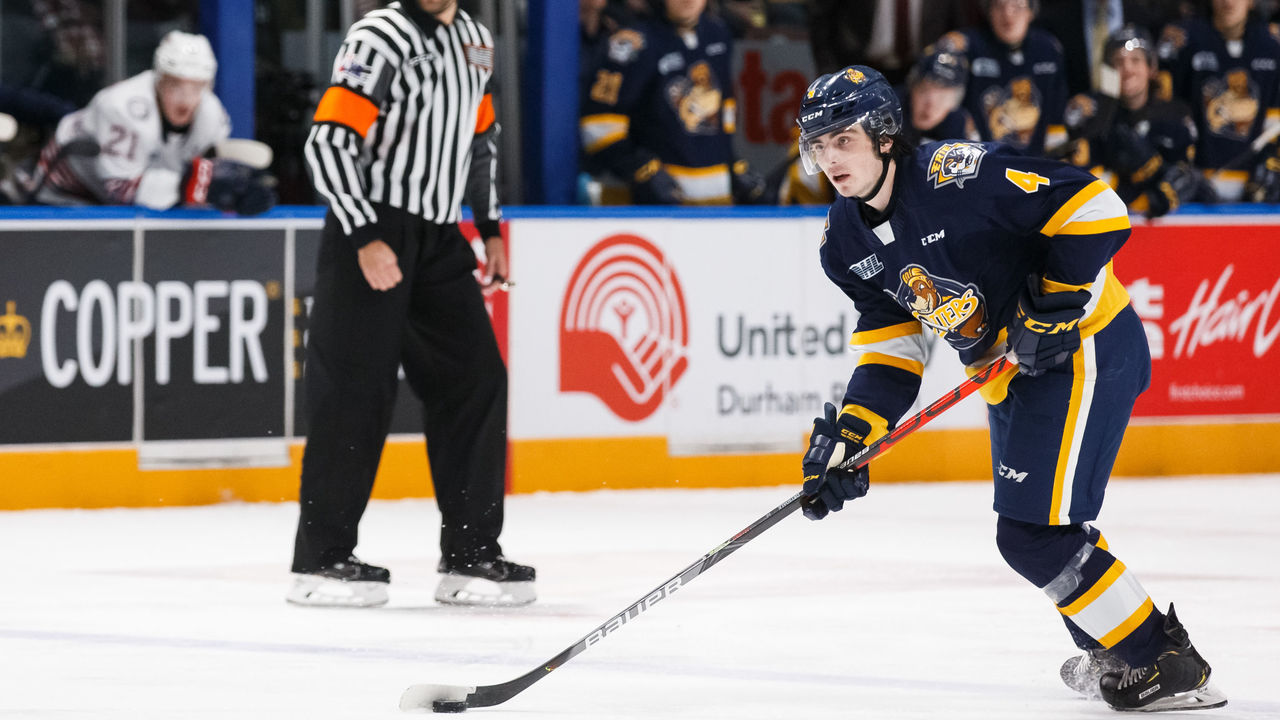 This is where the draft gets really interesting. The Senators have plenty of options with this pick, including stud goalie Yaroslav Askarov. After taking a potential franchise center at No. 3, Ottawa adds a potential cornerstone defenseman two choices later. The Sens have used a pair of first-rounders on right-handed blue-liners over the last two years in Lassi Thomson and Jacob Bernard-Docker. Drysdale's on another level, though. He's one of the best skaters in the entire draft and played well for Canada at the 2020 world juniors as a 17-year-old. Along with Thomas Chabot, Erik Brannstrom, and others, the future of Ottawa's blue line looks bright with Drysdale in the fold.
6. Ducks - Marco Rossi, C, Ottawa (OHL)
The Ducks will be thrilled Rossi hasn't been picked through five selections. He's a complete player who skates in all situations, possesses elite skill, and has a motor that doesn't stop. Rossi, an Austrian who has played two years in North America, put up an eye-popping 120 points in 56 games last season to lead all OHLers. Any concerns about his height (5-foot-9) are negated by a Martin St. Louis-esque lower body (Rossi weighs 185 pounds). Some believe the 19-year-old can play in the NHL ASAP. He's that polished.
7. Devils - Lucas Raymond, LW, Frolunda (SHL)
Defenseman Jake Sanderson is tempting here for the Devils. However, Raymond has a sky-high ceiling. Many pundits believe Raymond could go in the top five because there's a possibility he becomes a true game-breaking winger. The Devils are set down the middle with youngsters Nico Hischier and Jack Hughes, so adding Raymond will give one of them a running mate. Raymond's Swedish league stats don't jump off the page (10 points in 33 games in 2019-20), but he played a limited role with Frolunda.
8. Sabres - Jake Sanderson, D, USA U-18 (USHL)
Sanderson would be a fantastic get for new Sabres general manager Kevyn Adams. Rasmus Dahlin, 20, and Henri Jokiharju, 21, are the present and future of Buffalo's blue line, but they don't have a ton of support. Sanderson, the son of ex-NHLer Geoff Sanderson, is a smooth-skating, three-zone defenseman with first-pairing potential. While the jury is still out on the left-handed rearguard's offensive capabilities at the pro level, Sanderson's a lay-up here since he 1) fills a need and 2) is arguably the best player available.
9. Wild - Alexander Holtz, RW, Djurgardens (SHL)
Of any team in the top 10, the Wild seem the most likely to trade up to fill a gaping organizational need at center. It would probably be a reach to draft a center at this point, so trading down is also a possibility for GM Bill Guerin. However, Holtz would be a fine selection if they stick with the pick. He's the best player available, and he checks off some boxes. He has an elite shot, a big plus for a team that consistently has trouble scoring. His right-handedness is another bonus for lefty-heavy Minnesota.
10. Jets - Jack Quinn, RW, Ottawa (OHL)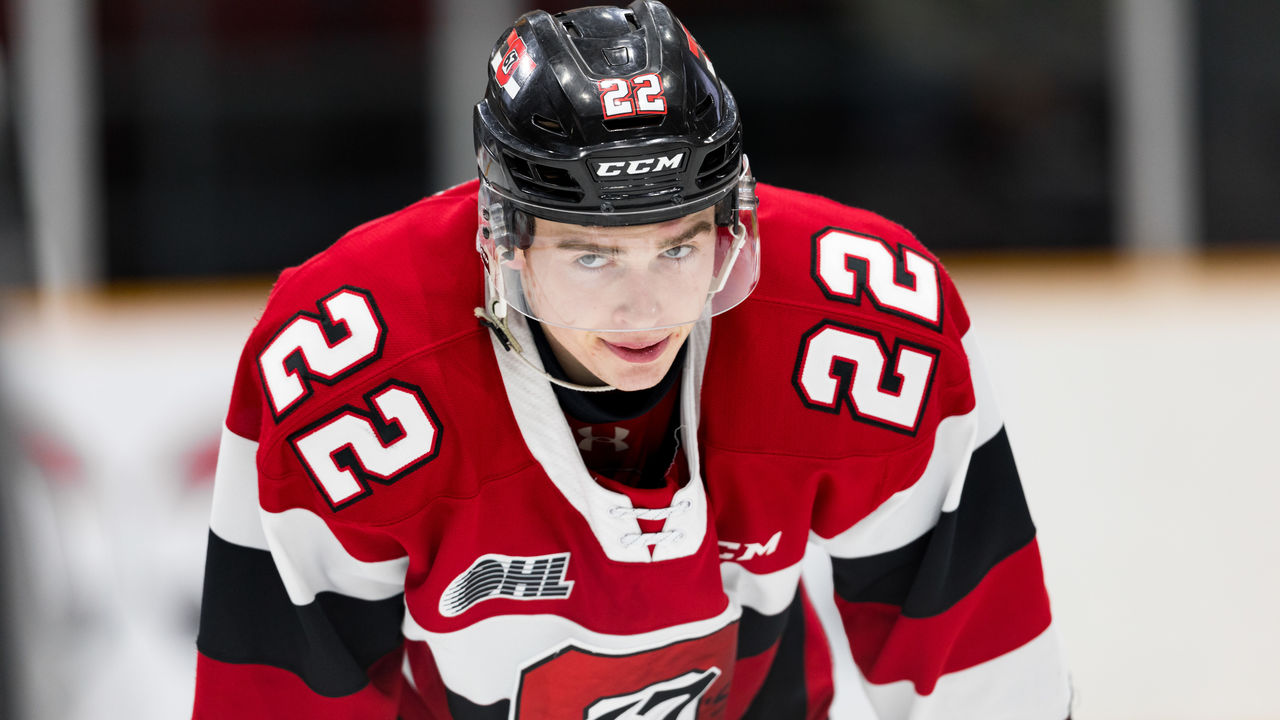 With little separating players in the back half of the top 10, the Jets happily select Quinn, a winger cut from the same cloth as J.T. Miller. He has a bullet of a shot, can dangle the other team's best defenders, and is an above-average tipper, all of which showed up in his 2019-20 OHL stats: 52 goals in 62 games. Quinn can also dish the puck well and is no slouch defensively. He's a bit slight at 6-feet and 176 pounds, though greater strength will come.
11. Predators - Seth Jarvis, C/RW, Portland (WHL)
Perhaps nobody in the WHL was more disappointed in the league's COVID-19 shutdown in March than Jarvis. After beginning the campaign with a respectable 35 points in 32 games, the Winnipeg native exploded down the stretch, tallying 63 points in his final 26 contests. He certainly could've increased his draft value with a strong postseason. Jarvis could be a boost to a Nashville lineup needing an offensive spark within the next few years.
12. Panthers - Anton Lundell, C, HIFK (SM Liiga)
Florida should be looking for hungry, reliable pros under new GM Bill Zito. Lundell is precisely that. The Finnish league center registered 28 points in 44 games last year by playing a simple, intelligent game. He's good in the faceoff circle, he can kill penalties, and he's already in a leadership role with HIFK as an alternate captain despite being a teenager (he turns 19 on Saturday). Sure, there are flashier options, but there's a lot to like about Lundell.
13. Hurricanes (via TOR) - Yaroslav Askarov, G, St. Petersburg (VHL)
Hurricanes owner Tom Dundon is on record saying he doesn't plan on drafting a defenseman in the first round because he wants more offense. That would seem to potentially rule out goalies as well - who are far from sure things - but Askarov is too tantalizing to pass up. The Russian possesses rare athleticism and is considered one of the better goalie prospects in recent memory. Goaltending is also an organizational need in Carolina.
14. Oilers - Dylan Holloway, C, Wisconsin (NCAA)
The chances of Edmonton drafting a defenseman in the opening round for the third straight year is slim, given the glut of possibilities in the No. 14 slot. That leaves the door open for Holloway. A strong skater who is difficult to knock off the puck, he's probably the surest bet among available forwards. At best, Holloway projects to be a top-six NHL forward who puts up 50-60 points a season. At worst, he's a third-liner who enjoys a long, meaningful career.
15. Maple Leafs (via PIT) - Connor Zary, C, Kamloops (WHL)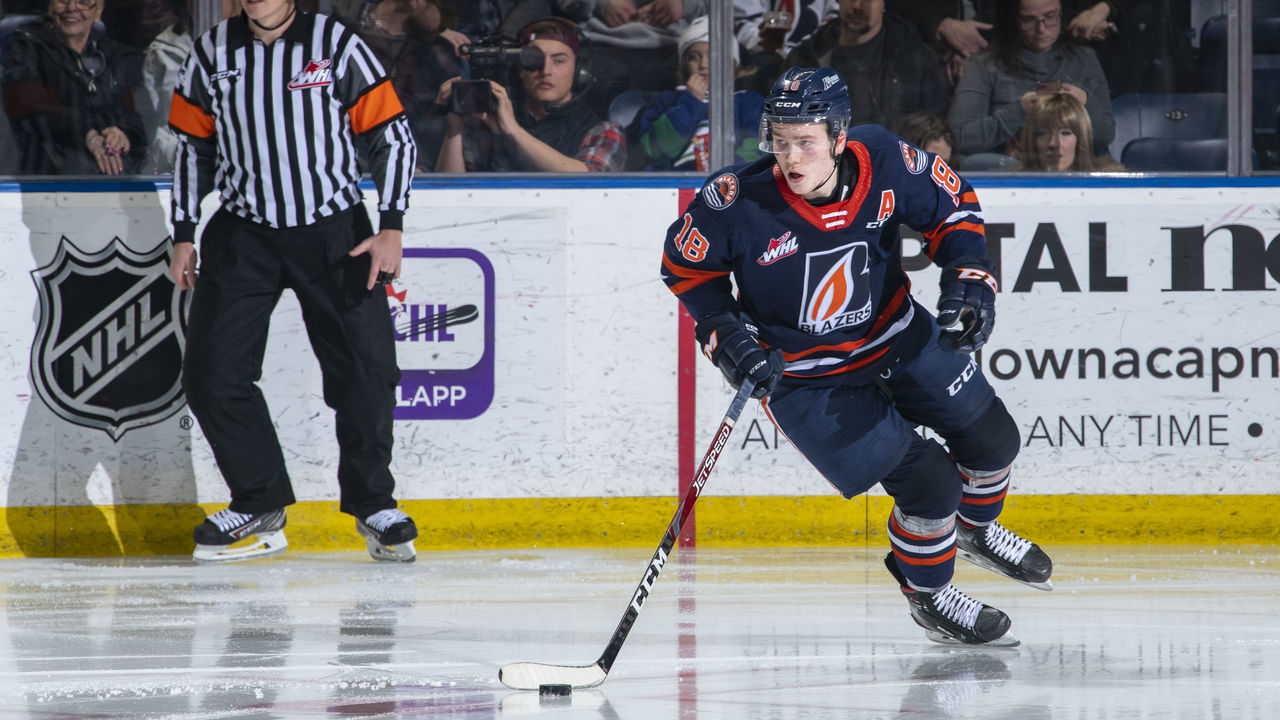 Don't be surprised to see the Maple Leafs trade down if the top 14 picks fall in a similar fashion. There's plenty of skilled forwards they could land in the 20s while gaining a later selection or two. That being said, Leafs fans may be clamoring for the team to select a defenseman with Kaiden Guhle and Braden Schneider still on the board if Toronto keeps the pick, but Zary has "Kyle Dubas kind of guy" written all over him. He's not the biggest player at 6-feet and 178 pounds, but he's incredibly skilled, very smart, and highly competitive. Zary's skating is not a strength right now, but the Leafs have world-class skating consultant Barb Underhill who could work closely with him.
16. Canadiens - Dawson Mercer, C/RW, Chicoutimi (QMJHL)
Mercer drops to Montreal by no fault of his own. He is the best player available and a tap-in for the Canadiens, assuming they don't reach for a blue-liner. Mercer, a slippery, all-situations forward, boasts high hockey IQ and is a clever stick-handler and passer. The Newfoundlander put up 60 points in 42 QMJHL games last season, split between Chicoutimi and Drummondville.
17. Blackhawks - Kaiden Guhle, D, Prince Albert (WHL)
Guhle, the younger brother of Ducks defenseman Brendan Guhle, is an excellent addition to the Blackhawks defense pipeline. Right-handed offensive blue-liners Adam Boqvist and Ian Mitchell are expected to lead the team from the back end in the future, but Guhle, a left-handed rearguard who projects to play a shutdown role in the NHL, would be a nice complement. He's an excellent skater at 6-foot-3 and plays a physical brand of hockey.
18. Devils (via ARI) - Braden Schneider, D, Brandon (WHL)
After Chicago snaps up Guhle, New Jersey turns to a slightly inferior Western League defenseman. In Schneider, the Devils get a 6-foot-2, 209-pounder who transitions the puck well and plays what scouts typically call a "quieter" game. At the NHL level, Schneider projects to be a top-four guy who can kill penalties and, perhaps, find a spot on the second power-play unit.
19. Flames - Rodion Amirov, LW, Ufa (KHL)
The Flames could certainly use a game-breaking talent up front, and Amirov has the potential to be exactly that. Don't be fooled by the Salavat, Russia native's pedestrian stats in the KHL last season (two assists in 21 games) because he's already compiled five points in eight games in 2020-21. Amirov has serious high-end skill that projects him as a future top-six winger.
20. Devils (via VAN) - Jacob Perreault, RW, Sarnia (OHL)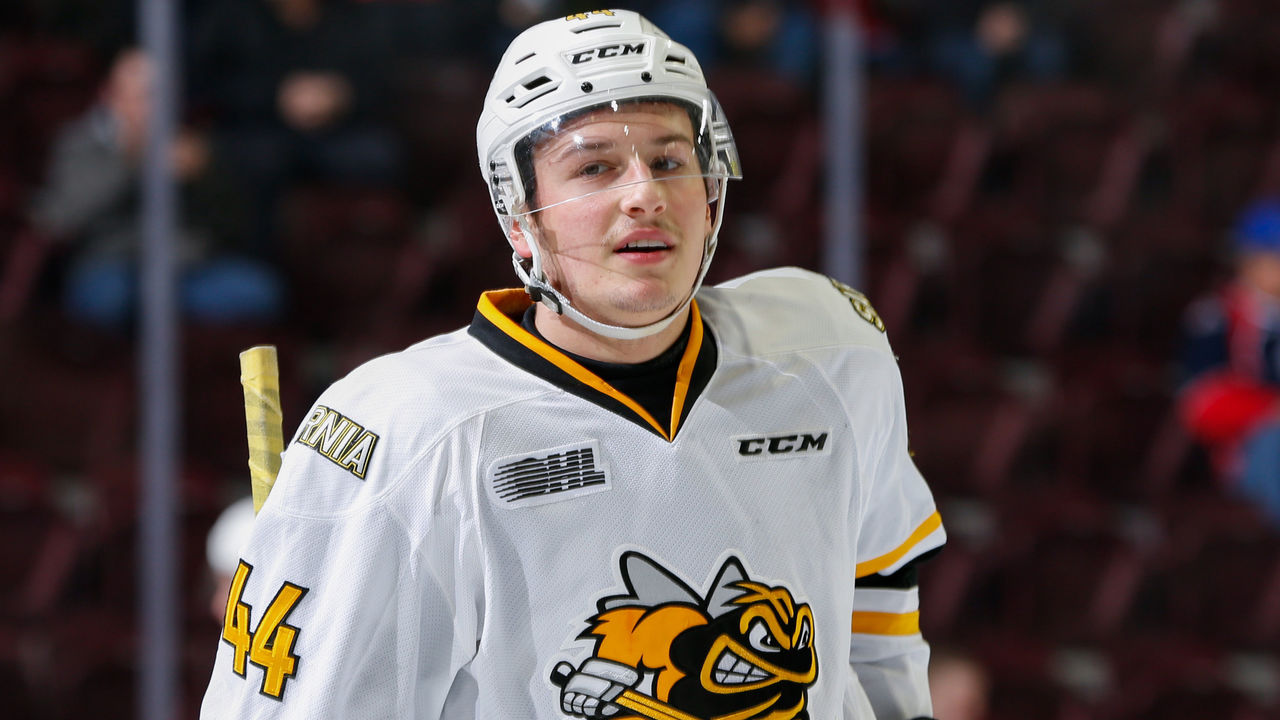 This is where the Devils can get creative. New Jersey already chose Raymond at seventh and Schneider at 18th, two relatively safe picks. Perreault is closer to a swing-for-the-fences selection at 20th overall. The son of ex-NHLer Yanic Perreault is a natural sniper (69 goals in 120 career OHL games) armed with an unreal shot. Think Brock Boeser. Why is he around at 20? Some scouts have mild concerns about his wheels and play without the puck.
21. Blue Jackets - Lukas Reichel, LW, Berlin (DEL)
Reichel is the nephew of 11-year NHL veteran and two-time 40-goal scorer Robert Reichel. He performed well as a teenager in the top German pro league (24 points in 42 games) and shined at the 2020 world juniors (five points in seven games). Reichel has plenty of speed and soft hands, a combination allowing him to beat defenders one-on-one regularly. Columbus severely lacks game-breakers up front, and though Reichel is considered a bit of a home-run pick, it's worth the risk for the Blue Jackets.
22. Rangers (via CAR) - John-Jason Peterka, LW, Munich (DEL)
The third German to go off the board, Peterka is a hard-shooting, speedy winger Rangers GM Jeff Gorton would be pleased to add to the organization's stable of promising forward prospects. Peterka didn't see much ice time for Munich last year, which limited his exposure to the greater hockey world, but he managed to prove he has NHL potential by recording 11 points in 42 DEL games. Scouts fawn over the 5-foot-11, 192-pounder's relentlessness.
23. Flyers - Noel Gunler, RW, Lulea (SHL)
The Flyers lack elite snipers, and Gunler is a pure goal scorer. He potted 27 goals in 31 games in the Swedish junior league during the 2018-19 season. His transition to the SHL last year wasn't as smooth (four goals in 49 games), but he still impresses with his release and goal-scoring instincts. His game away from the puck needs work, but keep an eye on him in the 20s.
24. Capitals - Justin Barron, D, Halifax (QMJHL)
NHL front offices generally covet a mobile, right-handed defenseman with size like Barron (6-foot-2, 198 pounds). However, Barron falls down the board because of some health issues that may scare teams. He missed significant time last season due to a blood clot, and he's currently sidelined after undergoing a corrective procedure on his shoulder. The Capitals could use someone to slot in behind John Carlson on the depth chart, so they take Barron, who tallied 19 points in 34 QMJHL games last year.
25. Avalanche - Hendrix Lapierre, C, Chicoutimi (QMJHL)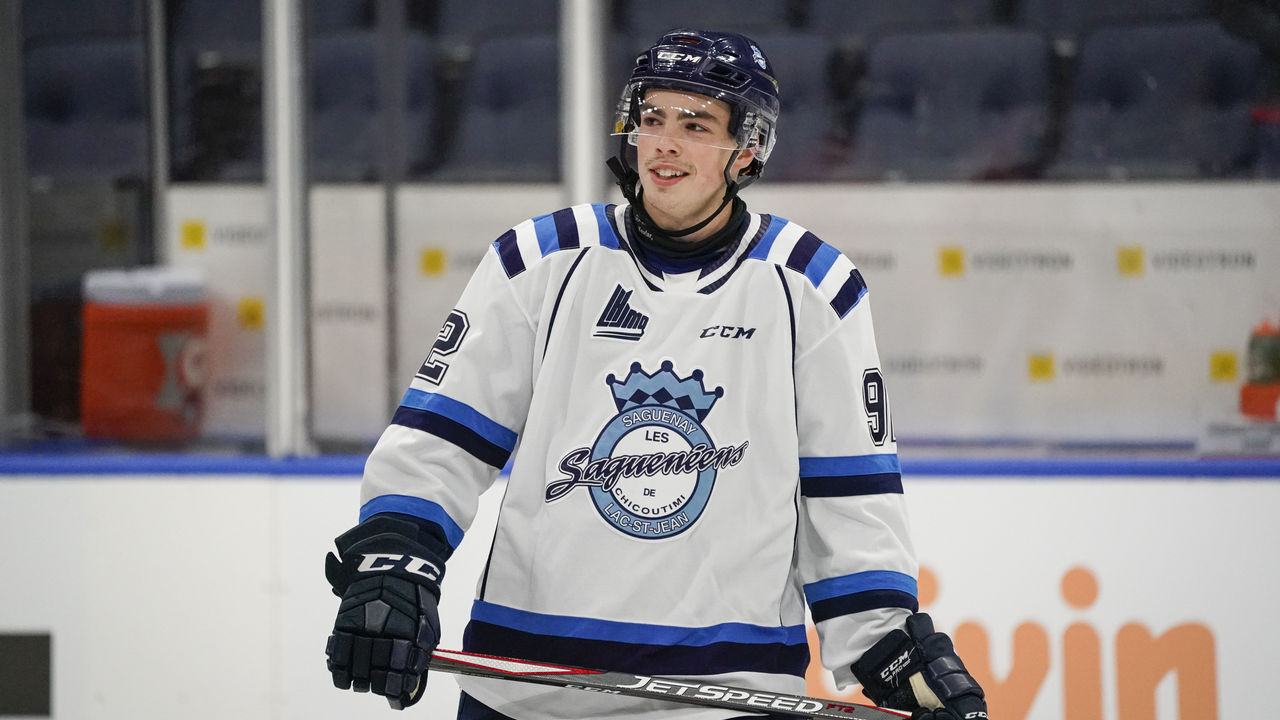 Aside from Askarov, Lapierre may be the biggest wild card on Day 1. If the draft was based solely on talent and potential, he might go in the top 10. But there's widespread concern over recent head injuries, which could lead to Lapierre sliding into the 20-31 range. The question is, will he be healthy enough long term to reach his ceiling? The Avs, a club brimming with young talent in the NHL and at lower levels, can afford to venture off the beaten path a bit here and select the smart and skilled pivot.
26. Blues - Ridly Greig, C, Brandon (WHL)
Greig - who a few pundits have compared to Nazem Kadri for his mix of skill, smarts, and snarl - is a Blues kind of player. He brings a lot to the table from offensive and defensive perspectives, but there are questions about his skating. Greig recorded 60 points and 83 penalty minutes in 56 WHL games last year. Having just turned 18, he's one of the younger draft eligibles.
27. Ducks (via BOS) - Jeremie Poirier, D, Saint John (QMJHL)
Poirier is the definition of a high-risk, high-reward pick - which is fitting because he's also a high-risk, high-reward player. He's incredibly gifted offensively. He has great hands, superb vision, and is excellent at walking the line and getting pucks through a crowd and on net. His defensive flaws are glaring, though, which will certainly scare teams away. Poirier may not sound like a player GM Bob Murray would covet, but the Ducks are fully in their right to gamble with their second pick of the first round.
28. Senators (via NYI) - Mavrik Bourque, C, Shawinigan (QMJHL)
To cap off a day in which they selected Stuetzle and Drysdale in the top five, the Senators take a flyer on the supremely skilled Bourque. He's a deceptive 5-foot-10 center with high-end vision and elite passing ability. The Plessisville, Quebec native collected 29 goals and 42 assists in 49 games in 2019-20 and ranked ninth in points per game in the 'Q.'
29. Golden Knights - Brendan Brisson, C, Chicago (USHL)
Brisson, the son of NHL player agent Pat Brisson, doesn't stand out with his size (6-feet, 185 pounds) or speed. However, he has a very impressive toolbox that will tempt some teams. He's an excellent short-area player with great intelligence, noteworthy vision, and a dangerous shot. Brisson would be a nice fit for a puck possession-heavy team like the Golden Knights.
30. Stars - Tyson Foerster, RW, Barrie (OHL)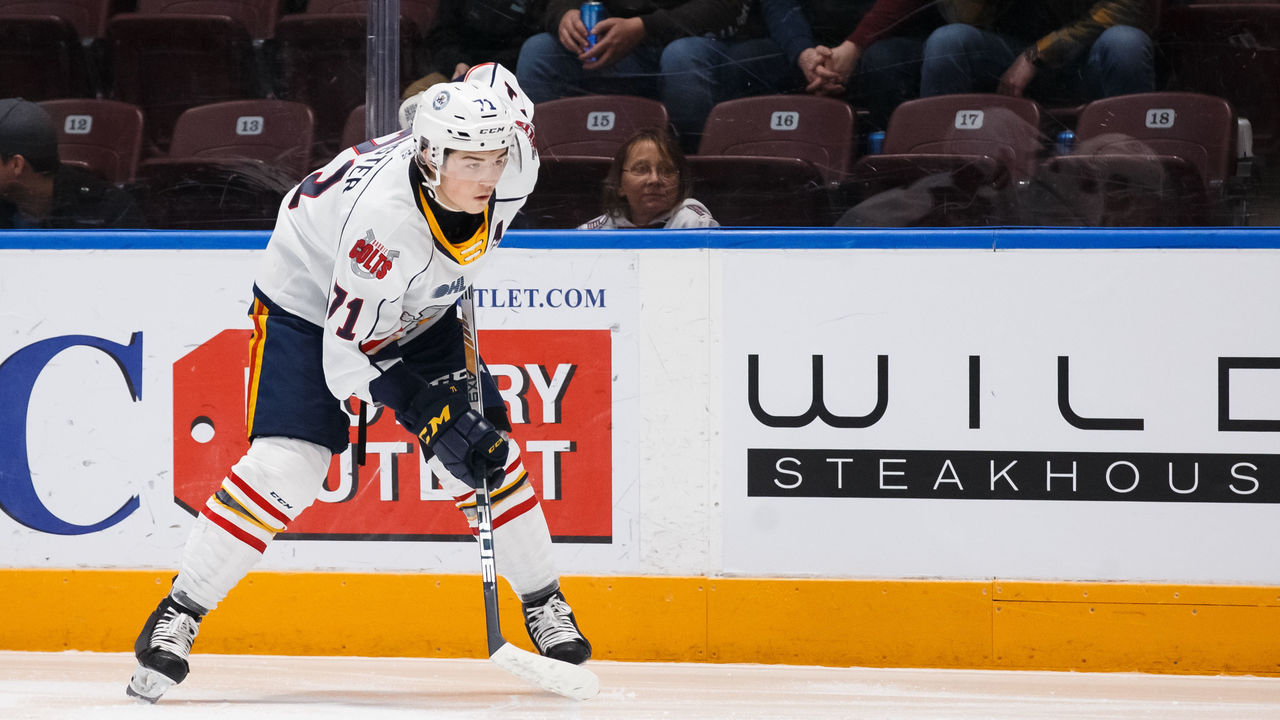 Dallas is fresh off losing in the Stanley Cup Final to Brayden Point, who, like Foerster, heard a lot about how poor his skating was as a prospect. Perhaps Stars GM Jim Nill leans into some recency bias to select Foerster. The kid has an absolute bomb of a shot, is considered very coachable, and has a solid frame. There's a lot to like about the player and pick - given the slotting.
31. Sharks (via TB) - Sam Colangelo, RW, Chicago (USHL)
Colangelo was a teammate of Brisson's with the USHL's Chicago Steel where the two players finished third and second in league scoring, respectively. Swedish defenseman William Wallinder and London Knights forward Luke Evangelista are among two of the many options the Sharks could consider at this point. Still, Colangelo gets the nod thanks to his hefty offensive upside.
Comments
✕
2020 NHL Mock Draft: Big decision at 2nd overall, intrigue high at No. 5
  Got something to say? Leave a comment below!