The NHL's bubbled postseason continued Thursday with a five-game slate. Below are three takeaways from the Blue Jackets' 4-3 overtime comeback victory over the Maple Leafs, the Flyers' 3-1 round-robin win against the Capitals, and the Canucks' 3-0 shutout of the Wild.
No off switch for CBJ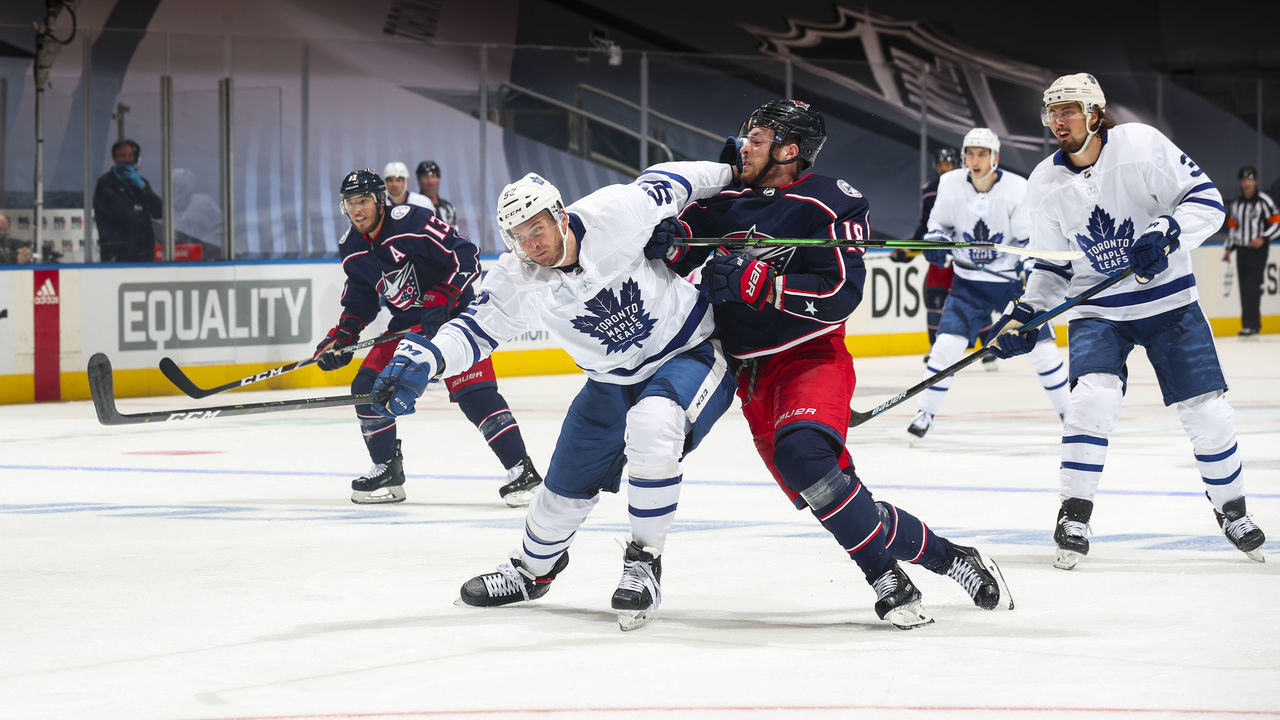 Among the countless punchlines from Thursday night's outcome - most notably that Toronto was up by three late in a playoff game, again, and lost - is a central truth about the tremendous theater unfolding between the Maple Leafs and the Blue Jackets.
The Leafs, as talented as they are and as well as they've played for the majority of three games, can't afford to let their foot off the gas at any point in any series, let alone a best of five. Because the Blue Jackets, as offensively deprived and beatable as they might look on occasion, don't have an off switch. Even in dire times, like in the regular season when basically half their roster was sidelined, or in their Game 2 defeat, they simply refuse to go away.
Under coach John Tortorella, Columbus is wired to stay in the fight until the bitter end. On Thursday, the decision to switch goalies down 3-0 midway through regulation proved to be a rallying cry. Led by an incredible performance from Pierre-Luc Dubois, the Blue Jackets picked away at the Leafs one goal at a time. Dubois is one of the only serious offensive threats Columbus has at its disposal, and after going pointless in the first two games of the series he exploded for a hat trick, including the game-winning goal with roughly a minute left in the first overtime period.
"With Luc, if he wants to be a difference-maker, a game-changer, one of the best players in the league, he has all the capabilities, all the tools. Tonight he showed it," Columbus forward Cam Atkinson said of the 22-year-old Dubois, whose very public shouting match with Tortorella during Game 2 suddenly takes on a different tone.
"It's not always going to go your way," Atkinson added, "but it's those moments where you capitalize on those opportunities. Big-time players step up in big-time, crucial situations. Sure enough, a hat trick, put us all on his back, and it was good to see him coming out like that tonight."
Tortorella, with the benefit of last change, matched Dubois against John Tavares, the lesser of two evils most nights when facing a Leafs team starring Auston Matthews. The bet paid off.
"We didn't have any real purpose or plan to our game today," Leafs coach Sheldon Keefe said during his postgame media availability. "We were making things up as we went along. We got what we deserved."
On its face, Keefe's criticism seems a little harsh. "Got what we deserved"? For large portions of Game 3, his team was dictating play, and buzzing around the Columbus crease with regularity. Against this Blue Jackets group, though, you don't deserve anything until you're done for the night. Luckily for Toronto, the schedule calls for Game 4 Friday night. No time to dwell on another colossal collapse.
Flyers look scary good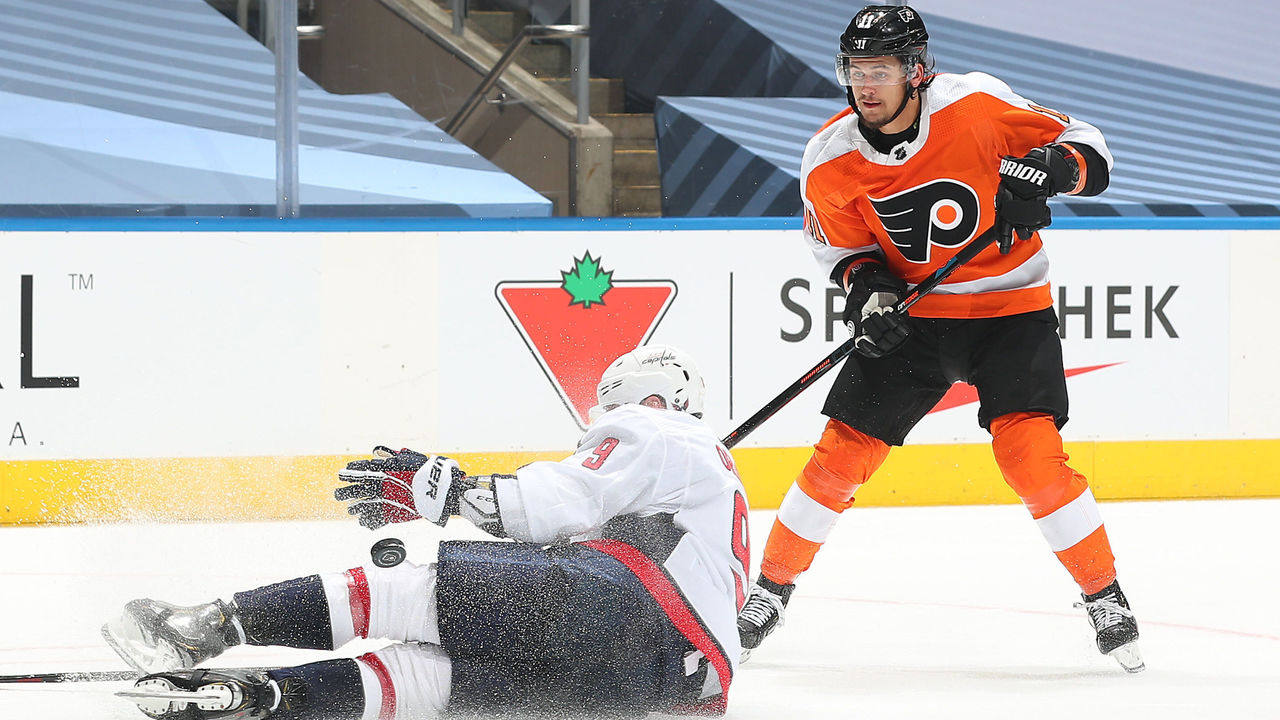 If it was a heated debate before, it isn't now: The Flyers are damn dangerous, and a legitimate Stanley Cup contender in this wacky playoff format.
Following a decisive 4-1 win over Boston on Sunday, the Flyers schooled Washington on Thursday in a 3-1 victory. Next is Tampa on Saturday, with the game's winner earning the East's No. 1 seed.
The Flyers' success so far is rooted in their second line of Kevin Hayes between Travis Konecny and Scott Laughton. In 19 minutes and 44 seconds of five-on-five action together through two contests, the trio has bagged three goals while allowing one.
Being plus-2 is nice, but the surface-level stats don't do this highly effective line justice. The unit is flat-out dominating.
Hayes, Philly's big splash signing during free agency last summer, has been especially sharp, protecting the puck with supreme confidence and exiting the defensive zone with ease. Konecny, who's as feisty as he is skilled, is skating really well, attacking off the rush and hitting his teammates with crisp, sometimes fancy passes. And Laughton, the less heralded of the three but still a key contributor, has capitalized on three of his five shots.
"They're certainly - without a doubt - our best line at this moment. I think, offensively and defensively, this was their best night. Good on the forecheck, which created some real good looks," Flyers head coach Alain Vigneault said Thursday, clearly cognizant of the fact that Jakub Voracek, Claude Giroux, and Sean Couturier usually form the club's go-to line.
The Flyers - whose .645 points percentage barely beat Pittsburgh for a top-four spot in the restart - are playing structurally sound, hard-working hockey. Philadelphia and the Hurricanes are the toast of the East through six days at Scotiabank Arena.
Vigneault is certainly pleased with his team's play, but for what it's worth, the longtime NHL head coach is stopping short of universal praise.
"I feel like we're coming along," the bench boss said.
"This is only our third game in the restart (including exhibition), so I believe we're on the right track but we're not quite there yet," he added.
Tale of two stars
On paper, the Canucks-Wild series - a battle of two imperfect squads - shouldn't hinge on each team's deadliest offensive weapon. Yet, heading into Friday's Game 4, that's exactly what's happening.
On one side there's Elias Pettersson, the heartbeat of Vancouver's attack. On the other is Kevin Fiala, Minnesota's breakout star. Through three games, the assassin-like Pettersson has accumulated a goal and two assists, while the highly skilled Fiala has potted three goals. Combined, they've contributed to 60% of the series' goals (total score: 7-3 Canucks).
Both teams have game-planned against the opposing stud, creating an interesting back-and-forth from a physical perspective.
Pettersson has been on the receiving end of seven hits while dishing out two in 56:34 of action, according to Natural Stat Trick. He's also drawn four minors and taken one. Meanwhile, Fiala's absorbed seven hits and distributed six over 52:10 of ice time. He's also drawn three minors but taken four, including three in Game 3.
The Wild need Fiala on the ice more than the Canucks need Pettersson, since there's simply more firepower among Vancouver's forward group. So for the Wild, the dynamic that's playing out is a recipe for disaster.
"We're such a good five-on-five team and when we can roll four lines, we're really good," Wild forward Marcus Foligno told reporters in Edmonton following Thursday's 3-0 loss. "We're just kind of getting a little bit stung by that, and we definitely just have to calm it down a little bit with the penalties."
With their backs against the wall, Foligno and friends need to reverse that trend ASAP.
John Matisz is theScore's national hockey writer.