Underdogs prevailed in both of the NHL's 5 vs. 12 qualifying series games Friday. Here are three takeaways from Montreal blanking Pittsburgh 2-0, and Chicago bouncing Edmonton from the playoffs with a 3-2 win.
Montreal's outing went according to plan
There are two ways to frame the Canadiens' mammoth Game 4 shutout victory. One is to say they basically won in five seconds - the elapsed time between Ben Chiarot forcing a turnover in the offensive zone and Artturi Lehkonen cashing Paul Byron's whirled pass to the tip of the crease. The other is all-encompassing - Montreal had a plan on Friday, and it worked to perfection for 60 minutes.
From puck drop, Claude Julien's charges looked entirely content to angle for a 1-0 win. They planned to bottle up Pittsburgh's rushes, prevent the Penguins from gaining any modicum of space or speed, curb the quality of any shots that got through to Carey Price, and seize on the frustration this approach was sure to cause. And, you know, to score eventually.
The Habs' conservative start was striking after they racked up four goals and a whack of scoring chances off the rush in Game 3. Yet it was also logical they'd default to caution, given the skill gap between these rosters. Sidney Crosby and Evgeni Malkin were never at their best, but their reputations precede them. As it turned out, Montreal's four top scorers - Tomas Tatar, Phillip Danault, Max Domi, and Brendan Gallagher - didn't need to supply a single goal in this textbook underdog series win.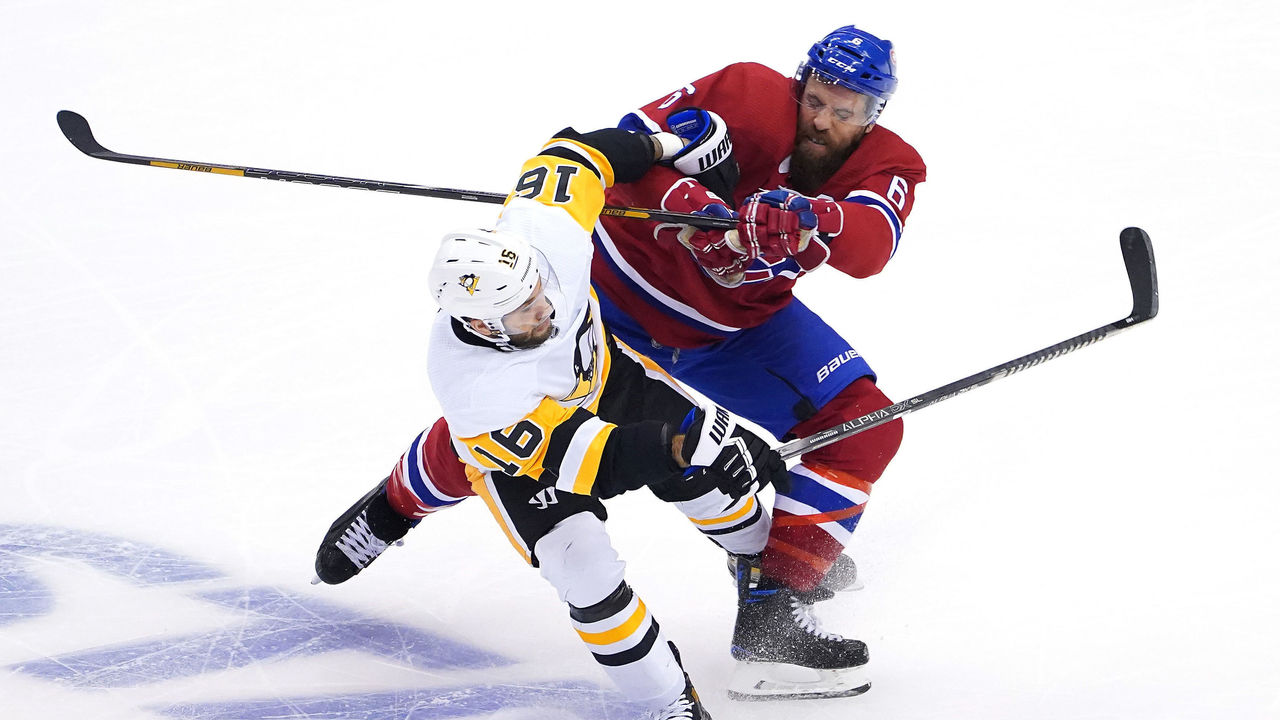 The Canadiens gained more pep as Game 4 wore on, seemingly assured that quickening the tempo wouldn't benefit Pittsburgh. They overran the Pens in shot and scoring attempts from the midway mark on and were sharper down the tense final stretch. Julien rejigged his lines to promote Nick Suzuki to No. 1 center, which galvanized the new second trio of Danault, Byron, and Lehkonen. That line pounded Pittsburgh at five-on-five to the tune of a 70.5 expected-goals percentage, plus the game-deciding goal.
The big picture here: a .500 team, the 24th-best in the NHL, is legitimately in the playoffs, where they'll probably get pantsed in, say, five games by Tampa Bay or Philadelphia. But let's hold that thought for next week. Price's .947 save percentage (.960 at even strength) is the best mark of the qualifying round, and after the Habs lost Game 2 despite his sensational play, other guys - the defensive triad of Chiarot, Shea Weber, and Jeff Petry, primarily - helped lift the club off the mat.
As for that desired 1-0 scoreline? The insurance marker Weber wound up rimming around the boards and into Pittsburgh's empty net came when Chiarot, Danault, Byron, and Lehkonen - plus Price, of course - were also on the ice. For those players specifically, it'd be hard to script a more fitting ending.
Where was Pittsburgh's urgency?
Pardon a quick reference to Friday's Nashville-Arizona game, which the Coyotes won 4-3 in overtime to seal that series. Bowing out at this stage is a profound disappointment for the Predators, the Western Conference's sixth seed, but at least Roman Josi can't be blamed. He didn't score but took a dumbfounding 14 shots on Coyotes goalie Darcy Kuemper, more than a quarter of Nashville's 52 overall.
Suffice to say that Crosby and Malkin didn't rise to Josi's standard in Game 4. The moments that they, or any teammate, played with the needed urgency to snap Pittsburgh's trance were scant. Crosby forced a good save from Price at the end of a rare odd-man rush, and he rang one slapper off iron during a third-period power play. Those were fruitless highlights on an afternoon Pittsburgh generated just 22 shots and three high-danger chances.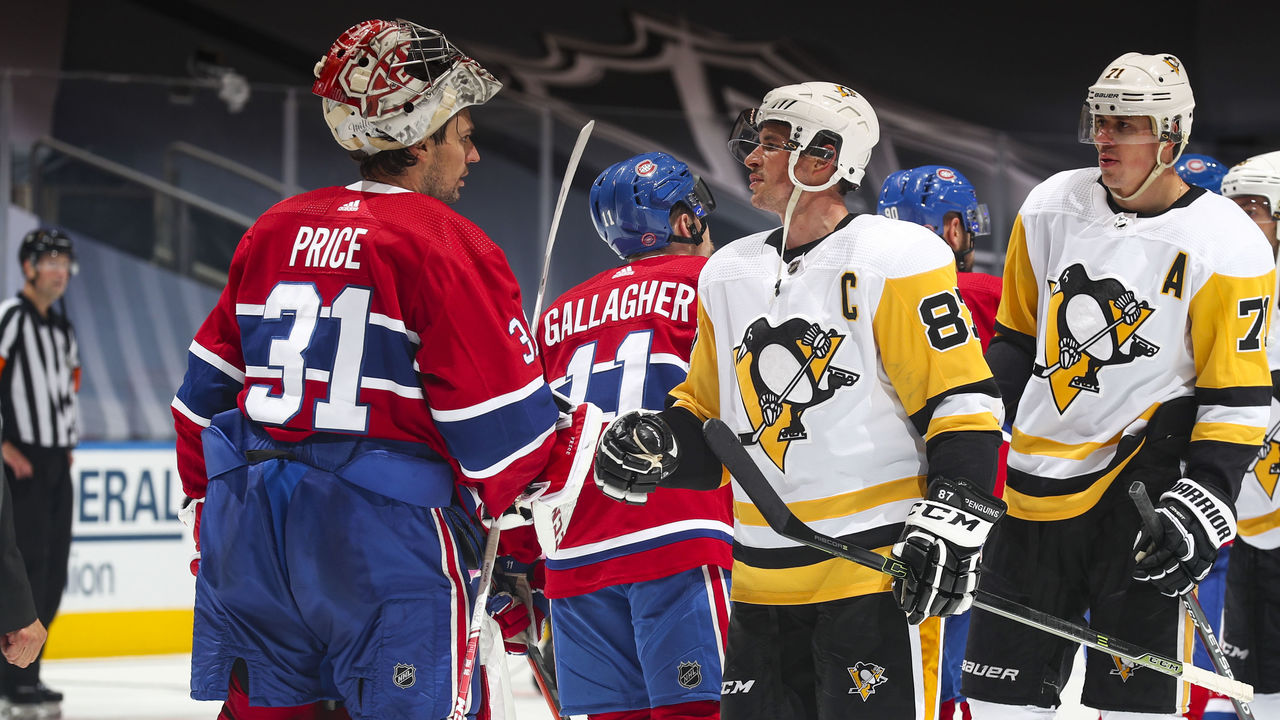 If Montreal was the chief beneficiary of this postseason's unique format, the Penguins fell prey to the danger it represents: a hot goalie toppling a high seed in a shorter series than usual. That doesn't fully explain this catastrophic letdown, though, and for as impenetrable as Price looked at times, stars have to be ready to bear the burden of facing him. Malkin helped drive solid possession numbers across the series but wasn't on the ice for a single Pens goal at five-on-five. Pittsburgh only scored four of them, anyway.
By the time Game 4 ended, broadcasters working the series were trendily pointing out how Pittsburgh's lost nine of its 10 most recent playoff games, including last season's first-round sweep at the hands of the Islanders. Their Stanley Cup form of 2016 and 2017 recedes farther in the rearview every year.
By inserting Tristan Jarry in net for Game 4, coach Mike Sullivan was seeking to replicate the boost Matt Murray provided when he displaced Marc-Andre Fleury during the 2017 Eastern Conference Final. Ultimately, the Pens' struggles against Price negated their goaltending question. Jarry and Murray are both about to hit restricted free agency, but the team's more pressing issue is its great disappearing killer instinct.
Chicago won with mettle
The Oilers could have beaten the Blackhawks without necessarily changing too much, as their No. 5 seed foretold. In what's obviously bare consolation, the advanced metrics are on their side as they exit the bubble in their own home city. Their superior shot share and number of quality chances at five-on-five amounted to an expected goals percentage of 58.52. Put into words, they probably should have won three of four games, not the reverse.
In reality, Chicago outscored Edmonton 12-9 at full strength - and 3-0 across the third periods of Games 3 and 4, as the Oilers squandered one lead and then biffed the chance to claim another and avoid premature elimination. A few factors led to Edmonton's undoing, primarily defensive lapses at the wrong time and the general absence of secondary scoring - an impediment in a matchup that featured so many goals both ways.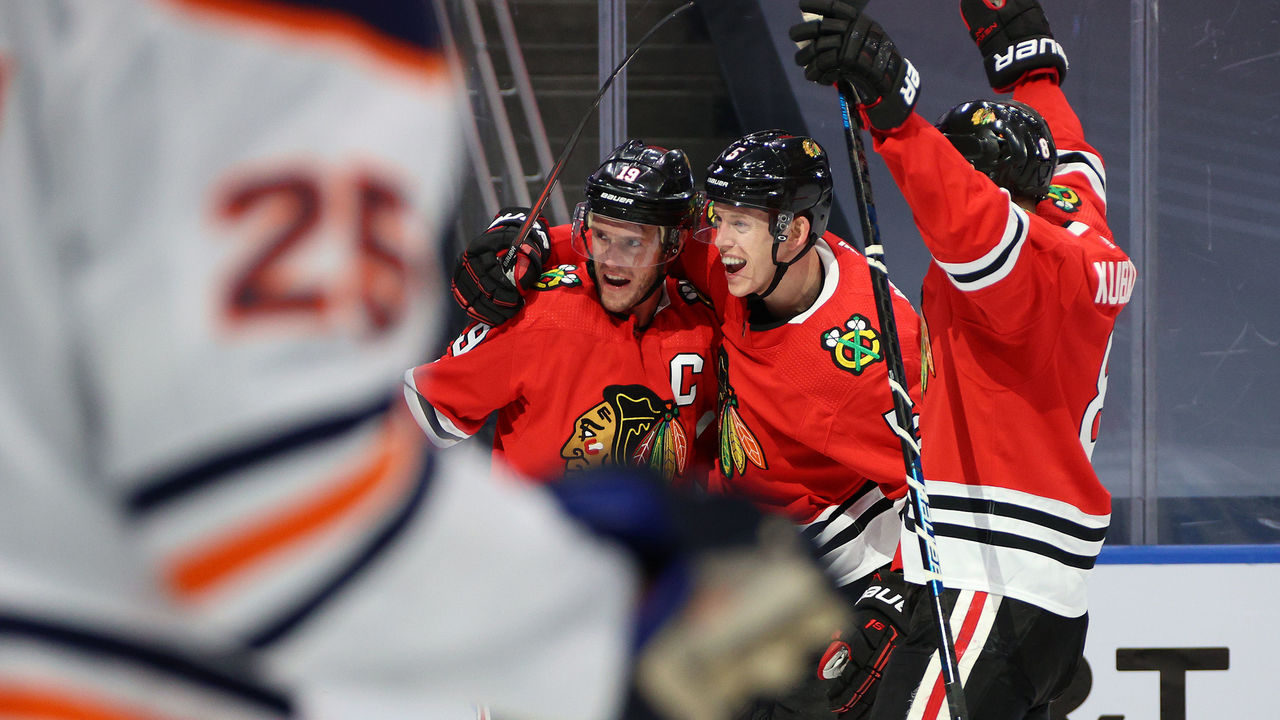 Crucially, the Oilers lacked tenacity in decisive moments, which is what helped the Blackhawks secure their first series victory since 2015, when Jonathan Toews and Patrick Kane last hoisted the Stanley Cup.
In Game 3, Edmonton blinked and lost its one-goal edge in the third period, when Chicago rallied back to score on two netfront tips. The team's cunning and brawn set up all three of their goals in Game 4. Brandon Saad got inside position by the net on Oscar Klefbom ahead of his wraparound tally. At 2-2, Toews outmuscled Ethan Bear in a puck battle and then fed Dominik Kubalik for his one-timed winner.
Small breaks and decisions had an outsize effect in shaping Chicago's victory, which happens in close games. Think of Darnell Nurse's (admittedly dubious) interference penalty that interrupted a five-minute Oilers power play. Think of Kubalik stretching to stay onside during the zone entry that preceded his goal. Think of Edmonton getting booked for too many men with two minutes left, and Chicago adopting a four-corners offense to burn most of that remaining time.
Connor McDavid exits the playoffs as the clubhouse leader in scoring with nine points. Ryan Nugent-Hopkins and Leon Draisaitl were forces in this series, too. But the dearth of help behind them, and strong showings from Kane and Toews in their own right, along with Corey Crawford finally standing tall in Game 4 all offset the duo's brilliance. Crawford's 43 saves included a few huge stops in the waning minutes that will nag Edmonton's stars all summer.
Like Montreal, the Blackhawks will be severely outmatched next round by Colorado or Vegas, the round-robin heavyweights still in the running for the West's top seed. That said, nothing can detract from the gutsiness they showed in the play-ins, nor from the significance of these legendary franchises' latest milestones. Before Friday, no NHL team had shocked the world in a 5 vs. 12 showdown in decades.
Nick Faris is a features writer at theScore.