Somehow, the No. 12 seed Canadiens and Blackhawks each moved within a victory of clinching their qualifying series Wednesday night. Four stats help explain how Montreal stunned Pittsburgh 4-3 and Chicago rallied to edge Edmonton by the same score.
6
Weber, Petry, Chiarot's combined points
Generally, a team's most reliable sources of offense are its power-play units and No. 1 line. Even subpar power plays score close to 20% of the time, and it stands to reason that three skilled forwards will click given enough shifts to operate together.
Those wellsprings have so far failed the Canadiens against Pittsburgh. They've struck out on 10 turns with the man advantage, and Phillip Danault, Brendan Gallagher, and Tomas Tatar remain goalless through three games. Context mitigates each of these shortcomings - Montreal scored twice soon after power plays expired Wednesday, and Danault and Gallagher did assist Jeff Petry's Game 1 overtime winner - but it's clear these go-tos haven't supplied the juice needed to spark the play-in round's biggest possible upset.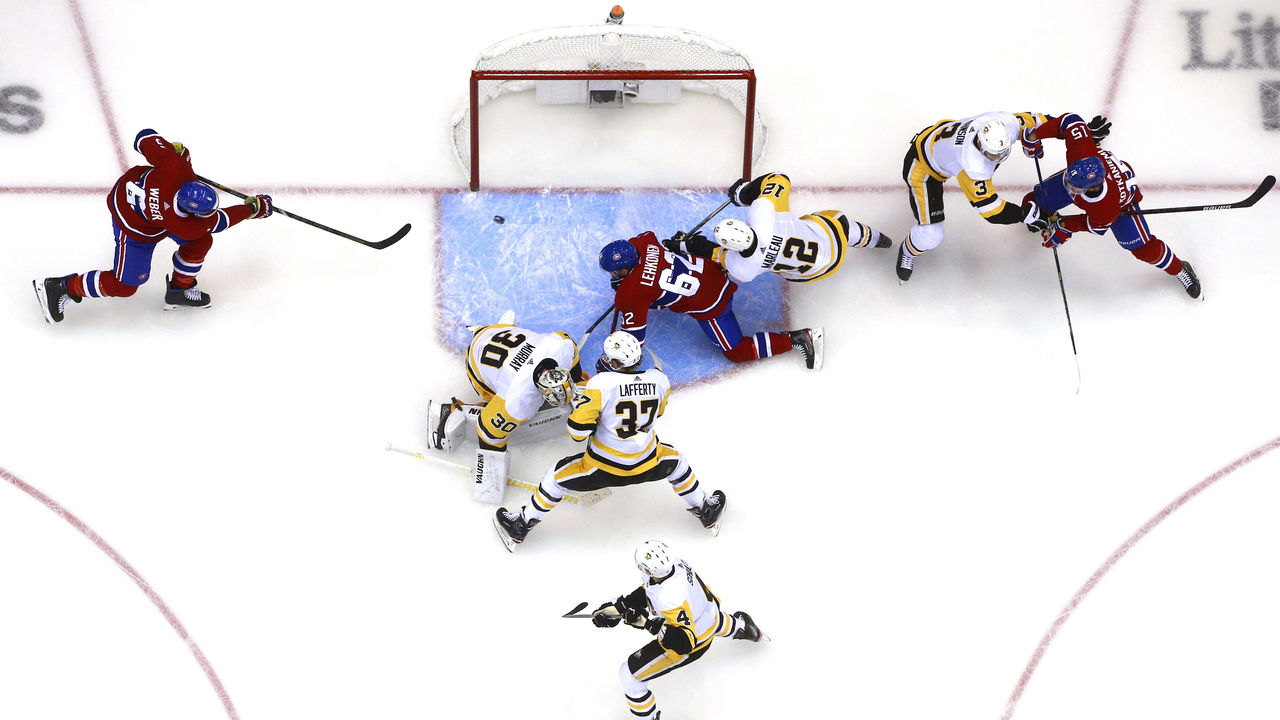 No matter, as that upset's indeed at hand in Toronto, and Montreal's best defensemen deserve the majority of credit. Petry, Shea Weber, and Ben Chiarot's mitts were all over the effort that pushed the Penguins to the brink of elimination. All four Habs goals started or ended with one of those sturdy rearguards spearheading or joining a rush, shooting for a rebound or tap-in, or, in Petry's case, planting his feet on the goal line in the corner and wiring a nasty wrister off Matt Murray's collarbone and in.
Petry's snipe was the 32-year-old's second winning goal in three games and, remarkably, his ninth in the past two seasons. (He only scored six such goals across his previous eight years in the NHL.) Weber's first-period goal was one of five shots and three high-danger chances he managed, each number a team high in Game 3. Not to be handily outdone, Chiarot supplemented his two assists with a hit that erased Patric Hornqvist behind the net during a monumental late Penguins power play, occasioning a clearance and helping preserve Montreal's slim lead.
At anything less than their joint best, Danault, Gallagher, and Tatar usually can't hope to replicate the impact of, say, Sidney Crosby's line. The Habs have an eye on the round of 16 because this defensive trio stepped up instead.
.951
Price's overall SV% at even strength
About Crosby: Pittsburgh's captain recorded an assist but no goals Wednesday after scoring at even strength in each of Games 1 and 2. Third-line center Teddy Blueger was the only Penguin who solved Carey Price in five-on-five play, while all four of Montreal's goals came in that phase of the game.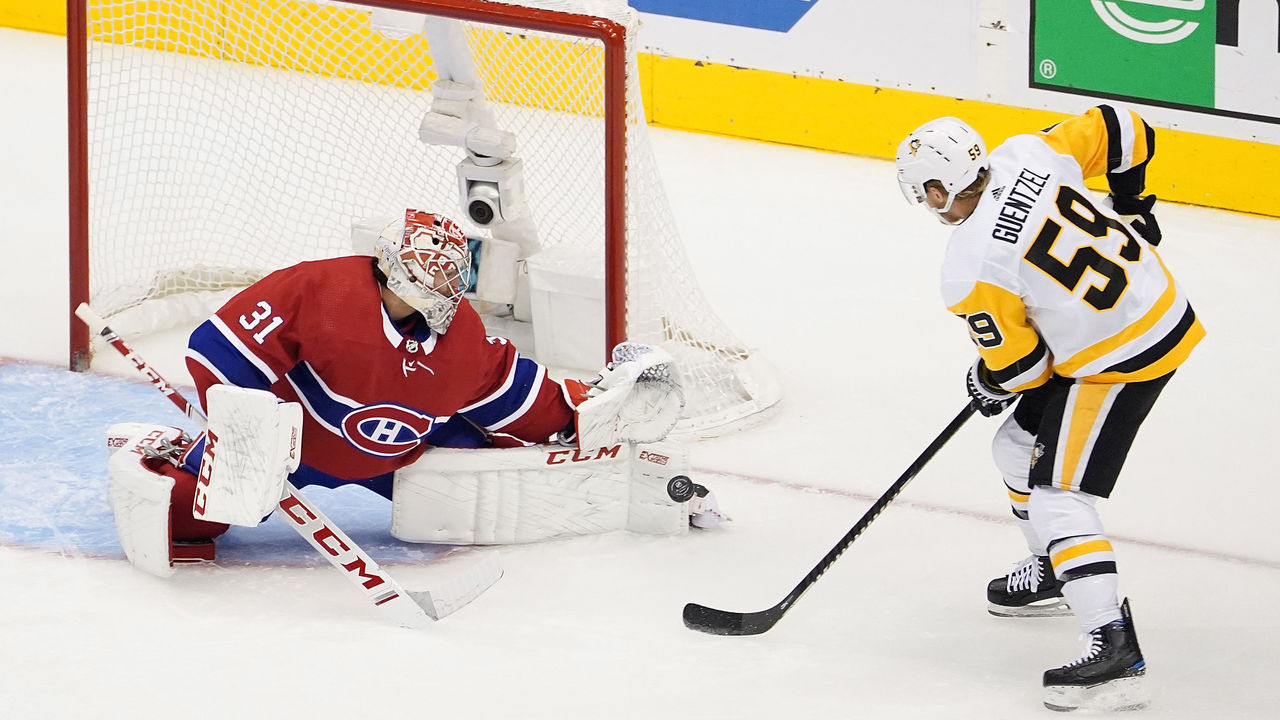 Price's 30-save performance wasn't as plainly magnificent as the 37 saves he made in Game 2, when only he kept the Habs' 3-1 loss from devolving into a blowout. But he didn't flinch in the face of tours de force from Crosby, Evgeni Malkin, and Blueger's forward units. Those lines dominated Montreal at five-on-five, posting respective expected goals percentages of 72.09, 80.68, and 84.58. To put that in words: this game should have been a rout, too.
Price has now rebuffed 77 of the 81 shots he's seen at even strength this series, producing that .951 figure above. It's a crude comparison, but Murray's personal .901 mark is a whole lot worse and evinces the advantage Montreal has fashioned for itself outside of special-teams play. That Pittsburgh's up 3-0 in the series in power-play goals hasn't mattered to date.
2
Edmonton's losses this series when Draisaitl scores
Rare were the nights in 2019-20 when a tally from the NHL's scoring champion didn't guarantee an Oilers victory. Edmonton's record in such games this past regular season was 24-5-2, as Sportsnet's telecast noted not long after Leon Draisaitl got on the board in Game 3. By rallying to tip tying and go-ahead goals past Mikko Koskinen in the waning minutes, the Blackhawks went against the grain yet again.
In isolation, the two goals and an assist Draisaitl bagged in 24:22 of ice time were a terrific sign. His six shots (four from the slot) were six more than he directed at Corey Crawford in Game 2, when Connor McDavid was left to bear Edmonton's scoring load and responded with his first playoff hat trick. When they excel simultaneously - when the two of them and Ryan Nugent-Hopkins each conjure five individual scoring chances, as happened Wednesday - that's supposed to be enough to quash the likes of a No. 12 seed.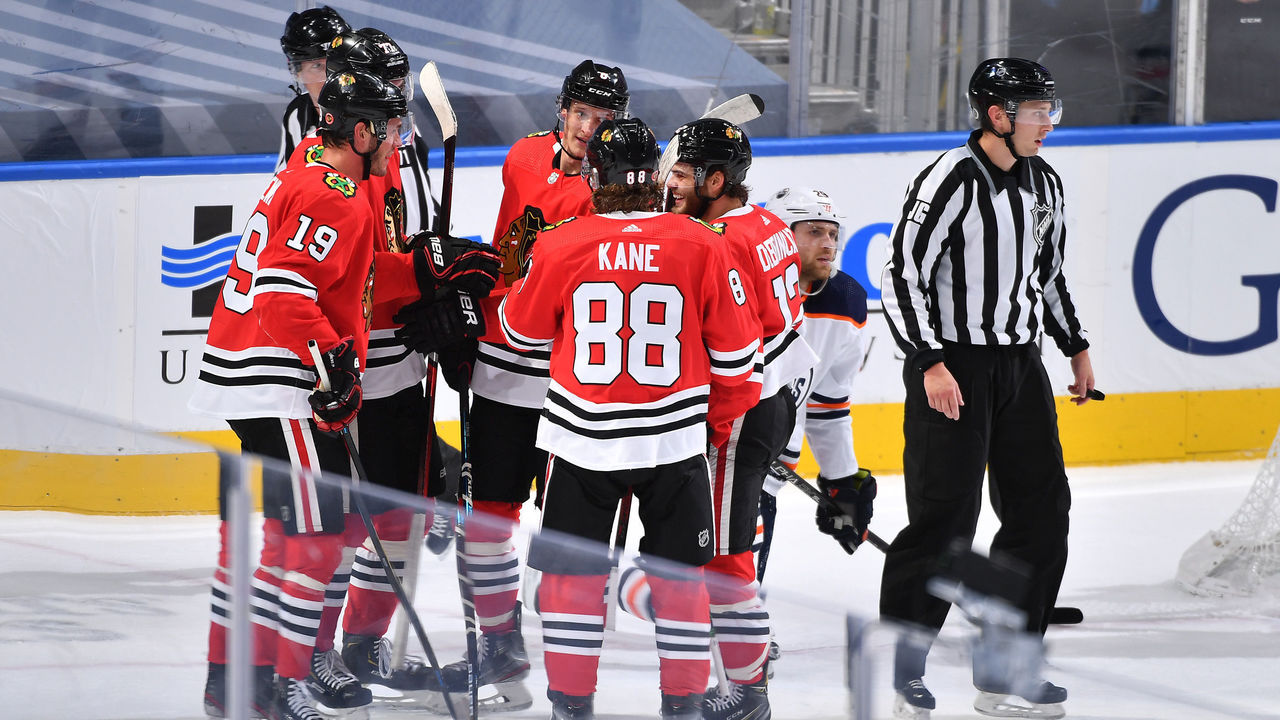 The Oilers have scored 13 goals in this series, but only one with McDavid and Draisaitl both on the bench. What a shame it would be if depth woes - that lethal dearth of consistent help - eliminate Edmonton's stars before the playoffs start in earnest. What a challenge, in all likelihood, they'll have to foot alone again in Game 4.
8:17
Chicago's offensive-zone possession time
On the other hand, what a throwback showing Jonathan Toews and Patrick Kane have put forth in this series.
If the Blackhawks prevailing on a night when Draisaitl scored was unlikely, the two-goal turnaround that clinched the comeback was the warranted result of posting up in the Oilers' end for almost half a period. Sustaining that pressure afforded Chicago the chance to wreak occasional havoc with Koskinen's sightline. Screens off point shots prevented the netminder from getting a read on Olli Maatta's first-period slapper and Matthew Highmore and Toews' redirected goals late. Keep pucks deep for long enough and something like that's bound to happen.
Toews was superb Wednesday, leading his line to a 75% shot share at five-on-five, while Kane controlled the puck in Chicago's offensive zone for an astonishing 2:12, according to data provided by SPORTLOGIQ. These running mates were 22 and 21 years old when they celebrated their breakthrough Stanley Cup title in 2010. McDavid and Draisaitl are 23 and 24, fifth- and sixth-year players who've gotten as far as the second round. In a couple of ways, Game 3 was another reminder that their situations aren't equivalent.
Bonus stat: 75%
One historical nugget for the road: NHL teams that win Game 3 to go up two games to one in a best-of-five series have finished the job in 21 of 28 cases, or three-quarters of the time, according to the league.
For context, that sample extends as far back as the 1918 Stanley Cup Final between the Toronto Arenas and Vancouver Millionaires. The most recent example is from 1986, right before best-of-sevens became the prevailing format in all rounds. Still, it gives you an idea of what the Penguins and Oilers are up against as they enter Game 4 trying to engineer reversals of fortune.
Nick Faris is a features writer at theScore.