NHL play-in action continued to heat up Tuesday with Carolina's 4-1 sweep-clinching win against the Rangers, Calgary's 6-2 blowout of Winnipeg, and Vancouver's 4-3 squeaker over Minnesota. Here's a rundown of three players whose influence was of the essence in these games.
J.T. Miller, Canucks C
Kevin Fiala tried his mightiest to make things interesting late - seriously, the guy can flat out shoot; that's 17 goals in a 20-game stretch for the Wild winger dating back to early February - but Vancouver's all-hands-on-deck performance atoned for a Game 1 no-show and demonstrated that Alex Stalock is indeed beatable.
Brock Boeser scored his first career postseason goal in Game 2, and whiz kids Quinn Hughes and Elias Pettersson both got on the scoresheet with breakthrough assists. All night, though, the Canucks took their cues from Miller, a 27-year-old sage on the young team he quietly topped in scoring (27 goals, 72 points) this season.
Advanced metrics and a purist's tastes alike confirm that Miller led the charge for Vancouver. He controlled the puck in the offensive zone for 1:31, 21 seconds more than any other skater, according to data provided by SPORTLOGIQ. That he, Pettersson, and Boeser combined to score twice at five-on-five was consistent with the line's hearty 65.2 expected-goals percentage.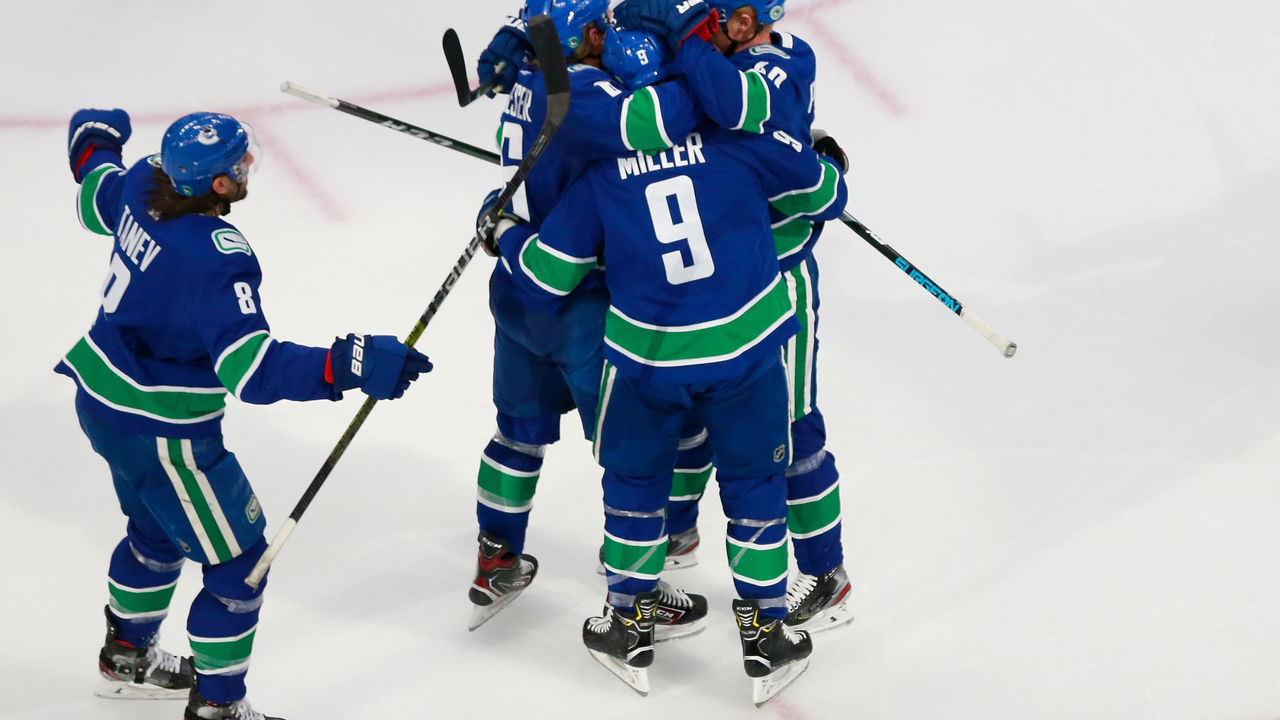 On the other hand, Miller's otherworldly toe-drag sidestep of Matt Dumba and the wrister he subsequently slung past Stalock in the second period pretty much spoke for itself. So did the Ryan Donato blast he blocked later in the frame at close range, which the Canadian telecast nonetheless replayed on repeat to laud his guts and leadership by example.
That so many core Canucks had never before suited up in the NHL playoffs - Boeser, Hughes, Pettersson, Troy Stecher, Jake Virtanen, even 30-year-old goalie Jacob Markstrom - threatened to be a hiccup even against the 10th-seeded but experienced Wild. Somehow, Miller's Game 2 snipe was only his fourth goal across 63 career playoff appearances. It stabilized Vancouver when needed, the mark of a star who's keen to last in the Edmonton bubble for longer than a week.
Sebastian Aho, Hurricanes C
Twice in Toronto on Tuesday, decisive sequences in the Hurricanes-Rangers game called for Aho to make a play. He delivered both times, first covertly and then overtly.
Viewers could be forgiven for missing the slick Finn's handiwork on the Hurricanes' first goal, the product of a 75-second shift in the Rangers' end. Toying with a tired group that included a stickless Marc Staal, Carolina held onto the puck while swapping out its fourth line for Aho's forward unit. The cycle finally concluded with Andrei Svechnikov feeding Teuvo Terevainen for a sweet backhand in the slot - assisted by Aho's timely stick lift on Phillip DiGiuseppe.
The interminable shift was peak 'Canes, the NHL's third-best Corsi team in the regular season; rarely are the merits of maintaining puck possession exhibited so clearly. Sweeping the Rangers with Dougie Hamilton out of the lineup was a team effort, and at this particular series-shaping juncture, Aho took care of the important little thing.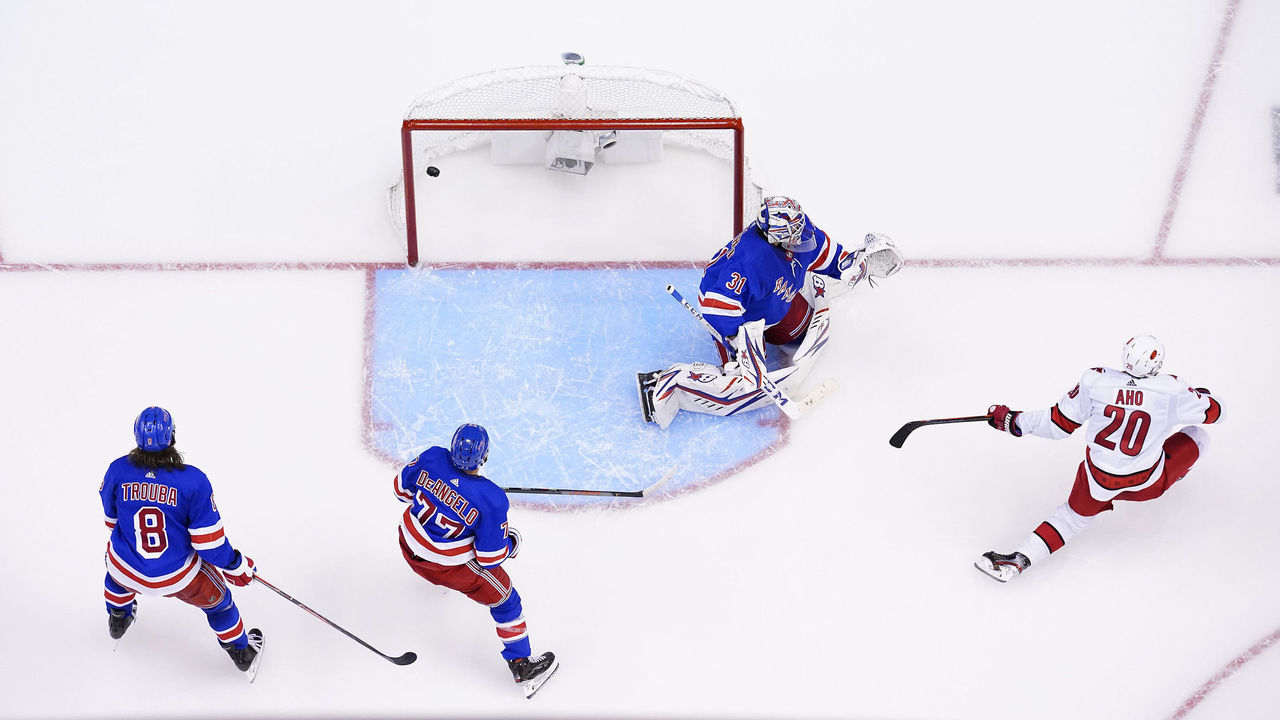 Carolina's third goal was Aho's entirely. If 'Canes goalie James Reimer could have taken a catnap prior to Terevainen's tally, this one emerged from nowhere when Aho stripped Jacob Trouba at the New York blue line and immediately crossed up Tony DeAngelo. By then, the backhand he flipped from his knees past Igor Shesterkin's shoulder and under the bar seemed inevitable. (Same goes for the empty-netter Aho added in the final minute.)
The effect of Aho's showing was to wrest unofficial player-of-the-game honors from Reimer, the surprise choice to make his first playoff start since 2013 in place of Petr Mrazek. Reimer's point-blank paddle save on Filip Chytil, the most spectacular of his 37 on the night, may remain the denial of the postseason when all is said and done in two months' time.
For now, Carolina advances to the round of 16 with two decent goaltending options - and the center who just outplayed every skater in the qualifiers not named Connor McDavid.
Andrew Mangiapane, Flames LW
Nearing the end of his first full NHL season, Mangiapane doesn't have the profile to match those of his fellow top-six Flames forwards. Johnny Gaudreau's niftier with the puck, while Matthew Tkachuk's way more adept at rankling the opposition. Sean Monahan, Mikael Backlund, and Elias Lindholm all have significantly greater track records of producing at the highest level.
Those five players each found twine in Game 3 against Connor Hellebuyck, as did Milan Lucic, who also had another goal disallowed due to goalie interference. The story of Calgary's authoritative victory was that of its big guns hammering the Jets for three power-play scores and a ton of chances at even strength. It was Mangiapane who played the role of unsung hero, operating doggedly and shrewdly in the margins to make some of those finishes easy.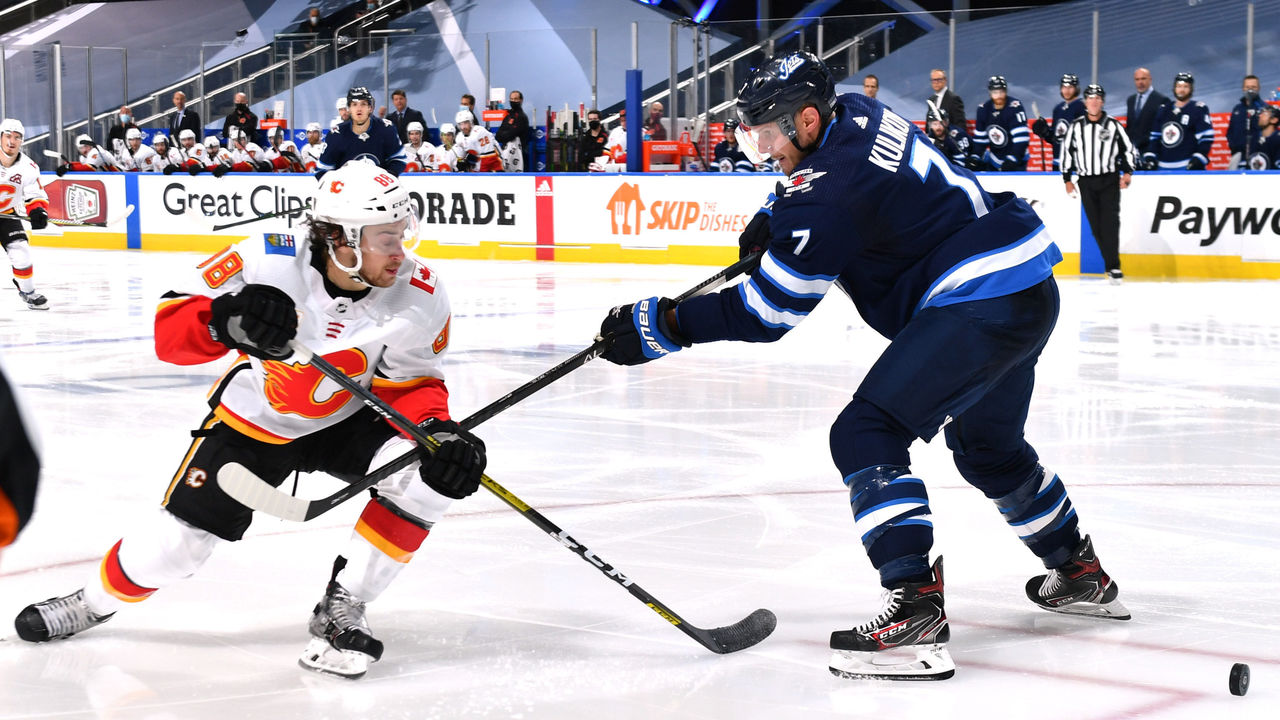 Will and skill enabled the 24-year-old left winger to set up the Flames' two goals at five-on-five. On both occasions, Mangiapane applied forechecking pressure off dump-ins, repossessed a loose puck in or around the trapezoid, and fired a perceptive pass to the front of the net for Backlund and Tkachuk, in that order, to roof snapshots past Hellebuyck.
Without touching the puck, Mangiapane's positioning subtly keyed Calgary's final power-play goal. His presence in the slot attracted Neal Pionk and Cody Eakin's undivided attention, leaving Lucic open on the weak side to bury a rebound.
Twice a 100-point scorer in junior, Mangiapane's hands have benefited him in the NHL in concert with his energy and edge. By venturing to the grimy areas Tuesday while Backlund and Tkachuk slipped into scoring position, he helped the line carry 75% of scoring chances at five-on-five, proving his two primary assists were well earned.
The Jets still await a vintage Hellebuyck performance, which the Vezina Trophy finalist might yet unleash in Game 4 to push this best-of-five to the brink. Winger Nikolaj Ehlers scored and was generally a force in Game 3 - his five scoring chances tied Backlund for the game high - but without Mark Scheifele and Patrik Laine, Winnipeg's depleted top lines have simply been less effective than Calgary's. Surrounded by bigger names, Mangiapane's contributions to that imbalance have been noticeable.
Nick Faris is a features writer at theScore.