Six games were on the docket in the NHL playoffs Monday. Here's a selection of winning storylines from around the league, including Carolina's 4-1 triumph over the Rangers, Winnipeg's 3-2 defeat of Calgary, and Vegas' 5-3 toppling of Dallas.
Four peers join Dumba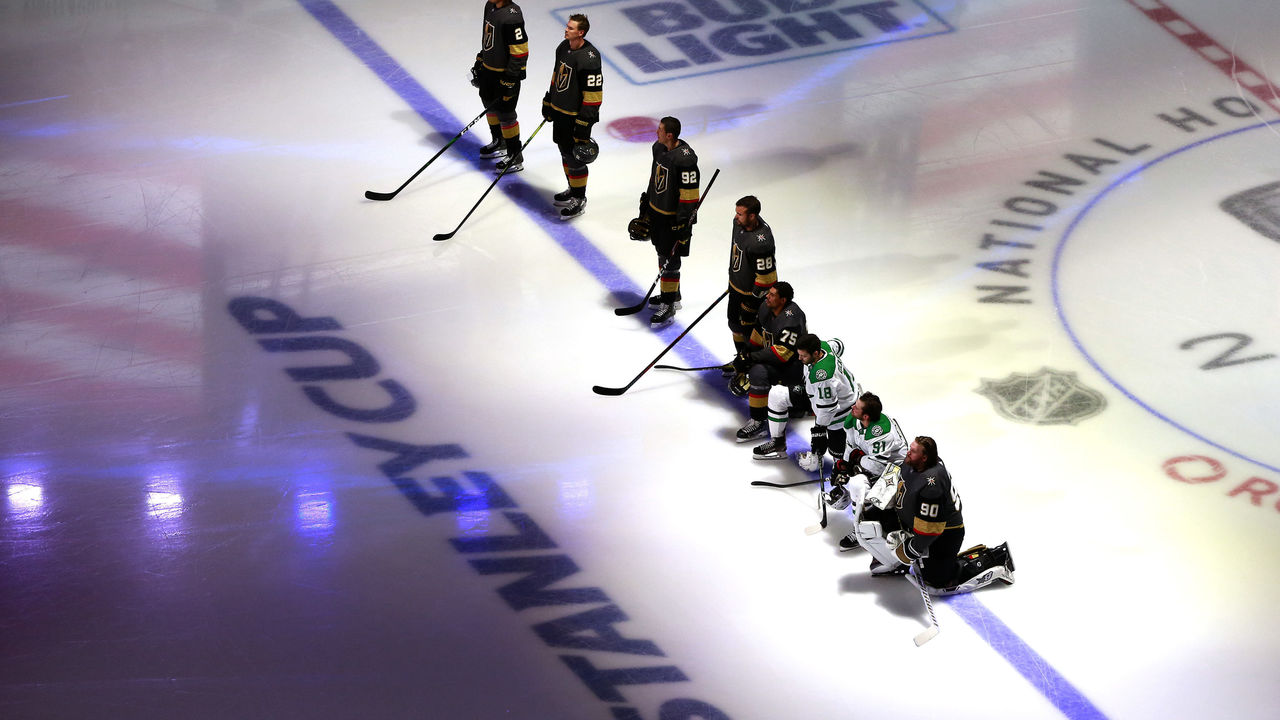 On Saturday, Matt Dumba became the first NHL player to kneel during a national anthem. He remained the only one until Monday evening when Dumba found allies in Tyler Seguin and Jason Dickinson of the Stars and Ryan Reaves and Robin Lehner of the Golden Knights, who all knelt for the anthems prior to a round-robin matchup in Edmonton's Rogers Place.
This act by two sets of teammates has raised the bar. Previously, public gestures within teams had been limited to locked arms by Bruins players and coaches, Bruins and Predators wearing BLM-related T-shirts, and those so-called "acts of solidarity" before exhibition games. Generally speaking, the outpouring of support for Black Lives Matter from white NHLers amid the league's hiatus had slowed to a drizzle in the cities hosting the 2020 playoffs.
What we witnessed Monday - four players, three of whom are white, stopping to support a worldwide anti-racism movement - was profound, a statement that could act as a turning point for a predominately white sport traditionally known for only loose stances on issues plaguing society at large.
"At the end of the day, it's about human rights, not politics," Lehner said postgame.
Finally, Dumba - who delivered a heartfelt speech Saturday while flanked by Darnell Nurse and Malcolm Subban, two other NHLers of color - has some company. We'll see in the coming days if the powerful pregame imagery from Dallas-Vegas resonates across the league. It could be the start of a trend and an ignited conversation about racism in and out of hockey. Or, it could be a one-off. Earlier Monday, Wild head coach Dean Evason noted that his team hadn't really considered raising fists or locking arms in unity alongside Dumba.
"Nope, there's been no discussions," Evason said, "and the only thing that we've discussed as a staff - as I've mentioned before - is that we want to eliminate racism for good."
Schneider's a TV natural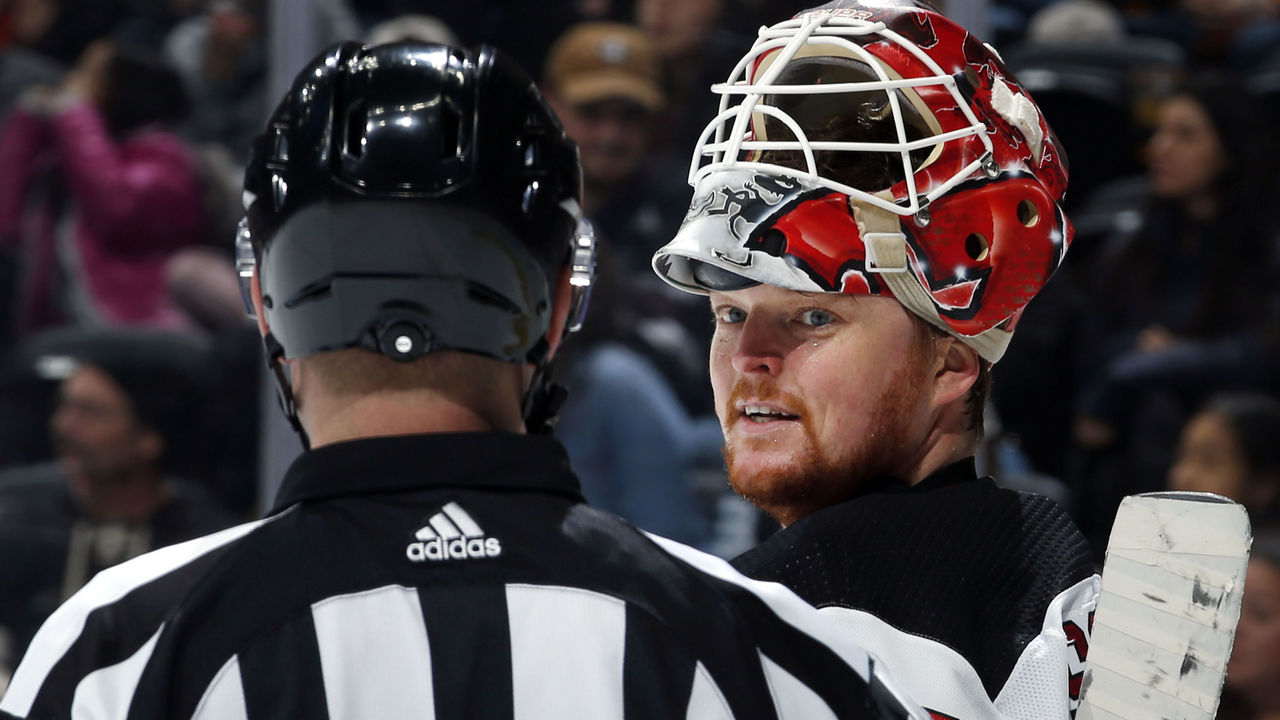 Cory Schneider is still an active player in the NHL so it's important not to put the cart before the horse here, but his early postseason work for NBC suggests he's headed for a long, successful post-playing career as a TV analyst. (If he chooses to pursue permanent work in broadcasting, that is.)
Schneider offers viewers a rare perspective, much like recently retired defenseman Kevin Bieksa, this season's breakout star on Sportsnet. The 34-year-old Devils goalie knows these playoff performers intimately, giving him the ability to contextualize certain gameplay scenarios in ways other broadcasters - including most former players - simply cannot.
Schneider's well-delivered take on Andrei Svechnikov's second of three goals, for instance, helped put viewers in Henrik Lundqvist's skates for a moment.
"He's got a clear sightline and you say, 'He's got to have it,'" Schneider said of Lundqvist. "But there's not much you can do about it. He's sitting on a 95-mph fastball and you get a change-up."
The icing on the cake in Schneider's broadcasting debut: that hockey flow.
Glue guys vault Canes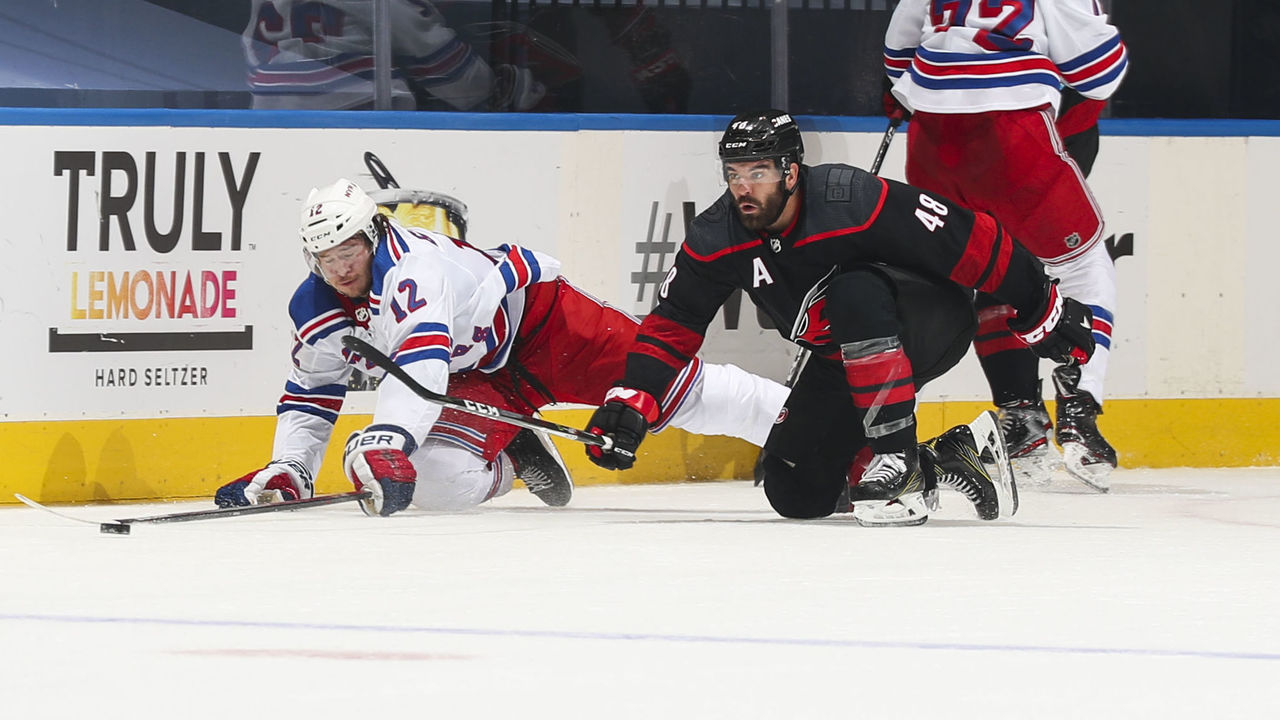 Svechnikov made history Monday by recording the first playoff hat trick in Hurricanes history. At 20 years old, he's already cemented himself as one of the NHL's preeminent snipers, and the NHL playoffs provide a fitting stage for him and two-way star Sebastian Aho.
In saying that, Svechnikov, Aho, and Carolina don't make such a bold statement in Game 2 against the Rangers without contributions further down the lineup. Guys like Jordan Martinook, Morgan Geekie, and Joel Edmundson - far from household names - were critical to the victory.
Martinook, a boisterous glue guy up front who is said to be beloved by his teammates, scored his first career playoff goal. He also got in a dustup with Rangers defenseman Tony DeAngelo, a penalty trade-off that Carolina will take all day. According to data provided by SPORTLOGIQ, fellow bottom-six forward Geekie had 33 seconds of offensive-zone puck possession time - good for second on the Canes - in just his fourth NHL contest. Meanwhile, Edmundson, acquired last September to bolster an already deep defense corps, recorded a game-high seven shots on goal, four of which came from the slot area.
That last stat was key in Game 2, as the Canes not only outshot the Rangers 34-24 overall but also 20-10 from the slot. And they did it without the services of offensive catalyst Dougie Hamilton, who's been "unfit to play" thus far.
No matter how you slice it, these Hurricanes look scary after two games.
COVID-19 staying away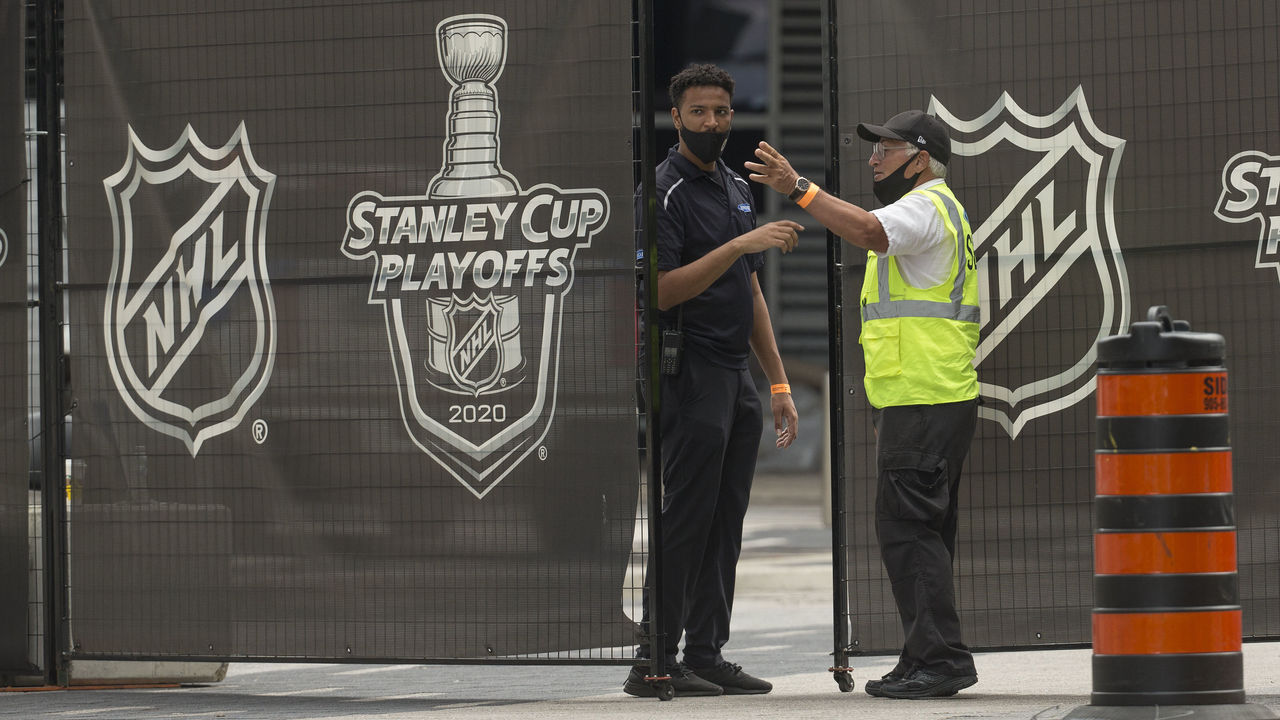 Bravo, NHL, the bubble environment is working.
On Monday, the league announced COVID-19 testing results from July 27 to Aug. 1, a period that covers the first week of Phase 4. No positive tests were discovered among the 7,013 administered over this time to players, coaches, and other members of each club's 52-person traveling party.
The latest update represents another milestone for return-to-play organizers, even if there were also no positive tests across the league upon entry into the two hub cities of Edmonton and Toronto. A continuously clean sheet indicates rules are being obeyed and the thorough health and safety measures outlined by the league and its doctors are helping keep a tight lid on the bubbles.
Really, the NHL isn't letting anything slip, with Bruins goalie Tuukka Rask revealing Monday that he was placed into a two-day quarantine after reporting a cough during a symptom check. His COVID-19 test, of course, came back negative. The veteran is expected to start in Boston's net Wednesday.
Cynics might point out that it's still very early in the postseason and there are many obstacles ahead for the NHL. That's fair. But so far so good from a health perspective and on other fronts. There's been little to no major complaints from players about ice quality or quality of life away from the rink.
Maurice's candor pays off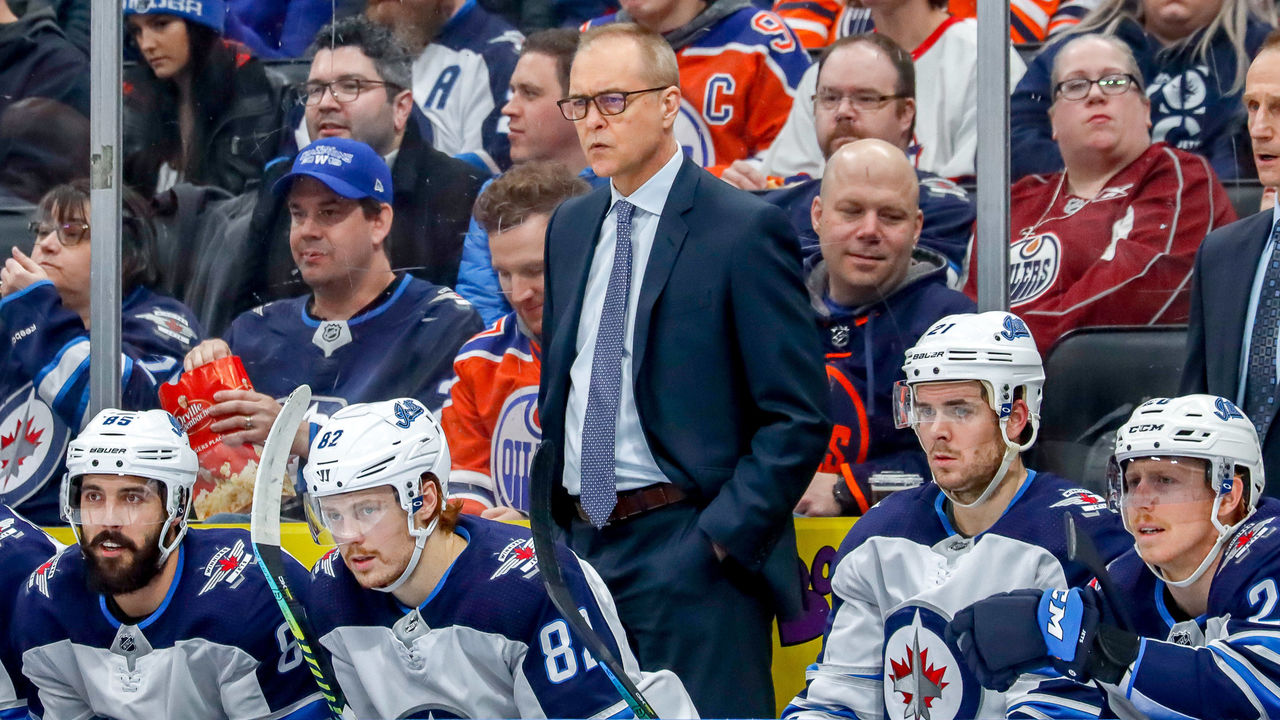 After a Game 1 loss to the Flames, Jets head coach Paul Maurice didn't hold back in his criticism of Calgary's Matthew Tkachuk, who injured Winnipeg's top center, Mark Scheifele, during a tight play along the boards. Then, in the Jets' media availability Sunday, Maurice criticized Tkachuk again when asked for his unemotional thoughts on the controversial sequence.
"If you sin once are you a sinner? Sin 10 times? I don't think he came off the bench and said, 'Hey I'm going to see if I can go stab the back of Mark Scheifele's leg with my skate.' I think he got to that point and I think that's exactly what he did," Maurice said of Tkachuk.
This wasn't the first time that a head coach stood up for a star player in NHL playoff history, and it won't be the last. However, it also doesn't happen all the time. Coaches have been known to bite their tongues in an effort to keep the focus on the next game. Maurice decided he was going to stick to his guns.
Well, on Monday, Maurice's team went out and executed without Scheifele and Patrik Laine, two of its best players. Winnipeg captain Blake Wheeler called it a "gutsy win" and "one win in a long journey." The players seemed to have a chip on their shoulders, similar to their coach.
Maurice is one of five NHL bench bosses to have coached 1,600 regular-season games. The others - Scotty Bowman, Joel Quenneville, Barry Trotz, and Al Arbour - have all hoisted the Stanley Cup. You can bet Maurice, at 53 years old and in his seventh year with the Jets, is fired up by the victory.
Secondary attackers pitch in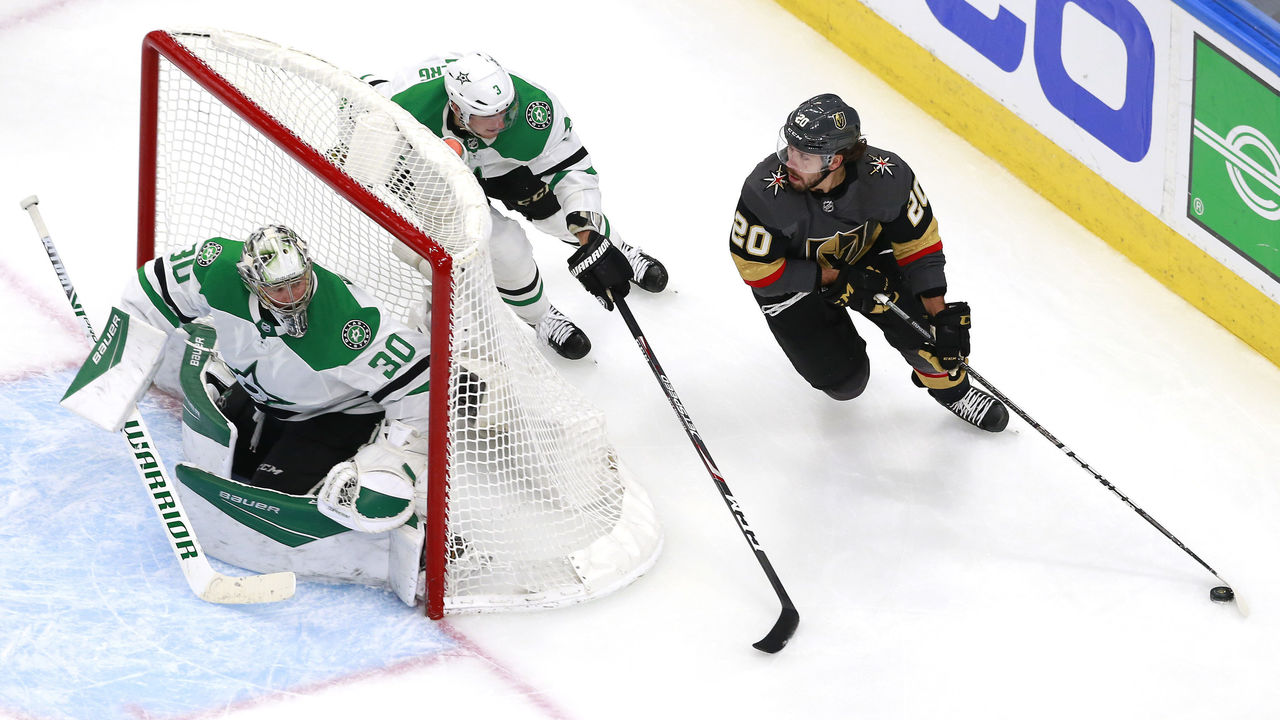 Positive signs were there to be found on either side of the Golden Knights and Stars' opening brush in the Western round robin.
It was a nice boost for Vegas that Chandler Stephenson required all of 64 seconds to break a 13-game goal drought that dated back to early February. Stephenson was a major possession-driver on the NHL's best Corsi For team, validating general manager Kelly McCrimmon's call to flip Washington a fifth-round pick for him two months into the season. With his usual center Max Pacioretty out, Stephenson cycled between positions on the first line and was influential all game, helping Vegas control 67.9% of shot attempts when he played at five-on-five.
The late collapse notwithstanding, a Dallas team that ranked 26th in goals per game this year will be encouraged by who generated offense earlier on; namely, players who aren't Seguin, the lone Star to even approach 50 points this season. Joe Pavelski, Corey Perry, and Jamie Oleksiak all scored off assists from Miro Heiskanen, who's already a crucial offensive creator from the blue line at age 21.
Their stellar defense might yet spearhead a long Stars playoff run if they can avoid being caved in for entire periods like Monday's final frame. Consistent production from the likes of those supplementary guys would make that more achievable in the top-heavy West.
John Matisz is theScore's national hockey writer.