So much of what's intriguing about the unique 2020 postseason can be summed up by the Eastern Conference's No. 8 vs. No. 9 qualifying series. Below is a breakdown of three representative storylines that began to take shape during the Columbus Blue Jackets' 2-0 win over the Toronto Maple Leafs.
Defense beats offense
On one side of this series is an offensive powerhouse that ranked third in the league in goals per game this season but hasn't won a playoff round since the arrivals of its headlining stars - or, more specifically, since 2004. On the other stands a lockdown defensive team with a leading scorer who topped out at 49 points in 2019-20.
The Maple Leafs and Blue Jackets ended the regular season with identical .579 points percentages but are otherwise polar opposites, which explains why their encounter in the Eastern Conference qualifiers is so appealing. Coming out of short training camps and straight into meaningful games, this matchup doubles as a case study for a larger question: Which style is more conducive to immediate success in the bubble? Running, gunning, and seeking to score at will, or staying structured and composed for 60 minutes?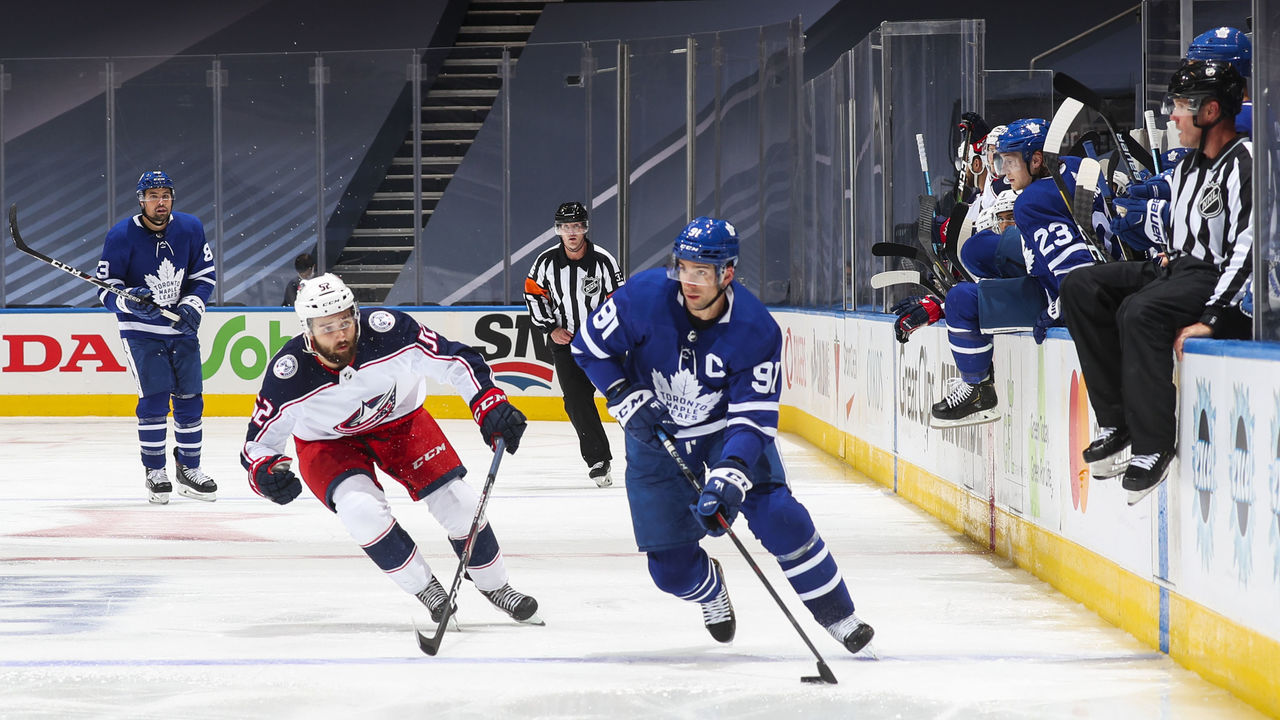 Count Game 1 - a quintessential Columbus win - as a point for the latter approach. Employing their signature high forecheck, the Blue Jackets stymied their opponents' breakouts at the source or otherwise choked them in the neutral zone. They mostly kept the Maple Leafs a safe distance from Joonas Korpisalo, whose 28-save shutout made for an admirable NHL playoff debut. Columbus was consistently first to the puck in the offensive end, winning corner battles and using timely pinches to stop counterattacks before they materialized. Scoring a minute into the third period, Cam Atkinson empowered the Blue Jackets to burn the remaining time without allowing any scoring chances of consequence.
A team unlocking and playing to its strengths has a major edge in a short series. The advantage is all the more apparent in matchups that feature clashing styles. Consider Game 1 of the New York Islanders' series against the Florida Panthers, in which defensively adept New York limited Florida's attack to a single Jonathan Huberdeau goal for a 2-1 win. The Blue Jackets' effort was similar. They were stingy, they didn't give Toronto's stars an inch all night, and they only needed to score once.
Blueprints to go deep
Ahead of any other year's 16-team playoff tournament, the Leafs and Jackets would have spent the final month of the season fighting tooth and nail for the final berths in the East. Their respective faults kept them from faring any better in 2019-20. Toronto was prone to breaking down in front of Frederik Andersen and to coming out flat. Columbus scored one goal or was blanked in 19 of 70 games, typifying the squad's struggle to put the puck in the net.
Still, both clubs have the potential to make a run in the bubble, the Leafs thanks to their offensive weaponry - this shutout notwithstanding - and the Jackets thanks to the defensive fortitude that keyed their stunning sweep of Tampa Bay in 2018-19. One line of thought holds that the better teams that emerge from the qualifiers will have a leg up on their favored opponents who weren't seriously challenged in the round robin. The clubs that had to scrap for postseason survival from the jump could theoretically generate momentum from there.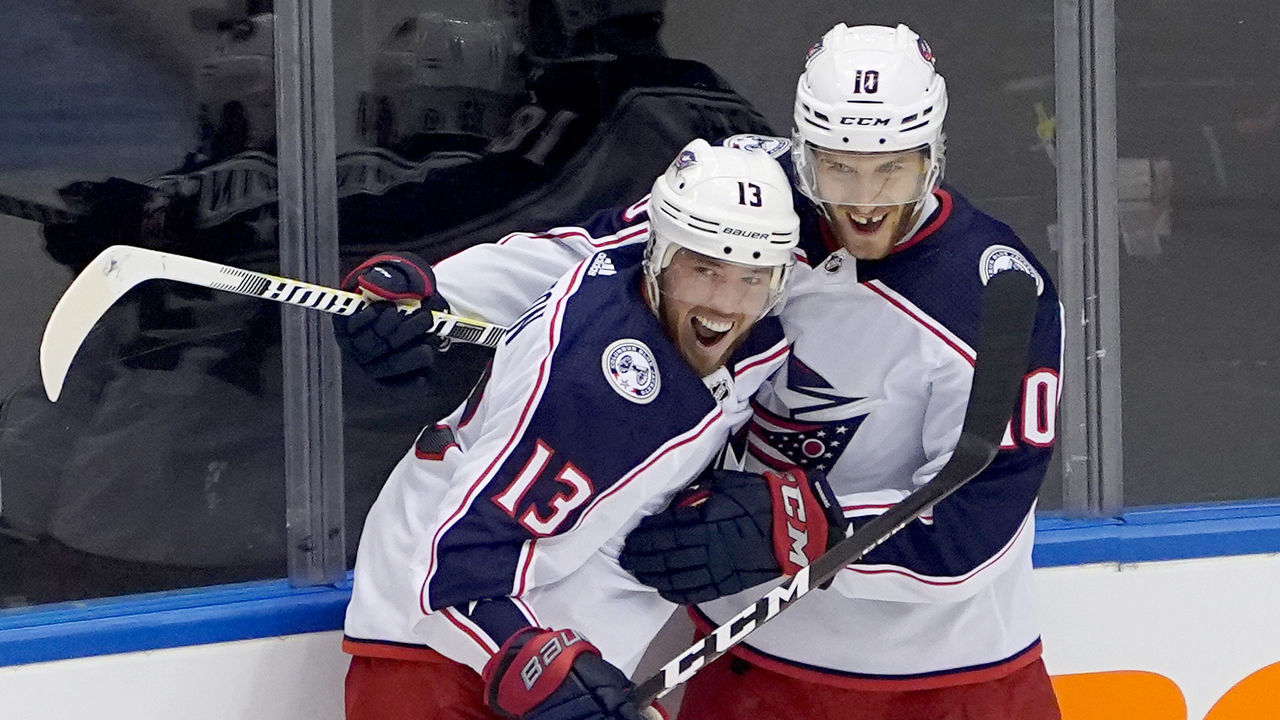 The Jackets started that journey auspiciously by following their blueprint to a tee in Game 1. Their first line - Pierre-Luc Dubois between Alexandre Texier and Oliver Bjorkstrand - produced four high-danger scoring chances and 58.62% of shot attempts when they played together at five-on-five. Dubois was especially noticeable: He drew a penalty and created several chances with his footwork, strength on the puck, and incisive passing. As usual, Zach Werenski and Seth Jones were horses on defense, logging more than 25 minutes apiece and limiting the damage Auston Matthews' line caused.
The Leafs weren't bad, but one goose egg is plenty in a best-of-five series. Considering the dearth of open space for Toronto puck carriers to operate and shoot, it would help to earn more power plays than the one they failed to convert. So would kindling havoc, or even a single rebound opportunity, in front of Korpisalo on those shots that do squeeze through.
The Leafs have to score to expose the limitations of the Jackets' offense. That Atkinson was the player to capitalize on an opening and beat Andersen blocker-side - on what could have been a nothing play - ultimately made all the difference.
Lafreniere lottery looms large
For at least a day following the qualifying round, the eight squads that are bounced posthaste can find comfort in a silver lining. That would be the equal 12.5% chance they'll have to win the draft lottery a week from Monday, which would confer them the privilege of leapfrogging Detroit, Ottawa, and the rest of the league's dregs to bring aboard consensus top prospect Alexis Lafreniere.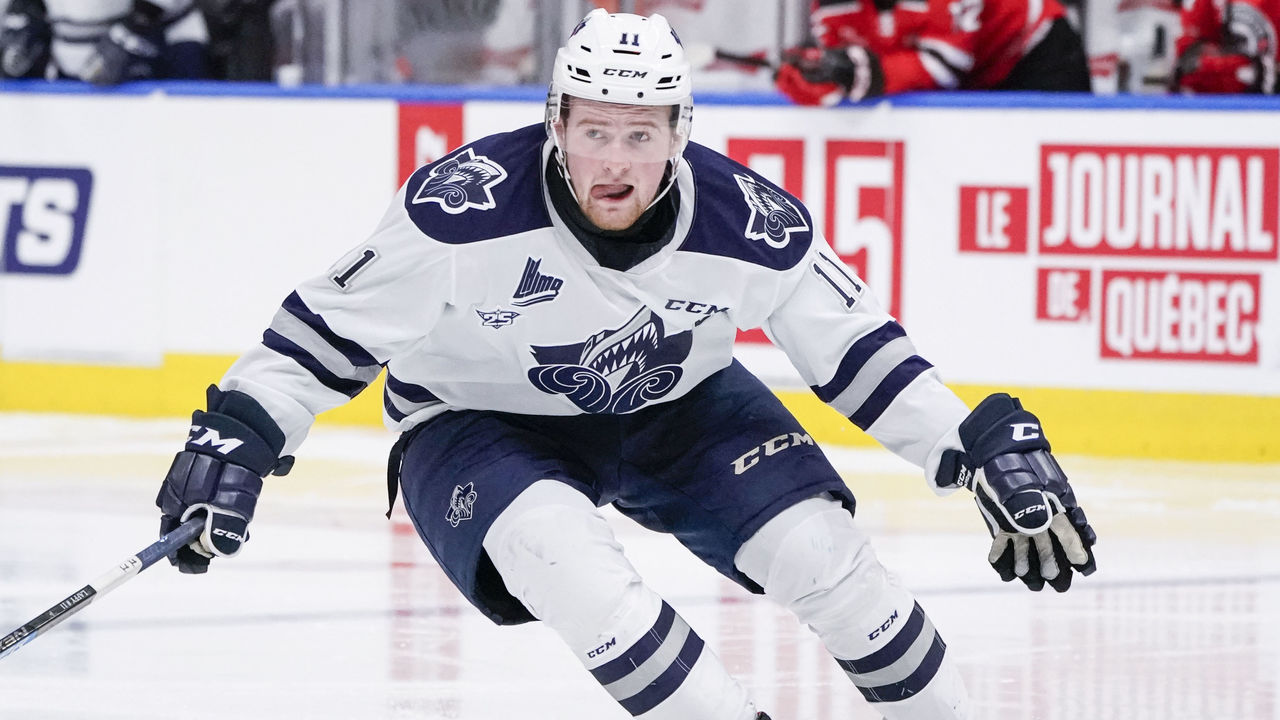 No player or coach would say this publicly, but for some teams perceived to have no hope of going deep, losing immediately and banking on those 1-in-8 odds might seem preferable. Toronto and Columbus don't fit that bill, but in either franchise's case, Lafreniere would constitute a heck of a consolation prize.
Picture the Jackets blowing this one-game lead, subsequently getting lucky, and adding the sort of thrilling offensive talent they've sorely lacked since Artemi Panarin left to sign with the Rangers last summer. If Dubois is an elite two-way center in the making, imagine how much more clinical his line could look with Lafreniere fashioning oodles of scoring chances from the left wing.
Depending on your allegiance, what a dream-worthy and nightmarish scenario it would be in equal turn if Lafreniere joined Toronto's embarrassment of riches up front. Right now, the Leafs are cap-strapped with Matthews, Mitch Marner, John Tavares, and William Nylander signed long term for big money. Integrating Lafreniere on a three-year entry-level deal would change that calculus, affording general manager Kyle Dubas the option to try to flip, say, Nylander for a comparatively good defenseman without sacrificing any scoring punch.
Toronto's season is by no means almost over, and it's 87.5% likely that whichever club winds up falling short here won't win the lottery. But the slim flipside possibility is significant for what it signals to teams in similar situations, those that Lafreniere could elevate immediately into contention. Think of him teaming with Connor McDavid and Leon Draisaitl in Edmonton, or of him injecting life into the Predators' or Islanders' pedestrian forward corps. Only in 2020 are these outcomes conceivable.
Likewise, you don't have to strain to envision the transformative impact Lafreniere could have on Columbus or Toronto's fate - one bonus reason this series is so enticing. On to Game 2 on Tuesday afternoon.
Nick Faris is a features writer at theScore.