Leafs exit restart: What went wrong against CBJ, and who's on the hot seat
Chase Agnello-Dean / Getty Images
A-lex-ee La-fren-yer.
Learn how to say it, Maple Leafs fans, because having a 12.5% chance at drafting Alexis Lafreniere, the top prospect in the 2020 NHL Draft, is the only lasting positive development from this past week.
The Leafs were bounced Sunday from the NHL's 24-team playoff tournament following a 3-0 loss to the Blue Jackets at Scotiabank Arena. Columbus won the tight, roller coaster best-of-five qualifying-round series in five games, outscoring Toronto 12-10 in the process. The Leafs have now dropped all four of their postseason series since Auston Matthews entered the league in 2016-17.
Let's break down what went wrong for Toronto, and who's ostensibly on the hot seat heading into the offseason:
What went wrong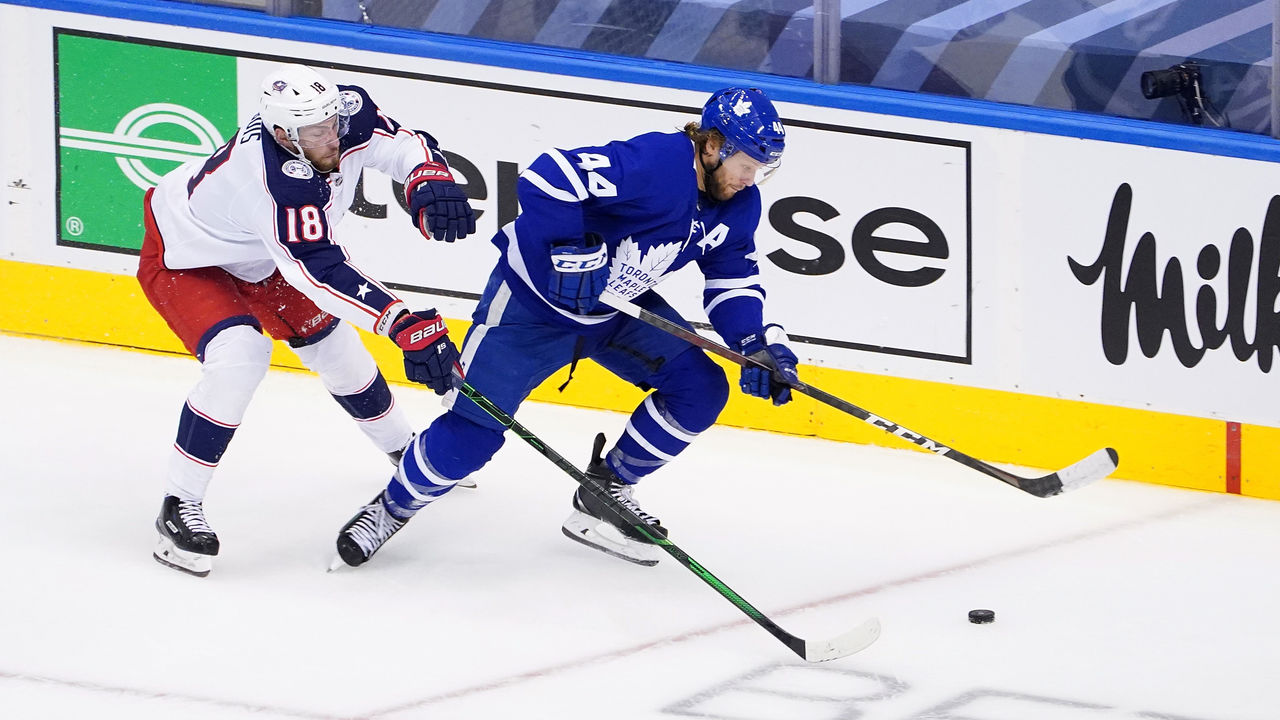 You can blame the absences of Jake Muzzin and Tyson Barrie. You can blame the tremendous performance of Blue Jackets goalie Joonas Korpisalo, who casually turned aside all 33 shots he faced Sunday. You can blame John Tavares somehow hitting the post when given an open net in the first period. You can even blame the emotional and physical letdown following an exhilarating Game 4.
But, truthfully, the Leafs flat-out didn't execute in Game 5.
They allowed the Blue Jackets to score the opening goal in a do-or-die game, which is a cardinal sin. Despite the madness that unfolded in Game 4, Columbus protects leads arguably better than any other NHL team. John Tortorella's squad specializes in clogging the neutral zone and the front of its own net. And after Friday's embarrassment, there was no chance the blue-collar, disciplined Blue Jackets were letting another lead slip away.
The result: A team with Matthews, Tavares, Mitch Marner, William Nylander, and Morgan Rielly that was shut out just once in 70 regular-season games was blanked Sunday for the second time in five play-in contests. Columbus figured the Leafs out, limiting Toronto to three five-on-five goals all series.
"We had to find a way to break through," Tavares told reporters postgame, referring to Sunday's loss. "We had some good chances, some unfortunate breaks on a couple chances, and they do a really good job of clearing the net on second and third opportunities and we weren't able to find some of those seconds today."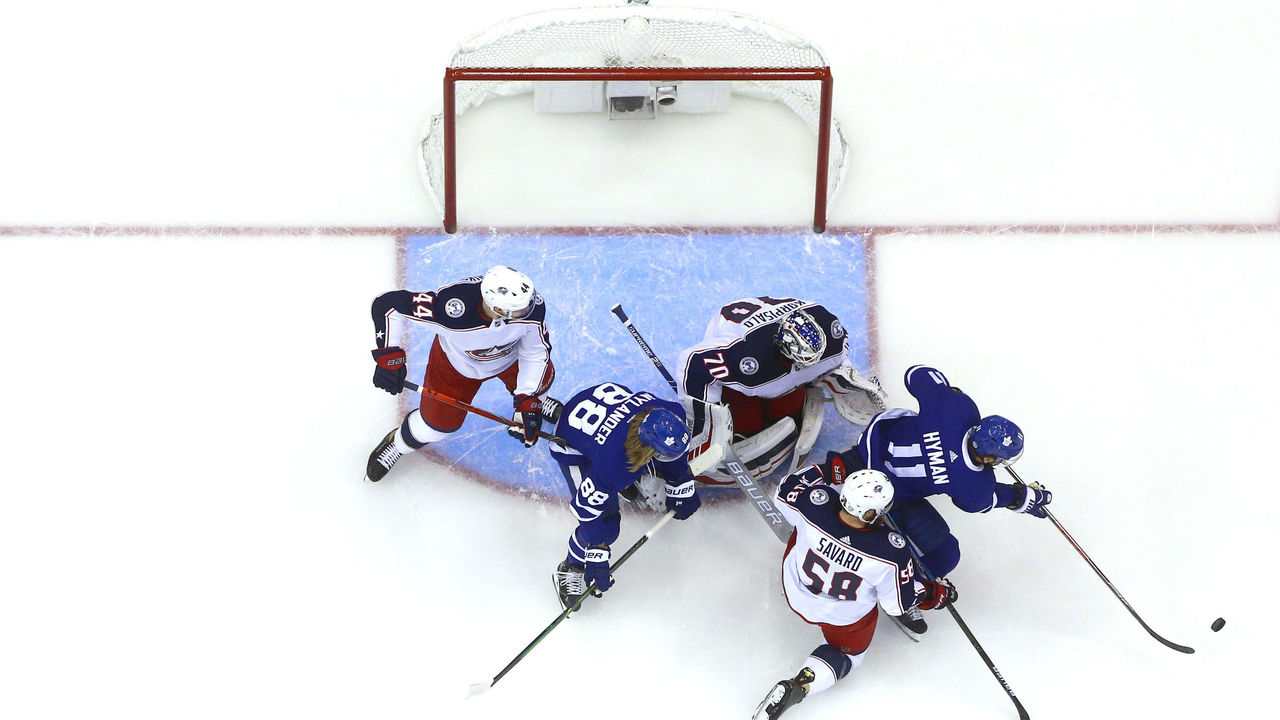 The momentum swings in this 8-seed vs. 9-seed Eastern Conference series were wild, with the goals coming in bunches. Two tallies for Columbus, then six for Toronto, then seven for Columbus, then four for Toronto, and three for Columbus. In a battle of contrasting playing styles, the Blue Jackets' steadiness overpowered the Leafs during a five-game sample.
"A little more luck and it might have been a different result," Leafs head coach Sheldon Keefe lamented postgame on Sunday. He cited Toronto shooting an awful 2% during 274 minutes of five-on-five action. (For context, the Leafs shot 8.6% at five-on-five in the regular season.)
It's not like the Leafs didn't show up during the NHL's restart. They played well enough to win Game 1 but didn't, and then they were cruising with a three-goal lead midway through Game 3. Game 5 wasn't a blowout either. Toronto held a 351-318 overall shot-attempt advantage in the series, according to Natural Stat Trick. It was theirs for the taking.
The Blue Jackets were more opportunistic, though, often capitalizing off the rush, as Pierre-Luc Dubois did twice in Columbus' epic Game 3 comeback. The Leafs responded only during their own comeback in Game 4.
"It's hard to put it all into words," Leafs defenseman Morgan Rielly said. "It might take some time to digest a little bit, but it's definitely a bad feeling, a bad taste. Comparing it to the loss in Boston (last year), this one is different for sure for obvious reasons. Whether that makes it worse or easier to deal with I don't know, but right now it certainly feels like it's harder to live with."
Tortorella leaned heavily on his elite first-pairing defensemen, Seth Jones and Zach Werenski, to push back against Toronto's formidable attack. Jones averaged 29:28 of ice time per game, while Werenski - who missed the end of Game 4 because of an injury and was a game-time decision Sunday - ended up with 25:25. Both deserve credit for rising to the challenge.
Meanwhile, the unheralded goalie tandem of Korpisalo (.956 save percentage) and Elvis Merzlikins (.946 SV%) was superb all series.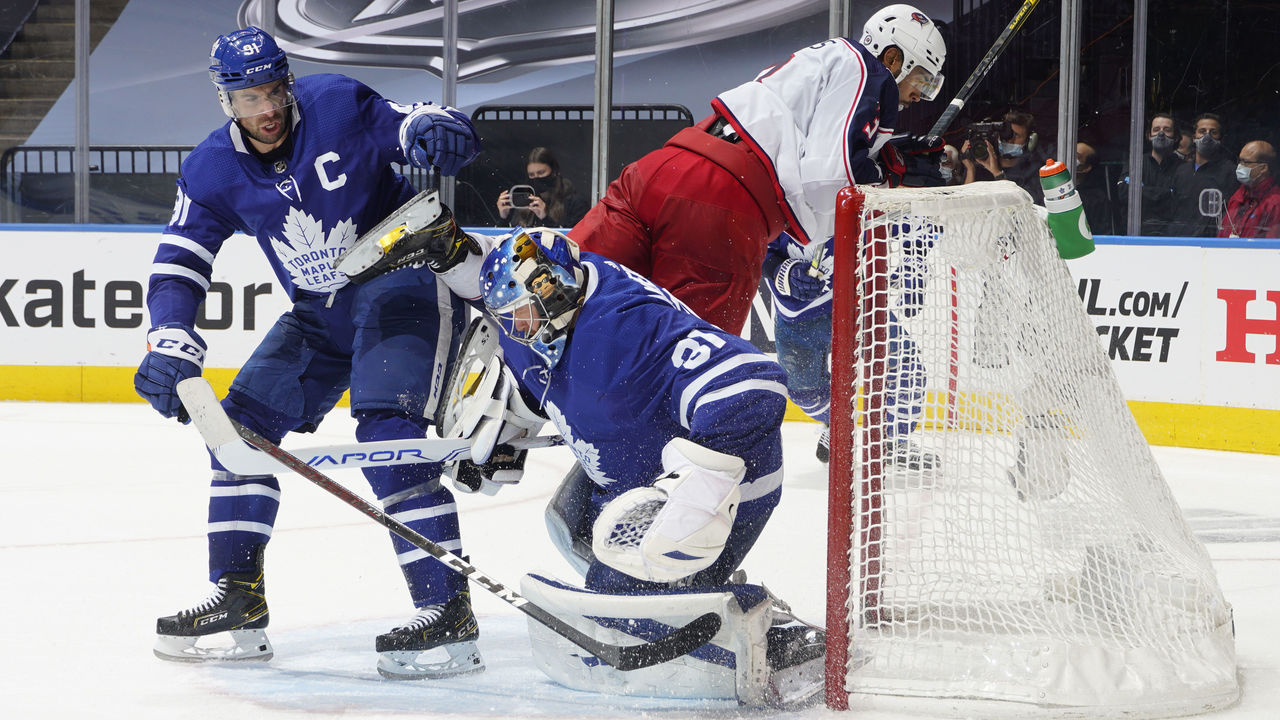 It was a tumultuous year for the Leafs. Not only did they bow out before the round of 16 following a five-month pandemic-induced break, but they also played under two head coaches. Mike Babcock, the supposed savior for a Stanley Cup-starved franchise, was fired in November. Keefe's tenure started solidly with a 27-15-5 regular-season record, and his preferred style of focussing on puck possession and lineup flexibility seemed to gel with a roster of offensive dynamos.
Now, none of that matters. A team that hasn't advanced in the postseason since 2004 is once again on vacation too soon.
The hot seat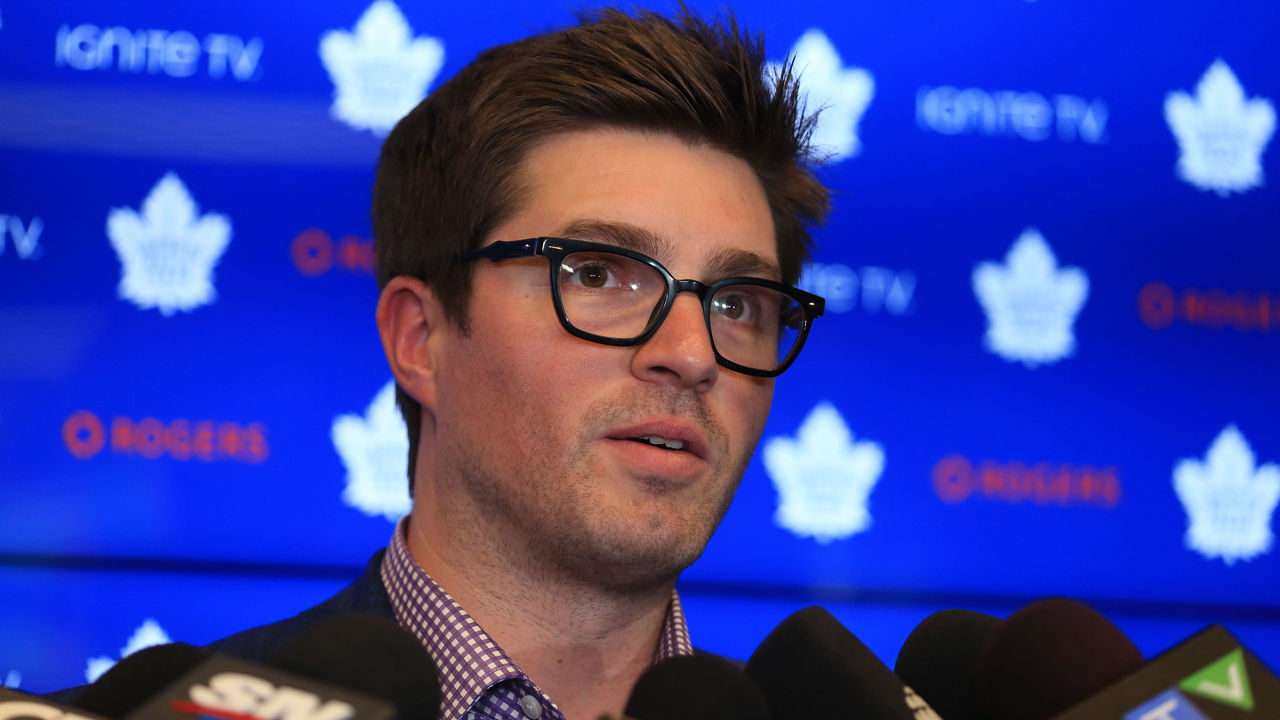 Kyle Dubas: Dubas has constructed the Leafs to overwhelm the opposition with an abundance of skill and scoring punch. Well, Columbus was undeterred. So the 34-year-old general manager should be owning this early exit as much as anybody. For starters, Toronto's defense corps isn't close to being good enough, even when Muzzin is at full health (boy, that Tyson Barrie acquisition flopped, didn't it?).
However, Dubas, who was named GM in May 2018, is probably secure in his role over the offseason. Leafs president Brendan Shanahan believes in him and his vision. It would be surprising if Shanahan made a rash decision - especially with the shorter series and five-month break. A portion of the fan base would probably be upset with that, as Dubas' name was trending nationwide on Twitter immediately following Game 5. Leafs Nation is losing patience with its GM.
Sheldon Keefe: Keefe deserves credit for not being afraid to throw Matthews, Tavares, and Marner over the boards regularly, and often at the same time. Being flexible with his lineup in general is a positive (though substituting Andreas Johnsson for Nick Robertson in Game 5, when the former hadn't played a game since February, was an odd decision).
Then again, Keefe's team was on the losing end of a colossal collapse in Game 3, and some of the blame must be placed on him. His job should be safe for some time since he was hired less than a year ago. But with a summer training camp under his belt, the new-coach shine has officially worn off. He's no longer a rookie bench boss, and the temperature will be turned up.
John Tavares: Tavares' series was frustrating. He couldn't generate much offense in the opener, but then looked fantastic in the second game while scoring a goal and recording eight shots. Then he was stripped of the puck ahead of the OT winner in Game 3, was instrumental in the Game 4 comeback, but failed to convert on several opportunities in Game 5.
Now how will he be perceived moving forward? Toronto is paying Matthews, Marner, and Nylander a combined $29.5 million per season, and Tavares another $11 million. That's essentially half the salary cap on four players, and with five years left on his deal, the captain turns 30 next month.
The chances of Tavares living up to expectations are slim. Buzz about his contract, which was once overwhelmingly positive, will start to swing the other way.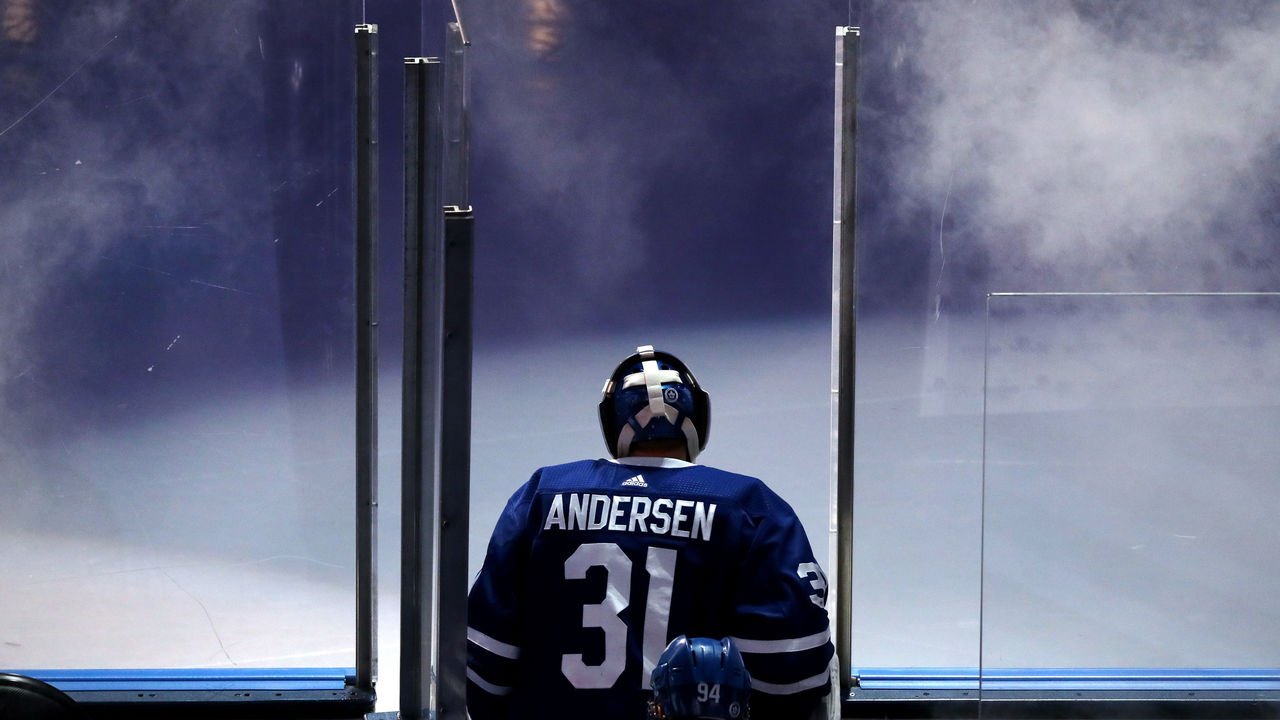 Frederik Andersen: Andersen played well (.936 SV%) in front of a shorthanded defense corps. He shouldn't be shouldering much blame here. Yet, the big Dane has now failed to advance in the postseason in six of seven career series.
A lights-out Blue Jackets tandem outplayed Andersen, who let in a weak Game 1 goal to set the tone for the series. What's the solution? That's tough because Andersen usually performs at a top-10 level in the regular season, and replacing a goaltender of his caliber isn't easy. So he's undoubtedly safe, but extra external pressure will be there next season, his final before unrestricted free agency.
Kasperi Kapanen: If there's going to be a shake-up at forward, the Leafs' stars will most likely be off limits in trade discussions. The attention then turns to Kasperi Kapanen, who makes $3.2 million per year for the next two seasons. He can skate like the wind, has some scoring touch, and, unlike contemporary Johnsson - another possible trade chip who earns $3.4 million per year for the next three seasons - Kapanen showcased himself throughout the series. Legitimate question: Has Kapanen played his final game in a Toronto jersey?
John Matisz is theScore's national hockey writer.
Comments
✕
Leafs exit restart: What went wrong against CBJ, and who's on the hot seat
  Got something to say? Leave a comment below!