Starting an offseason to-do list for new Sabres GM Kevyn Adams
Bill Wippert / Getty Images
Buffalo Sabres owners Terry and Kim Pegula took a buzzsaw to their hockey operations department Tuesday, firing general manager Jason Botterill and assistant GMs Steve Greeley and Randy Sexton. A number of other staffers, including scouts and AHL coaches, are reportedly being let go as well.
The lone replacement thus far: Kevyn Adams, who's taking over for Botterill after serving in various coaching, development, and business roles within the organization. The ex-NHL forward has no previous experience as an NHL GM.
Adams, who grew up in the Buffalo area as a Sabres fan, is the third GM the Pegulas have hired since buying the franchise in 2011. The 45-year-old will work closely with head coach Ralph Krueger, who has previous executive experience in Premier League soccer. This season, Krueger's first behind the Sabres' bench, Buffalo finished with the NHL's seventh-worst record (30-31-8), narrowly missing entry into the league's proposed 24-team return-to-play tournament.
Given the state of the franchise - a nine-year playoff drought and five wasted seasons of superstar forward Jack Eichel's career - Adams' to-do list this offseason is miles long.
Here's our recommended starting points:
Don't lose Reinhart, Ullmark negotiations
Adams has inherited a hefty offseason workload from Botterill, so the hockey world won't have to wait long to judge his GM chops.
Fun fact: Of the Sabres' 22 players on their NHL roster, 12 are pending free agents. Of those 12, nine are forwards - most notably restricted free agent Sam Reinhart - two are defensemen, and the other is goalie Linus Ullmark, who's also an RFA.
Reinhart's two-year, $7.3-million bridge deal is set to expire, and the Sabres simply cannot lose the upcoming negotiations with the 24-year-old's camp. Thanks to previous GM blunders, the club is already significantly overpaying wingers Jeff Skinner ($9 million a year until 2026) and Kyle Okposo ($6 million a year until 2023), leaving little room for error.
That being said, Reinhart - who followed up a 65-point showing in 2018-19 with 50 points over 69 games this season - is due for a solid raise from his current $3.65-million annual salary. He has been paired with Eichel for the bulk of his career and has produced at a first-line rate (0.64 points per game) through 400 NHL contests. He's a reliable contributor, a superstar sidekick worthy of remaining in the fold, so something in the neighborhood of $6 million to $7 million a year - depending on the term length - would be a fair deal.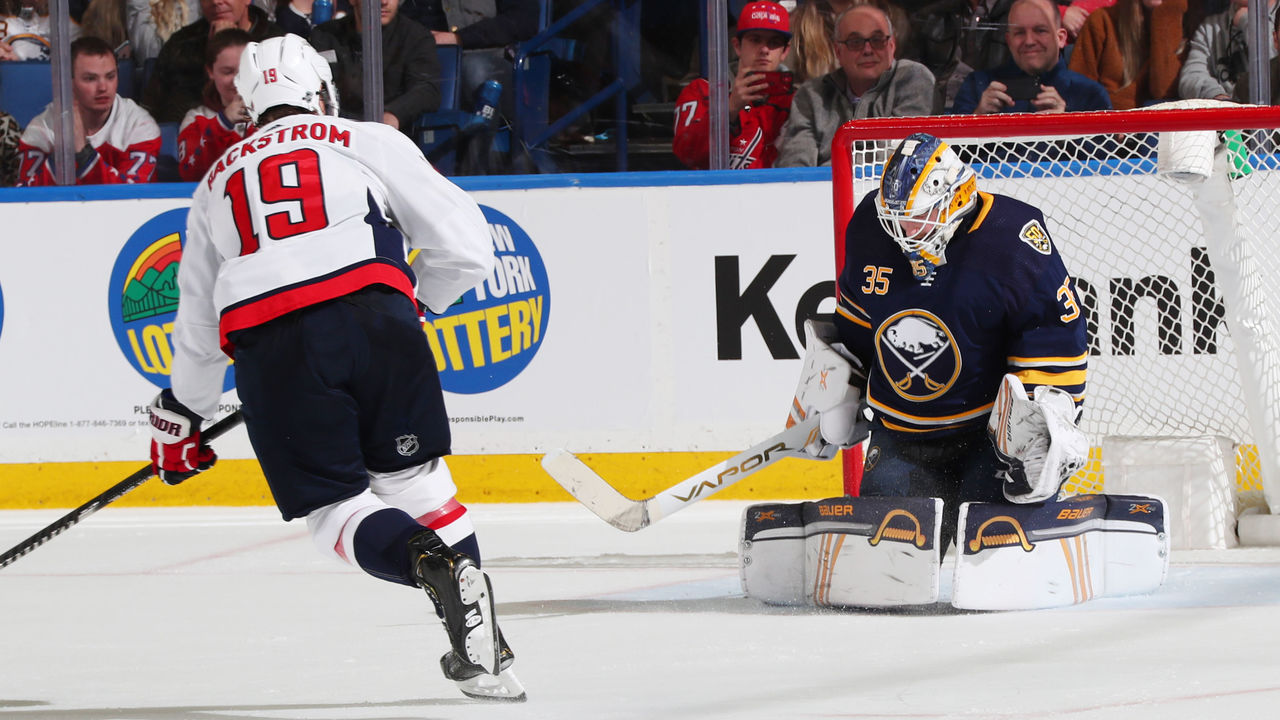 Keep in mind there's a difference between "winning" and "not losing" contract negotiations. It's really difficult for a team to win when the player has impressive counting stats and arbitration rights, like Reinhart. But surely Adams can find a way to either get Reinhart locked in for the long term at a reasonable price, or use arbitration as a way to push meaningful extension talks down the road a year when the global pandemic has, hopefully, abated.
To a lesser extent, negotiations with Ullmark are also key to Adams setting the right tone early in his tenure. Ullmark outdueled No. 1 goalie Carter Hutton this past season, posting an impressive .930 five-on-five save percentage in 34 games. Making sure the big Swede remains happy should be a top priority. Buffalo desperately needs stability in net, and Ullmark - who is coming off a one-year deal and has arbitration rights, too - has shown flashes of starter potential.
Be very cautious with UFA veterans
Among the many issues plaguing the Sabres in the Eichel era has been a lack of depth at both forward and defense.
Up front, it's been Eichel, a few decent pieces, and not much else. On the back end, it's been Rasmus Dahlin, a couple of decent pieces, and not much else. There have been slim pickings for the revolving door of coaches tasked with getting the most out of the bottom-six forward group and third blue-line pairing.
This dynamic might lead Adams to look at veteran forwards Michael Frolik and Wayne Simmonds - who have appeared in a combined 26 games for Buffalo following trades in early 2020 - and see an easy, comfortable solution. You can talk yourself into mapping out a season-opening lineup featuring Frolik and Simmonds, two big, strong wingers who have produced at the NHL level. After all, the Sabres finished 26th in goals per game this season. They need goals, badly.
At the same time, Adams is coming in with no previous ties to these players. Since we can assume Simmonds and Frolik are looking for the longest commitments they can get, Adams should definitely proceed with caution. Let both get paid by other teams instead of grasping at straws by serving juicy medium- or long-term offers to guys in their 30s. Depth can be found elsewhere.
A similar line of thinking can be applied to younger UFA forwards Jimmy Vesey, Zemgus Girgensons, and Johan Larsson. The 2020 offseason might be Adams' only chance to clear the deck by moving on from players who either haven't met expectations or don't check all the right boxes for his vision of the roster. For all his faults, Botterill left Adams with some free passes.
Hit a home run with top 2020 pick
Since 2010, the Sabres have selected a total of 12 players in the first round of the draft, headlined by Eichel, Dahlin, and Reinhart.
Otherwise, the returns have been middling. Mark Pysyk, Joel Armia, Mikhail Grigorenko, Nikita Zadorov, and Alex Nylander all play elsewhere. Girgensons and Rasmus Ristolainen are everyday NHLers with the Sabres. And Casey Mittelstadt (eighth overall in 2017) and Dylan Cozens (seventh overall in 2019) are still developing.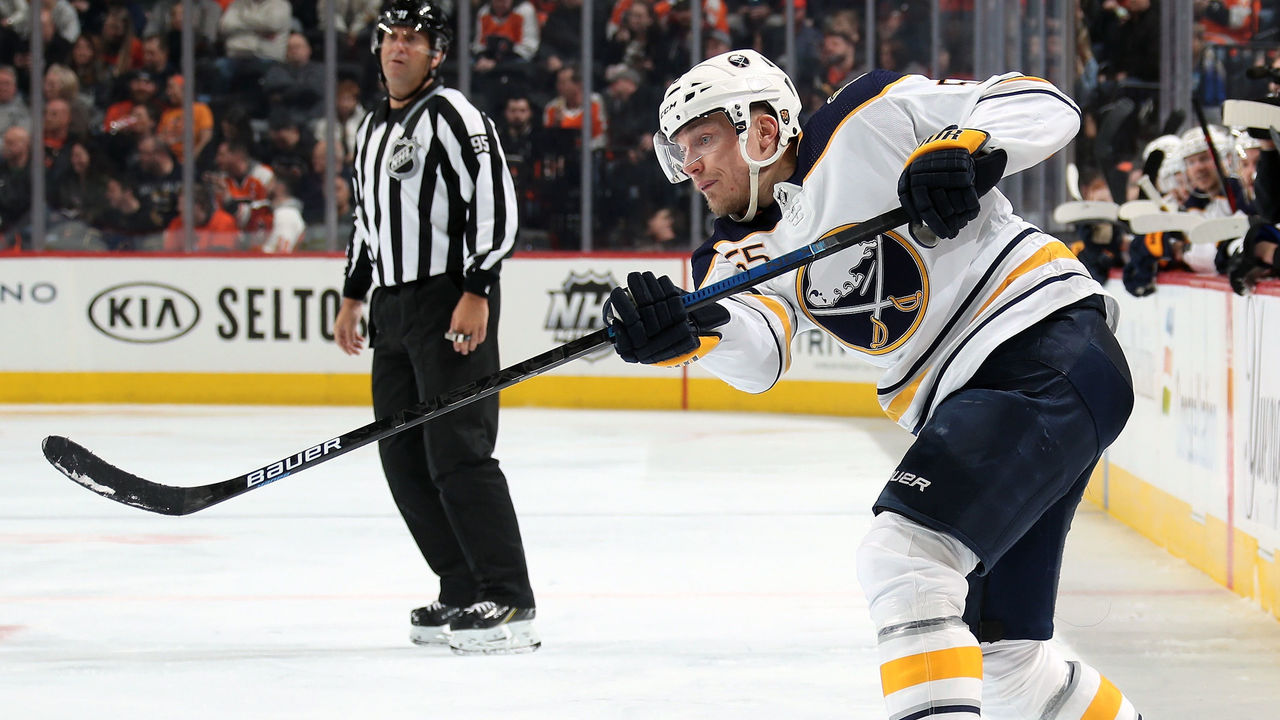 So that's three hits - at first overall and second overall twice, mind you - a bunch of partial hits or misfires, and two wait-and-sees. Making matters worse is Buffalo's lack of overall draft success. Case in point: The Sabres' only two picks since 2010 that would qualify as late-round gems are Ullmark (sixth round in 2012) and Victor Olofsson (seventh round in 2014).
The June 26 draft lottery will probably stand as Adams' first official piece of business as GM, and Buffalo enters the event with moderate odds of landing in the top three (6.5% chance at winning the first overall pick, 6.8% for second, and 7.1% for third; the team has a much more significant chance of landing between Nos. 7 and 9).
It shouldn't be too difficult to find a keeper with the first-rounder considering this year's strong draft crop, especially in the top half of the round. That's a nice gift for a rookie GM - although losing several scouts ahead of the draft puts Adams at a serious disadvantage. And yes, this is the type of to-do item that might not bear fruit for a few years, but it's still important. The Sabres won't find sustained success until they reverse their fortunes at the draft table.
Untangle Ristolainen, Pilut messes
There are two question marks on the Sabres' defense: RFA Lawrence Pilut has the option to leave for the KHL, and Ristolainen, who's been in the rumor mill for years, admitted last month that he could be moved soon.
The circumstances surrounding each player's situation differ, but Adams' approach should be the same. He needs to figure out, sooner rather than later, if either is a part of the team's future and act accordingly.
Ristolainen's purgatory under Botterill, and now Pilut's apparent willingness to jump ship, sends an unseemly message to prospective free agents about playing in Buffalo. Adams, as the new guy, can smooth over those outside opinions and improve his club on the ice by thoughtfully taking care of business.
Be open with the fan base
Lauded for his communication and leadership skills, Krueger has been a breath of fresh air since arriving in Buffalo. He's open, honest, and authentic. Fans are in his corner.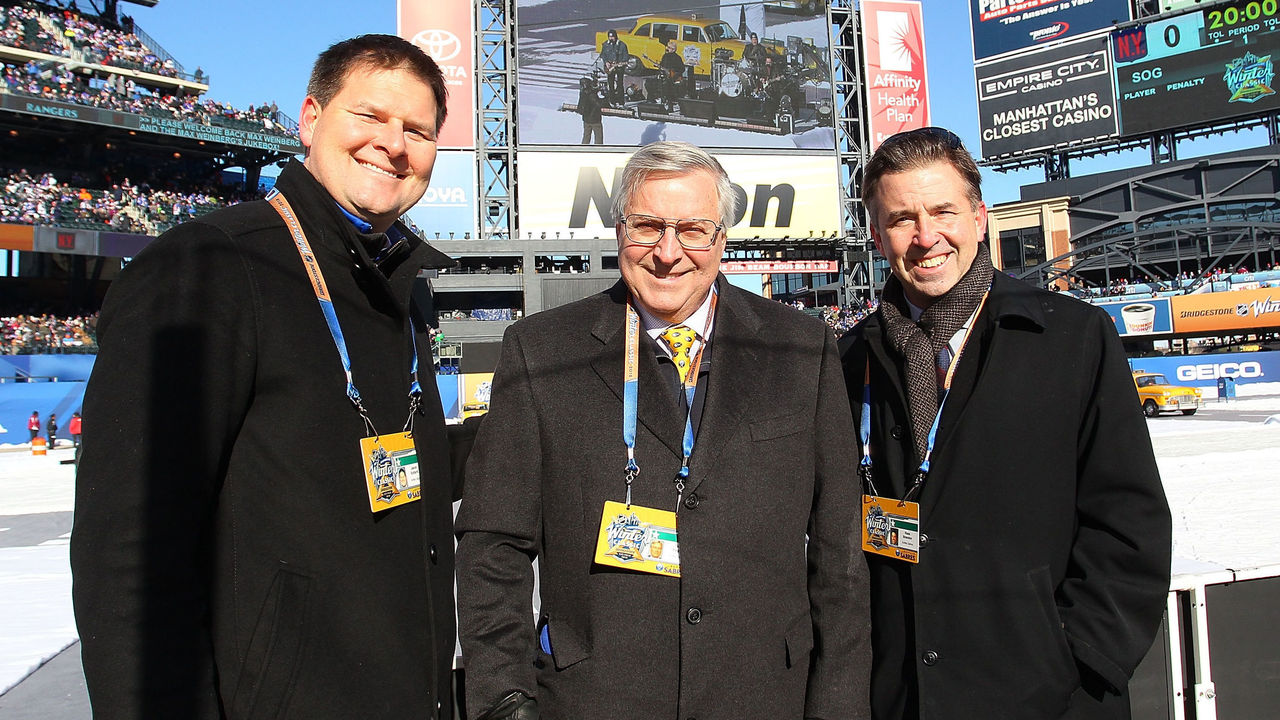 Botterill didn't do anything particularly wrong on the communication front. He was accountable for his actions, and no one can accuse him of being a jerk to fans or media. But there was always something missing between the ex-GM and Sabres fans. There seemed to be a level of distrust throughout his tenure.
Perhaps a connection can only be forged through sound decision-making and a job well done. Winning is the best deodorant, as they say. Either way, Adams has an opportunity to change the narrative. It'll certainly be a tall task in the short term thanks to Tuesday's mass firings. However, the passionate fan base is knowledgeable enough to know its anger and frustration should be directed towards the Pegulas, and not Adams.
If the local guy can successfully tap into the human side of the job, he might be able to carve out a little more runway with fans who are understandably at their wits' end. Adams doesn't need to panic and push all his chips to the middle of the table, but he must be aware of how much the Buffalo market is clamoring for playoff hockey. You can only sell hope for so long.
It's been nine dreadful years. Given the state of the roster and the strength of the Atlantic Division, there will likely be more suffering to come. What will earn Adams respect is progress. Moving the Sabres in the right direction, starting this offseason, would be a strong start.
John Matisz is theScore's national hockey writer.
Comments
✕
Starting an offseason to-do list for new Sabres GM Kevyn Adams
  Got something to say? Leave a comment below!