Saluting Jaromir Jagr, the most overqualified sidekick in NHL history
David Maxwell / AFP / Getty Images
After "The Last Dance" reminded fans of the greatness of Scottie Pippen existing in the shadow of Michael Jordan, theScore's feature writers decided to examine some of the most compelling second bananas in other sports. Previous entries in the series came from college football and MLB.
It was Game 1 of the 1992 Stanley Cup Final and the defending champion Pittsburgh Penguins were trailing 4-3 with five minutes left in regulation. They were in trouble, until one Pittsburgh forward - No. 68, the guy with the brown mullet spilling out of his helmet - intercepted a clearing attempt and began a dizzying path of destruction in the offensive zone.
First, Jaromir Jagr maneuvered around a Chicago Blackhawks defender, slowing down to quickly survey the zone from the half boards. When a second defender unleashed a poke check, Jagr deftly dangled the puck through his legs before sidestepping a third body. On his way through the slot he avoided a fourth opponent, then shuffled a backhand through Ed Belfour's five-hole.
It was a magnificent goal for any NHLer, let alone a 20-year-old sophomore.
"That was probably the greatest goal I've ever seen," Penguins captain Mario Lemieux gushed to reporters after his team's 5-4 win. "I've scored a lot of big goals, but (down one), he picked up the puck and beat three or four guys. He's got such great balance, can beat a guy one-on-one at will, and he's very strong with his upper body. That was a great goal."
Lemieux - regarded as one of hockey's all-time greatest players, if not the greatest by some - was at the peak of his powers when he made those remarks. Only three years removed from an obscene 199-point campaign, Super Mario had just earned another scoring title after accumulating 131 points in the 1991-92 regular season and was three games away from claiming his second straight Conn Smythe Trophy.
Powered by Lemieux, the Penguins won back-to-back Cups to start the 1990s. A formidable supporting cast was headlined by a young Jagr and Hall of Fame-bound veterans Bryan Trottier, Paul Coffey, Joe Mullen, Ron Francis, Larry Murphy, and Mark Recchi. Jagr lived in Lemieux's shadow for those two runs, his first experiences in the NHL, laying the foundation for his Gordie Howe-esque pro hockey journey, which amazingly entered its fifth decade in January.
"As Jags' career went on, he became a superstar, the franchise, the man in the spotlight," Jim Paek, a defenseman on those Cup teams, said in an interview.
Early-career Jagr might be hockey's closest comparable to Scottie Pippen, with Lemieux representing Michael Jordan. Jagr was an overqualified sidekick and protege.
But Lemieux was the perfect advisor for Jagr at the start of his career. Lemieux was seven years older and also tall and preternaturally skilled, commanding respect on and off the ice. Dominating the game seemed to come easily for Lemieux.
"Jagr was loaded with talent, size, and strength, but he was still coming into his own," Alex Hicks, who played left wing for the 1996-97 and 1997-98 Penguins, said earlier this week. "In terms of a pecking order, Mario was firmly at the top. He was the best and everybody knew it. Jags was having fun, riding shotgun, and getting better everyday."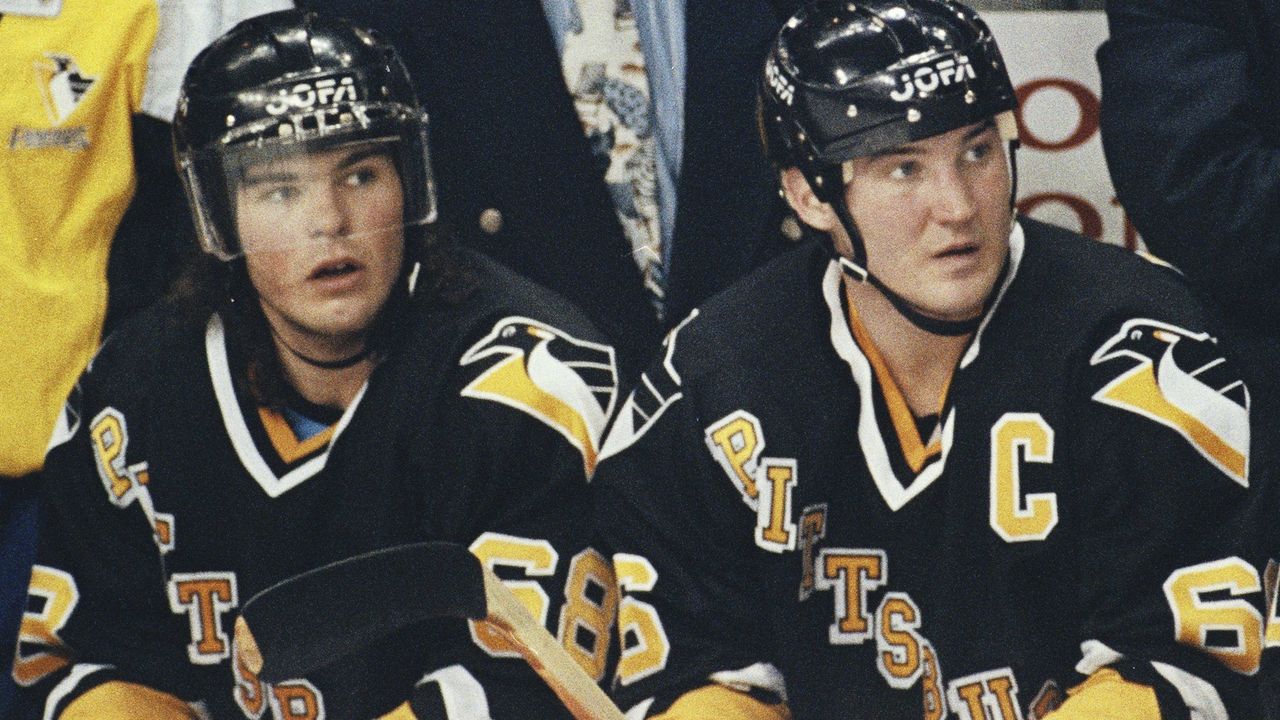 Among his various claims to fame, Jagr was the first Czech hockey player to get drafted into the NHL without having to defect from the former communist nation. And if not for some trickery on Jagr's part, he could have easily ended up in a different city, according to then-Pittsburgh general manager Craig Patrick's recollection of the 1990 draft.
Jagr assured the Penguins' brass he would move to North America shortly after the draft while at the same time telling numerous other teams that he wouldn't necessarily be leaving Europe right away. So, thanks to a bit of luck, he landed in Pittsburgh's lap at fifth overall.
The rationale behind Jagr's tactics: He apparently desperately wanted to share the ice with Lemieux, the man he idolized as a teenager in Kladno, an outer suburb of Prague.
"Everything I know I learned from him," Jagr told reporters in 2008.
"That's why you never should forget where you learned everything. I came there at 18 years old. I didn't know much. But I kept my eyes open and watched the best player in the league for so many years. How he did it. That was probably the best thing that happened to me - to be on the same team as him. I could learn a lot."
Jagr earned the nickname Mario Jr. early in his 11-year tenure in Pittsburgh, a convenient anagram of "Jaromir." Jagr, while learning the game and about life in North America, also provided a counterpoint to Lemieux, as well. Lemieux was the squad's quiet leader, a big-brother figure to many teammates during an injury-ravaged career. His leadership was not only evident in his willingness to battle through constant back pain and Hodgkin's lymphoma but to maintain excellence.
"There was this aura about Mario," Hicks said. "Jagr was the complete opposite. Happy go lucky, hanging around with Petr Nedved. Laughing, giggling. He was the one guy who could joke around with Mario in a comfortable way. He loosened everybody up."
Jiri Hrdina, another Czech forward, is credited with helping ease Jagr's transition to the U.S., though the charismatic Jagr we came to know and love over his career was more or less present from Day 1. Jagr coupled natural ability with an insatiable drive - solitary late-night and early-morning workouts, 1,000 squats a day - and knew when to use his playful sense of humor. He drove fast cars, celebrated goals with a cheeky salute, and embraced his heritage.
"Really confident young man," ex-NHL defenseman Jeff Chychrun, who joined the Pens in February 1992, recalled. "I remember Jags really sticking up for his European heritage: 'European hockey player, we better than North American.'"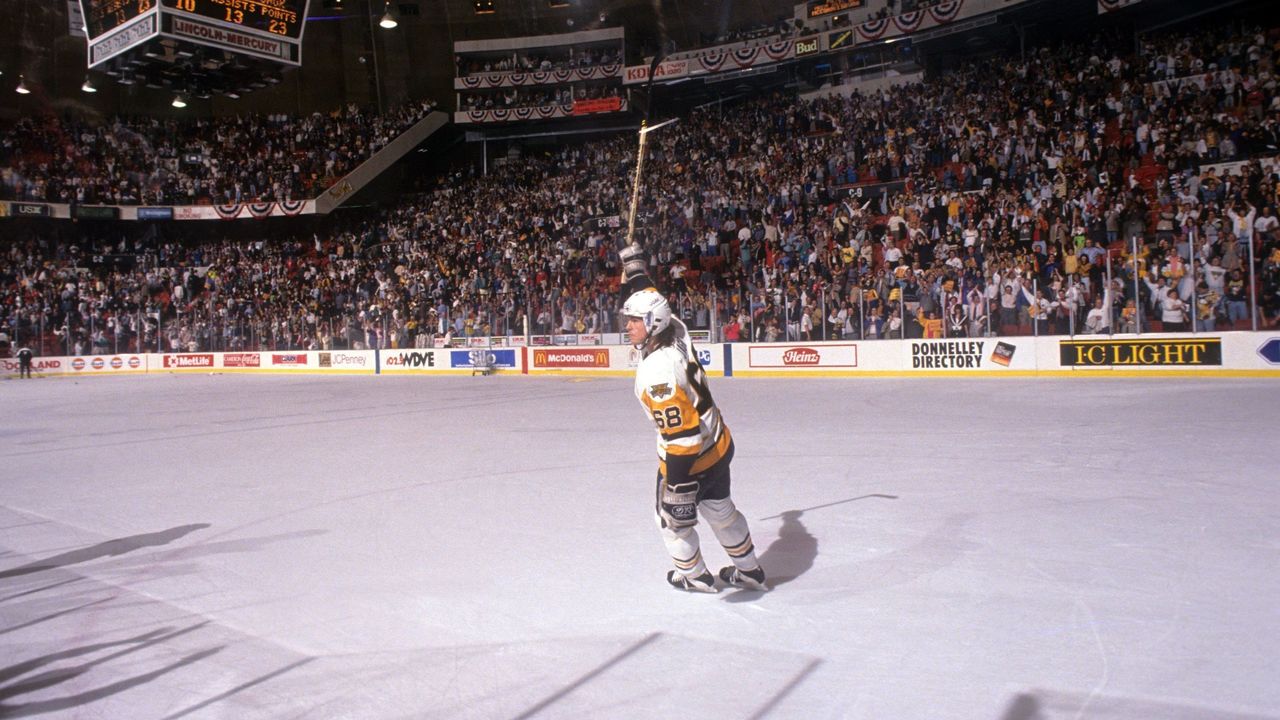 On the ice, Jagr's intelligence, stickhandling, and passing created a distinct mix with his solid 6-foot-3 frame. He had a low center of gravity for a bigger dude, and it wasn't long before his rear end became a renowned puck-shielding tool in an era of clutching and grabbing.
"It was like he was playing keep away with a kid," Hicks said.
"In hockey terms, he had such a big ass," Paek said. "You couldn't knock him down or get the puck from him. And his knack around the net to score goals - his hockey sense, which you can't teach - was just incredible."
Jagr finished sixth in Calder Trophy voting after recording 57 points in 80 games in 1990-91. Excluding the lockout-shortened 1994-95 campaign, Jagr racked up 90 points or more every single season from 1992-93 to 2000-01, his last in Pittsburgh, hitting triple digits in four of eight years: 149 in 1995-96, 102 in 1997-98, 127 in 1998-99, and 121 in 2000-01. Oh, and he won the Art Ross Trophy in that abbreviated 1994-95 season, with 70 points in 48 games.
In total, Jagr picked up eight major trophies in a Penguins uniform - five Art Rosses as league scoring champion, two Lester B. Pearsons as the players' choice MVP, and one Hart Trophy. The team made the playoffs all 11 years of his tenure but failed to return to the Cup final until 2008, when he was long gone and Sidney Crosby had taken up the superstar mantle.
Jagr got to be top dog in Pittsburgh for three-and-a-half seasons - Lemieux sat out 1994-95 for health reasons and retired after the 1996-97 season. When Lemieux returned partway through the 2000-01 season, it just wasn't the same. Pittsburgh lost in Round 3 and Jagr left on a sour note.
He was traded to the Washington Capitals in a salary dump, with the Penguins receiving only spare parts in exchange for a legitimate superstar. Jagr, then 29, finally had the spotlight to himself. He quickly signed a monster deal paying him $77 million over seven years.
And that's where Jagr's HockeyDB profile turns into a 1,000-piece puzzle. Since inking that deal with Washington, Jagr later dressed for seven more NHL teams: the New York Rangers, Philadelphia Flyers, Dallas Stars, Boston Bruins, New Jersey Devils, Florida Panthers, and Calgary Flames. He's taken his talents overseas three times over the years, too, most recently out of necessity as his dwindling foot speed ended his NHL career in 2018, just short of his 46th birthday.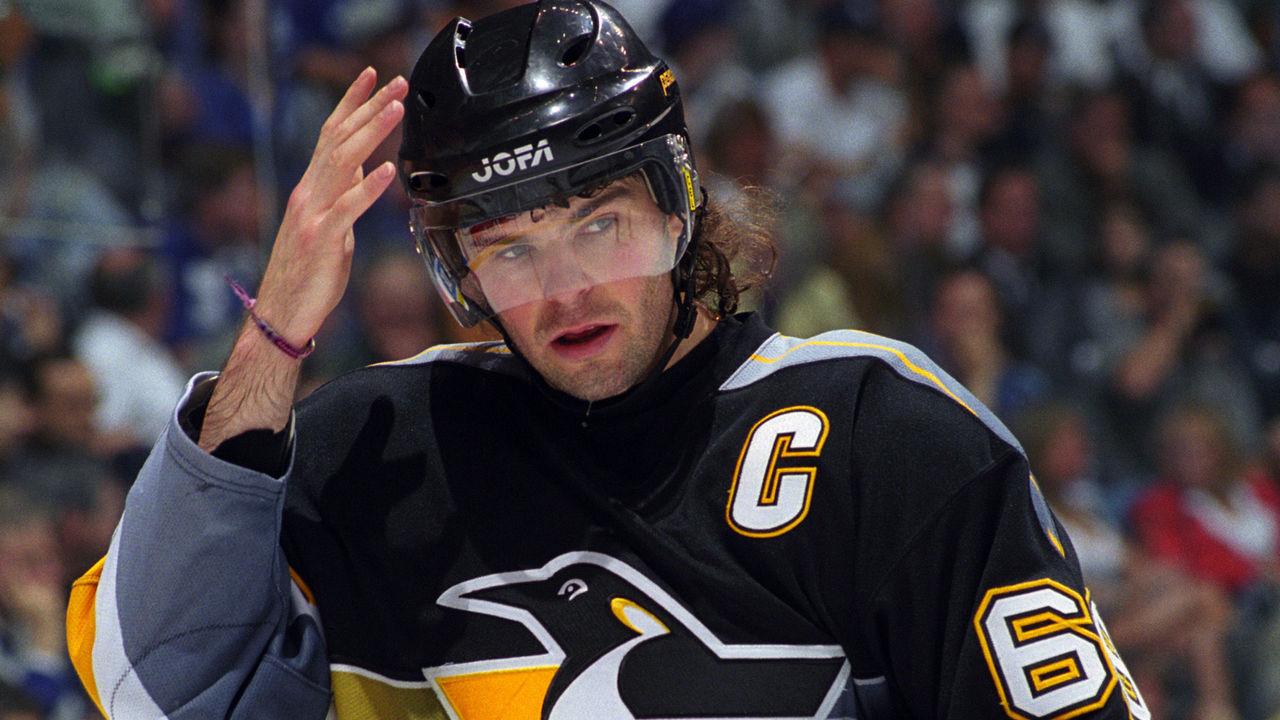 Last we heard, Jagr was doing quite literally everything for the Kladno Knights, a Czech team he owns, operates, manages, and plays for. In his post-Pittsburgh NHL life, there were strong individual showings in New York (a third Pearson award), New Jersey, and Florida. His reputation grew at every stop (remember the Traveling Jagrs?) and through appearances at five Olympic tournaments. NHL team success didn't follow him, yet Jagr's longevity is legendary.
"To continue to do what he's done, he seems immortal," Paek said.
Even now, with a seemingly endless resume, nothing compares to Jagr's first NHL home. Pittsburgh is where he won; where he paved the way to eventually climb the league's all-time points list all the way to No. 2, behind only Wayne Gretzky; where he learned how to be a captain; and where he rocked an iconic mullet. It's where he became a superstar, thanks to a deep skill set and a big ass. Really, when you think about it, Jagr spun a Lemieux sidekick gig into a successful and impossibly long career.
"When Mario was there, I knew it don't matter how good I'm gonna be, I'm still never gonna be better than him," Jagr told Sportsnet in 2015. "That guy was the most talented player. (Young) people don't even know."
One of a kind, and larger than life. Likely the best European-born NHLer ever. Arguably one of the top 10 NHLers of all time. The ultimate second banana.
John Matisz is theScore's national hockey writer
Comments
✕
Saluting Jaromir Jagr, the most overqualified sidekick in NHL history
  Got something to say? Leave a comment below!