Hunter Drew locked both hands to the steering wheel of his white Kia Forte - one at 10 o'clock, the other at 2 o'clock as if he were taking a driving test. He cranked the windshield wipers to maximum speed and directed his focus straight ahead, his eyes wide and heart racing.
He was terrified. A few moments earlier, the San Diego Gulls' rookie defenseman had lost control of his vehicle in the middle of a Colorado blizzard. His car, purchased in California without winter tires, had been moving gingerly on a winding road through the Rocky Mountains. No issues - until he hit one particular hill.
"I spun out twice on both sides," Drew said in a recent interview. "If I would have gone over to the right side 5 feet, I was going off and into the mountains. On the left, I was about three inches from T-boning a car.
"I just caught myself. Luck of the draw," the 21-year-old continued, reliving the close call from March 19. "It was the scariest thing I've ever been a part of."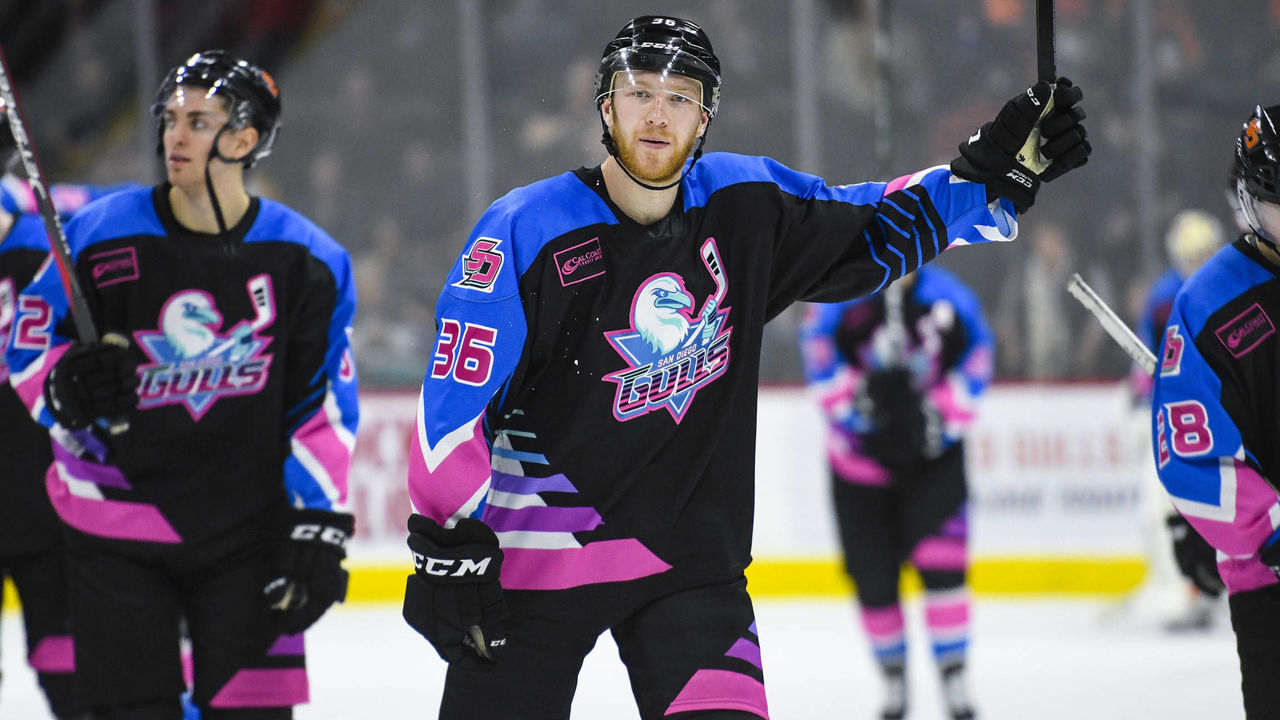 Now isolating at his family home in Kingston, Ontario, Drew laughs off the incident over the phone. It took him three long days to arrive in Canada. The AHL, like the NHL and the rest of the sports world, has been paused to help stop the spread of the coronavirus. Gulls players were forced to travel home - more than 2,700 miles in Drew's case - on short notice.
It's fitting, really, that a simple Point A-to-Point B road trip turned into an unpredictable journey that produced a memorable story. Drew's career could be characterized similarly. Four years ago, he was a hockey nobody. "I was done," he said. On Monday, the Anaheim Ducks announced Drew, a quintessential late bloomer, had signed a three-year, entry-level NHL contract.
It was spring of 2016 and Drew had come to terms with his apparent ceiling as a hockey player. He'd spent the previous two seasons with the Junior B/C team in nearby Gananoque, earning the odd call-up to the Junior A Kingston Voyageurs. His options that fall were limited. He'd almost certainly have to pay to play, which is not the most attractive proposition for an 18-year-old looking to make something of himself.
Drew turned his attention to education, enrolling in a business program at hometown college St. Lawrence, with mom and dad footing the tuition bill. That payment sealed it: His lifelong pursuit of hockey was effectively over.
Well, kind of. The family had already paid for a summer trainer. Drew figured it wouldn't hurt to stay in shape - why waste the money? - so he hit the gym.
One day, Drew's training partner rang up his Junior A coach on the sly to tell him about this kid who had recently quit hockey. The coach pitched Drew on his program in Nova Scotia soon after. He would have to pay to play, but some expenses would be reimbursed at season's end. Attracted by a new adventure, and with nothing to lose, Drew agreed to a tryout in the fall.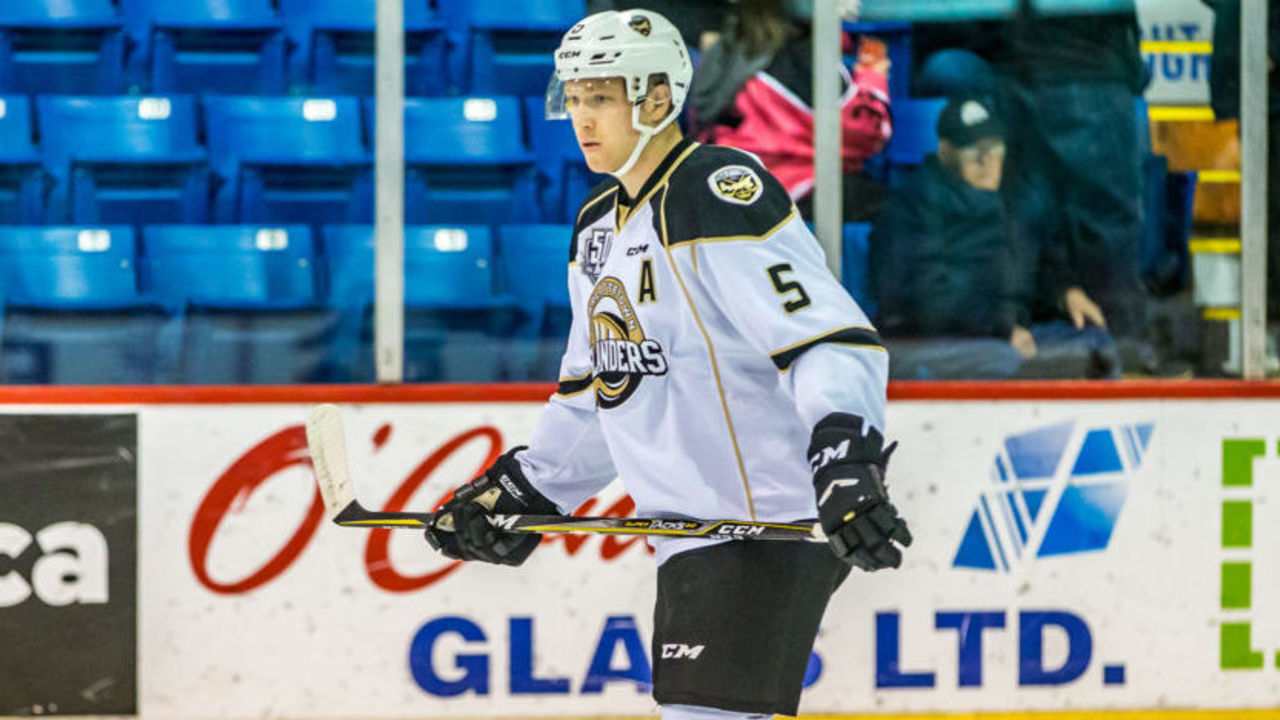 Before he could leave for Nova Scotia, though, Drew was offered a second out-of-province tryout, this time for a major junior club. Charlottetown Islanders GM/head coach Jim Hulton and scout Rob Ridgley - both Kingston guys - had watched Drew compete in a three-on-three scrimmage with and against local pros at a preseason tuneup event. Impressed, the Islanders extended the raw blue-liner an invite to QMJHL camp.
Drew, who was never drafted to the OHL, had slipped through the cracks of Ontario's elite hockey system. A potentially big opportunity awaited on tiny Prince Edward Island. "He saw something in me that a lot of people didn't see," Drew said of Hulton.
Drew showed up to his first camp with mediocre puck skills, decent but unspectacular skating, and a soft shot. His above-average size, willingness to play a physical game, and organizational fit - right-handed defensemen are in short supply at all levels - landed Drew a spot on the Islanders' blue line.
"He just had a lot of things where it made you go, 'Man, we've got to keep this kid around. There's something about him,'" said Charlottetown assistant coach Guy Girouard, who works closely with the team's defensemen. "You can't quite put your finger on it, but you know he can probably help us."
As a rookie, Drew appeared in 42 of 68 regular-season games, registering three assists in a dual role as a D-man and occasional winger. The Islanders, whose stacked roster featured NHL picks Pierre-Olivier Joseph, Daniel Sprong, and Filip Chlapik, made it deep in the 2017 postseason. Drew wasn't quite ready for prime time, dressing only once in the squad's 13 playoff contests.
The downtime allowed him to get a head start on an important offseason of weight training and skill development. Once Drew had settled in Kingston for the summer, he hit the ice 8-10 times a week in an effort to improve all facets of his game. His dad, Brian - who had already convinced Drew to drop junior-level lacrosse to focus on hockey - insisted on a slower pace. Brian worried Drew might burn out or suffer an injury in July.
Drew heeded Brian's advice - and it paid off. He opened the 2017-18 campaign looking "like a different player," Hulton said. "Assertive with the puck. Comfortable. Confident. Making skilled plays. Jumping up into the play." Suddenly, Hulton's spare defenseman was capable of shouldering top-four duties.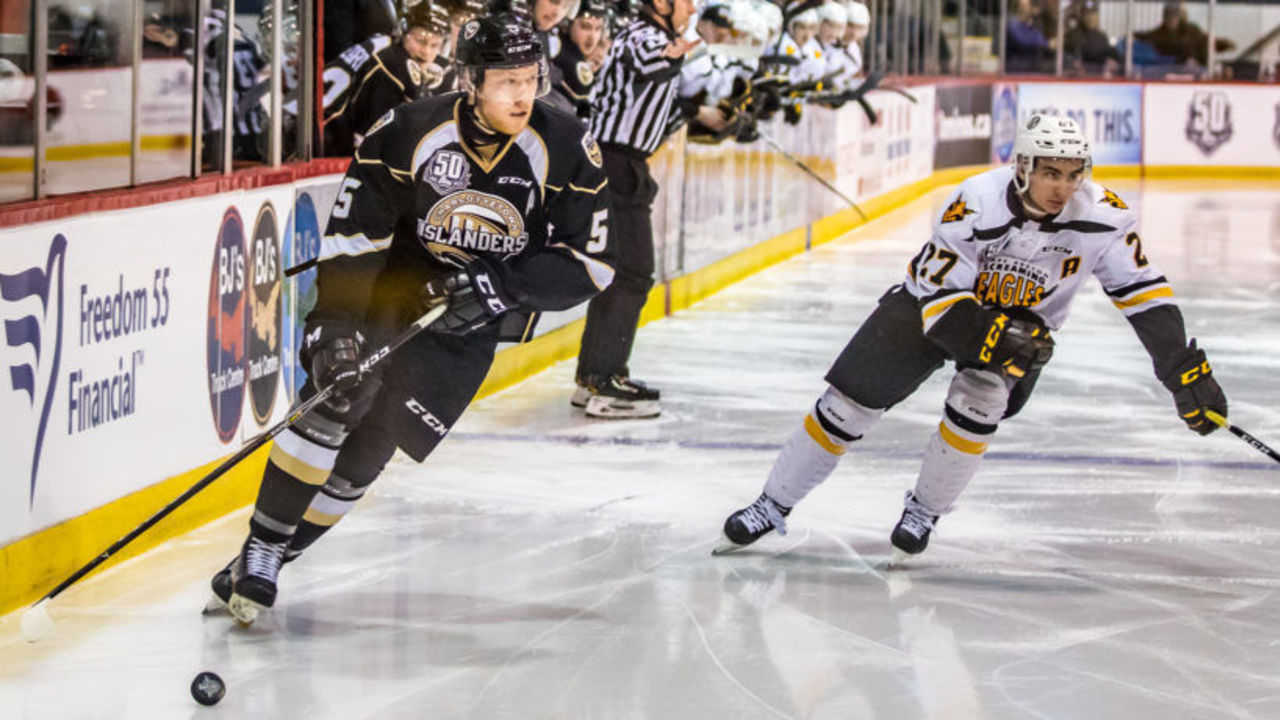 Post-practice sessions with Girouard helped inch Drew away from the "raw" label. Over time, he began to master basic footwork and hand-eye coordination drills, such as accepting passes in his skates and knocking pucks out of the air while skating backward. He was flashing pro potential.
"His game grew so much in a short period of time that it caught us all by surprise. You had to keep raising the bar and he always wanted more," Hulton said. "Part of the reason why he's had that success is because he's been able to keep that chip on his shoulder as the underdog. It's served him really well."
Drew, who finished with eight goals and 31 assists across 64 games in his sophomore season, would actually surprise himself on occasion by pulling off a fancy deke. An in-game toe drag amused the Islanders bench and put a smile on his face. "It's almost like it all fell in place for me," Drew said.
The Ducks selected the 6-foot-2 Drew in the sixth round, 178th overall, in 2018. Though he knew getting drafted as a 19-year-old was a possibility, Drew wasn't holding his breath. One of his agents, Darrell Young, broke the news via phone after waking him up from an afternoon nap. The Drew family was understandably elated. The QMJHL walk-on was now an NHL draft pick.
"Walking on is not that rare. Walking on and being drafted pro a couple of years later is very rare," Hulton, a longtime junior coach and manager, said.
"It's a great story," Gulls head coach Kevin Dineen said. "Any time you hear that - that somebody's at a crossroads and decides to stick with it and finds success - it's a pretty neat deal."
Dating back to the Brian Burke era, the Ducks organization has put a premium on toughness. They're a little old school, drafting and developing players with, in Dineen's words, "plenty of testosterone and a level of abrasiveness."
Nicknamed "Bam Bam" as a toddler, Drew fits in nicely. He takes pride in sticking up for teammates and has the receipts. In 2017-18, his breakout season in the QMJHL, Drew led the league with 159 penalty minutes and nine fights, for better or worse. The next year, in three fewer games, he finished with 141 penalty minutes and six fights.
"He's almost like the boy you'd want your daughter to marry, but not the guy you'd want your son to play in a hockey game," said Andrew Maloney, Young's colleague at Maloney & Thompson Sports Management.
This past season, his first exclusively against grown men, was a transition year. Jumping from junior to pro can be arduous on the sport's most talented players. It was especially difficult for Drew - who split his time between AHL San Diego (29 games) and ECHL Tulsa (five games) - because he had to relearn where the line between productive and unproductive toughness lies.
Drew's confidence sagged at times. Instead of establishing himself physically during play, he was taking penalties after whistles. His unpolished skill set made him a target, too. Opponents used their pro speed to force him into vulnerable defensive positions. "There's a different learning curve for every player," Dineen said, "and I think it goes doubly so for defensemen."
Make no mistake, there's optimism in Dineen's voice. The veteran bench boss is well aware of the quantum leaps that Drew made in Charlottetown. An inquisitive learner, Drew's leaned on Sylvain Lefebvre, San Diego's defense coach, in the same way that he leaned on Girouard. He's moldable, and that alone is a huge asset.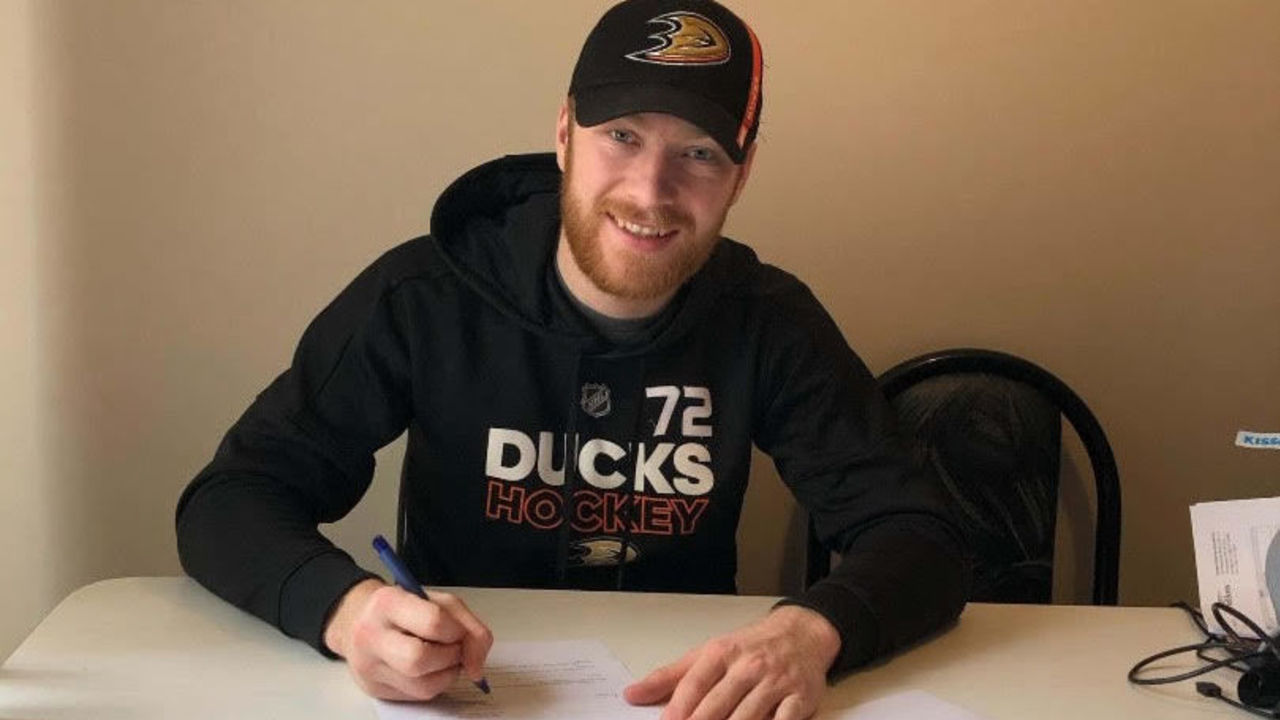 Dineen has been pleasantly surprised by Drew's offensive upside. His shot, previously a negative on his scouting report, is now feared. He can make a clean first pass out of the defensive zone under pressure or exit the zone himself. There's always going to be more simplicity than complexity in Drew's game, but he's trending in the right direction. He's by no means just a fighter.
Drew wasn't a special talent in minor hockey - heck, he got cut from his Bantam AAA team - so he will need to continue to hone his fundamentals. He'll also need to refine his strength and conditioning to catch up to his peers within the Ducks organization and beyond. "This year he's really going to be able to dedicate himself to being a professional hockey player," Dineen noted, later adding that Drew is "just scratching the surface."
The Ducks have invested in the Kingston kid's future. The three-year contract gives Drew stability and validation that his journey - the one on the ice with his teammates, not on the road in his Forte - is far from over.
"It doesn't have to work out for you when you're 10 or 12 years old," Drew said, when asked if he takes pride in being a late bloomer.
"I want to be a testament to that."
John Matisz is theScore's national hockey writer.