When David Ayres rolled out of bed on Sunday, he probably wondered if any of Saturday night's events actually happened.
Did he really stop eight of 10 shots on Hockey Night in Canada in relief of two injured Carolina Hurricanes goalies? Did he, the freaking Zamboni driver for the Toronto Marlies, really beat the Toronto Maple Leafs to become the first emergency backup goalie to record an NHL win? Did his performance really inspire, among other tomfoolery, countless tweets and a customized T-shirt, and one helluva motivational postgame speech?
Yes, all of those things happened, and Ayres' evening led to a fantastic story. But the NHL isn't a day-to-day grind for the 42-year-old. He'll ride out his 15 minutes of fame and then transition back to normal life. It's all gravy from here on out.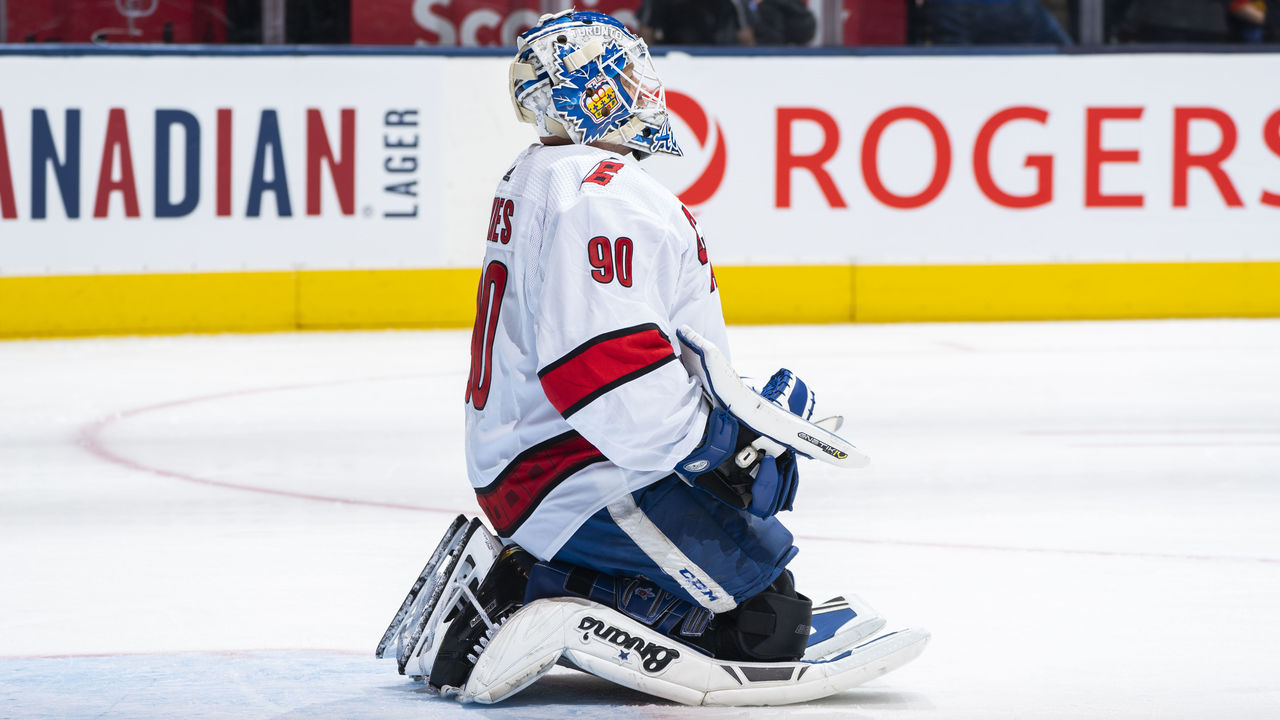 As for the players and staffs of the Maple Leafs and Hurricanes, well, Saturday night came with actual consequences.
There were two important points up for grabs, and Carolina snatched both partly due to Ayres' efforts, but the Hurricanes also played well. The Maple Leafs, on the other hand, can't claim to have put forth much of a fight in the 6-3 loss while embarrassing themselves in the process. Incredibly, Ayres even finished with a shot on goal, which was more than the shot total of seven Toronto skaters.
After rewatching the game's second half (Ayres played 28:41) to identify what went so horribly wrong for the Leafs and wonderfully for the Canes, here's what we learned and what it says about each team.
Zone exits and entries
John Tavares is a world-class player who often makes the difficult parts of his job look easy. On Saturday, though, he made just about everything seem hard.
The Leafs captain may have scored on the first shot Ayres faced, making it 4-2 with 6:24 left in the second period, but he otherwise struggled to contribute. Tavares turned the puck over at the offensive blue line at least three times when Ayres was between the pipes, including here:
What's going through Tavares' head during this sequence? That tip from William Nylander gives him the entire neutral zone. However, instead of going wide and using his speed to beat Joel Edmundson - who's not the fleetest of foot - Tavares stickhandles right into the Hurricanes defenseman's orbit. Edmundson uses his long twig and cleanly gains possession. Carolina, at this point comfortably up 6-3, then dumps the puck out of harm's way.
The Leafs experienced serious trouble both exiting their zone and entering Carolina's zone, while the Hurricanes served up a master class on how to exit their own territory. Check out how quickly this prime scoring opportunity for Zach Hyman dissolves into nothing:
It takes Carolina eight seconds to turn a key chance against into a line change. First, Hyman is harassed, then Auston Matthews is too before Jaccob Slavin responsibly skates the puck to a safe area, flips it out of the zone, and heads for the bench.
Those two highlights display Toronto at its worst and Carolina at its best. Under head coach Sheldon Keefe, the Leafs put themselves in a position to win when they're able to turn a two-on-two into a three-on-two or two-on-one and avoid turning the puck over at the blue line. Under head coach Rod Brind'Amour, the Canes win games when they pounce on loose pucks and direct as much of the action as possible toward the opposing goalie.
Puck management
In terms of precision, the night also belonged to the Canes. The Leafs were awful with the puck on their sticks. Passers outright missed their intended targets, had their passes intercepted, or they tried a pass when everybody watching knew an extra pass was one too many.
Toronto finished with 18 giveaways, the team's third-most in 63 games this season. Losing virtually every puck battle - even on the power play, like in the second-period clip below - sure is one way to accumulate so many giveaways:
Tavares' pass there is right in Mitch Marner's skates, but the crafty winger can usually pop the puck up to his stick with ease. There's one turnover, and then Tavares kills more power-play time by bobbling the puck. And once it's finally transported to Matthews in the neutral zone, the Canes swarm again.
It was a comedy of errors for a Leafs group already in the doghouse with Keefe following back-to-back 5-2 losses earlier in the week. Marner, one of the club's most reliable forwards, was particularly sloppy Saturday. Postgame, he called his effort "dogshit."
Meanwhile, Carolina suffocated Toronto on numerous occasions, as the Hurricanes tend to do when they're humming. Below, all five white sweaters are in the picture, with each player locked in on the puck and in position to support a breakout: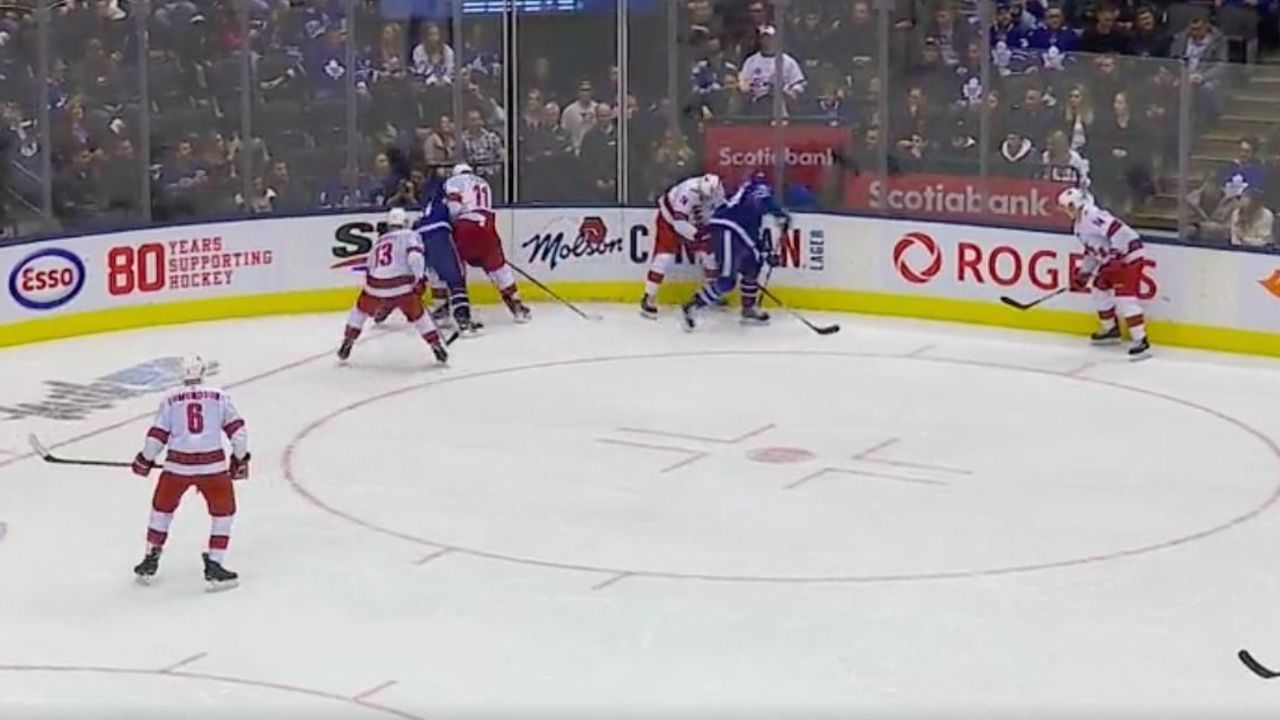 Warren Foegele (No. 13 in white) then scoops up the loose puck, evades a check from Matthews, and finds an open teammate. That teammate finds another teammate, and suddenly Carolina is attacking.
It's all very clean and precise, and it's classic Brind'Amour hockey.
Shot selection
The Leafs' shot decision-making completed the trifecta of issues plaguing them Saturday, and in a handful of other losses this season.
Toronto is built to hold onto the puck longer than typical teams. The Leafs are incredibly skilled and play with a philosophy of maintaining possession until an opportunity to advance up the ice presents itself. That means they regroup often and don't tend to force shots. It's a fine approach nine times out of 10.
However, given the bizarre circumstances, Saturday's game should have been the one out of 10. Throwing everything at Ayres - slap shots from center ice, wrist shots from the point, backhands from the corner - should have been the team-wide mentality. No questions asked. Just do it.
Rookie Rasmus Sandin has been tremendous for the Leafs since joining the big club full time in January. He's gone through the odd hiccup along the way, though, including not shooting directly on net three-plus minutes into the third period when his team was down 5-3 and facing an amateur goalie: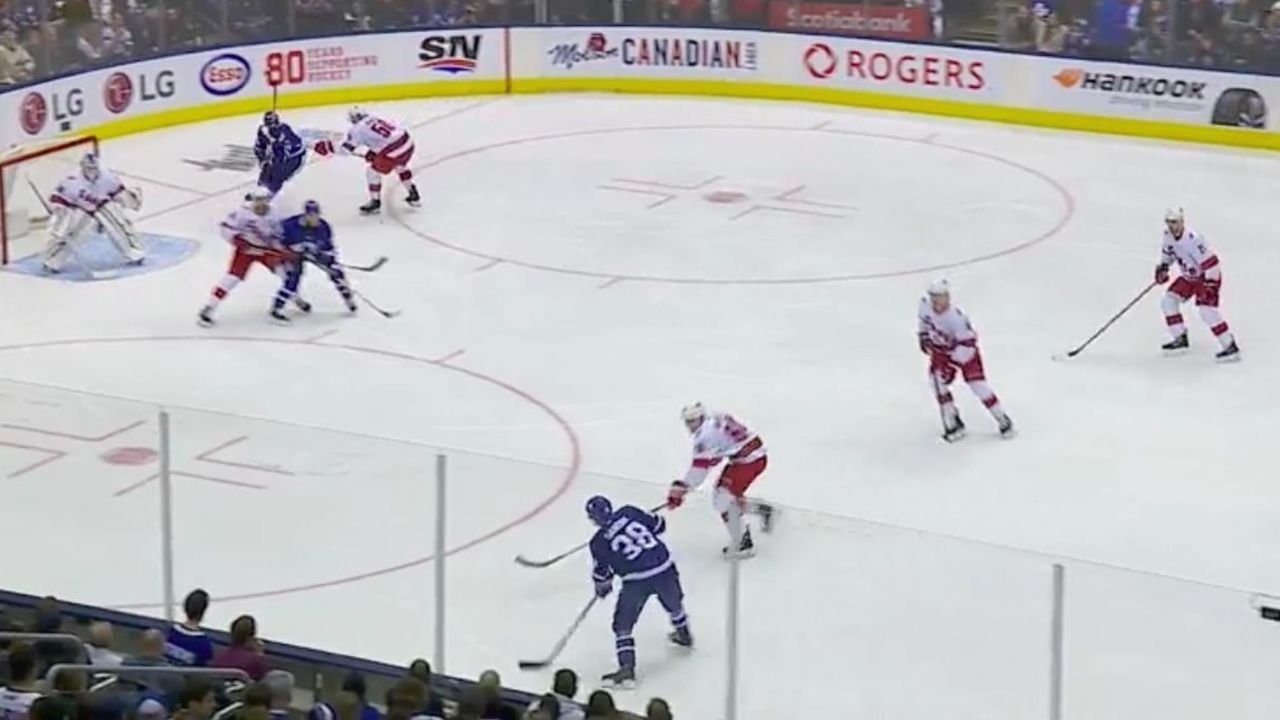 Sandin tries a little too hard here. Simply wristing the puck on net, as rudimentary and uncreative as it sounds, was the right play. Trying to set up teammate Alex Kerfoot for a nice deflection was not.
There was also a great encapsulation of Toronto's shot-selection problem and Carolina's good gap control at four-on-four in the dying seconds of the game:
Trevor van Riemsdyk plays Nylander perfectly, blocking shooting lanes and keeping the Leafs winger to the outside. Nearby, Slavin is boxing out Tavares, and two Canes are keeping a close eye on Travis Dermott.
Heck, when you watch the clip a third time, it dawns on you that the sequence doesn't just sum up the Leafs' shot-selection problem. It sums up the entire game - and the best and worst versions of these teams - quite well.
John Matisz is theScore's national hockey writer.