'He's a beast': Shea Weber's resurgence not going unnoticed
Mitchell Leff / Getty Images
ST. LOUIS - Shea Weber is, if nothing else, a man of extremes.
He's extremely nasty and feared on the ice, remarkably nice and humble off it. He's a polarizing defenseman to evaluate, with his true impact in any given game rarely reflected in traditional or even advanced statistics. He's incredibly strong and, relative to his size, tremendously agile. He's equipped with an extraordinarily hard shot. And he's totally uninterested in talking about himself.
That last trait surfaced during All-Star Weekend. In a one-on-one interview, Weber - who's 24 NHL games shy of 1,000 - was asked how he's been able to maintain such a high level of play this year. His previous enthusiasm in discussing his seventh All-Star appearance - "This is awesome" - vanished instantly.
"I don't know, to be honest," the Montreal Canadiens captain said, his facial expression suddenly blank. "Dedication to training and preparation. Every year I prepare for the season. I've had some tough injuries the last couple of years, but I think I've worked hard to come back from those. I think that … I don't like talking about myself. It's just the hard work and dedication that comes with anything."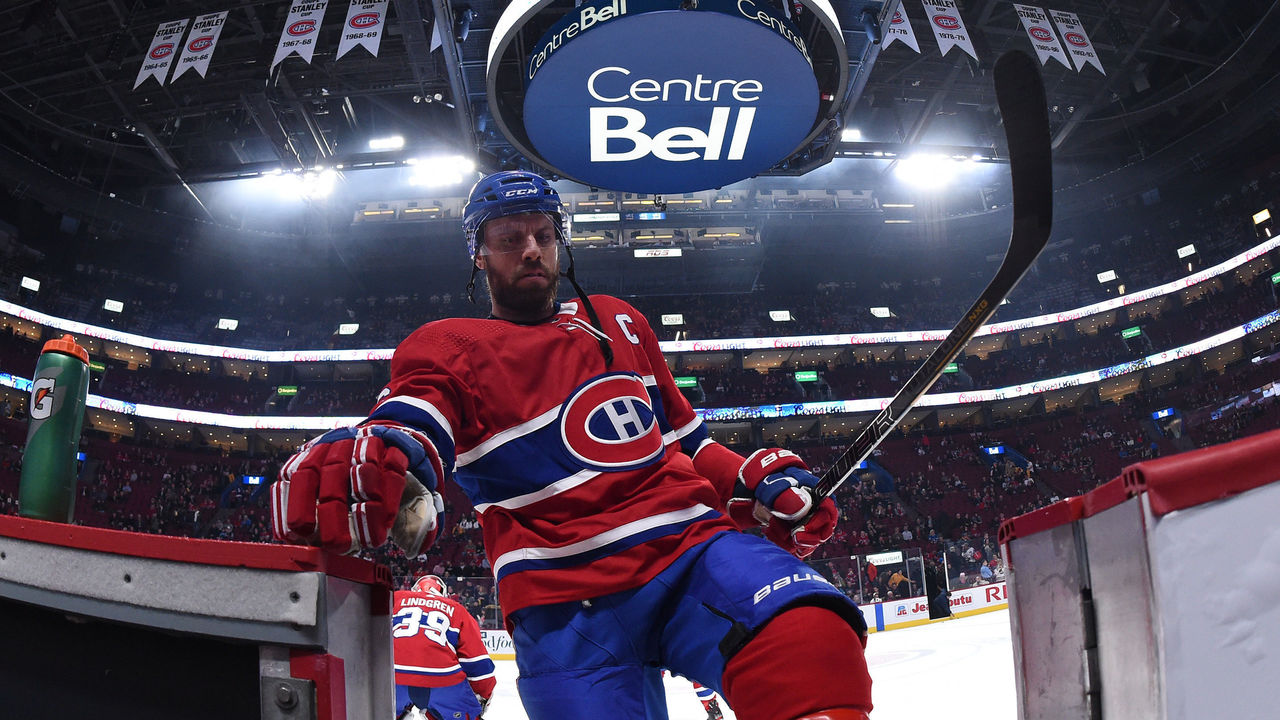 That dedication is paying off, both for Weber and Canadiens general manager Marc Bergevin. The hockey community roundly mocked Bergevin in June 2016 after he traded Norris Trophy winner P.K. Subban for Weber, straight up. The criticism was warranted: Bergevin had sent the Nashville Predators a younger, more dynamic blue-liner than Weber, one whose contract was less of an albatross than Weber's monstrous 14-year deal. The swap was projected to be a landslide win for the Predators. Yet, in 2020, Subban is a member of the New Jersey Devils and Weber, at 34 years old, is excelling.
"You're in one place 10-plus years, and you get comfortable with the city, the organization, everything. And then everything is new," Weber said, reflecting on the blockbuster trade. "But I feel like I am at home again, and that I'm settled into my home. I enjoy playing here, and after the first year, it has felt more natural. In the fourth year now, it feels normal."
Weber - who was limited to only 26 games in 2017-18 and 58 games last year because of injury - hasn't missed a single contest this season. He's playing 24 minutes a night to lead all Habs skaters through 51 games, and he's posting the best possession numbers of his career. Though Montreal's underwhelming attack ranks a middling 17th overall in total offense, Weber's on pace to record at least 50 points for the fourth time in 15 years.
"He's a beast," New York Rangers forward Chris Kreider said of his 6-foot-4, 230-pound foe. "He's still hammering the puck. He still moves incredibly well. He's still stronger than an ox."
In a recent poll of 392 NHLers conducted by The Athletic, Weber finished second in the "best defensive defenseman" category. He trailed only Victor Hedman, five years Weber's junior and a franchise defender in his own right. Weber's managed to vault himself back into the conversation for the game's top blue-liner while many of his 2003 draft class peers - namely Brent Seabrook, Dustin Byfuglien, and Dion Phaneuf - are essentially irrelevant or out of the NHL entirely. Ryan Suter and Brent Burns - who's having a down year - are his closest competition from that class; at this point in time, Weber's the king.
"He plays, first and foremost, really well defensively," Calgary Flames rearguard Mark Giordano said. "Then, this year, we all know the type of shot he has, and he's been able to jump into the play it seems like a little bit more."
The numbers support Giordano's claim. According to advanced stats website Natural Stat Trick, Weber ranks first in on-ice shot attempts per 60 minutes among the 162 NHL defensemen who have logged at least 500 five-on-five minutes. The Habs attempt 69.7 shots every 60 minutes Weber is on the ice. Norris front-runner John Carlson is 27th in that regard, helping the Washington Capitals attempt 61 per hour. And, in all situations, Weber's averaging 2.9 shots on net per game, the fifth-highest rate of his career and highest since 2014-15.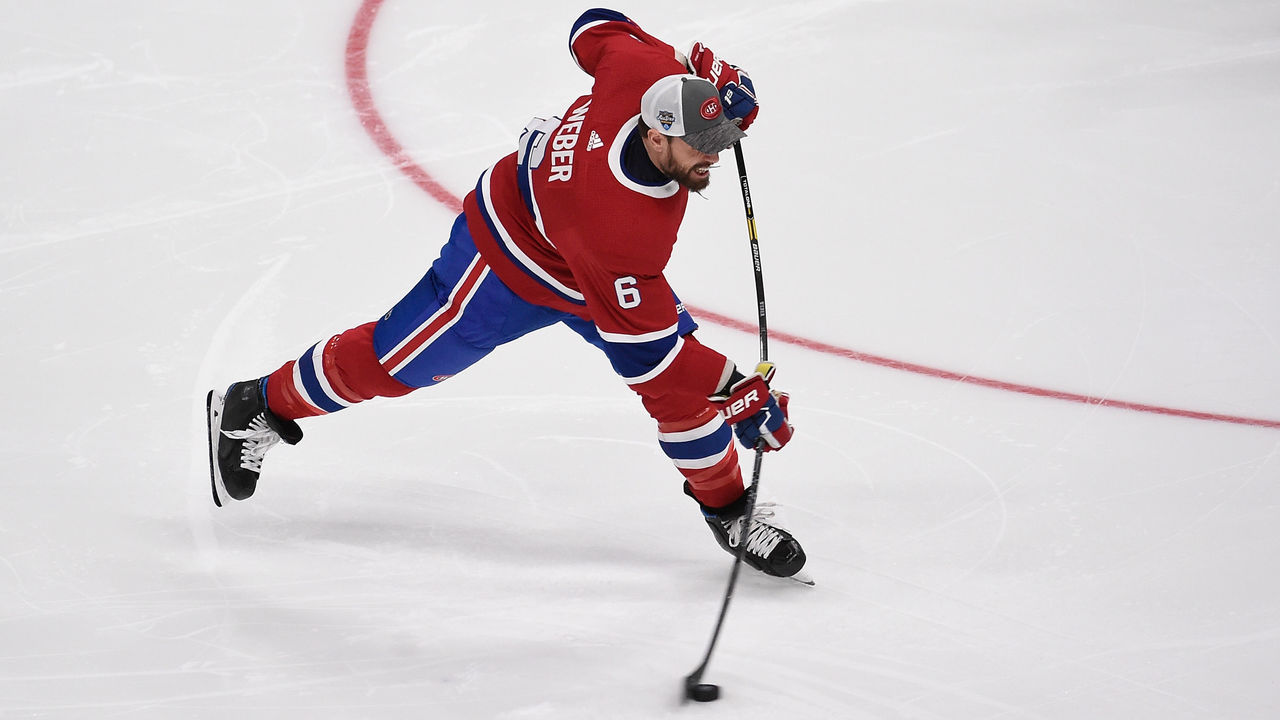 The native of Sicamous, B.C., still has his fastball, too, with players across the league reporting widespread fear of his booming shot. The All-Star Skills Competition provided some visual evidence: Weber won the hardest shot contest with a blistering 106.5 mph blast.
Al MacInnis, one of the NHL's all-time great back-end snipers, has noticed Weber smartly fires away whenever a one-time pass enters his orbit. "I find that if you think there's another option there, the shot is taken away (by the defense)," said MacInnis, now a member of the St. Louis Blues' management group. "So, for me, when I'm watching him, that's his (go-to approach). That's why he's been able to be so effective, and he's getting shots through to the net."
Added Winnipeg Jets goalie Connor Hellebuyck: "That thing just continues to pick up speed. I remember I had one moment (years ago) where he hit me in the chest. I had my chest kind of puffed up, and it almost acted like a trampoline. I sucked my chest pad in and launched it almost right back to him. He's definitely got one of the hardest (in-game) shots in the league."
Kreider recalled an occasion on which he pulled the chute on his defensive assignment, choosing instead to block a Weber howitzer and wondering how his coaches would react to that decision. "I sprinted away from the guy who was basically sitting right in front of the net in the slot because (Weber) was coming downhill for a one-timer," Kreider said. "Our coaches were basically like, 'That was a good play. We'd rather anyone shoot from high in the slot than him walking in on a one-timer.'"
That particular anecdote comes from Weber's Nashville days, an 11-year tenure that included plenty of regular-season dominance but only three playoff series wins. The Predators broke through the season after the Subban-Weber swap, ultimately losing to the Pittsburgh Penguins in the Stanley Cup Final. The Habs lost in the first round of that same postseason and haven't returned to the playoffs since. Tied for 11th in the East after Monday's 4-2 loss to the Capitals, it'll take a momentous post-All-Star run for Montreal to earn a spot in the dance this spring.
"I think that (we're) headed in the right direction, with the young guys and the talent that's coming up," Weber said. "We're in a tough spot right now in the second half of the year, but you just can't ever count a team out. St. Louis proved a lot of people wrong, with the way they went last year toward the end there. You just never know. We still have belief in that room."
Though the Canadiens' playoff chances are dimming, Weber's still on the fringes of the conversation for the Norris Trophy (it's realistically a two-horse race between Carlson and Roman Josi), an honor he's never won. But is the league's defenseman of the year award even important to the guy former teammate Max Pacioretty calls "the ultimate leader"?
"No, not at all," Weber said. "Everybody talks about that award. It's a great accolade and thing to have, but for me, the most important thing to have is the Stanley Cup. It's the epitome of a team just getting the job done, from top to bottom - everyone - no matter what your role is. Two minutes, 25 minutes. It doesn't matter. It's the ultimate team accomplishment."
All things considered, that's an extremely Shea Weber response.
John Matisz is theScore's national hockey writer.
Comments
✕
'He's a beast': Shea Weber's resurgence not going unnoticed
  Got something to say? Leave a comment below!