The Washington Capitals knew they'd hit the jackpot when they were awarded the first overall pick of the 2004 NHL Draft. Holding the premier selection in a draft headlined by two Russian youngsters, Washington opted to take Alex Ovechkin, leaving Evgeni Malkin to the Pittsburgh Penguins at No. 2. What the Capitals may have not known at the time was that they were bringing in a forward who would alter the entire history of their franchise as one of the greatest goal-scorers of all time.
After Ovechkin moved into the top 10 on the all-time goals list on Saturday, passing Mario Lemieux and tying Steve Yzerman, let's take a look back at the Great Eight's path to goal No. 692.
The early years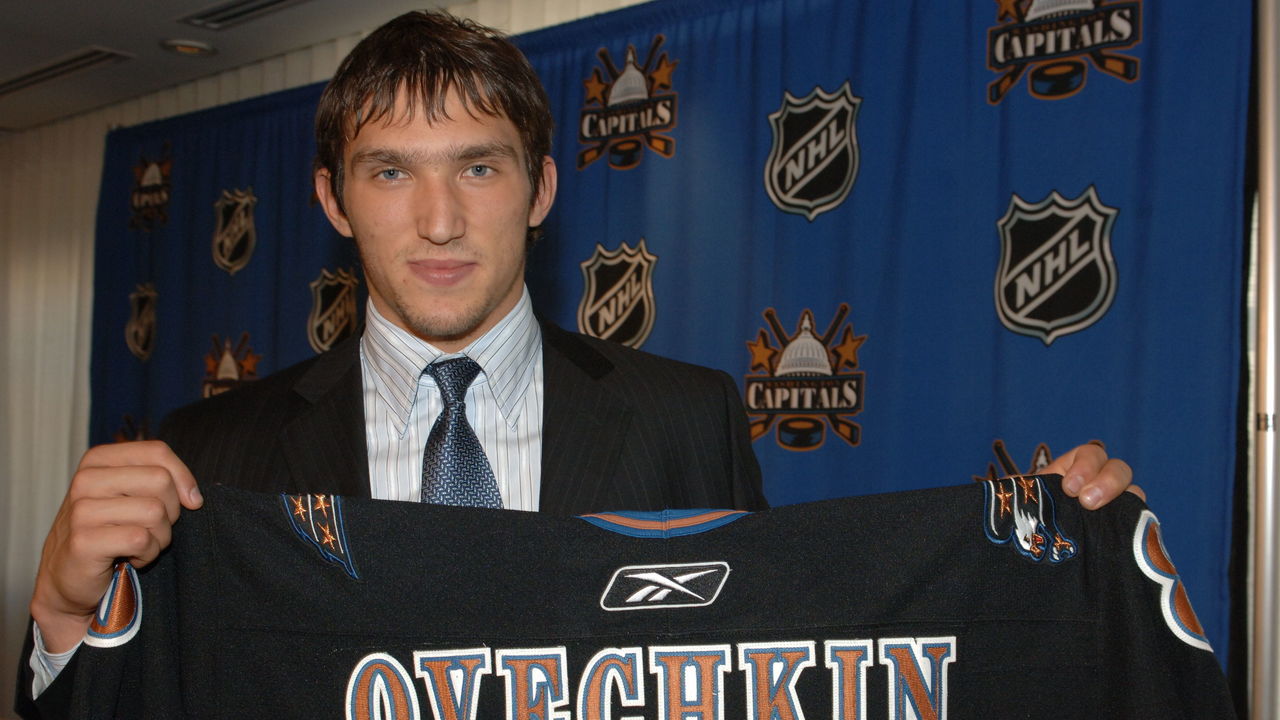 After being drafted, Ovechkin had to wait to make his NHL debut when a lockout wiped out the 2004-05 season. He spent that season with Moscow Dynamo in the KHL, delivering a modest 13 goals in 37 games. Though many see it as a lost NHL campaign, Ovechkin credits a lot of his success to that year in Russia.
"I don't know if I would have come here that year when I was drafted," Ovechkin said, according to NHL.com's Mike Vogel. "But that extra year (in the KHL) helped me a lot, to get mature, to get more muscles, and to get ready for the big game."
When he finally arrived, Ovechkin was indeed ready for the big game. He produced one of the most dominant debut seasons of all time, lighting the lamp 52 times for the third-most goals by a rookie behind Teemu Selanne and Mike Bossy. Adding 54 assists for good measure, he took home the Calder Memorial Trophy as the league's top rookie, earning 124 of 129 first-place votes to edge out archrival Sidney Crosby.
Through his first five seasons in the league, Ovechkin mustered 269 goals. Only three other players in NHL history have scored more during their first five years in the league: Wayne Gretzky, Mario Lemieux, and Bossy.
He took the league by storm and scored goal after goal, adding to his highlight reel on a nightly basis with jaw-dropping plays like this infamous tally from a 2006 contest against the Phoenix Coyotes:
Stanley Cup triumph
Ovechkin's arrival in Washington helped turn the Capitals into one of the league's top teams. They missed the playoffs during each of his first two seasons but have fallen short just once in the 12 years since. They've also taken home the President's Trophy as the league's top regular-season team three times during his tenure.
Despite that regular-season success, the Capitals routinely failed to get over the hump come playoff time as the franchise's first Stanley Cup continued to elude them. Many pointed the finger at Ovechkin, though his playoff stats are hardly incriminating. In 128 career playoff games, Ovechkin has recorded 65 goals and 126 points. His .508 goals per game in the playoffs rank ninth all time among skaters with at least 100 postseason games played.
Shoving the criticism aside, Ovechkin and the Capitals managed to flip the script in 2018, finally breaking through to the Stanley Cup Final and taking home hockey's ultimate prize. Ovechkin himself was awarded the Conn Smythe Trophy as playoff MVP after scoring 15 goals and 27 points in the 24 games it took to win it all.
Eye-popping stats and records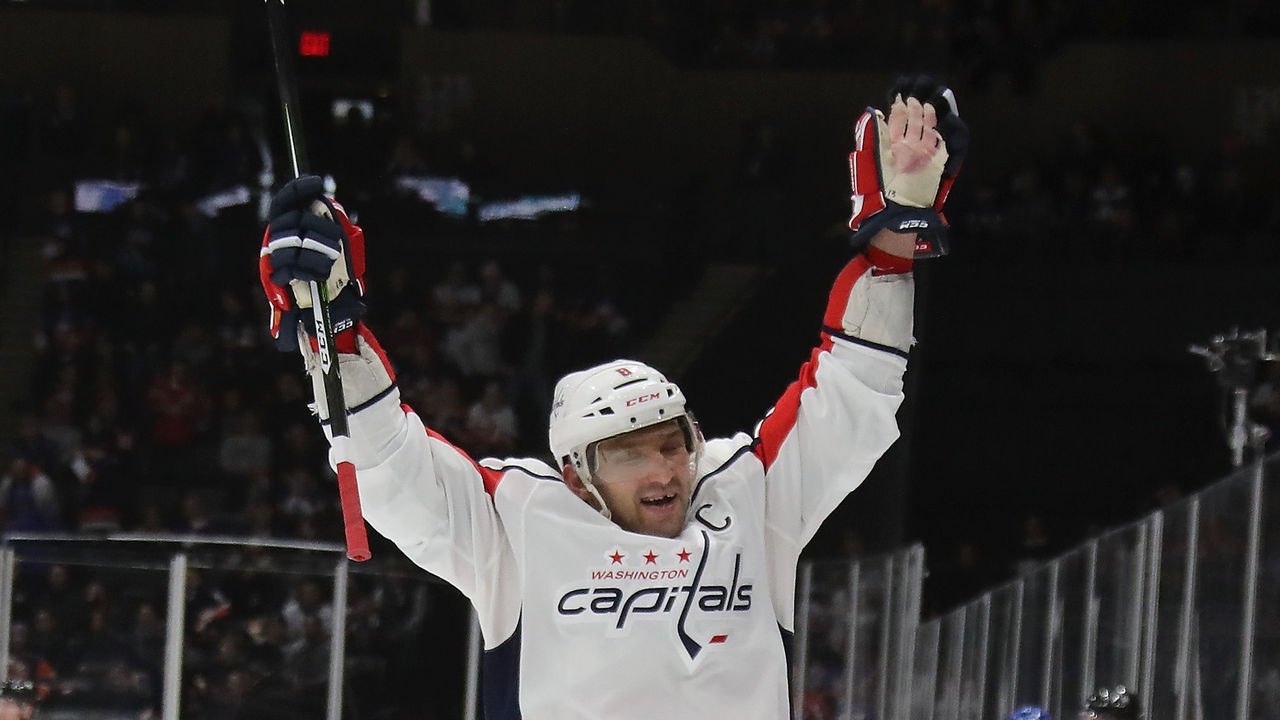 Ovechkin has earned his new membership in the NHL's top-10 goal-scorers' club in impressive fashion. He propelled himself into a ninth-place tie with Yzerman on Jan. 18 with a three-goal performance, giving him hat tricks in back-to-back games for the third time in his career. Only two other players have recorded consecutive three-goal games three times in their careers, according to NHL Public Relations: Gretzky and Joe Malone. Malone did it four times.
Unlike many of the legendary goal-scorers ahead of him, Ovechkin hasn't slowed down with age. He's currently on pace to jump from 600 to 700 goals in just 159 games, which would be the fewest contests required to make that leap by any member of the 700-goal club.
From Gretzky's age-30 season until the end of his career, he scored 217 goals in 640 games. Since Ovechkin's 30th birthday, he's scored 217 goals in 317 games, according to The Athletic's Corey Masisak. He's now on pace to reach the 700-goal mark in 1,146 career games, which would be the second-fastest pace in league history. Gretzky did it in 886 games, while Brett Hull did it in 1,157.
The eight-time Rocket Richard winner has spent his entire career doing things the NHL had rarely seen before he arrived. His run to 500 career goals became the fifth-fastest in league history when he managed the feat in his 801st game on Jan. 10, 2016, and he's the first Russian-born player to ever hit that mark.
He's just the second player in NHL history to score 30 or more goals in each of his first 15 seasons, according to Sportsnet Stats, joining former Capital Mike Gartner. He's also third all time in shots, behind Jaromir Jagr and Ray Bourque. Whichever offensive stats you look at, chances are Ovechkin's near the top of the heap in legendary company.
Looking ahead
Ovechkin's 15-year career has been a thrilling ride right from the beginning, and it doesn't seem to be ending any time soon. Coming into the league with guns blazing as a 20-year-old, he's grown into a mature leader and the Capitals' captain. He hasn't lost an ounce of his love for the sport, either, still celebrating each goal like it's his first.
Just nine names separate Ovechkin from the title of the NHL's all-time leading goal-scorer. As it stands, he sits 202 goals behind Gretzky at the top of rankings, and there are several scenarios in which he could plausibly supplant the Great One. If he maintains his pace this year, Ovechkin will finish 2019-20 with 56 goals - 186 behind Gretzky. If he plays for five more seasons and averages 37 goals a campaign, he'll grab the title.
Considering Ovechkin has averaged 47 goals per season over the course of his NHL career, the idea is no longer as far-fetched as it once seemed. But regardless of the eventual outcome, Ovechkin has already earned his rightful place among the greatest goal-scorers in the history of hockey.