Takes, thoughts, and trends is theScore's monthly spin around the NHL.
Lacrosse-goal fever
First, it was Nils Hoglander in October during a Swedish league game. Then it was Andrei Svechnikov a few days later during an NHL game. Then it was Svechnikov again in early December. And, as if to say "let me catch up here," Hoglander did it again last week at the World Junior Championship.
The so-called lacrosse goal was all the rage toward the end of 2019. A Minnesota high schooler recently got in on the fun as well:
Svechnikov, the fantastic Carolina Hurricanes sophomore, isn't the only NHLer capable of filling the highlight reel with such skill. Someone will join him soon.
Toronto Maple Leafs sniper Auston Matthews has tried to pick the puck up behind the net numerous times this year. Elias Pettersson, the wizardly Vancouver Canucks center, is open to the idea. Might Jack Eichel, whose puck skills are off the charts, attempt a lacrosse goal in the near future?
"Probably not. ... If the opportunity presented itself, maybe, I don't know," the Buffalo Sabres captain said this past weekend. "You've seen it done a few more times, so teams are probably a little more prepared for it. It's tough to do. To be able to do it as smoothly as (Svechnikov's) done it, it's really, really impressive. You've seen a lot of guys try and not be successful, and he's done it twice. It's awesome, honestly."
Old-school Boston Bruins forward David Backes - who, at 35 years old, admits he would never try to pull off a lacrosse goal - is intrigued by the recent development and tips his cap to Svechnikov. As he explains, so much goes into the result.
"Fresh ice, fresh stick, warmer puck - all of those things. What you've got on your stick for tape or wax. Everything can factor into how easy or difficult that would be. Or, if it just hops (onto the toe of your stick) as you're going behind the net, maybe you can fling it in there. I'm impressed by them," Backes said before adding with a smile: "Would I try to take a run at that guy in the next shift against him? I certainly would. But that's my thought process."
Fully evolved Eichel
Speaking of Eichel, he's firmly in the Hart Trophy discussion. For my money, Nathan MacKinnon has been more valuable to his team, but if the Sabres break their eight-season playoff drought, Eichel has a chance with voters. It's been a treat to watch him level up to bona fide superstar status.
Always a strong skater, a neutral-zone champion, and the heartbeat of the Sabres, it's this year - his fifth in the NHL - that's been Eichel's most impressive. He's produced 52 points in 39 games, and at times, he's been unstoppable. The 23-year-old plays 21:51 a night, second on the entire squad.
Asked what he's learned about Eichel since joining the Sabres in training camp, forward Marcus Johansson's eyes widened.
"I didn't know that he could be so dominant so consistently like he's been. I don't know how many games he's won for us this year. He's got something special," said Johansson, who has also played for the Capitals, Devils, and Bruins over a 10-year career. "There's only a couple of guys, maybe, that have that. He can take over games completely, and he puts the team on his shoulders. It's impressive. I don't know what to say - if it's a talent or what it is - but it's special."
What exactly is Eichel doing so well when he's dominating?
"(It's about) how in control he is," Johansson said. "He's got the puck on his stick a lot. It's anything from making moves to unbelievable passes, unbelievable shots. There's just nothing that he can't do. To be as big as he is and to have all of that skill, it's pretty fun to watch."
Johansson didn't mention the sequence below as an example of this evolved form of Jack Eichel, but it qualifies, with a tremendous mix of skill, confidence, and patience on display:
The Marchand Show
Based solely on raw production, Brad Marchand is 2019's king.
Counting regular-season and playoff action, the Bruins star ranks first in points, first in assists, and second in goals, with only Tuesday's 13-game slate remaining in 2019. Marchand, who has appeared in 105 total games and faces the New Jersey Devils on Tuesday afternoon, obviously benefited from team success. Nevertheless, the "Little Ball of Hate" accomplished a ton.
Marchand has piled up 140 points in the calendar year. Edmonton Oilers captain Connor McDavid ranks second with 121 points, and his teammate Leon Draisaitl is third with 117. Just eight others have hit triple digits - among them Marchand's center, Patrice Bergeron.
The lone player to accrue 80 assists in 2019, Marchand is at 88. McDavid is second with 79. As for goals, David Pastrnak, the third member of Boston's top line, has scored one more than Marchand's 52. Draisaitl (51) and Washington Capitals gunslinger Alex Ovechkin (50) are the only others who have bagged 50 in the calendar year.
The main takeaway here is that Marchand, 31 years old, is bucking the typical NHL aging curve. He didn't really arrive as a top-line producer until he was 27, and he is wrapping up his finest year four seasons later. Quite a career arc.
Duclair, Sens a match?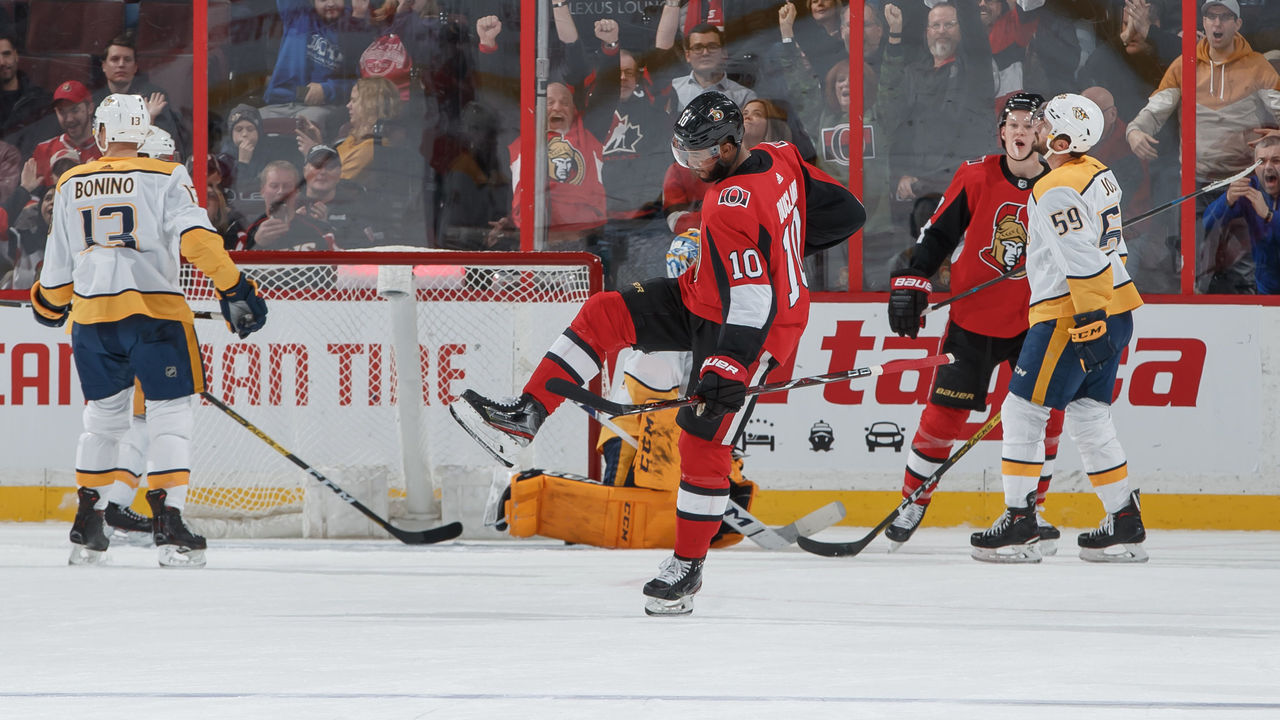 Sixteen players on the Ottawa Senators' 22-man roster are on expiring contracts, but none of them are showcasing themselves like Anthony Duclair.
The 24-year-old pending restricted free agent can start negotiating a new contract with the Sens on Wednesday. Since October, general manager Pierre Dorion must have been asking himself: Is Duclair's breakout season for real, and is he part of the club's long-term core?
If the answer is "yes" to both questions, there should be a fit.
Now with his fifth NHL organization, Duclair seems to have found stability in the form of playing time and production. In just 40 games, he's set a career high in goals with 21. He was named an All-Star on Monday.
Rare 1-2 punch
Fun fact: 1966-67 was the last time defensemen finished first and second in Calder Trophy voting. Bobby Orr was crowned rookie of the year, while tough-as-nails Ed Van Impe earned runner-up honors.
More than 50 years later, with Vancouver's Quinn Hughes and Colorado's Cale Makar dominating the first three months of the 2019-20 season, we may finally witness another one-two showing. (Just 11 defensemen have won ROTY in the Calder's 82-year existence.)
Only a drastic drop-off in production or a severe injury to Hughes or Makar, and/or a transcendent second half from another rookie, can derail the tandem's momentum. They're simply peerless in the crop of first-years.
The best part? The numbers suggest neither player is running away with the award:
| STAT | HUGHES | MAKAR |
| --- | --- | --- |
| Games | 39 | 31 |
| Points | 28 | 29 |
| Time on ice | 21:15 | 20:27 |
| 5v5 Corsi % | 54.2 | 50.5 |
| 5v5 Corsi Rel. % | 7.6 | 1.7 |
| 5v5 xGF % | 49.1 | 51.7 |
| 5v5 Off. ZS % | 66.8 | 67.5 |
If we're splitting hairs, Hughes has been a smidgen better. Through the prisms of advanced stats and the eye test, the Canucks cornerstone is a more well-rounded player. On several occasions, the 20-year-old has demonstrated the rare ability to control the flow of an entire game.
But, again, it's stupidly close. Makar, who has missed some time due to injury, has proven his 2018-19 playoff performance was no fluke. He's 21 and already a legit star. Flashier and more productive than Hughes, Makar has no problem keeping up with MacKinnon and the Avalanche's other skilled forwards.
It'll be interesting to see if either stud earns a spot on his divisional team ahead of All-Star Weekend in late January. Both can be added to the festivities in St. Louis through the NHL's "Last Men In" fan vote. Something to remember: Hughes' competition in the Pacific (Getzlaf, Keller, Gaudreau, Nugent-Hopkins, Doughty, Hertl, Pacioretty) pales in comparison to Makar's rivals in the Central (Toews, Benn, Suter, Duchene, Perron, Laine).
The ideal scenario, of course, would be the inclusion of Hughes and Makar. These super rookies are made for the skills event and three-on-three tournament.
Fascinating rookie class
Behind Hughes and Maker is a lengthy list of lesser-known freshmen who haven't encountered the dreaded rookie wall so far.
Victor Olofsson of the Sabres leads all rookies in offense with highs in goals (16) and points (34). Ilya Mikheyev, the leader in even-strength points with 22, has been a crucial component of Toronto's attack. Edmonton's Ethan Bear and Pittsburgh's John Marino are playing 20 minutes a night as defensemen and, for the most part, looking comfortable in their high-profile roles. Adam Fox of the Rangers, another blue-liner, has quietly recorded 17 points in 38 games.
The rookie goalie group is holding its own, too. Washington's Ilya Samsonov (.918 save percentage in 14 games), Vancouver's Thatcher Demko (.907 in 13), and New Jersey's Mackenzie Blackwood (.906 in 29) have quickly established themselves at the NHL level, which is much easier said than done.
If I were to fill out my Calder ballot right now, I'd put Hughes first, Makar second, Olofsson third, Marino fourth, and Mikheyev fifth.
McCann's new groove
Scouts say Jared McCann had a pro-level shot at 14 years old. He had worked tirelessly on his wrister growing up in the London, Ontario, area, and it had started paying off early. At 18, he became a first-round NHL draft pick.
Yet it wasn't until the former Canucks speedster landed in Pittsburgh four years later that he really hit his stride at the NHL level. Playing mostly center for the Penguins, McCann's built off a strong finish to the 2018-19 season by collecting 10 goals and 13 assists for 23 points in 37 games this year.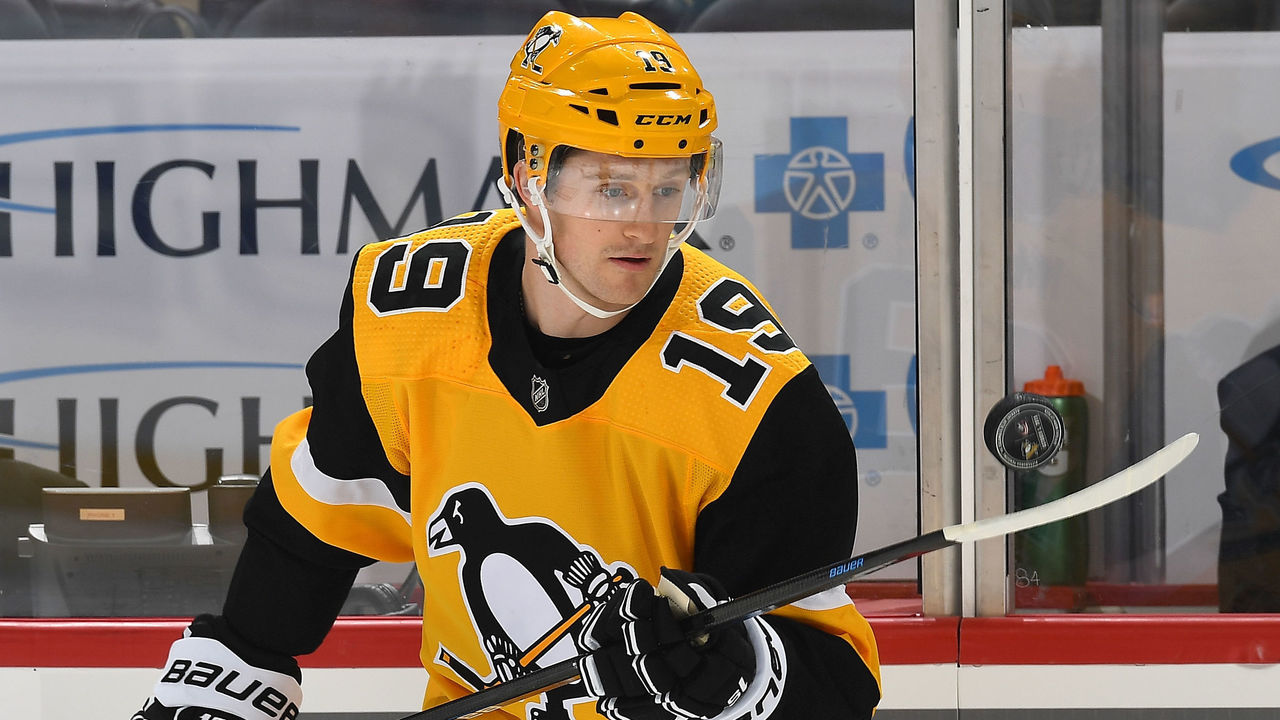 That's big-time production compared to his stint with the Florida Panthers, where McCann struggled to cope with dry spells. He sought professional help in Florida and found it made a world of a difference for his mental health.
"The pressure of playing well every single night weighs on you. It really does," McCann, 23, explained. "I put a lot of pressure on myself to be a good player, and when you have a bad night, and everybody's on you - like the media, and stuff. It's not fun. It gets into your head. Even if you say it doesn't, it does."
"You don't need to take everything so seriously," he added. "But that's the kid I am, right? Growing up in a construction family, when you do a job you do it right and you move on. But going through that stuff is tough, and you need to talk to someone. You really do."
McCann emphasized that his struggles weren't overly serious; he wasn't diagnosed with any condition, as his issues were mainly linked to on-ice success. Still, he seems to be playing freer in Pittsburgh, and it's nice to see.
Sharks still drowning
No underachieving club has a steeper hill to climb in the 2020 portion of the 2019-20 campaign than the San Jose Sharks.
Unlike three of the NHL's four other coaching changes this season, the Sharks' fire-and-hire earlier in December hasn't yielded much success:
| TEAM | GAMES | RECORD | PTS% |
| --- | --- | --- | --- |
| Leafs | 17 | 12-4-1 | .706 |
| Flames | 13 | 8-4-1 | .615 |
| Stars | 9 | 5-3-1 | .556 |
| Devils | 12 | 4-6-2 | .333 |
| Sharks | 7 | 2-4-1 | .286 |
Yes, seven games is a small sample size. That's why concluding anything definitive about Bob Boughner and his job as Pete DeBoer's replacement would be unfair. The facts are the facts, though: A team is in trouble when it doesn't get the usual new-coach bump. Time is running out for the Sharks.
Heading into Tuesday's tilt against Detroit - San Jose's 41st of the season - the team is eight points out of a playoff spot in the Western Conference. Only the Red Wings, Devils, and Kings, squads firmly in rebuild mode, have accumulated fewer points than the 17-20-3 Sharks.
Terrible goaltending, porous five-on-five defense, and an uncharacteristically mediocre offense have put the Sharks in a peculiar spot: They are in great danger of missing the postseason during a year in which they don't own a first-round pick. It's a cringeworthy reality for one of the NHL's top franchises.
And the most puzzling part is their special teams, which rank first (penalty kill) and 28th (power play). Such an odd dynamic. The most recent NHL team to finish a season with the top-ranked penalty kill/power play and also a bottom-five PK/PP was the 2014-15 Minnesota Wild (1st in PK, 27th in PP).
Disaster in the Pacific
How crazy is it that, at what's essentially the midway point of the season, no Pacific Division team has banked enough wins and overtime/shootout losses to crack the league's top 10 in points percentage?
The fast-starting Canucks, at .575%, are now 14th among 31 teams; the sleeping-giant Golden Knights, at .571%, are 15th; the steady Coyotes, at .561%, are 16th; the roller-coaster Flames, at .549%, are 19th; the reeling Oilers, at .537%, are 23rd; the retooling Ducks, at .474%, are 26th; the disappointing Sharks, at .463%, are 27th; and the lifeless Kings, at .439%, are 29th.
What a gong show.
Winter Classic beauties
In my humble opinion, the Dallas Stars' Jan. 1 attire is among the best in Winter Classic history. It's truly a wonderful work of art:
The look, in part a tribute to the Dallas Texans of the 1940s, strikes a balance between clean and creative. It's simple from a design standpoint, yet the jersey's large "D" logo and the colors of the throwback gloves and pants command attention. The state of Texas arm patch is a neat touch.
This year's event - Stars versus Predators on Wednesday at the Cotton Bowl - is the 12th of its kind, which means there have now been 24 Winter Classic looks. The 2009 Red Wings, 2010 Bruins, and 2017 Blues donned noteworthy ensembles. But let's be honest: The 2020 Stars look deserves a stall alongside the 2008 Penguins and 2016 Bruins in the Winter Classic Looks Hall of Fame. (That is, if such a museum existed ...)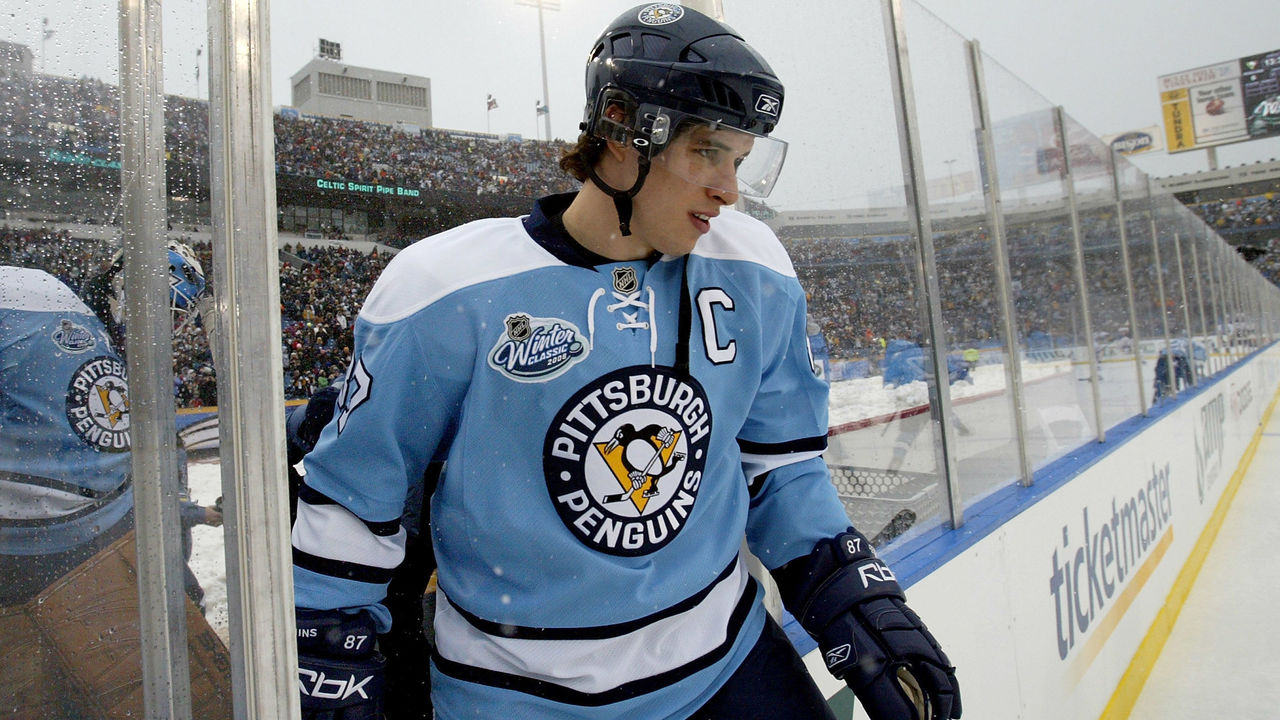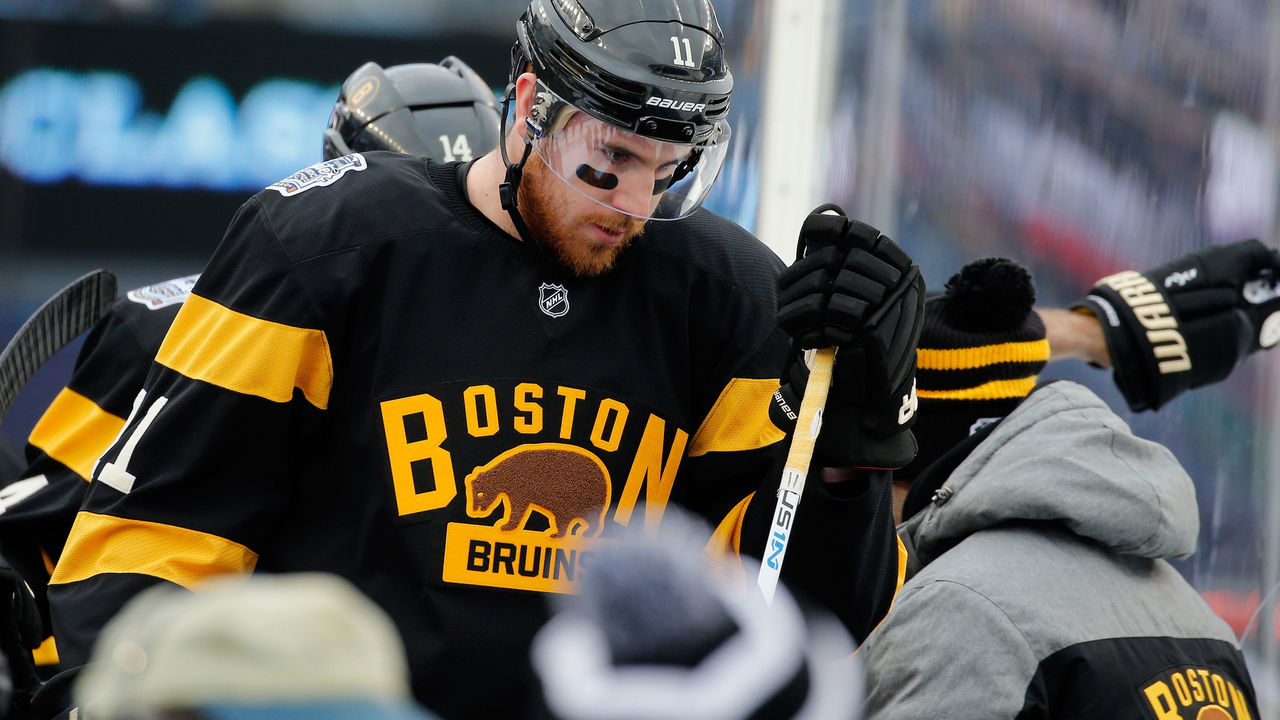 Empty-net dreams
One final thing: Whatever happened to goalie goals?
The beginning of the decade produced three - Cam Ward in December 2011, Martin Brodeur in March 2013, Mike Smith in October 2013 - but there hasn't been a single, glorious netminder tally in the six-plus years since.
On the surface, it doesn't add up. NHL teams send out an extra attacker more frequently than in previous eras. And the sixth skater typically hops over the boards earlier in the third period. Oftentimes, the trailing team is down by two or more goals, which gives the goalie on the leading team a prime opportunity to shoot their shot. Despite all of these factors, however, no five-on-six empty-netters have come to fruition.
Since I'm far from a goalie expert, I reached out to InGoal Magazine writer Paul Campbell for his take on the disconnect. He shared three rough theories.
"If I had to guess, I'd say that teams can't obstruct like they used to, so goalies get far fewer chances to do it. Like a QB with a bad O-line," Campbell said, referring to the lack of quality shooting opportunities and lanes available to netminders in an NHL that disincentivizes forms of interference.
The modern goalie operates on his knees regularly throughout a game, "which is great for sealing the posts, but bad for playing the puck," Campbell noted.
"I also think we're seeing the aftermath of the trapezoid rule now," he added. "Goalies and goalie coaches have been prioritizing puck handling far less, so we have a generation of goalies that isn't so confident with it."
Hmm. Maybe 2020 won't be the year of the goalie goal after all.
John Matisz is theScore's national hockey writer.