Liam Kirk is Britain's great NHL hope
Photo illustration by Nick Roy / theScore
By the second period of Great Britain's last game at the 2019 IIHF World Championship, the evidence on offer seemed damning: The Brits didn't belong at the tournament.
Little else could be said for a team that had returned to the top flight of international hockey for the first time in 25 years. After six mostly humbling losses to the likes of Canada, Finland, and Denmark, the Brits stumbled to a 3-0 deficit against France, another lowly trespasser in the mighty round-robin gamut. Britain had been outscored 41-5 to that point in the tournament. No outsider could have thought the final 30 minutes of action would look much better.
Only someone on the inside, then, could adequately explain the comeback that ensued - three British goals in the span of 10 minutes, followed by a backhand deke in overtime that found twine.
Cue the celebratory hysteria. Cue the sense that Britain maybe did deserve to stick around.
"We just had that kind of British-bulldog fight," forward Liam Kirk said several months later as he reminisced about the 4-3 victory. "We never gave in. We kept fighting. We kept believing. That was the big thing - the belief that we were going to do it."
Sage advice, that, especially for a player in Kirk's situation. By stunning France, the Brits guaranteed themselves another appearance in the World Championship's top division next spring. Avoiding relegation was an affirmation of Britain's hockey credibility and a welcome step in the nation's quest to enter the stratosphere - if not quite the innermost circle - of the sport's elite. Hang around long enough, and the case for perpetual admission will be strong.
In the meantime, there's more that Britain can do to keep pace with the Frances of this world. No born-and-bred (emphasis on the "bred") Englishman, Welshman, or Scot has ever played in the NHL. If all goes to plan - if self-belief, supplemented by tantalizing offensive skill, coalesces with sufficient good fortune - Kirk will become the first.
In Canada, Kirk, 19, is authoring the type of junior season that suggests he could one day hack it in the pros. Through 20 games, his 12 goals and 27 points slot him among the Ontario Hockey League's top 20 scorers, a hair behind his Peterborough Petes teammates (and Toronto Maple Leafs prospects) Nick Robertson and Semyon Der-Arguchintsev. Such production is hardly shabby from a winger with a radically atypical upbringing - a path from childhood to teenage stardom to, possibly, the next level that resembles no one else's in hockey.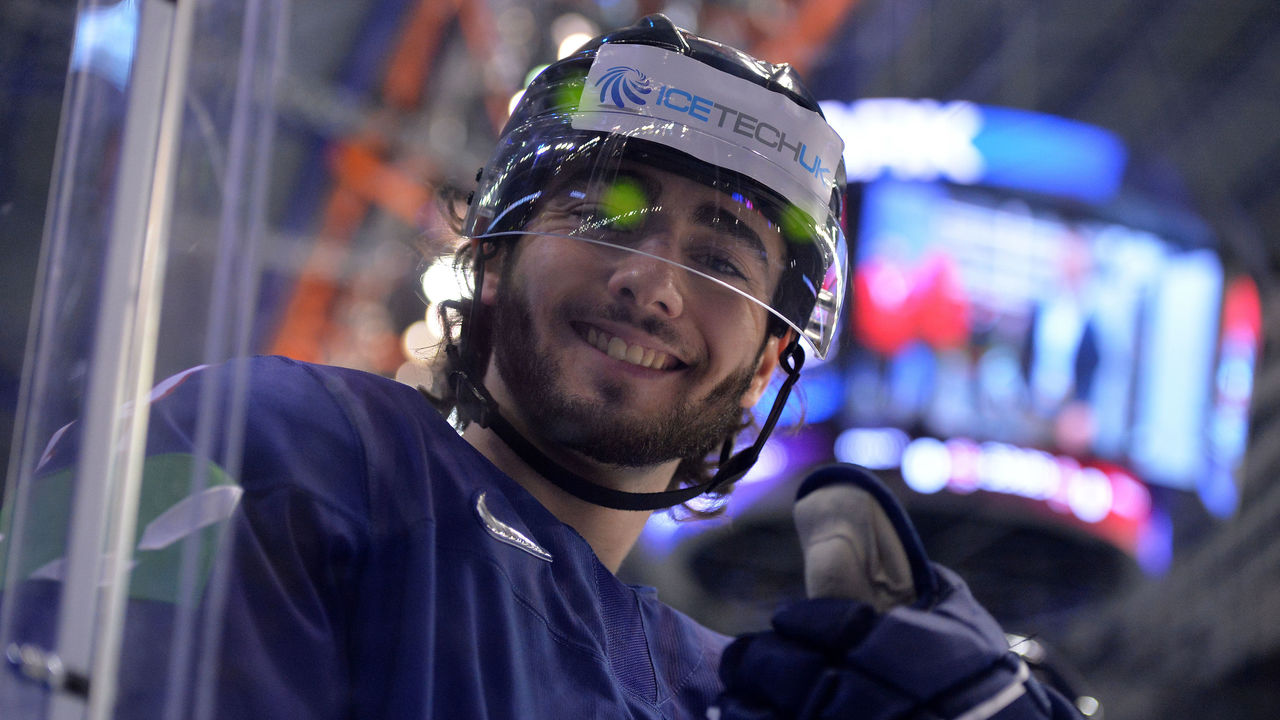 When the Arizona Coyotes selected Kirk in the seventh round of the 2018 NHL Draft, he'd just played a full professional season with the Sheffield Steelers of Britain's top-tier Elite Ice Hockey League. Kirk was born in nearby Maltby, England, and his ascent to the Steelers' roster marked the end of his advance through Sheffield's minor system, where the scarcity of available ice time tended to limit his teams to a single hour of practice per week.
That constraint constitutes the simplest explanation for why Britain has never sent a homegrown player to the NHL. Retired veterans such as Ken Hodge, Owen Nolan, and Steve Thomas were all born in the United Kingdom but raised in Canada. Detroit Red Wings winger Brendan Perlini, the son of a Canadian who spent most of his career starring in Britain, lived in England's Surrey region until age 11 but moved to Sault Ste. Marie, Ontario, for the rest of his formative years.
Kirk is fully a product of his nation's hockey programs. Now, he's looking to prove himself worthy of an entry-level NHL contract and capable, someday, of taking that elusive next milestone step.
"That will show others that they can do the same thing," he said. "I never left Sheffield. I never left the country (before age 18) to play hockey. And I still got drafted and still have this opportunity to make it further."
It has to be said that Kirk is far from a surefire future NHLer. Plenty of seventh-round picks don't wind up with a contract offer from the team that drafted them. Even if Kirk does impress the Coyotes this season, his shot at the show would still be several years off. No seventh-rounder selected in any draft since 2015 has earned a regular role in the NHL.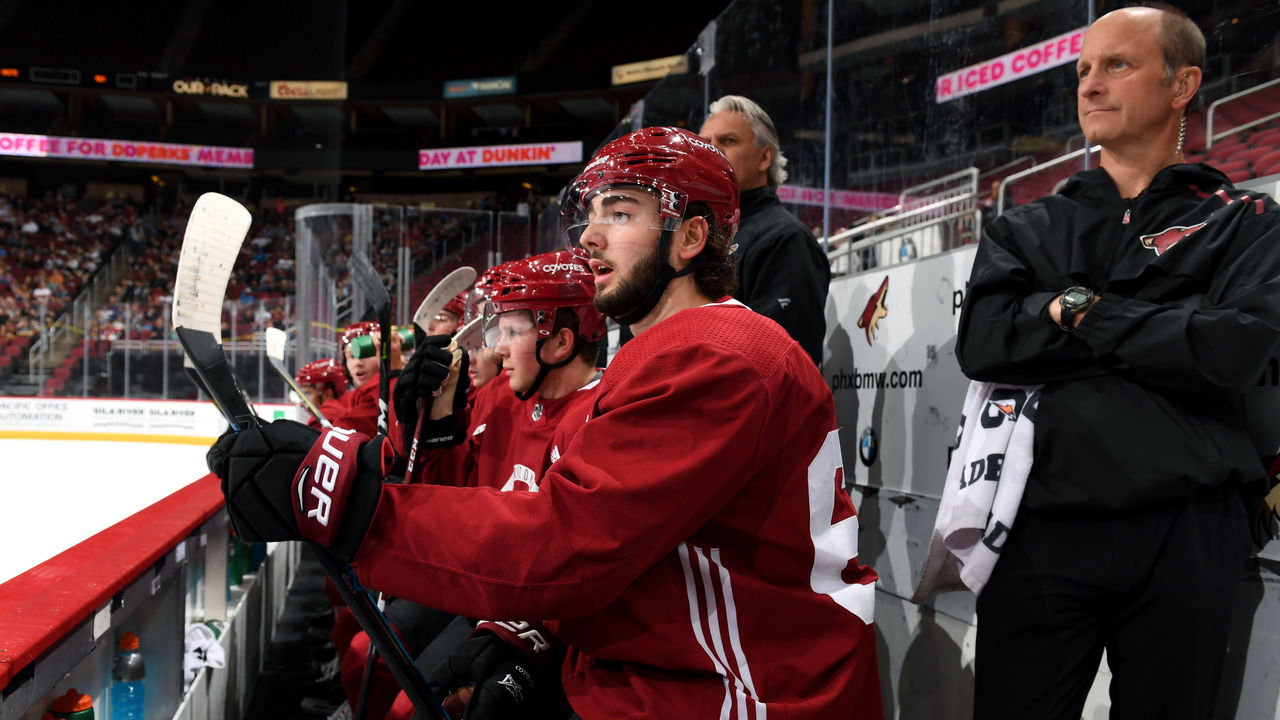 With those caveats in mind, boosters of British hockey have reason to be proud of Kirk's unique rise, and to err on the side of cautious optimism when envisioning his potential. Coaches and teammates describe him as a creative, unselfish forward whose offensive gifts are copious: good hands, feet, and hockey sense, with a coolness under duress and a quick, deceptive shot release.
"Whether he's got the puck on his stick or you pass to him, you know you've got a good chance of scoring," said Petes captain Zach Gallant, a San Jose Sharks forward prospect.
"We all know he can skate. We all know he can shoot. We all know he can pass," Peterborough head coach Rob Wilson added. "But I think what Liam's growing on, and trying to grow on, is the fact that now that the adjustment is over, he can be a North American hockey player. He's finding his feet and doing a very good job of it."
Kirk's adjustment to Canadian ice - and, simultaneously, to life on an unfamiliar continent - manifested in a 13-game pointless streak early in the 2018-19 season, when he first joined the Petes from Sheffield. Comfort arrived with time. Kirk has scored at a point-per-game clip ever since that dry spell, profiting from a mutually beneficial partnership with Robertson and Der-Arguchintsev, his frequent linemates at the top of Peterborough's depth chart. Scoring chances abound when Wilson deploys that talented trio.
The top line's collective breakout, not coincidentally, has run parallel to an uptick in the Petes' fortunes. The junior franchise, which counts Hall of Famers Bob Gainey, Larry Murphy, Chris Pronger, and Steve Yzerman as alumni, has played mediocre hockey for most of this century, stumbling to nine losing seasons in 13 years since a surge to the OHL championship in 2006.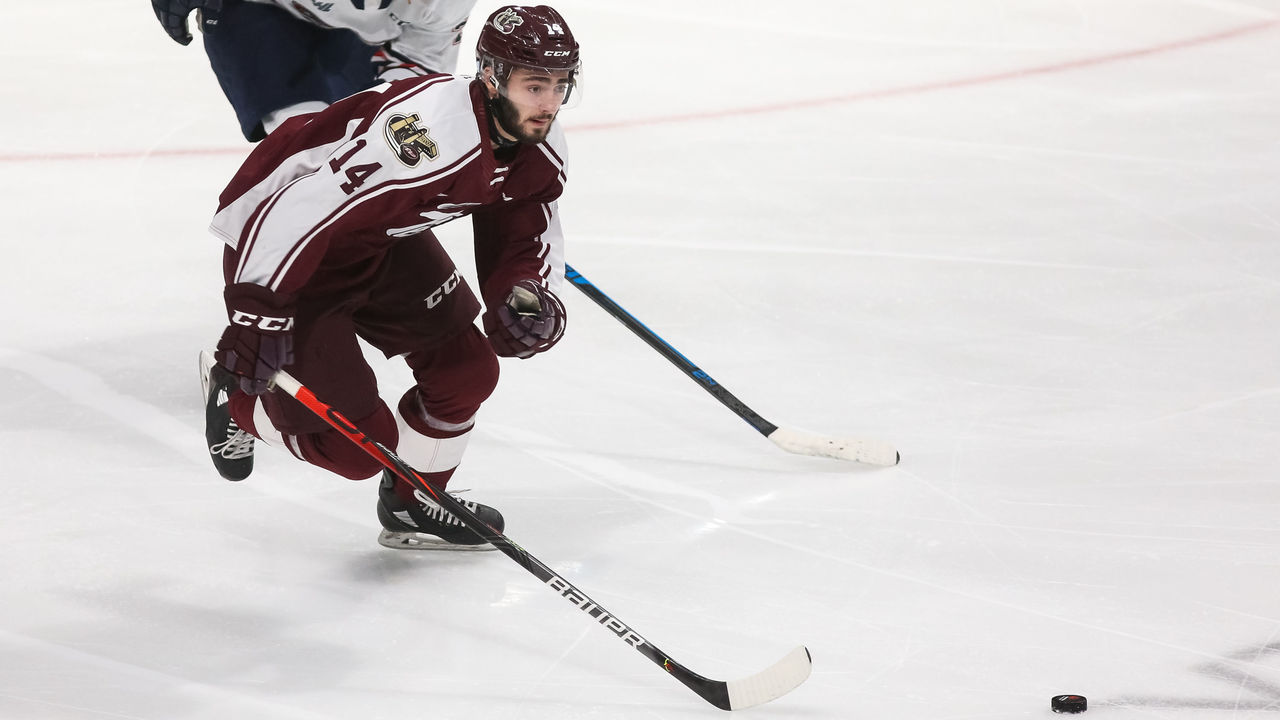 With nearly a third of this season in the books, the Petes are 14-5-1, second in the OHL's Eastern Conference through Friday's games and 10th in the Canadian Hockey League's weekly national rankings (as voted on by a panel of NHL scouts). Hunter Jones, a 19-year-old Minnesota Wild prospect, is tied for fifth in the OHL among starting goalies in save percentage. Declan Chisholm, a 19-year-old Winnipeg Jets prospect, has more assists (25) than any other OHL defenseman. Kirk, Robertson, and Der-Arguchintsev, meanwhile, have combined to score 35 of Peterborough's 90 goals; the latter figure is the No. 3 team total in the league.
"Once you put a lot of lethal power into one line and we produce a lot, I think it carries on through the whole team," said Robertson, the top unit's primary finisher with 19 goals (and nine assists). "All three of us demand the puck and are comfortable with the puck on our stick and want it all the time."
As for how Kirk, in particular, is playing?
"He's performing under pressure, with trying to sign (with Arizona) and whatnot," Robertson said. "I just see a lot of confidence."
The context of Robertson's assessment is an inescapable subplot of Kirk's season. Next summer looms as a watershed juncture in his career. If Arizona offers him an entry-level contract, he'll have three years of runway to audition for a second pro deal and a possible future call-up to the NHL. If the Coyotes renounce his rights - they have until June 1 to decide - he'll become a free agent without that security and a prescribed pathway forward.
Kirk, for his part, said he tries to avoid thinking too far into the future, though he acknowledged that playing well enough to sign (and, hopefully, to earn an AHL roster spot next year) is his main personal goal for this season. He's focused on increasing his physicality, which is in line with Arizona's desire to see him play a more direct game - "Frankly, a North American-style game," said Coyotes director of player development Mark Bell - by venturing with greater frequency to the middle of the ice and into grimy goal-scoring areas.
"We're keeping a keen eye on him, and we've got a decision to make," Bell added. "There's only so many contracts we can hand out. We'll see if he earns one."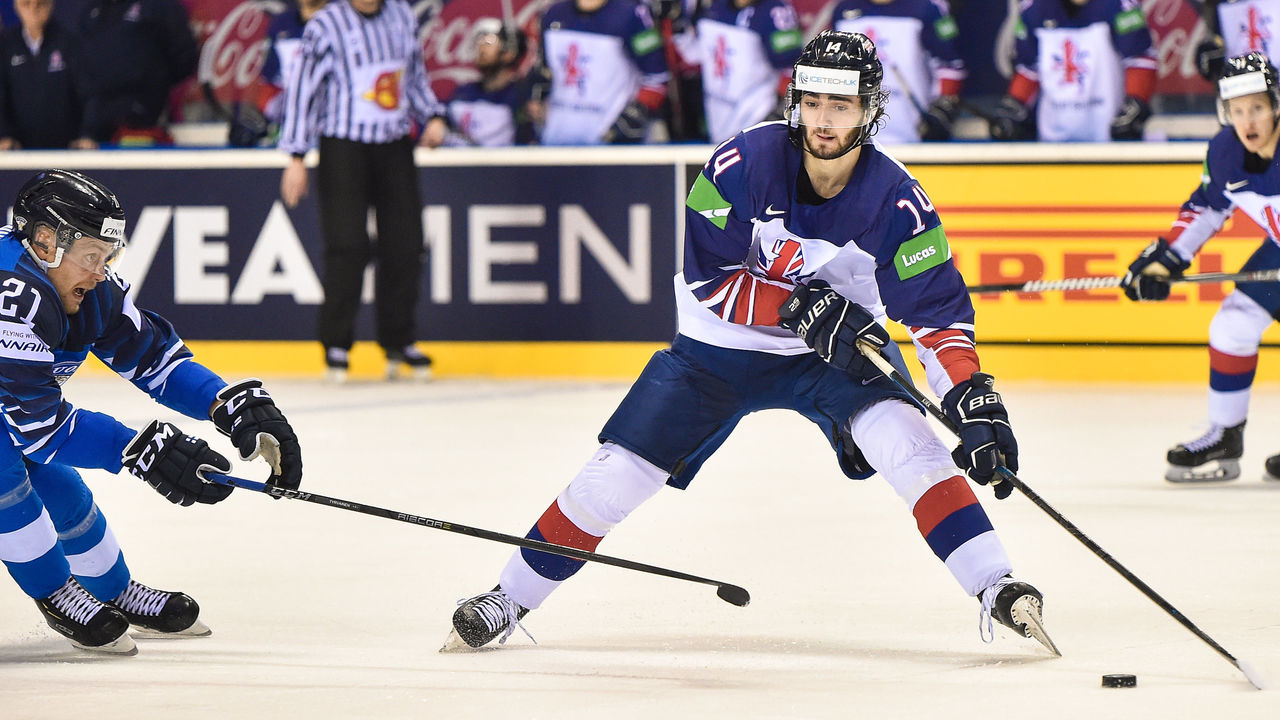 This contract calculus has cost a promising young British player before. Colin Shields might have toppled his nation's NHL barrier had the Philadelphia Flyers - the club that drafted the Scottish forward during the sixth round in 2000 - offered him a deal out of the University of Maine. They didn't, nor did the Sharks after a subsequent tryout, and Shields' American hockey travels peaked in the ECHL over two seasons in the mid-2000s.
Shields soon returned to the U.K. and carved out an unassailable legacy as the leading scorer in EIHL history (603 career points in 559 games). He played for Britain as the national team clambered from the third flight of the World Championship into the top division. He shared the ice with Kirk at each of the last two worlds before retiring at age 39 following the famous win over France.
While speaking over the phone from Belfast, Northern Ireland, Shields recounted the appreciation he gained for Kirk's attitude - his lack of cockiness and resolve to leave the ice last at practice - and for the youngster's strength on his skates despite entering this season at 6-feet, 166 pounds. He passed along the advice he'd give to Kirk heading forward: Stick it out in North America for as long as possible.
"The hockey in the U.K. is always going to be here," Shields said. "If it doesn't work out, there's always an opportunity for him to come back and play here as long as he wants."
For now, Kirk has laid down some roots on this side of the pond. He's wearing an alternate captain's "A" this season in Peterborough, where he's introduced the occasional Briticism to the dressing room - "body armor" as a synonym for shoulder pads, for instance, which Robertson initially mistook to mean deodorant.
Kirk's also grown close to his billet family. His billet mother was there last week when Kirk's parents - in town for an unexpected visit - moved him to tears in the arena concourse after a home game.
The Petes hope a deep playoff run is in the offing, though if their charge ends short of the OHL final, Kirk will at least be able to represent Britain again at the World Championship in May. Growing up, the time difference mostly restricted his intake of NHL action to next-day highlights. This year's tournament was his first chance to match up with present and future NHL stars - including, to name two of the few other teenagers in Britain's round-robin group, Jack Hughes and Kaapo Kakko - and to witness just how fast players of that caliber move the puck.
Like his draft day and this ongoing season, Kirk's participation at that tournament was an experience to enjoy and then store away, for the moment, in order to fully concentrate on the process at hand. Someday he'll retire, and then he'll have ample time, he figures, to reflect on his career's significance, and to appreciate the gravity of everything he's done on the ice and might yet do.
"Then I can sit down and see the accomplishments," Kirk said. "For now, my focus is just to get there first."
Nick Faris is a features writer at theScore.
Comments
✕
Liam Kirk is Britain's great NHL hope
  Got something to say? Leave a comment below!