NHL Power Rankings: 1 standout stat for each team
Andrew D. Bernstein / National Hockey League / Getty
This is the sixth edition of theScore's NHL Power Rankings for 2019-20. Check back for updated rankings every second Monday during the regular season.
In this edition, we identify one standout statistic from each team so far this season.
1. Washington Capitals (22-4-5)
Previous rank: 2
The NHL's best team comes with no shortage of notable numbers, but the most staggering statistic is that the Capitals have somehow gone 14-2-1 on the road.
2. Boston Bruins (20-4-6)
Previous rank: 3
A loss to the Avalanche on Saturday was the Bruins' first home defeat of the season in regulation. More amazingly, it was the first home loss in regulation by any of the four major Boston-area sports teams since the Red Sox fell to the Baltimore Orioles on Sept. 28.
3. Colorado Avalanche (19-8-2)
Previous rank: 10
Nathan MacKinnon's 17-point lead over teammate Cale Makar marks the largest gap between any club's top two scorers. Despite fellow stars Mikko Rantanen and Gabriel Landeskog missing extended time due to injuries, MacKinnon's MVP-level play has kept the Avs near the top of the standings.
4. New York Islanders (19-7-2)
Previous rank: 1
The Islanders have enjoyed tremendous success in tight contests. They lead the NHL with a .769 winning percentage in one-goal games.
5. St. Louis Blues (18-7-6)
Previous rank: 5
The Blues have taken care of business against division rivals, going 6-1-1 versus Central Division opponents. Their only losses came in matchups with the Nashville Predators.
6. Philadelphia Flyers (17-8-5)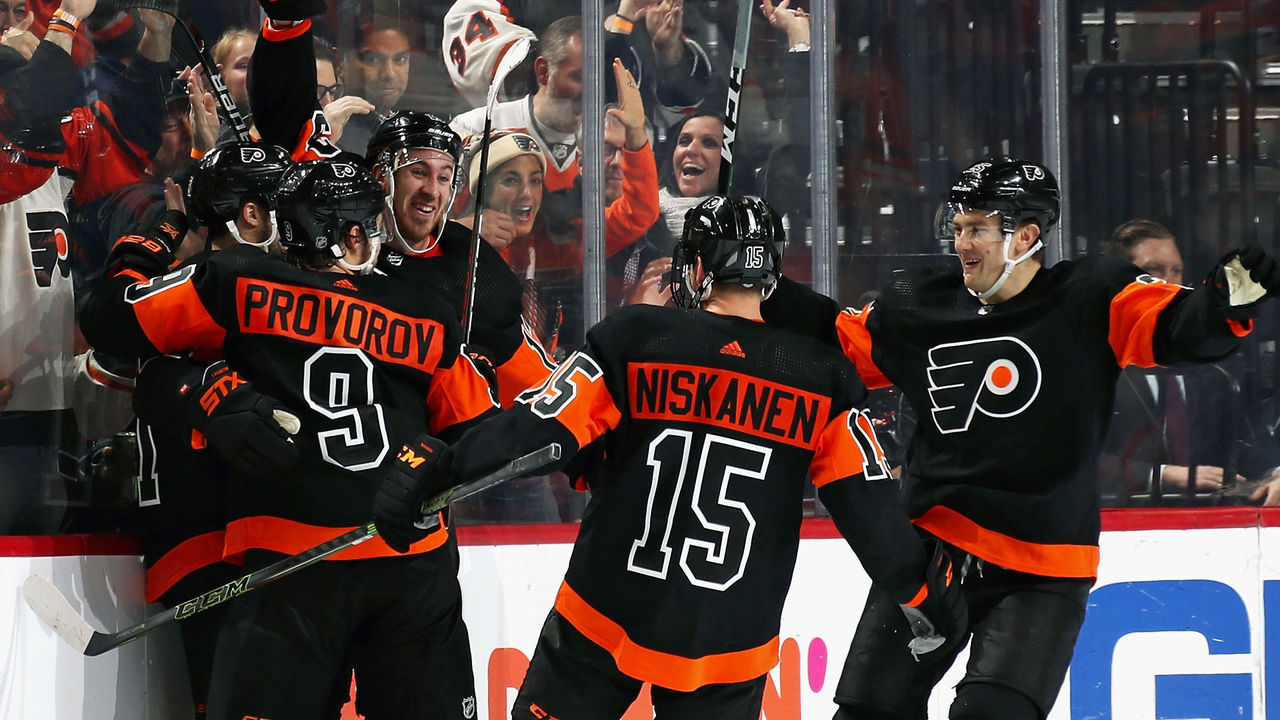 Previous rank: 17
Despite three-on-three overtime usually yielding a winner, the Flyers have found themselves in a league-high eight shootouts through 30 games.
7. Edmonton Oilers (18-10-4)
Previous rank: 7
After owning the NHL's second-worst penalty kill in 2018-19 (74.8%), the Oilers boast the league's second-best rate this season with a stellar 87% mark.
8. Pittsburgh Penguins (17-9-4)
Previous rank: 13
Despite going without Evgeni Malkin, Kris Letang, and now Sidney Crosby for long stretches, the Penguins lead the NHL with a 55.81 rate of expected goals for and feature the league's third-best goals for rate of 57.48.
9. Arizona Coyotes (18-10-4)
Previous rank: 7
While many expected Darcy Kuemper to build on his impressive 2018-19 campaign, few figured he'd be this good. The Coyotes netminder leads all NHL goalies who've made at least 12 appearances with an incredible .935 save percentage.
10. Carolina Hurricanes (18-11-1)
Previous rank: 9
These "bunch of jerks" are the NHL's possession darlings. Carolina owns a league-best 54.67 Corsi For rating at five-on-five.
11. Winnipeg Jets (18-10-2)
Previous rank: 8
The Jets have remained competitive despite icing one of the NHL's worst power plays. Winnipeg has converted just 15.4% of its opportunities with the man advantage, the league's fifth-worst rate.
12. Calgary Flames (15-12-4)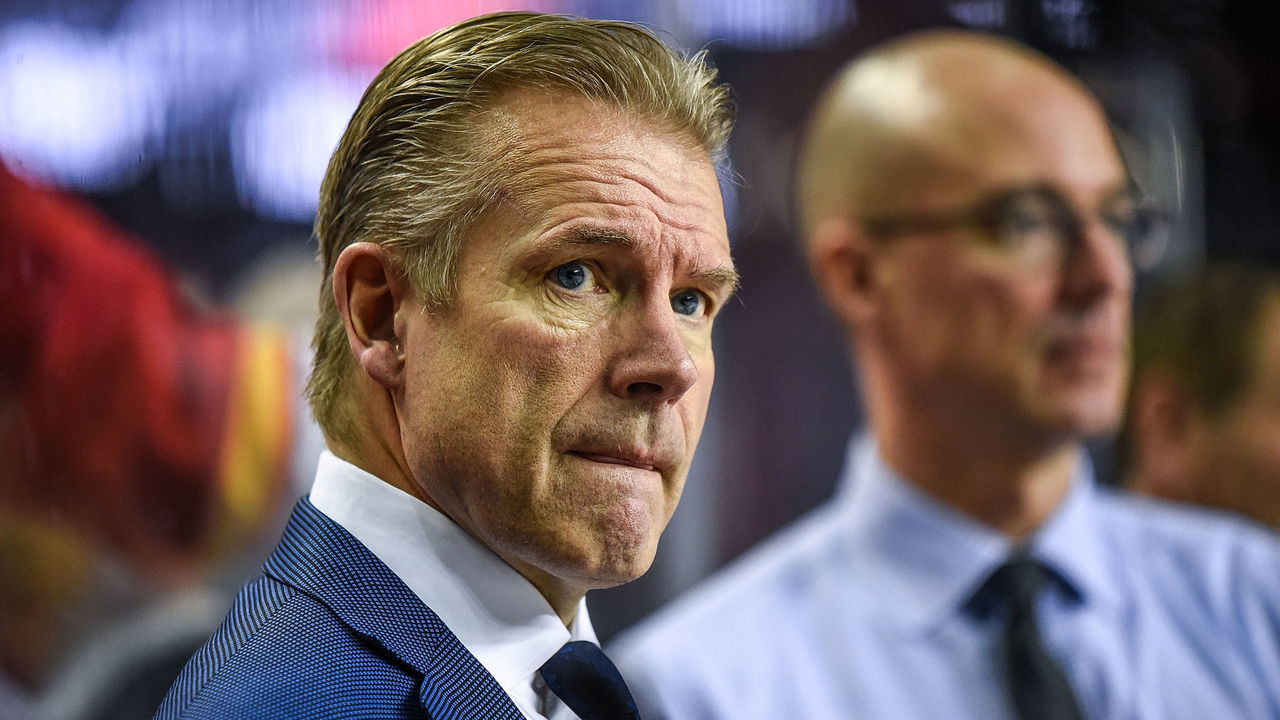 Previous rank: 26
Following the Bill Peters mess, which resulted in his resignation, the Flames have gone 4-0-0 under interim head coach Geoff Ward.
13. Dallas Stars (17-11-3)
Previous rank: 4
Dallas' four highest-paid players (Tyler Seguin, Jamie Benn, Joe Pavelski, and Alexander Radulov) have scored just 27 goals this season. With a combined annual cap hit of $32.6 million devoted to them, the Stars have paid more than $1.2 million per goal from that quartet so far this season.
14. Vegas Golden Knights (15-12-5)
Previous rank: 20
Have doctors found a cure for the Vegas flu? The Golden Knights were dominant at T-Mobile Arena during their first two years of existence, but they're just 7-6-3 at home this season compared to 8-6-2 on the road.
15. Vancouver Canucks (15-11-4)
Previous rank: 16
Is it crazy to say the 2019-20 Canucks are the best offensive team the franchise has featured in the last 10 years? Considering the club has scored 103 goals to date - its highest total of the decade through 30 games - it's starting to look that way.
16. Toronto Maple Leafs (14-13-4)
Previous rank: 18
The Maple Leafs are 14-7-3 when Frederik Andersen starts and 0-6-1 when he doesn't. Toronto desperately needs a quality backup goalie.
17. Minnesota Wild (14-12-4)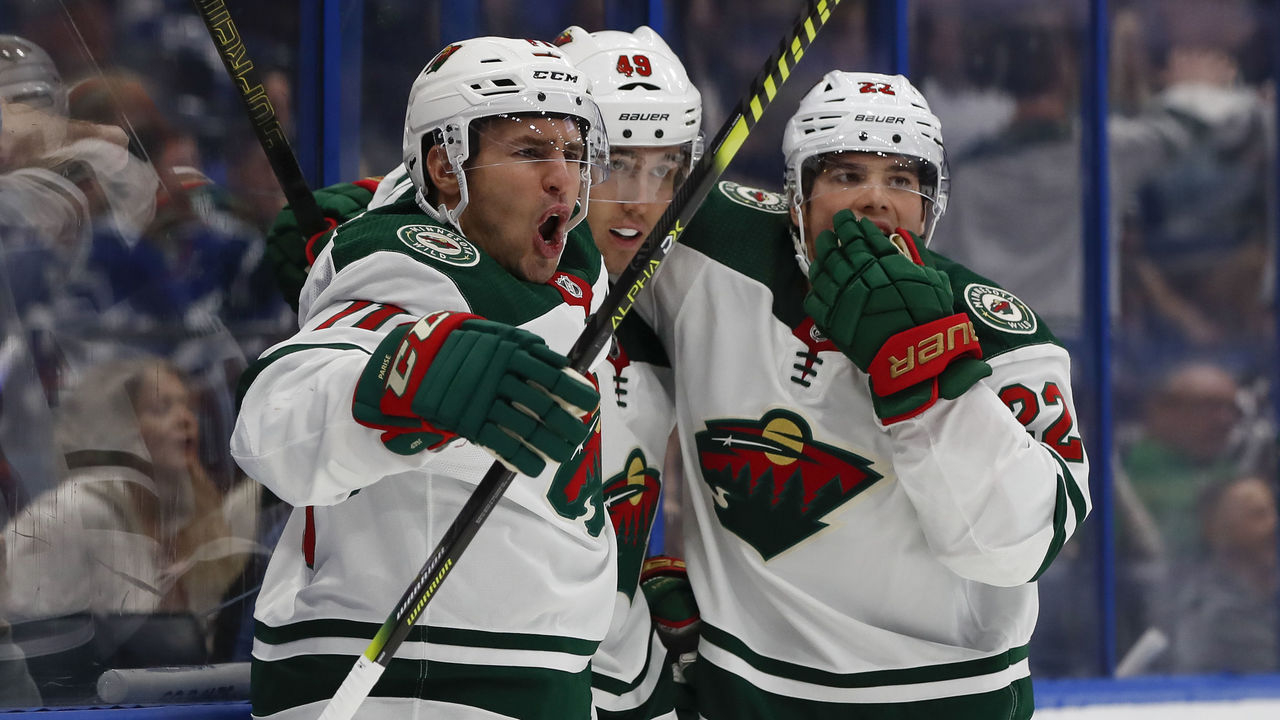 Previous rank: 24
Bruce Boudreau is viewed as an offensive-minded coach, but he doesn't get enough credit for his team's defensive structure. The Wild have surrendered the fewest high-danger scoring chances per 60 minutes at five-on-five.
18. Florida Panthers (15-9-5)
Previous rank: 12
Is Sergei Bobrovsky feeling the pressure? His save percentage is currently 20 points lower than it was last season after he signed a seven-year, $70-million contract with the Panthers in the offseason. If Bobrovsky can regain his form, look out for Florida.
19. San Jose Sharks (15-15-2)
Previous rank: 11
It's been a trying season in the Bay Area. On the bright side, the Sharks' penalty kill is operating at a league-best 89.9% clip.
20. Tampa Bay Lightning (14-10-3)
Previous rank: 15
The NHL features some weird scheduling quirks. To date, the Lightning have played a league-low 27 games, while 23 other teams have already played at least 30.
21. New York Rangers (15-11-3)
Previous rank: 23
The Rangers have torched opponents for a league-leading six shorthanded goals after scoring just seven of them in 2018-19. However, the club's penalty kill has clicked at a subpar rate of 77.5%, which suggests New York may be wise to ease up on the aggression when shorthanded.
22. Nashville Predators (13-10-5)
Previous rank: 22
Goaltending has been the Achilles' heel of the Predators this season, as Pekka Rinne and Juuse Saros have combined for an .895 save percentage and a 3.01 goals-against average. At this rate, Nashville will finish in the bottom half of the league in goals against for the first time since 2013-14.
23. Chicago Blackhawks (12-12-6)
Previous rank: 21
Despite boasting some of the best shootout specialists of all time in Jonathan Toews and Patrick Kane, the Blackhawks are 1-4 in the skills competition this season. Goaltender Robin Lehner is having a fantastic campaign, but he'll be the first to tell you that shootouts aren't his cup of tea. Considering Chicago's spot in the standings, those valuable extra points could be the difference between making the playoffs and hitting the links early.
24. Montreal Canadiens (13-11-6)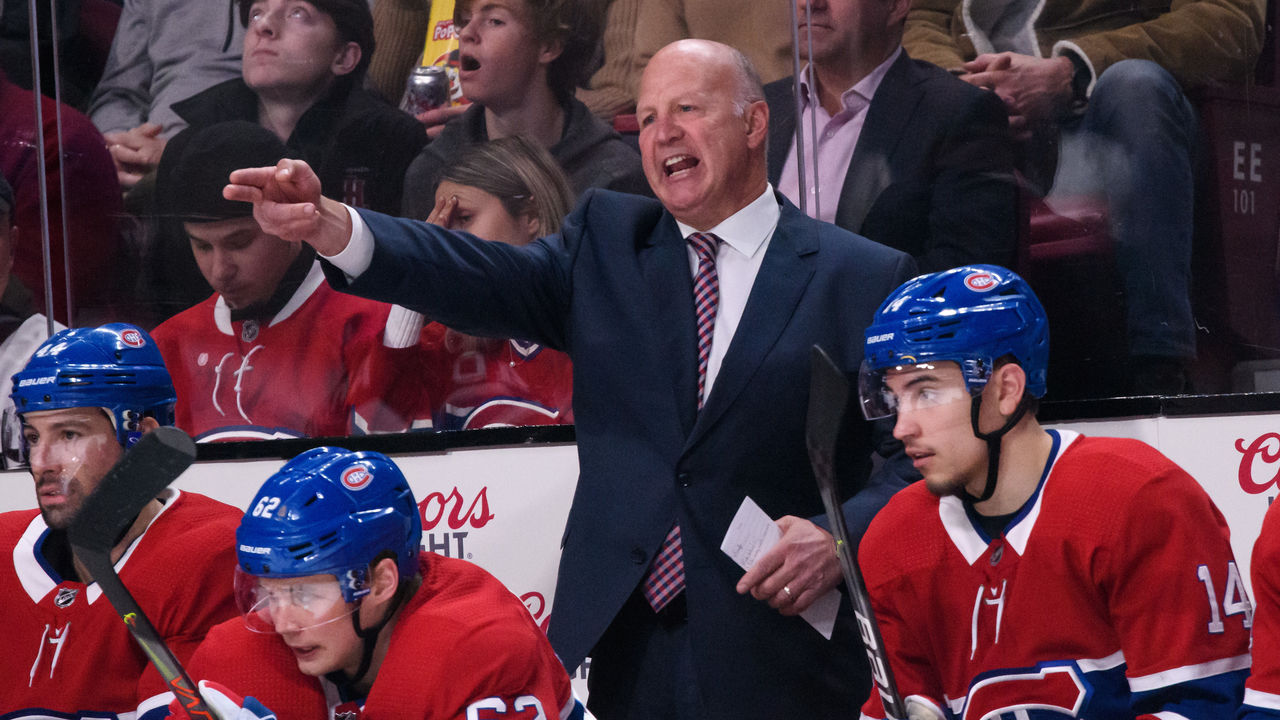 Previous rank: 14
The Canadiens have lost 17 games this year, but they've held a lead in more than half of them (nine). The Habs have no issues putting the puck in the net, but they'll miss the playoffs for a third straight year if they can't clean up their defensive issues.
25. Buffalo Sabres (14-11-6)
Previous rank: 27
The first 40 minutes have been vital for the Sabres this season. Buffalo is a perfect 12-0 when leading after two periods but has yet to win a game when trailing entering the final frame.
26. Anaheim Ducks (12-14-4)
Previous rank: 29
The Ducks own one of the most inexplicable stats of the season. The club has been outshot in each of its 12 victories (12-4-1) but has yet to pick up a win when outshooting its opponent (0-9-3).
27. Ottawa Senators (12-17-1)
Previous rank: 19
We knew this young Senators team would struggle, but nine power-play goals through 30 contests is just plain ugly.
28. Columbus Blue Jackets (11-14-4)
Previous rank: 25
Boy, do the Blue Jackets ever miss Artemi Panarin. Through 29 games, Pierre-Luc Dubois and Gustav Nyquist share the team lead in points with 18, making Columbus the only squad in the league without a 20-point producer.
29. Los Angeles Kings (11-18-2)
Previous rank: 28
The Kings have recorded just two road victories this season, and they've lost 11 straight away from home. Considering eight of L.A.'s next 11 games will come on the road, this team will need to figure out a way to win without the bright lights of Staples Center. Otherwise, its season will be over.
30. New Jersey Devils (9-15-5)
Previous rank: 30
The Devils have received an NHL-low 42 points from their defensemen. That's less than Norris Trophy favorite John Carlson has recorded on his own. P.K. Subban, Sami Vatanen, Damon Severson, and Will Butcher are all talented offensive players, so perhaps interim head coach Alain Nasreddine should put his blue-liners in more scoring situations.
31. Detroit Red Wings (7-21-3)
Previous rank: 31
The rebuilding Red Wings are finding themselves on the wrong side of history. Jeff Blashill's club has dropped 11 straight games, marking the franchise's longest losing streak since 1981-82.