This Duck was meant to fly: the inspiring story of Anaheim's 21st player
Debora Robinson / Getty Images
As a kid, Josh Manson would dart out the door, hop on his bicycle, and pedal down a Saskatchewan dirt road to his grandparents' cabin. There, the future NHLer would often find his grandpa Harold fiddling around in the garage. The image, though simple, is forever etched onto Manson's brain.
The Anaheim Ducks defenseman couldn't help but think of Harold, an amputee, late last month as he welcomed sled hockey player Lera Doederlein into the organization's inner circle. Manson handed Doederlein a customized jersey to congratulate her on becoming the 21st Duck, an annual honor bestowed upon one fan "who embodies perseverance, character, courage, and inspiration."
Harold Manson, who died in 2012, lived an active life for 81 years. Doederlein, 16, is doing the same; two amputees from different generations and with different stories, both unwilling to be defined by their challenges.
"When I knew him, it was never a limitation," Manson said recently, reflecting on how Harold coped with losing a leg during a railroad accident in the mid-1950s. "He was a very strong man. I don't think there was ever a point where we were feeling bad for him. That was not what he wanted.
"It's all about your mindset, and that's something Lera has as well. For her to have gone through (so much) and to have the attitude that she has - a nothing-you-can't-accomplish mindset - it's inspiring."
Lera Doederlein was born Chueva Valeria Valerivna in Russia on April 15, 2003.
Immediately, doctors in the southwestern city of Saratov identified a serious problem: She had joint contractures in both of her legs and would later be diagnosed with arthrogryposis multiplex congenita, a rare, incurable condition that severely limits mobility.
Valeria was put up for adoption the next day. It was at a nearby orphanage where she took on the nickname of Lera and, about 15 months later, endeared herself to her future parents.
David and Fami Doederlein, devout Christians from Minnesota with three biological children, were a world away when they first laid eyes on her. In a video shared by a friend, Lera won them over instantly. "It was her bright eyes, inquisitive look, and the way that she was very attentive," David recalled.
The adoption process took about six months. Not yet 2, Lera had gained a new family, a new country, and a culture willing to confront her medical condition.
"The attitude in Eastern Europe is very different than it is around here," David said. "I would say those attitudes are somewhat backward, knowing what we know about people with special needs being able to thrive in so many ways. When Lera was born - and her doctor and her mother saw she had these birth defects below the hip - the doctor encouraged her mother to give her up for adoption because they lived in a very poor area of Russia. He convinced her that, if she were adopted, she might have a better chance at a better life."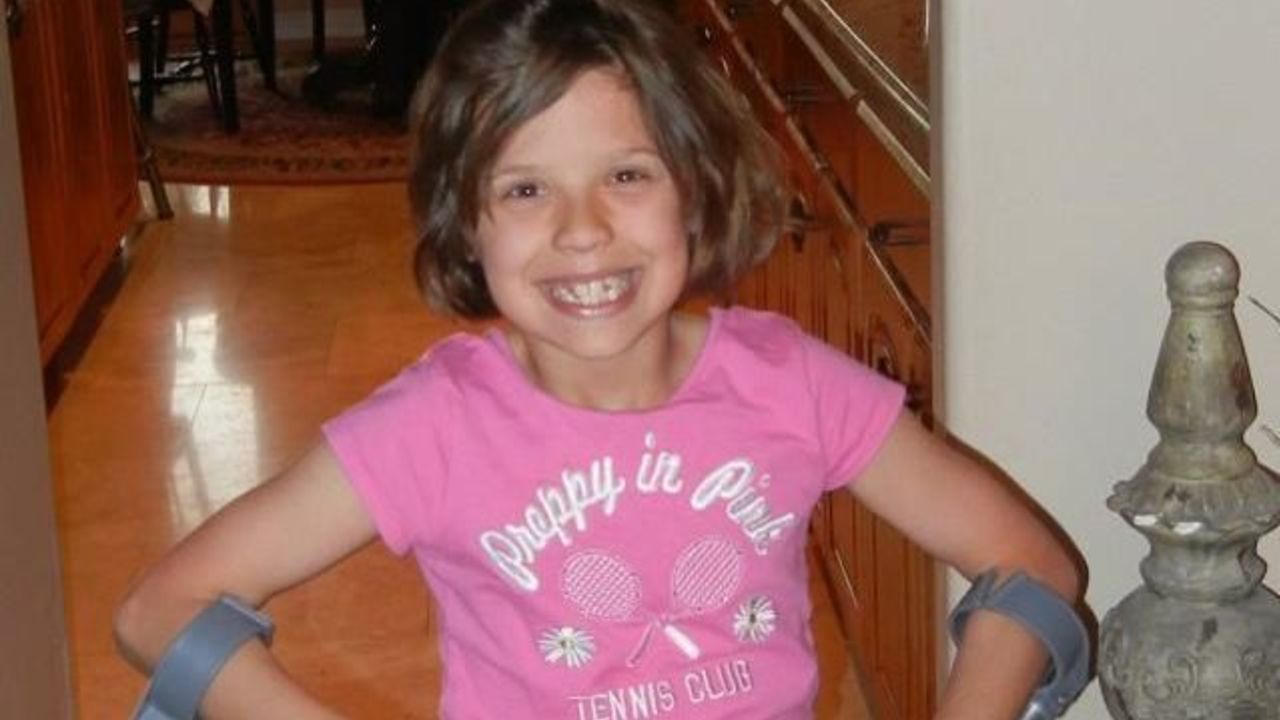 Lera was unable to do much physically growing up, confined by braces that would run from her ankles to her knees, and a set of complex crutches. Surgeries offered little relief. So, at age 14, Lera opted to undergo a double above-knee amputation.
"I just wanted to take control of my life," Lera said of her decision. "From there, I had no idea what would happen, but obviously it took a good turn."
The medical bill - which included the operation, physical therapy, prosthetics, and a wheelchair - was offset somewhat by insurance and a fundraising drive run by Lera's brother Isaac Doederlein, a professional Brazilian jiu-jitsu competitor. The family covered a large sum out of pocket, but the payoff has been immeasurable.
Lera had so desperately wanted to be free, mobile in some way, and prosthetics granted her that freedom. Not long after the surgery, she took an interest in adaptive sports like surfing, hand cycling, and sled hockey. She was invigorated.
"Getting her legs gave her such a sense of freedom that she can do all of these things that she didn't think she could do before," said Sarah Bettencourt, Lera's teammate on the San Diego Ducks sled hockey team. "That's her mentality, her personality that we all love. She's willing to try anything, and give it a go, see what sticks and see what doesn't."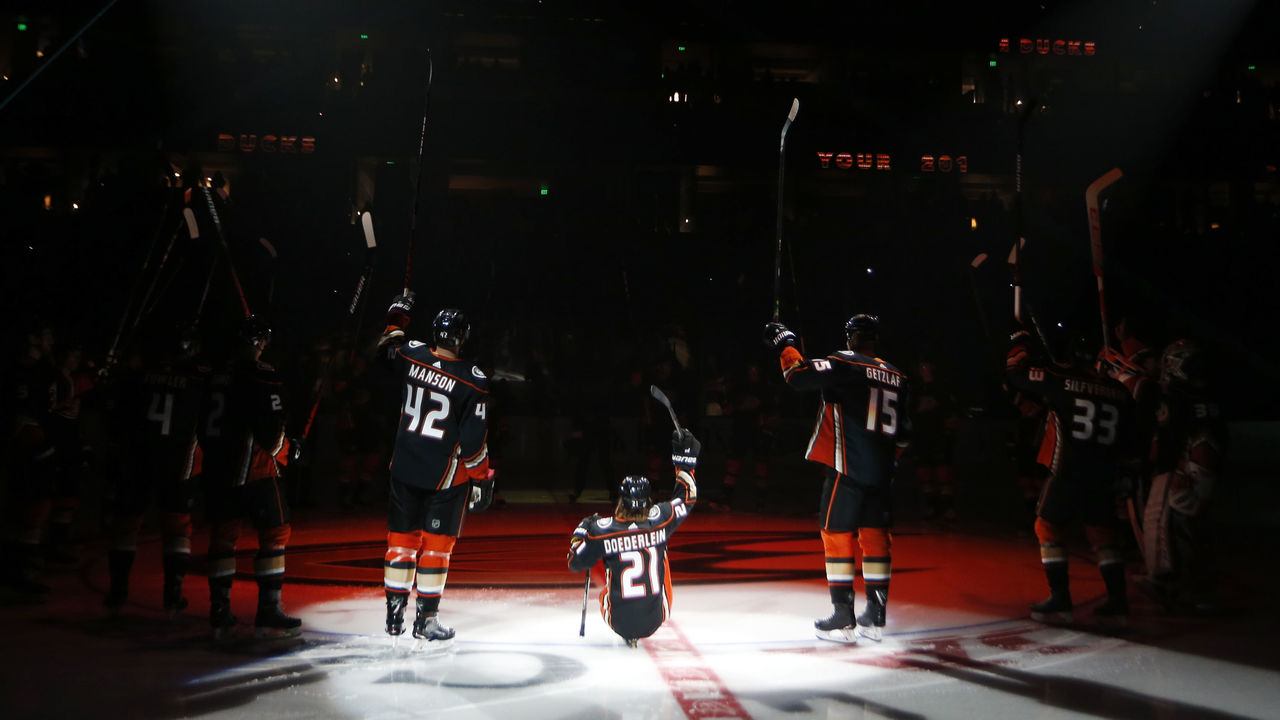 It was San Diego coach Nick Hurd who nominated Lera to become the 21st Duck, largely because she's blossomed into one of the top ambassadors for the adaptive sports community. Not only is she excelling in the sled hockey world - where only two-and-a-half years into her career she's joined Bettencourt as a member of the U.S. national development team - but she's also a strong surfer and cyclist, competing in national events in those sports as well.
"A lot of people get into other sports in the offseason, dabble with it to stay in shape," Hurd said, "but she's really excelling in hand cycling and surfing, really anything that people are putting in front of her. She's taking the bull by the horns and going with it."
Lera, the fourth recipient of the 21st Duck honor, recently shared her story with Anaheim players before joining them on the Honda Center ice for practice. She then arrived at the home opener in a sports car driven by team captain Ryan Getzlaf, walked the ceremonial orange carpet with him, and received a standing ovation under a spotlight during player introductions.
"It shows you there's a lot more important things in hockey out there," Manson said. "At the end of the day, we're very fortunate to go out and play a sport for a living."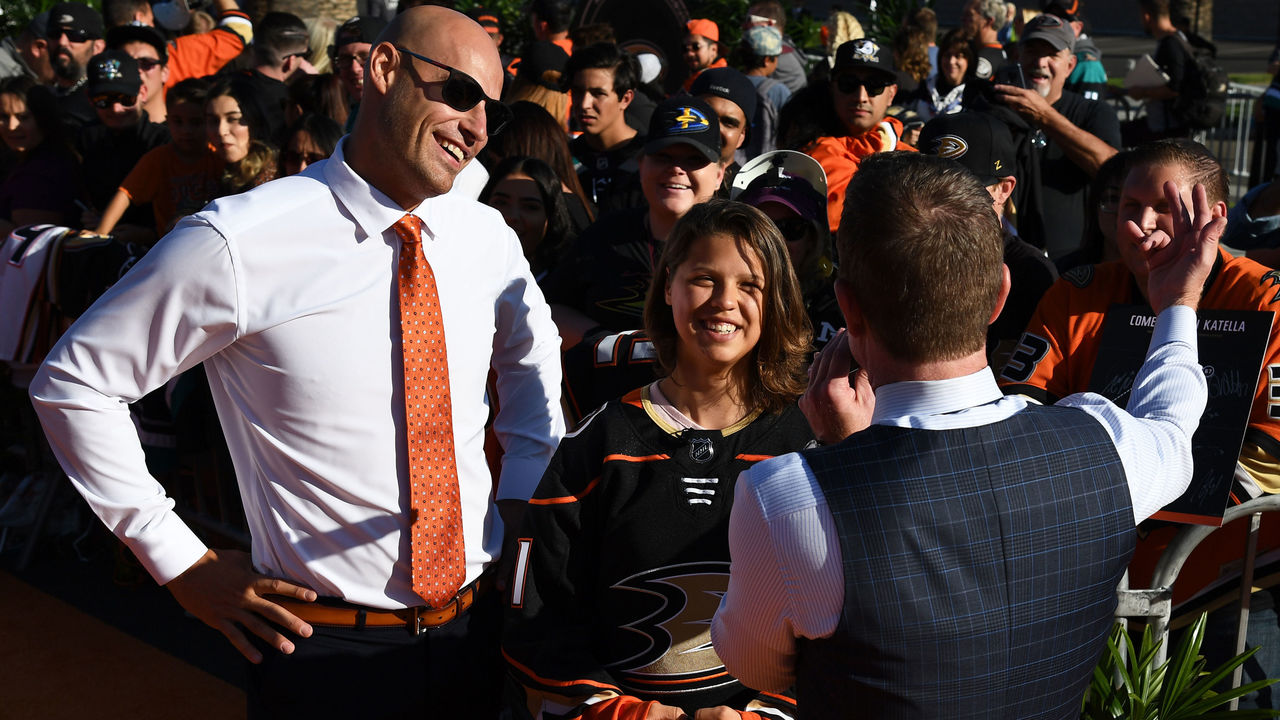 Lera had her own stall inside Anaheim's dressing room on that first day with the players, and one of the perks of being the 21st Duck is a season-long open invitation to participate in practice sessions. The Ducks opened the season with two home wins and on Monday wrapped up a four-game road trip. The club is now 4-2.
Manson is impressed by Lera's resilience, maturity, disposition, and on-ice skills: "I'd love to get on a sled and try it one day," he said. "She'd skate circles around me, I'm sure. It doesn't look easy (overall), but she makes it look pretty effortless."
Lera, who's described as a quick, aggressive, cerebral forward with a scoring touch, has thought about studying biomedical engineering at university. Still in 10th grade, she's in no rush to pick a career path, though something involving prosthetics and orthotics is possible.
"Part of my motto is to always stay positive and to look at the brightest side possible," Lera said. "You should always surround yourself with good people who care about you and your life."
John Matisz is theScore's national hockey writer.
Comments
✕
This Duck was meant to fly: the inspiring story of Anaheim's 21st player
  Got something to say? Leave a comment below!