Puck hound Anthony Cirelli is ready to keep climbing with Lightning
Icon Sportswire / Getty Images
TORONTO - Anthony Cirelli has never met a hockey puck he didn't want.
The unassuming Tampa Bay Lightning center is inherently drawn to the little rubber disc and will do everything in his power to retrieve it: waving his left-handed stick in passing lanes, poking at feet and shin pads, mucking it up along the boards, and generally harassing puck carriers.
They are not acts of intimidation. Gaining possession is the sole focus.
"If I'm not skating, I'm pretty useless out there," Cirelli said Thursday afternoon from his stall at Scotiabank Arena, sweat-soaked after a workout ahead of Tampa's statement win over the Toronto Maple Leafs. "I don't know where it came from. I've just always had that 'go' mentality."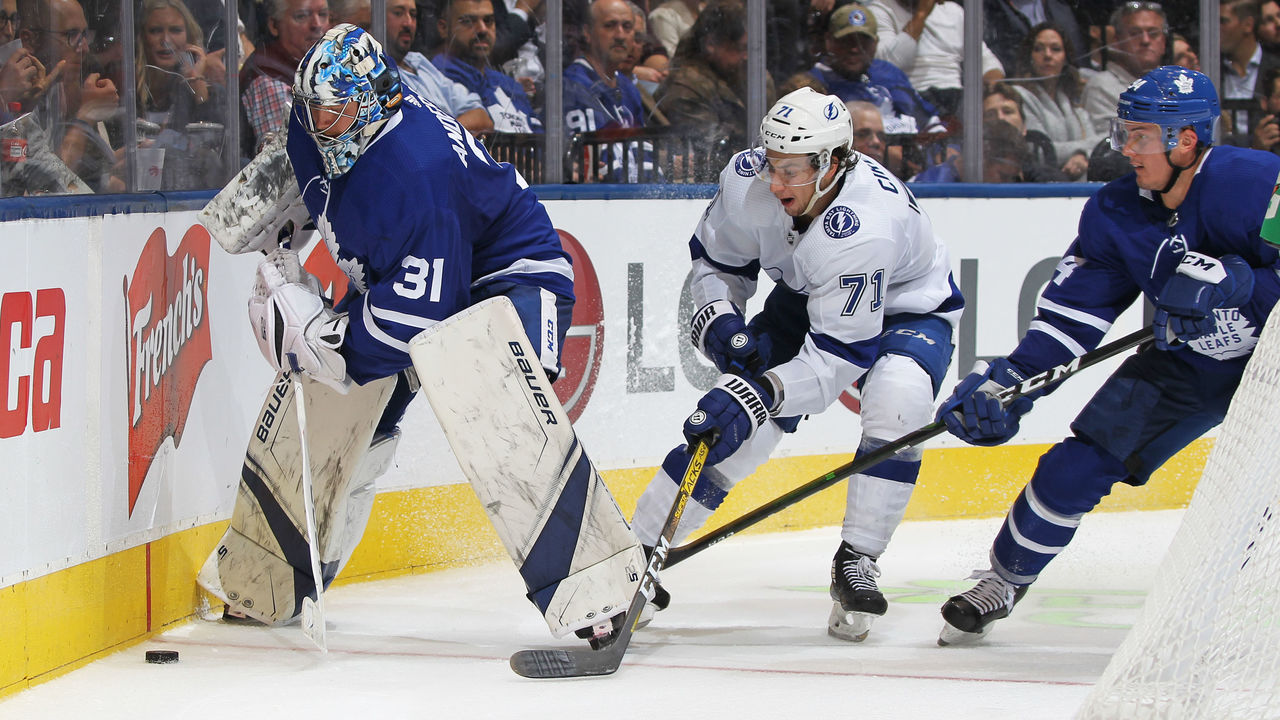 Cirelli, one of the NHL's top faceoff men last year, wasn't at his best in the circle during Thursday's game, winning just seven of 17 draws against the Leafs. Two of those wins, however, quickly resulted in goals for the Lightning. By night's end, he'd quietly collected three assists. Though Cirelli was on the ice for 20 even-strength shot attempts against and only nine attempts for in a season-low 17 minutes of action, he still found a way to make an impact.
He approaches each shift as if it's his last moment on Earth, grinding away until something positive materializes even when the opposition's best - in this case, Auston Matthews, John Tavares, and Mitch Marner - are staring back.
"His determination to get his job done, to get the puck and to battle, it's really something you admire," Lightning defenseman Kevin Shattenkirk said. "His compete level on 50-50 pucks is tremendous. He has a low center of gravity, seems to really drive in, so he's strong on his skates. For that reason, he comes out of a lot of those battles with the puck."
Cirelli's well-roundedness as a center legitimizes head coach Jon Cooper's willingness to load up his top line - which is exactly what he did against Toronto when top pivot Brayden Point made his season debut. On a star-studded crew featuring Point, super-sniper Steven Stamkos, and reigning MVP Nikita Kucherov, Cirelli is easily the Lightning's fourth-most important forward. There's plenty to like about his two-way game.
"I guess the better question would be, 'What don't I like?'" Cooper cracked. "When you ask players on our team who plays the game right, it's (rare) that Cirelli's name doesn't come up."
Stamkos agreed.
"As a rookie last year, it was his responsibility on this team to shoulder the workload of shutting down other team's top lines, taking big faceoffs, being out there at the end of games," the Lightning captain said. "It's rare to find someone that young (and responsible). ... He's a huge part of our team. Everywhere he's gone he's kind of been that player, and he's that for us as well."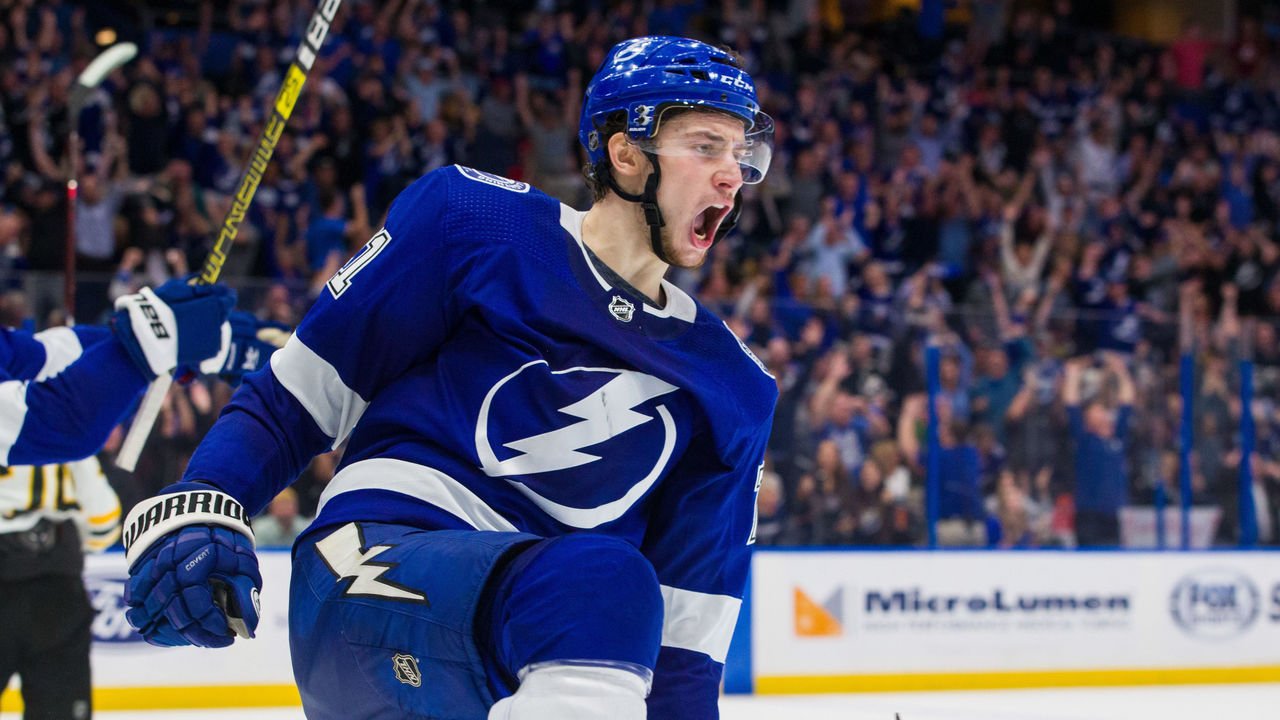 Cirelli's path has been well documented. He was just another minor hockey player, unknown until the age of 17 when the OHL's Oshawa Generals discovered him. He's been on a rocket-fueled trajectory ever since, scoring multiple championship-winning goals in junior, going to the Lightning in the third round of the 2015 NHL Draft, representing Canada twice at high-profile tournaments, and finishing sixth in 2018-19 Calder Trophy voting.
Now established at the NHL level, Cirelli's ready to assert himself during his second full season. Cooper has mentioned numerous times that Cirelli has the potential to be the next Patrice Bergeron, the Boston Bruins' two-way leader who owns a record-tying four Selke Trophies. And the coach isn't the only one who thinks so.
"The sky's the limit for him, really. It seems like he's trending toward the Bergeron-type of player," Shattenkirk said, the comparison unprompted. "He's everywhere at all times, taking care of everyone's job for them while doing his own."
For his career, Cirelli has a cool 53% Corsi For rating - despite starting 57% of his even-strength shifts in the defensive zone and typically shadowing opponents' best lines. What's more, he's drawn 15 more penalties than he's taken (32-17). As a key member of the first unit of a top-five penalty-killing team, he's already bagged five shorthanded goals in 104 regular-season games.
Thanks to his instincts and solid skating, Cirelli finds himself on breakaways or partial breaks fairly often for a player not known for his speed. He recorded a respectable 19 goals and 20 assists in 82 games last season, and he's been the driving force between veteran wingers Ondrej Palat and Alex Killorn through four games this year. Though he's rarely used on the power play - an average of five seconds per game right now - two of Cirelli's four assists thus far have come with the man advantage. Promoted this season to second-line center, there's ample opportunity for Cirelli to produce more offense.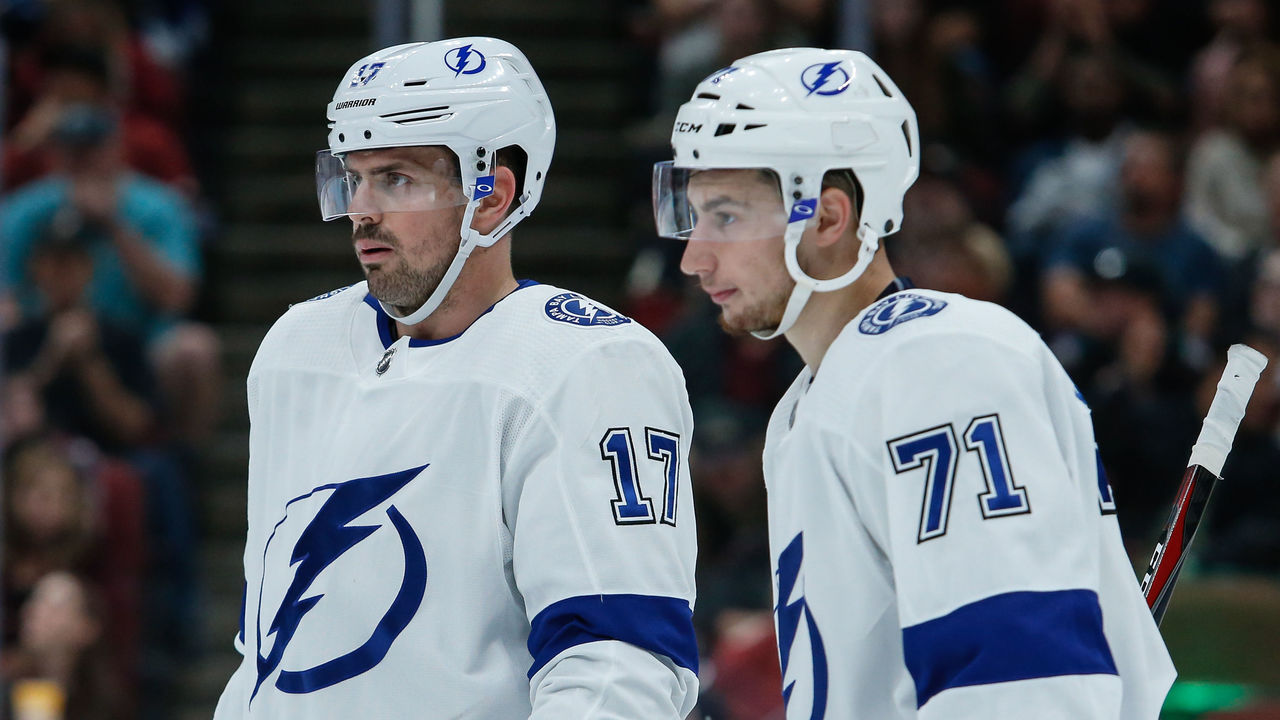 Cirelli has spent the past few offseasons tweaking his skating mechanics with Barb Underhill, Tampa Bay's skating guru. He's learned, for instance, to swing his arms in a more efficient manner. The Toronto-area native also spent hours refining his shot each day this past summer, first during on-ice sessions led by instructors and then alone at his family's home. After a rigorous day of workouts at the gym and rink, he'd shoot 150-200 pucks before bed.
Cirelli's trainer, Dan Noble of Noble Sport and Performance, considers the 6-foot, 193-pounder a unique player because he had limited exposure to specialized coaches as a youngster. Relying on smarts and hard work to climb the ranks, Cirelli can still improve drastically within a single summer. His no-quit mentality doesn't hurt, either.
"Anthony's got zero ego," Noble said. "The humility he has, the desire to get better, it's there."
Re-examining the 2015 draft, it's comical to see Cirelli's name way down in the third round, sandwiched between Jean-Christophe Beaudin and Vili Saarijarvi, neither of whom has played an NHL game. Of the 30 third-round picks that year, Cirelli is the only one to have appeared in more than 17 games. Despite going 72nd overall, he ranks 28th in his entire draft class in games played, trailing third overall pick Dylan Strome by just three contests.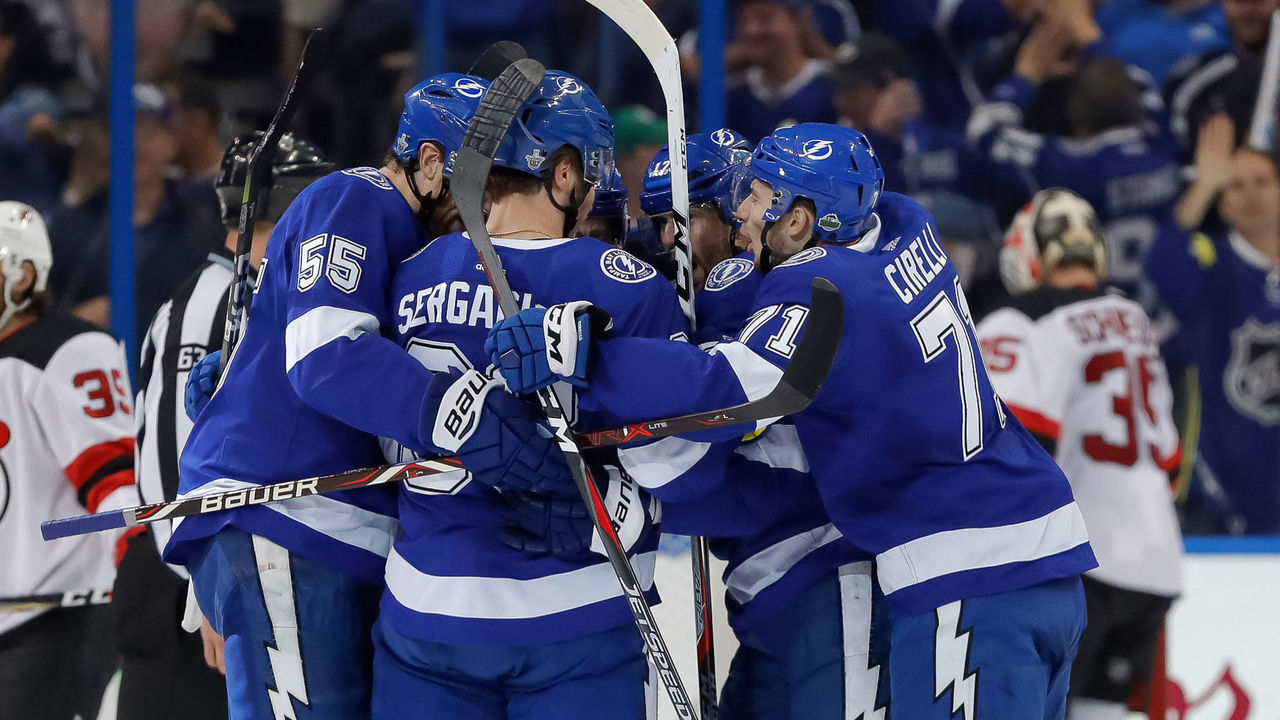 Since the Lightning burned the first season of his three-year, entry-level deal in 2017-18 by giving him 18 regular-season appearances and 17 playoff games, Cirelli is a pending restricted free agent. Having only turned 22 in July, he's already playing a crucial role for his team while making just $728,333 this season.
That's especially important for the cap-strapped Lightning, whose other big-time contributors - namely Stamkos, Kucherov, Point, No. 1 defenseman Victor Hedman, workhorse blue-liner Ryan McDonagh, and starting goalie Andrei Vasilevskiy - combine to eat up a large portion of the club's payroll.
"That's what you need," Stamkos said of Cirelli's rise. "In a salary-cap world, you need young guys to come in and have an impact right away. And he's one of those guys."
Cirelli said there's been no talk of an extension between his agent and the team. Of course, there's plenty of time to work out a deal between now and next season. For what it's worth, Cirelli appears perfectly content with his place within the Lightning's "well-run, unbelievable organization."
Already playing second-line minutes and on the verge of a healthy raise, Cirelli is not done growing. History tells us he will reach for the next rung on the developmental ladder as feverishly as he hounds a loose puck.
"You always have to have a chip on your shoulder," Cirelli said. "You can never be comfortable with where you're at."
John Matisz is theScore's national hockey writer.
Comments
✕
Puck hound Anthony Cirelli is ready to keep climbing with Lightning
  Got something to say? Leave a comment below!