Back to basics: Senators preach simplicity as rebuild begins in earnest
Vaughn Ridley / Getty Images
A trip to the visitors' dressing room at Toronto's Scotiabank Arena earlier this week revealed one undeniable truth about the Ottawa Senators: This team is content with being basic.
No frills. No grand expectations. No delusions. This is not an overnight rebuild, and revamping the team's culture is the top priority.
First-year head coach DJ Smith wants his players to adopt a mindset that's straightforward and simple. "Our identity is how hard we work," Smith said prior to his team's 5-3 season-opening loss to the Maple Leafs on Wednesday. Hard work? That's all you've got, DJ?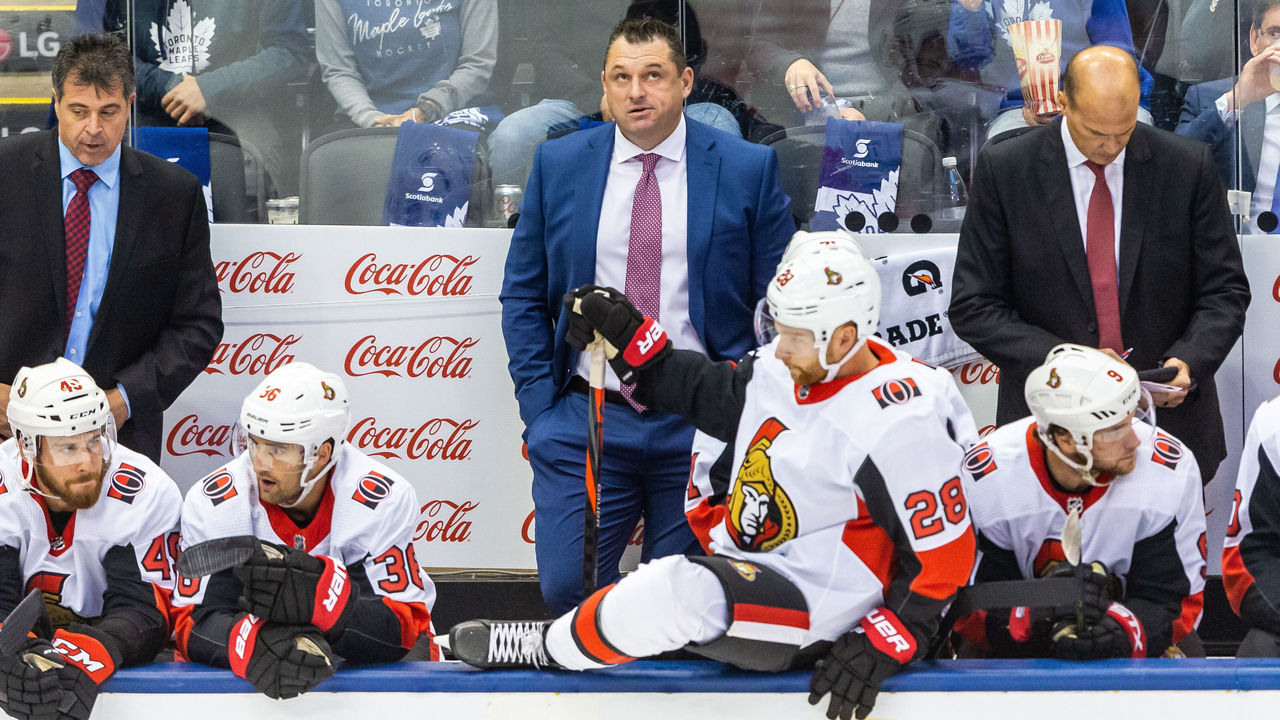 On the surface, the mantra sounds uninspired and, frankly, a little amateur. Shouldn't working hard come naturally to well-compensated professionals? When one begins to peel back the layers of this rebuilding franchise, however, the simplistic approach makes sense for the 2019-20 Senators.
After all, expectations couldn't be lower. Nearly everybody projects Ottawa to finish last overall for a second straight season. So, instead of lying to themselves - and the fans - the coaching staff and players have developed a mutual understanding. Building good habits throughout the season will be infinitely more productive than, say, defeating the upstart New York Rangers on Saturday night.
The Senators will obviously set out to win every game. But establishing a certain style - tenacious, simple hockey with sound defensive structure - will be more important than two points in the standings.
"We're all aware that we're not the most skilled team in the NHL. We know that going into games, we're not going to win the skill game," said Thomas Chabot, the franchise's 22-year-old cornerstone defenseman who signed an eight-year, $64-million contract extension at the start of training camp.
"We're a team that's got a lot of speed," he continued. "A team that has guys who can make plays, hit, and be in the other guy's face. That's something we've got to use to our advantage. For us to have success this year, we don't want to give them any time, don't want to give them any freebies."
Most everything associated with these Senators - from Smith's message to the marketing team's "The Kids are Alright" tagline - is geared toward incremental gains. But actions will speak louder than words. Minimizing controversies would be a solid start, though the fact Logan Brown's agent is already complaining about ice time is hardly ideal.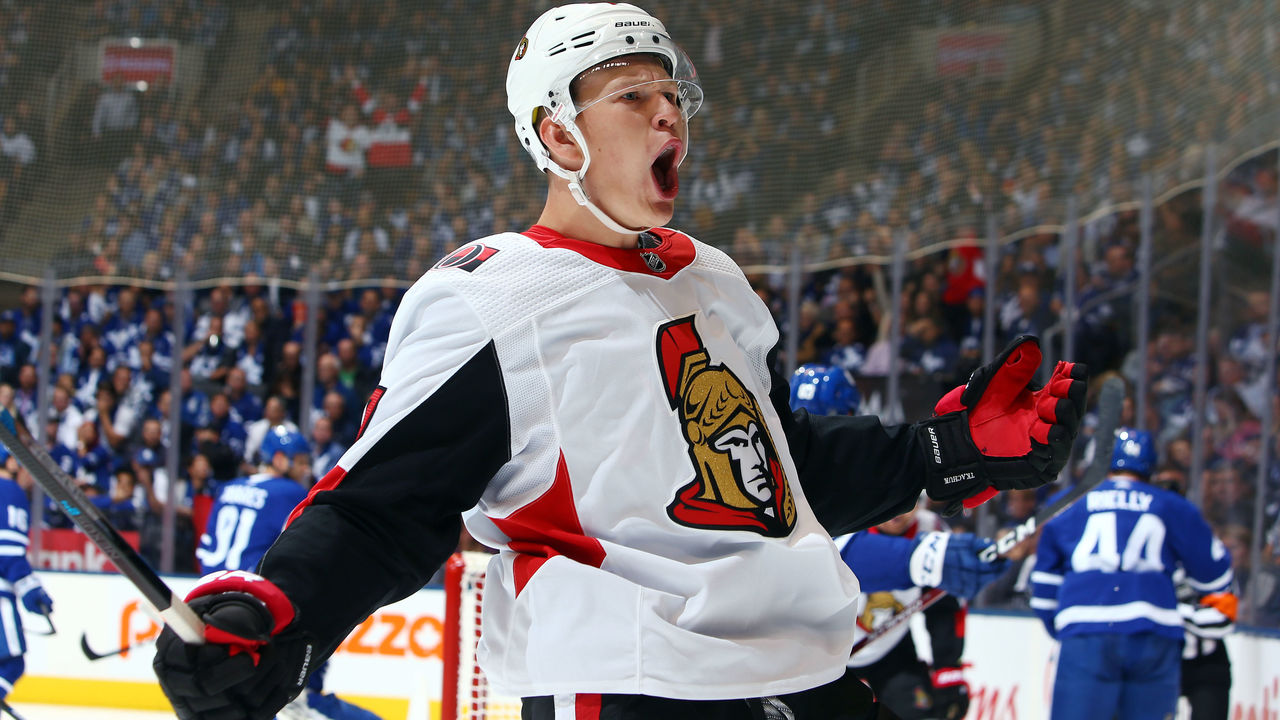 On the ice, the Senators can't afford to gloss over anything in this foundational stage. They lost 53 games last year and 54 in 2017-18, and the team's inability to limit opponents' scoring chances tops the list of contributing factors. The defensive straps must be tightened. It's hardly rocket science, but improvement isn't a linear process. And the players know that.
"We definitely gave up too many odd-man rushes. It starts in the neutral zone, and then in the D zone, there's just so many dangerous shots against," center Jean-Gabriel Pageau said of last year's struggles.
"We've got good goalies, but they can't stand on their head every night and save us. We're working on the little details so they're able to see more pucks - boxing out, being physical, being in the right spot, supporting each other, having our stick in the lanes, putting our sticks on pucks. Stuff like that."
The growing pains were evident in the loss to the Maple Leafs. Sophomore winger Brady Tkachuk gave his team life with a goal 25 seconds into the game, but then the second period rolled around. Engaging in a track meet with one of the NHL's fastest and most skilled clubs, the Senators were outshot 17-3 and outscored 4-1 in the middle frame. The third period was more of the same, as the Senators continued to get outclassed at 5-on-5 and on special teams.
The final tally: Eighty shot attempts for the Maple Leafs, 48 for the Senators. Craig Anderson, the oldest starting goalie in the league, had his hands full.
"We lost that urgency," defenseman Mark Borowiecki said postgame. "There's no pressure and no expectations, but that doesn't mean our pride and standards can go down."
Smith, who spent four years working under Mike Babcock in Toronto, will be tasked with keeping his players focused as the year chugs along. If their attention wandered in Game 1, what happens when the losses pile up in the dog days of an 82-game season?
It should help that the roster is almost completely turned over. Just six Senators who played Wednesday dressed in last year's season opener. The bulk of the core from Ottawa's run to the 2017 Eastern Conference Final is long gone. Borowiecki, Pageau, Anderson, and winger Bobby Ryan remain, but the summer departure of polarizing defenseman Cody Ceci - shipped down the highway to Toronto - seemed to signal the end of that chapter in team history.
Young guns such as Chabot, Tkachuk, Brown, Colin White, and Erik Brannstrom are now insulated by an eclectic crew of veterans, some of whom are fringe players filling prominent roles in contract years. Like everything else about this Senators team, the dynamic is straightforward.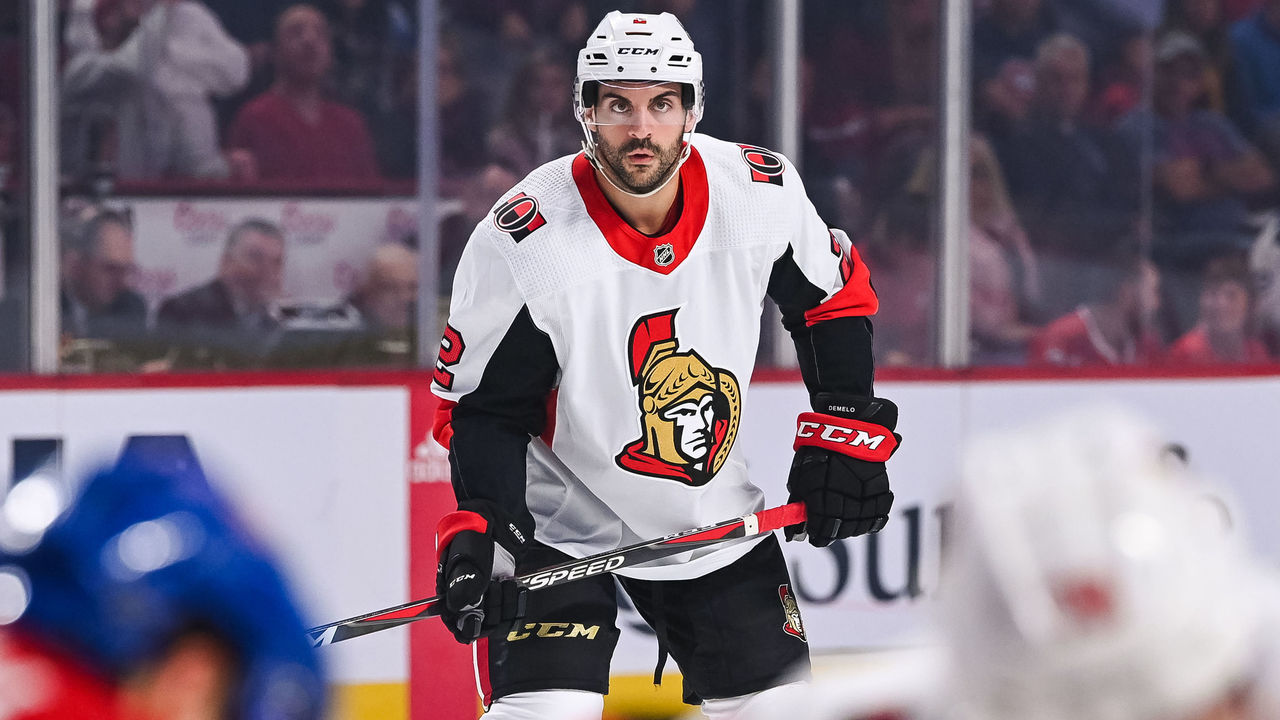 "For us and DJ, I think the best part about it is that there's no grey area. It's black or white," said defenseman Dylan DeMelo, who joined Ottawa from the San Jose Sharks in the blockbuster Erik Karlsson trade of September 2018. "He's very clear on his message and what he wants. It's on us now to do that, come through with the game plan, and play the way he wants us to play."
While Smith redefines the Senators' identity, general manager Pierre Dorion can continue overhauling the roster.
It took a while to clear the books, but Ottawa now has tremendous cap flexibility. The only albatross contract is Ryan's - $7.25 million a season through 2021-22. The club opened the campaign with $10.6 million in cap space, so it's possible Dorion adds to the team's vast collection of draft picks (20 in the next two years) by taking on unwanted contracts and/or shipping out more veterans throughout the season.
Belying Dorion and Smith's steady approach, however, is owner Eugene Melnyk's February promise that the Senators are headed toward "a five-year run of unparalleled success, where the team will plan to spend close to the NHL's salary cap every year from 2021 to 2025."
With a crop of exciting youngsters already making strides, Senators fans should be able to envision a future in which the franchise returns to relevancy sooner than later. But based on attendance, which has been trending in the wrong direction for four straight seasons, the organization needs to deliver something of substance - sooner than later.
The three-step process for doing so appears to be: work hard, spend, win. Simple enough, right?
If the first step goes according to plan.
John Matisz is theScore's national hockey writer.
Comments
✕
Back to basics: Senators preach simplicity as rebuild begins in earnest
  Got something to say? Leave a comment below!