It's August and beach weather is still a thing, but make no mistake, winter - and the 2019-20 NHL season - is coming.
We'll take a closer look at the entire league with our divisional betting previews ahead of the start of the season, but here are some undervalued teams to consider playing the over on before totals are adjusted:
Arizona Coyotes over 89.5
This number jumped out at me immediately. Although Arizona was ravaged by injuries last season, they still managed an impressive 86 points. Nick Schmaltz, Jason Demers, Antti Raanta, and Michael Grabner were all limited to less than half the season, while other key players also spent time in the infirmary. With improved health, they should surpass this total.
But the Coyotes have far more going for them. Goal machine and hot dog king Phil Kessel was brought in to fix their scoring issues, reuniting with coach Rick Tocchet. Kessel doesn't magically give the Coyotes an elite forward group, but with the continued development of Clayton Keller and the return of Schmaltz, a full season of Phil could push the offense into that territory.
In net, Darcy Kuemper enjoyed a stellar season as the full-time starter, and the return of Raanta to full health gives them a top-10 goaltending tandem in the NHL. This should be a playoff team next season, finishing closer to 95 points than their set total of 89.5.
Washington Capitals over 97.5
Washington hasn't finished below 100 points since Beyonce and Jay-Z's "Drunk In Love" hit the Billboard top 10 in 2014. The Capitals averaged 109.6 points over the last five seasons and have had a year to recover from their epic Stanley Cup hangover.
They also had a solid offseason. Andre Burakovsky and Brett Connolly's departures were softened by Richard Panik. A full season of Carl Hagelin won't hurt, either. Defensively, Matt Niskanen didn't age well and was shown the door, freeing up minutes for Nick Jensen, while the acquisition of Radko Gudas will provide a significant boost for the third pairing.
Add in the fact the Penguins, Hurricanes, Islanders, and Blue Jackets - all Metropolitan Division foes - got weaker, and it would be shocking to see this team finish below 100 points.
Anaheim Ducks over 81.5
Can someone explain this line to me, please? Anaheim was a complete and utter disaster last season and finished with 80 points. At their lowest point, they lost 19 of 21 games - the AHL-caliber Senators didn't even do that. But there was a silver lining. The Ducks were an above .500 team after firing Randy Carlyle and closed out the season with an impressive 11-5-1 run.
The point here is they can't possibly be any worse this season. All they need is one more win over 82 games to surpass this total, and they have one of the best goaltenders in the world in John Gibson to help them do it. They don't have the strongest team in front of him, but it's better than advertised. Troy Terry is ready to burst onto the scene, they have a solid top four on the back end, and are deep down the middle.
Plus, there's always the possibility Gibson goes scorched earth on the rest of the NHL and piggybacks the Ducks to a wild-card berth.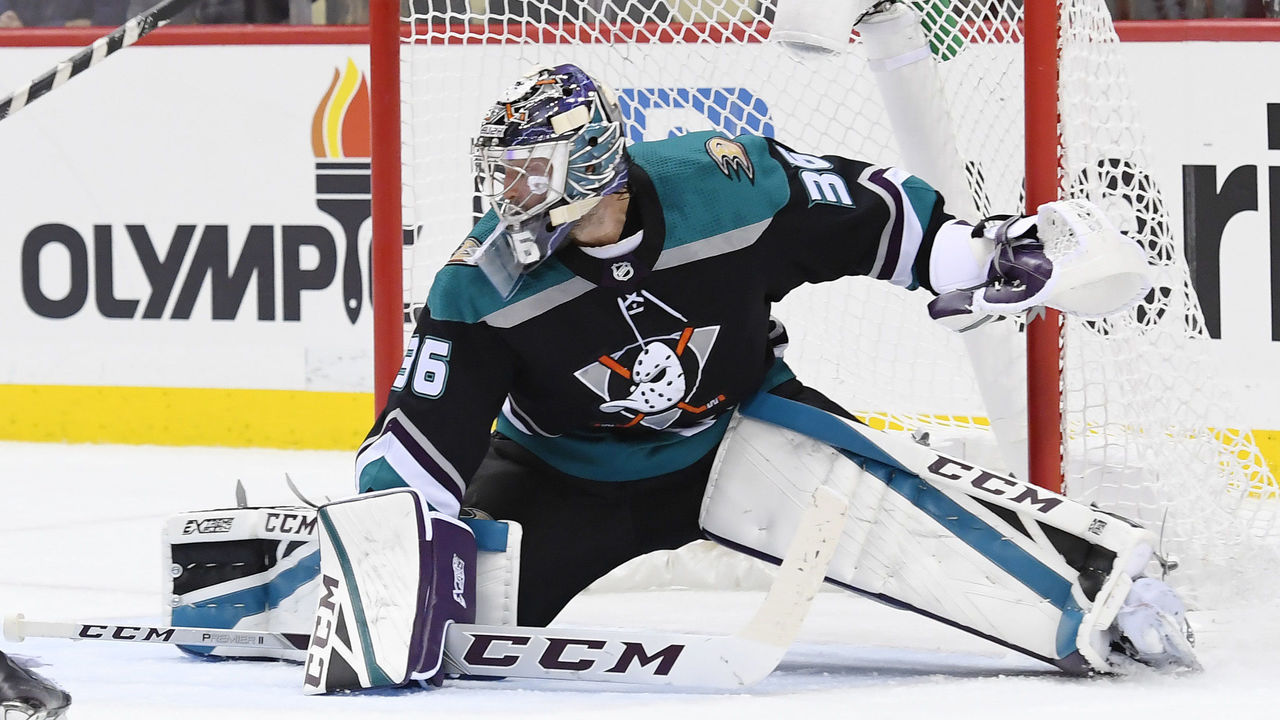 Chicago Blackhawks over 89.5
Like Arizona, Chicago is another team that could compete for a playoff spot in the Western Conference this season. The Blackhawks can score as much as anyone, that much we know. Even if Patrick Kane and Jonathan Toews regress following career seasons, Alex DeBrincat and Dylan Strome are just getting started.
What held this team back last season was defense and goaltending - only Ottawa allowed more goals than the Blackhawks. Calvin De Haan and Olli Maatta are significant improvements to their defense, while 2018-19 Vezina Trophy nominee Robin Lehner will be a massive improvement in net. Let's face it, Cam Ward was atrocious last season filling in for an injured Corey Crawford. With all due respect to the 2006 Conn Smythe winner, his best days are a distant memory.
The Hawks are going to score just as many goals this year and will be stronger on the back end. You don't need the analytics community to tell you that's a winning formula. There's way too much talent here for them not to finish between 90-95 points and compete for a playoff berth.