There was no Plan B for Trevor Zegras.
Like many elite hockey-playing Americans who came of age this century, Zegras aspired to spend his 16- and 17-year-old seasons at USA Hockey's laboratory. The U.S. National Team Development Program, located in the Detroit suburb of Plymouth, is the ideal landing spot for those who thrive in ultra-competitive, high-intensity environments.
To say that type of place was a fit for Zegras - a creative, playmaking center from Bedford, N.Y., who grew up on the NHL Network, the New York Rangers, and Patrick Kane - would be a tremendous understatement. His game, and by extension his draft stock, leveled up continuously over two seasons with the NTDP, which saw him record 46 goals and 100 assists in 106 games against mostly older competition.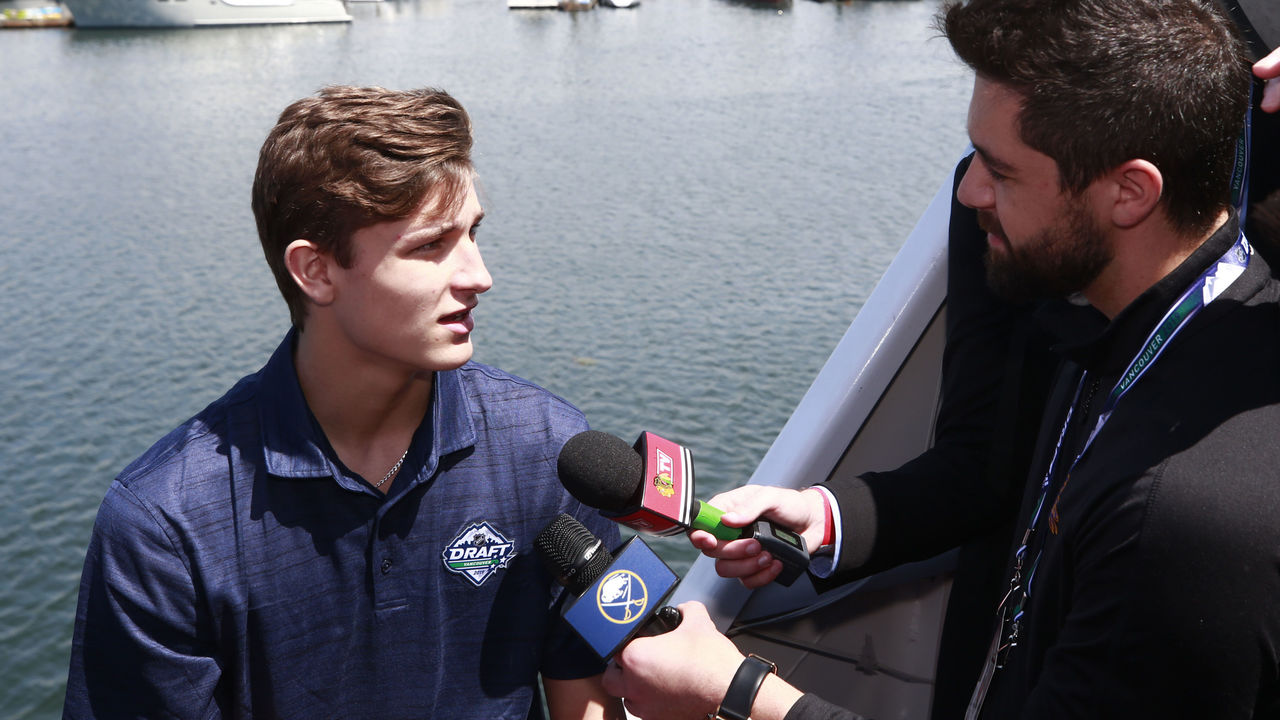 By midseason of his second year, NTDP Under-18 head coach John Wroblewski's phone would buzz with a message from Zegras nearly every day. The player couldn't get hockey off his mind, and he knew an after-school video session was one way to satisfy that hunger.
"Trevor, put your phone away in class," Wroblewski would text back.
The hard work has paid off. On Friday, Zegras will most likely be selected with a top-10 pick at the 2019 NHL Draft in Vancouver. He's been commonly pegged for either the Buffalo Sabres at seventh overall, the Edmonton Oilers at eighth, or the Anaheim Ducks at ninth.
"If you would have told me that Trevor was going to be a top-10 pick a year and a half ago when we got to Plymouth," Wroblewski stated, "I would have said, 'OK … I believe in the talent, but let's see if he really wants to be a competitor and if he really, really burns to be a player.' And he did, and he owned it."
Beyond Zegras, the scene is set for the U.S. program to hog headlines all weekend long. As many as 20 NTDP players could hear their names called by an NHL club. Led by presumptive No. 1 pick Jack Hughes, the 2001-born team is supremely talented, and arguably the program's best since being founded in 1996.
What makes the NTDP unique in the junior hockey landscape is that once a player joins the program, he can't be traded or cut. Barring a major development, USA Hockey and the kid are locked into a two-year agreement, with the target of producing a polished product - a quality person and a well-rounded player - taking precedence over team success.
Those players not only have access to some of the game's brightest young coaching minds and state-of-the-art facilities, but they're also expected to embrace the pro lifestyle and make the most of every waking hour. Breakfast and high school classes occupy the morning; lunch, video, on-ice sessions, and off-ice workouts come in the afternoon; dinner and homework follow in the evening; bedtime happens at a reasonable hour. And then they do it all again the next day.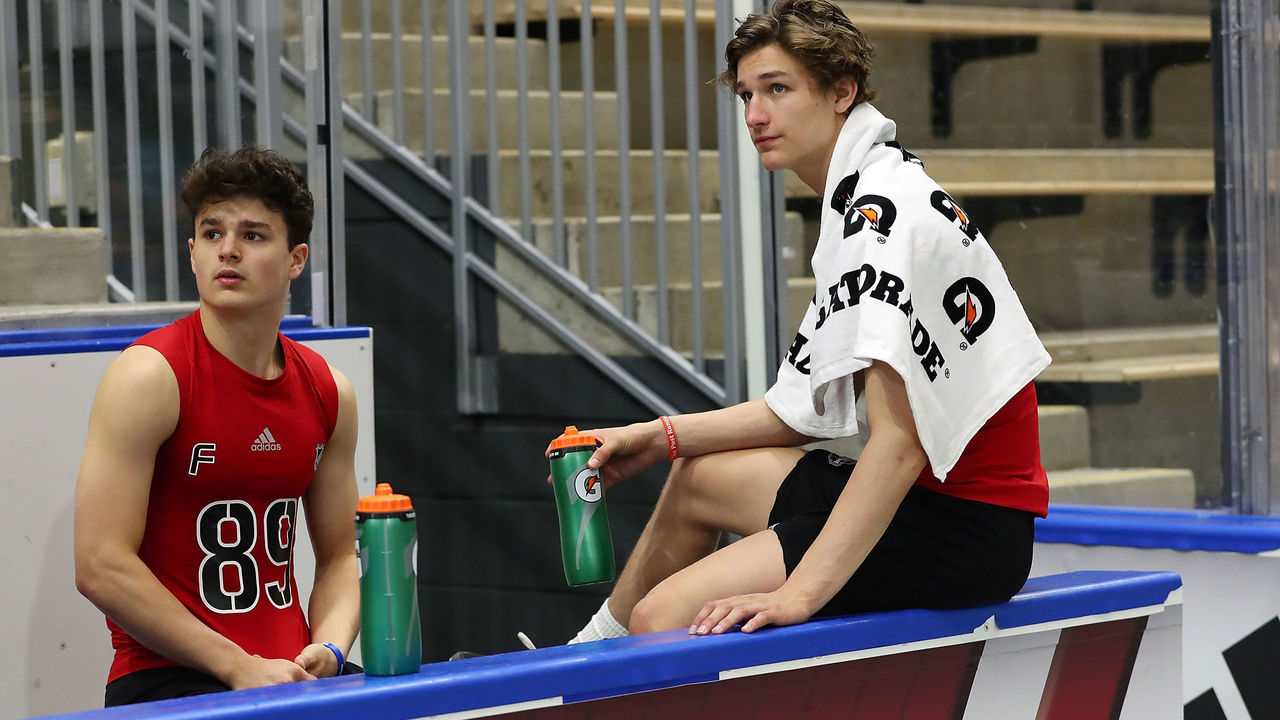 USA Hockey first scouts prospective NTDP players for two years before holding tryouts to make the Under-17 team. Identifying the right personalities and talent levels is paramount. "It's a super strict program," said Cam York, who broke the NTDP record for the most points by a defenseman this past season. "You have to be perfect in school, and at the rink you have to be really good as well. They expect a lot out of you. As a person, I felt like I grew a lot, and as a player as well."
Added Gary Zegras, Trevor's dad: "About halfway through that U17 year, you realize as a parent how much hard work it takes and how much dedication it takes. That group, as a whole, is very committed. Every kid and every family. Everyone had their ups and downs over the two years, but as a group, they seemed so resilient and so close."
There is one stretch at the conclusion of the Under-17 year that's particularly vigorous. For six days per week over roughly two months, the players are put through an all-encompassing boot camp. The objective is to lay the groundwork for a summer of growth ahead of their NHL draft year.
"That was a grind. Every day running, lifting, skills, power skating," blue-liner Marshall Warren recalled in Buffalo last month after posting strong scores in the fitness portion of the scouting combine. "That was one of the biggest development periods of my career. I can't thank the program enough for that time."
Overall, 17 of the 103 players invited to the 2019 combine were from the NTDP. That's a program record and a testament to the depth of the 2001-born team.
And many of them should be drafted early. Alex Turcotte, Cole Caufield, and Matt Boldy will likely join Hughes and Zegras as top-10 selections. Spencer Knight, the consensus best draft-eligible goaltender, is a first-round talent. York will probably be gone by the 20th overall pick, while fellow defenseman Alex Vlasic has a shot to be taken before Friday ends. On Day 2, Warren, John Beecher, Drew Helleson, Henry Thrun, Domenick Fensore, Patrick Moynihan, Cameron Rowe, and likely another teammate or two should all come off the board at some point.
"You'll see some guys playing in college next year and go, 'Oh, I didn't know this guy was actually this good,'" said Knight, who's committed to Boston College, about the lesser-known NTDP players in the draft. "There's so many high-end guys who play so much sometimes that these other guys won't emerge until next year when they start playing a bigger role."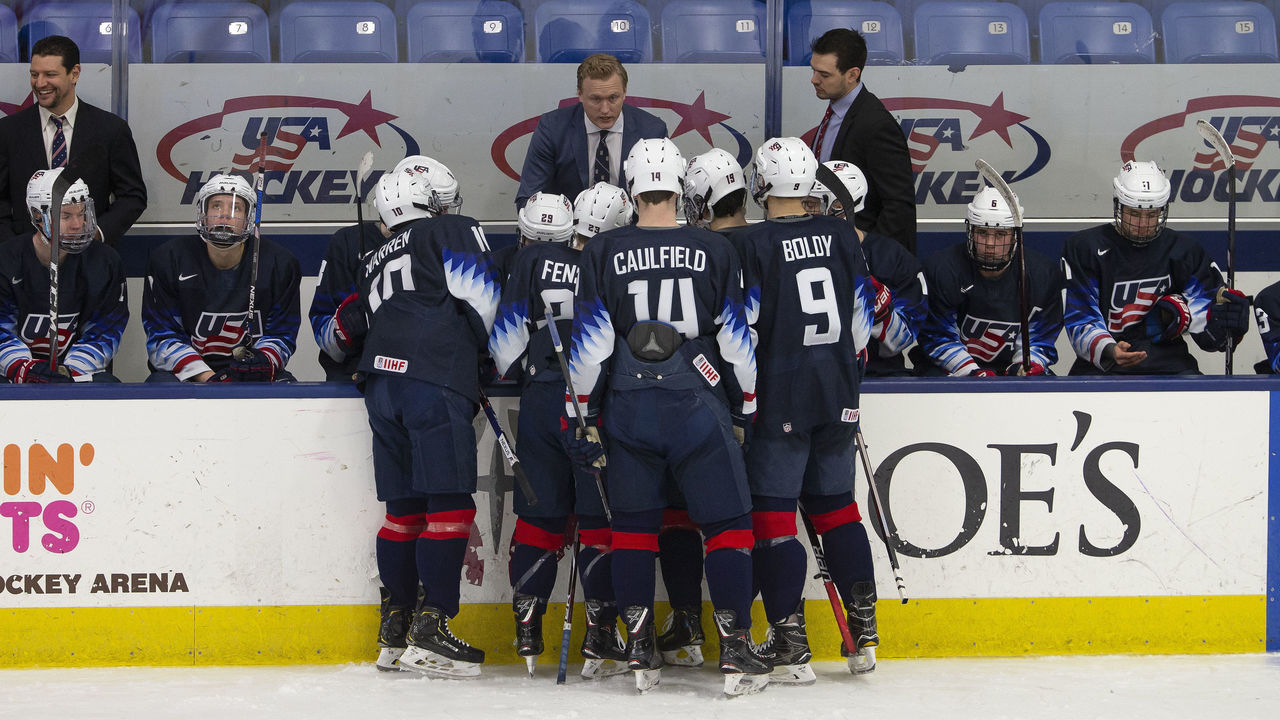 Wroblewski added that internal competition was the "calling card" of the 2001-born team. Despite breaking the NTDP all-time points record, Hughes was constantly challenged by Turcotte, the team's No. 2 center and a notoriously fierce competitor. Meanwhile, Turcotte was looking over his shoulder at Zegras, the third-line center, who was a bull's-eye for Caufield, the 72-goal scorer. Caufield had Boldy on his tail … and so on.
Their results were impressive. In 64 total games during 2018-19, the Under-18 team beat opponents - which included USHL clubs, NCAA Division I and III schools, and international sides - by an average score of 6-3. Along the way, the program defeated Harvard, Minnesota-Duluth, Michigan, and Wisconsin. The only thing missing was a gold medal at the 2019 Under-18 worlds. Russia outlasted the NTDP in overtime in the semifinal, forcing the Americans into the bronze-medal game against Canada, which they won 5-2.
"That's something that I think will stick with all of us for a long time," said Rowe, the backup goalie. "It was really disappointing. I remember guys who were in tears after that game. It was a real somber mood going into the bronze-medal game."
Still, Wroblewski's players, who posted a two-year international record of 29-2-1, took a long look in the mirror before meeting Canada, telling themselves they wouldn't let their country's 15-year medal streak die.
"Bittersweet is probably a good way to describe it," Zegras said of claiming the bronze. "Only because it's not what we went there for - especially with all the expectations our group had. I honestly think that in the semifinal game the better team didn't win. I think we were all over them in that overtime period. That's hockey, right. That's why you play."
Where did this concentrated explosion of talent come from? The players and their families deserve the bulk of the credit, of course, but something called the American Development Model is also worthy of praise.
The ADM, a set of top-to-bottom guidelines first released by USA Hockey in 2009, has grown up alongside Hughes, Turcotte, Zegras, and the rest of the 2001-born national team. And the model - which seeks to promote individual skill, offense, and becoming a strong overall athlete - has changed the way hockey is viewed at the youth level in the U.S.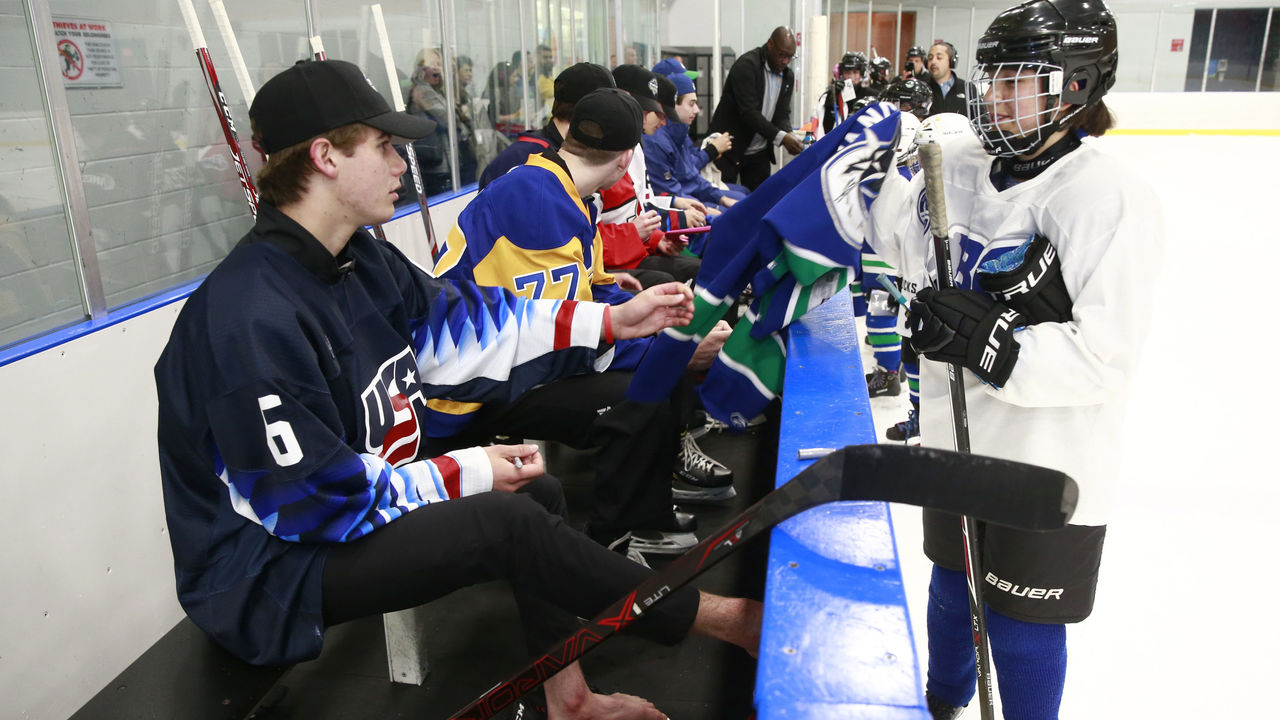 "I'm really not concerned that our 10-year-olds don't know how to play a trap very well," USA Hockey technical director Ken Martel said. Instead, like other hockey federations, most American youth organizations are now concerned with how smart and creative its players can become. At a young age, players are put on smaller ice surfaces to encourage more puck time along with quick decision-making. Learning systems and playing games on a full-length rink can wait until later.
The NTDP is where USA Hockey's overarching philosophies collide with the country's best players at both the Under-17 and Under-18 levels. Wroblewski, who suited up for the program as a player in the late 1990s, sees a stark contrast between then and now.
"Development back in the beginning was about who could come up with the best system to stifle the other team," he said. "Whereas today, it's about how can we attack a team and break them down."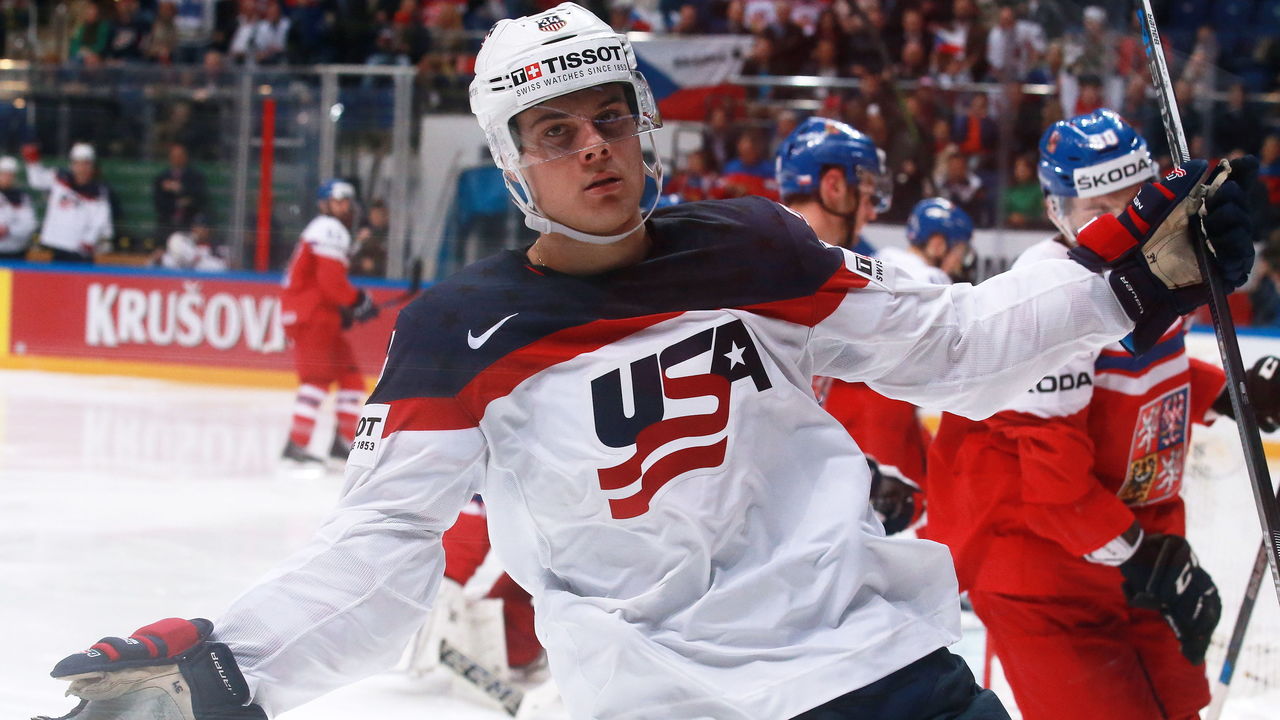 The NTDP's 1997-born team was excellent too. Although not every player stayed for both years, it produced a spectacular list of NHLers, including Auston Matthews, Zach Werenski, Charlie McAvoy, and Matthew Tkachuk. But this class of 2001s could be even better.
"I'm just intrigued," said senior director of NTDP operations Scott Monaghan. "Is this the beginning of a wave, where there's more depth in talent and skill in the age groups than maybe there hasn't been in the past?"
"I don't think it's a blip," Hughes said. "USA Hockey's at the best it's ever been right now. There's a lot of talent coming up the pipeline, and obviously, you see all the young guys in the NHL, the Americans that are at the top of the league right now. I think there's a lot more from where that came from."
John Matisz is theScore's national hockey writer.