Final NHL Mock Draft: Byram, Cozens move up while Broberg falls to Habs
The NHL draft begins Friday night in Vancouver. Here's our final mock draft of the first round.
1. New Jersey Devils - Jack Hughes, C, USNTDP
Hughes is still No. 1. This shouldn't be surprising if you've been following our draft coverage. From his ability to think the game at a higher level than his peers, to his speed, to the way he combines those abilities to drive play, he's our guy for first overall.
2. New York Rangers - Kaapo Kakko, RW, Liiga
Kakko's a wonderful consolation prize. As we've said all season, the gap between Hughes and Kakko is exponentially smaller than it is between them and the rest of the class. The Rangers' recent acquisition of Jacob Trouba indicates their rebuild has kicked into high gear, and with Kakko, they'll get a player who's ready to jump into the NHL. He has size (and more importantly, uses it effectively) and great instincts. Fans already got a taste of what he looks like playing against NHL competition at the World Championship.
3. Chicago Blackhawks - Alex Turcotte, C, USNTDP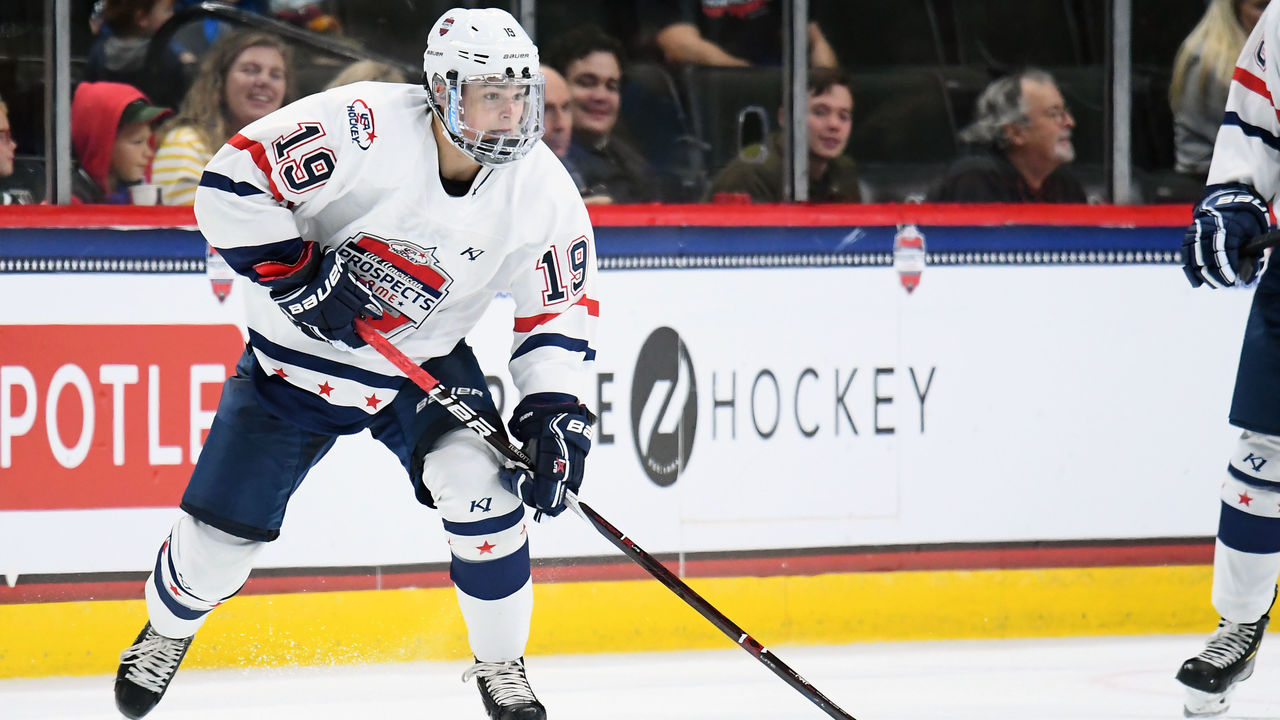 Turcotte missed a good chunk of time this season, but he played enough to put his innate skill on display. His vision is elite, and he uses it to be an excellent playmaker - something that should translate to the NHL level. His relentlessness on the ice is the kind of energy the Blackhawks need. He's headed to college at the University of Wisconsin in the fall, but don't be surprised if he only stays a year or two.
4. Colorado Avalanche (via Ottawa) - Kirby Dach, C, WHL
Many could argue defenseman Bowen Byram is the right pick here. They wouldn't necessarily be wrong. However, there have been rumors that the Avalanche are targeting a forward with at No. 4. While they have their pick of several talented players, Dach seems like a logical choice. He combines hockey sense, size, and smooth puck-handling ability in an attractive package. He could be more consistent, but the skill is there.
5. Los Angeles Kings - Bowen Byram, D, WHL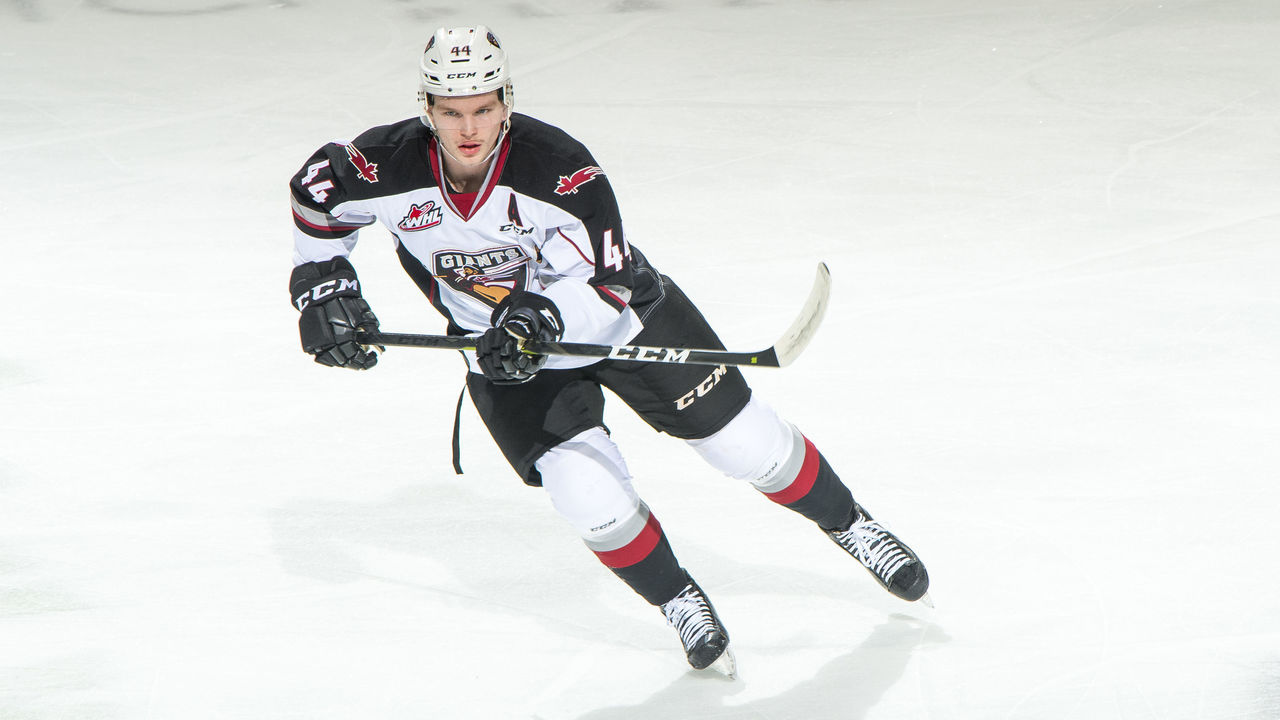 It's difficult to see the Kings passing on Byram if he's available at fifth overall. Without question the best defenseman available, he's a puck-mover with the ability to control play and drive the pace thanks to his excellent hockey sense and skating. If the Kings are looking to shift to a more mobile, speedy, offensive style, picking Byram is one step in the right direction.
6. Detroit Red Wings - Trevor Zegras, C/W, USNTDP
Though we had Cole Caufield going to Detroit in our first mock - and it's still an attractive idea - it's hard to imagine Steve Yzerman leaving Zegras on the board. His skill level in all areas is simply too high. He's brilliantly smart and possibly the best pure playmaker on this year's U18 team at the NTDP (yes, including Hughes). Zegras goes out and tries stuff other guys won't even think of, and he makes it happen. As a general manager, how could you not want that?
7. Buffalo Sabres - Peyton Krebs, C, WHL
Krebs is our pick for the best player out of this year's top WHL trio after a great year on a terrible team. His vision was mostly wasted on wonderfully creative plays that his teammates weren't able to finish - yet he still managed to end the season at a slightly better than point-per-game pace. The way Krebs thinks the game would slot in neatly with guys like Rasmus Dahlin, Jack Eichel, and Jeff Skinner, so this pick makes all kinds of sense for Buffalo.
8. Edmonton Oilers - Dylan Cozens, C/RW, WHL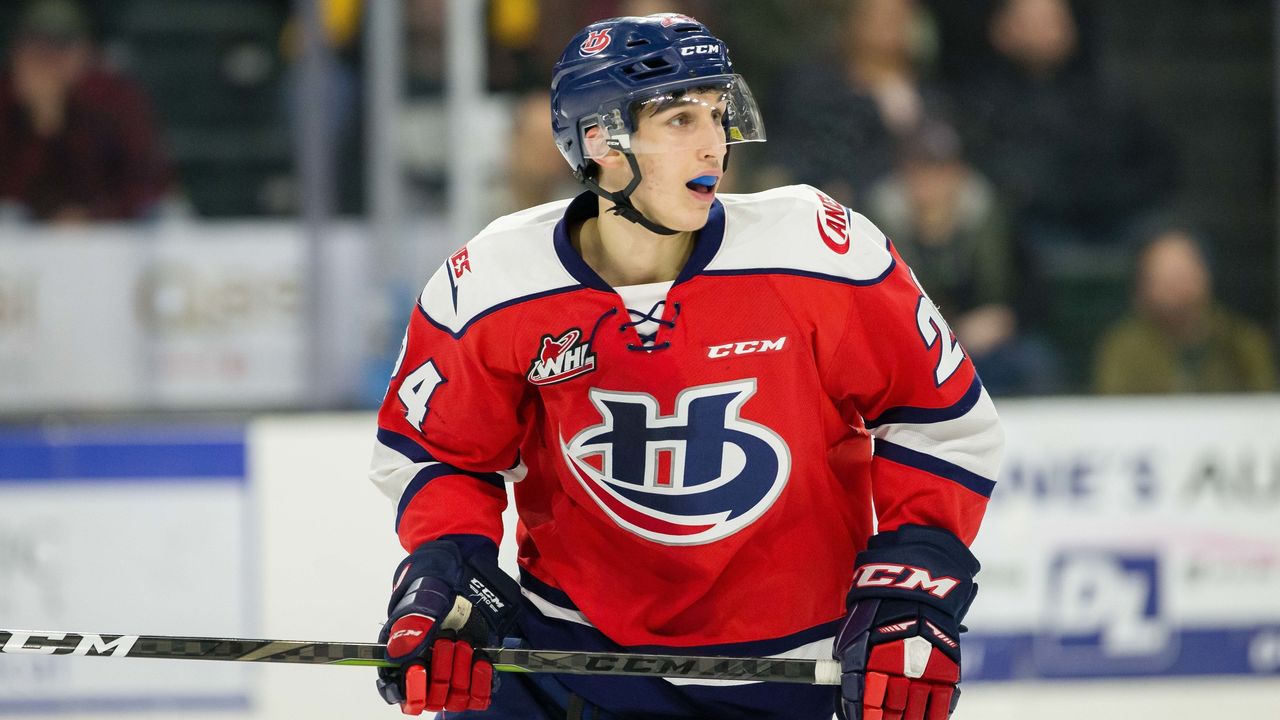 Although TSN's Ryan Rishaug reported that the Oilers are considering Philip Broberg at No. 8, the blue-liner comes with some concerns, and Edmonton has quite a few left-shooting defensemen in its system already. A forward is a safer bet, especially considering that the best player available here will be one. It also wouldn't be surprising to see the Oilers take a guy they're more familiar with, and Cozens is coming from the WHL. He's got offensive upside thanks to his great puck-handling, but he's not so flashy that he chances being a bust - it's about as safe a pick as you can get here while still gunning for first-class talent.
9. Anaheim Ducks - Vasili Podkolzin, RW, MHL
Podkolzin is polarizing. We've got him at No. 9, but it wouldn't be shocking to see him go anywhere from fourth to 20th. So much of his future success depends on when he comes over to North America and how he's supported through that massive adjustment. What it boils down to, though, is that he has skill to burn. If he can adapt to the North American game with any measure of consistency, he'll bring his future fan base great joy.
10. Vancouver Canucks - Alex Newhook, C, BCHL
Vancouver has a lot of good options at No. 10. Newhook hasn't necessarily received the accolades he deserves this season due to a slow start - and likely, in part, because he plays in the BCHL. He's a terrific skater, and his offensive abilities shine when he's playing with confidence. He'd look great with Elias Pettersson, Brock Boeser, and Quinn Hughes. He won't look great with guys who play like boat anchors, though, so it's a positive that he'll likely spend a couple of years at Boston College before joining his future NHL team.
11. Philadelphia Flyers - Cole Caufield, C/RW, USNTDP
Picking Caufield anywhere outside the top five is a good idea. If he's still on the board at No. 11, there's no good reason for the Flyers to leave him there. Caufield's a terrific goal-scorer, reminiscent of Alex DeBrincat but with more advanced skating ability than DeBrincat at the same point in his career. Let him cook in college (Wisconsin) for a couple of years and then let him loose. Goals are how games are won, after all.
12. Minnesota Wild - Matthew Boldy, LW, USNTDP
Let's face it, the Wild are kind of mediocre and boring right now. Boldy is anything but. While he needs seasoning, he's a good choice for the direction Minnesota should move in if the team wants to contend anytime soon. He is responsible defensively but also has excellent offensive skills, including hockey sense that allows him to score on plays other guys may not even consider making. He needs to work on driving play on his own, but he's got talent to spare.
13. Florida Panthers - Arthur Kaliyev, LW, OHL
There are a variety of opinions on Kaliyev, and some of the more negative ones contain legitimate critique. That being said, he's the second-best goal-scorer in the draft after Caufield (who's a more well-rounded player) due to his hockey sense. With sniper type Owen Tippett already in the Panthers' pool, Florida can give Kaliyev time to work on his weaknesses - his top skating speed, for example. There's nothing that can't be fixed in development, and it likely won't require sacrificing his offensive ability.
14. Arizona Coyotes - Raphael Lavoie, C/RW, QMJHL
Lavoie has NHL size, but that's not his major draw - it's just a benefit. He's an agile skater, a smart playmaker, and someone who's put in the work year over year to show consistent improvement. All of these attributes seem like ones the Coyotes would find attractive. After swinging for the fences on Barrett Hayton last year at No. 5, who knows what route they'll take.
15. Montreal Canadiens - Philip Broberg, D, Allsvenskan
Broberg could go earlier or even a bit later in the first round - his rankings have been all over the place of late - but it's easy to see the Canadiens drafting a defenseman, and easy to see them finding Broberg particularly attractive. He's got good vision, which allows him to anticipate the action on the ice. However, his shooting accuracy could use some work.
16. Avalanche - Bobby Brink, RW, USHL
Brink probably won't go as high as his talent deserves, but this is one spot where he's a possibility. Colorado can be a bit looser with its second pick of the round, and Brink is the kind of guy worth selecting with that freedom. His skating is good, with above-average speed and agile footwork, but Brink's real draw is his scoring ability and vision. He just needs to add some upper-body strength in college.
17. Vegas Golden Knights - Matthew Robertson, D, WHL
Cam York is also a legitimate option here, but what tips the scales for Robertson is that Vegas general manager Kelly McCrimmon is quite familiar with the WHL. Robertson is a speedy, agile skater for someone who stands 6-foot-4 (though we're approaching a point where it's no longer especially remarkable for tall skaters to be mobile), and his excellent passing skills and defensive positioning stem from his high hockey IQ.
18. Dallas Stars - Philip Tomasino, C, OHL
Do the Stars need a center? Maybe not. But Tomasino is a solid option who could slot in neatly with guys like Ty Dellandrea and Jason Robertson. He's got wicked acceleration, and he frustrated opponents with his above-average pivoting ability. He needs to add strength to translate his offensive game to the NHL level, but he's got good vision and great puck-handling skills. His defensive positioning needs work, though.
19. Ottawa Senators (via Columbus) - Moritz Seider, D, DEL
Seider has been drifting up everyone's rankings over the last little while, and rightfully so - his skill set was on full display at the World Championship, and fans and pundits alike are beginning to grasp what he brings to the table. He's an excellent, agile skater whose edgework allows him to shift direction on a dime, and he's a great puck-handler, which comes in handy when he carries it out of his own end. His defensive positioning needs to be more consistent, but that will come with time and experience.
20. Winnipeg Jets - Cam York, D, USNTDP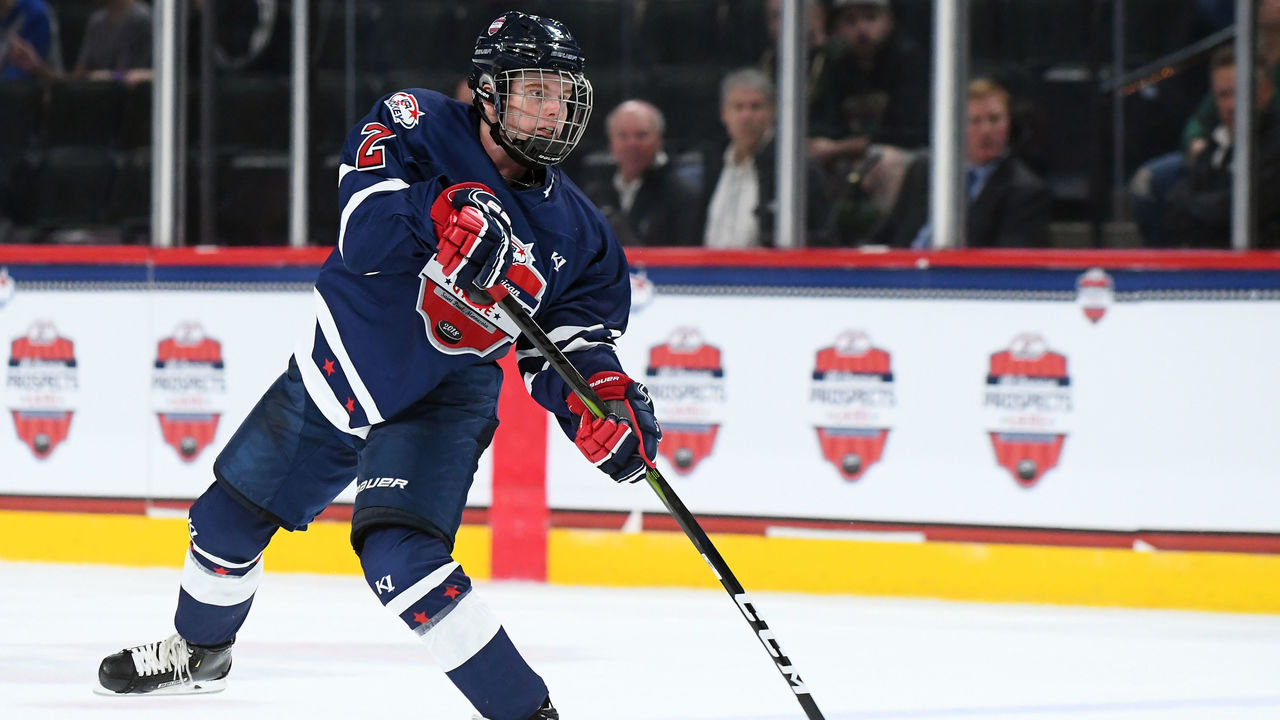 York may be off the board by No. 20. He's very smart, usually making the right decision under pressure, and can connect on difficult passes. He's also an agile skater with excellent edgework, which helps to make up for the fact that his acceleration and top speed both need improvement. He could also stand to shoot more often.
21. Pittsburgh Penguins - Ryan Suzuki, C, OHL
Suzuki's flashy and fun, and if the fact he needs to improve defensively causes him to drop into the 20s, the Penguins should thank the hockey gods and snatch him up. He's tenacious and has a burning top speed that he matches with elite hockey smarts. As long as he can add upper-body strength and become more consistent in his own end, he's golden.
22. Kings (via Toronto) - Connor McMichael, C, OHL
Gabriel Vilardi's injury issues have created some questions about his future (he was the Kings' No. 11 overall pick in 2017), so L.A. would be wise to pick up another skilled center - and from the same league, no less. The well-rounded McMichael is strong at both ends of the ice thanks to his vision and hockey IQ. A smart playmaker, he's equally able to anticipate the course of play in his own end.
23. New York Islanders - Victor Soderstrom, D, SHL
Soderstrom's another defenseman who could go higher in the round. He had a great season, showcasing excellent defensive positioning while finishing the regular season with the most points of any U18 player in the SHL. He has solid offensive vision and is also a superb skater. Adding upper-body strength will give his shot more power.
24. Nashville Predators - Ville Heinola, D, Liiga
The Predators don't have an amazing prospect pool and some of their better options are on defense, so they could take a forward here. At No. 24, though, Heinola isn't the kind of guy you pass on. He's on the smaller side at 5-foot-11 and 181 pounds, but he's a terrifically agile skater with high-end smarts that he uses to make plays and cut down opponents' shooting lanes. He needs to improve his acceleration and overall speed, as well as add some muscle, but he's got a lot of potential.
25. Washington Capitals - Jakob Pelletier, LW, QMJHL
Pelletier should probably go higher than this, but will probably drop because of his size (he's 5-foot-9 and 165 pounds) and because he played in the Q. There's so much to like about this kid, though, and it starts with his elite vision and the way it allows him to anticipate the flow of play. He's an excellent playmaker, he can score, and he's a fantastic skater. His defensive positioning needs work, but that's no reason not to take a chance - especially at No. 25.
26. Calgary Flames - Egor Afanasyev, C, USHL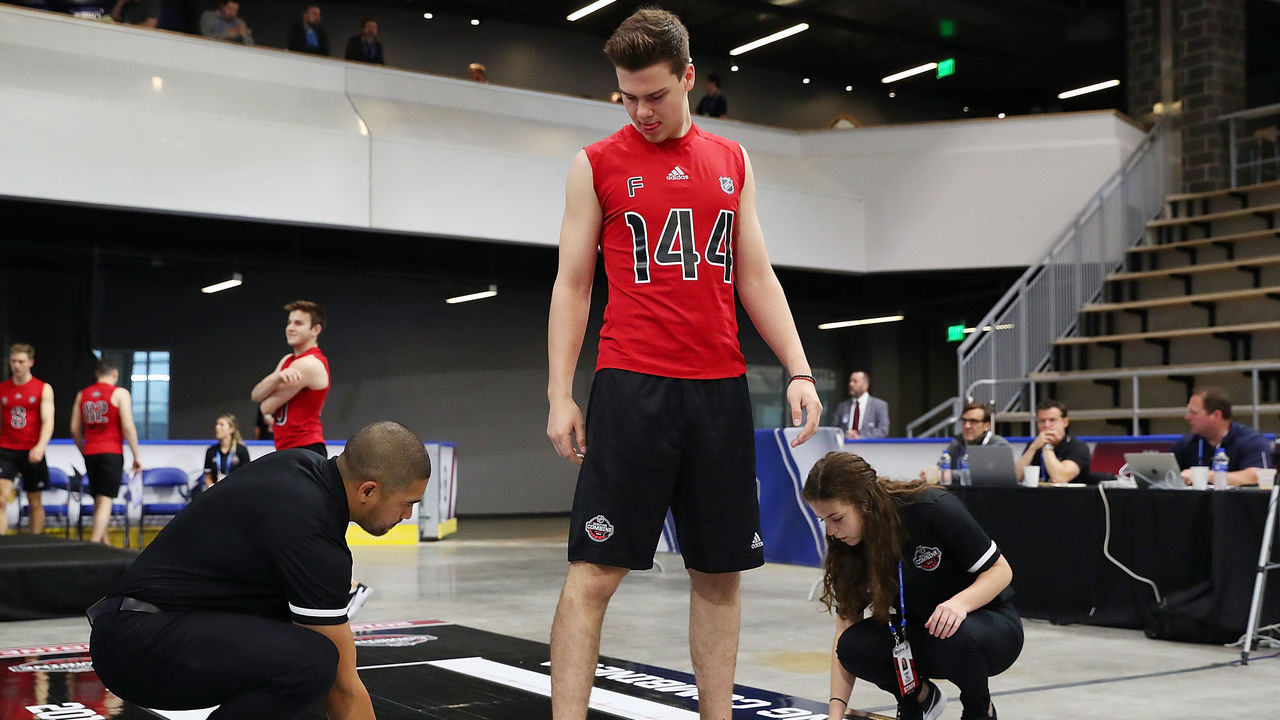 Afanasyev will be playing for the Windsor Spitfires next season - and the OHL will be a good place for him to develop - but he's coming off a fantastic USHL season. He's a good skater with an excellent array of shots, and he's a smart and effective playmaker. While his defensive game needs smoothing out - he can get caught puck-watching - he's good at protecting the puck when he has it.
27. Tampa Bay Lightning - Pavel Dorofeyev, LW/RW, MHL
Dorofeyev was in a weird spot this year - he's clearly too skilled for the Russian junior leagues, but he's not quite ready to be a KHL regular. He's worth taking a swing on this late in the first round, though, especially for a team with Tampa Bay's track record. While Dorofeyev's skating could use some work, his vision, creative playmaking, and smart positioning in his own end are quite appealing.
28. Carolina Hurricanes - Robert Mastrosimone, C, USHL
Mastrosimone seems like a Rod Brind'Amour kind of guy. He's relentless and pairs his tenacity with high-end offensive skill. Though he could easily slip into the beginning of the second round, he's not a reach here. He has great hockey sense and an excellent shot, but he could be more consistent in his own end. College (Boston University) is a good place for him to refine some skills.
29. Ducks (via Buffalo) — John Beecher, C, USNTDP
Beecher doesn't get enough attention. He spent the season playing behind guys like Hughes and Zegras and saw the ice accordingly (Prospect-Stats estimates him at just under 11 minutes per game). He's worth a look, though, and could be a smart selection for the Ducks with their second pick of the round. Sixteen of his 20 USHL points in 27 games were primary points, he's a smart player, and he's difficult to knock off the puck. At 6-foot-3 and 209 pounds, he's already got NHL size, too.
30. Boston Bruins - Albin Grewe, RW, SuperElit
Grewe could slip to the second round, but he wouldn't be out of place here. Much like Mastrosimone, Grewe has a tenacious, never-quit attitude the Bruins would love. His high hockey IQ allows him to see the ice well, and he can both score and make plays. He's also demonstrated a strong work ethic, as his skating is dramatically better than it was a year ago. It's not a stretch to assume he would apply himself equally to addressing other weak areas of his game.
31. Sabres (via St. Louis) - Samuel Poulin, LW, QMJHL
Poulin's a solid choice here if the Sabres want to continue stockpiling forwards with offensive potential. He recorded 62 primary points among his 76 points - an indicator that he can drive play - and he marries his smooth offensive skill with a powerful style of play and smart positioning in his own end. His first step could use work, however, as his skating isn't quite as explosive as his future team may want it to be.
Comments
✕
Final NHL Mock Draft: Byram, Cozens move up while Broberg falls to Habs
  Got something to say? Leave a comment below!