The night the San Jose Sharks shot seven pucks past Michael DiPietro, his phone wouldn't stop pinging with messages of consolation.
The Vancouver Canucks prospect got lit up in his surprise NHL debut at age 19. Without a healthy backup goalie available, he was stranded in the crease for all 60 minutes of what became a 7-2 loss.
"You don't see many of those in the Ontario Hockey League," Sportsnet color commentator John Garrett said on the Canucks' TV broadcast after Evander Kane scored San Jose's fourth goal on a nasty top-shelf wrister.
DiPietro's family and friends were sad and sorry about the barrage to which he'd been subjected. His perspective, though, was radically different.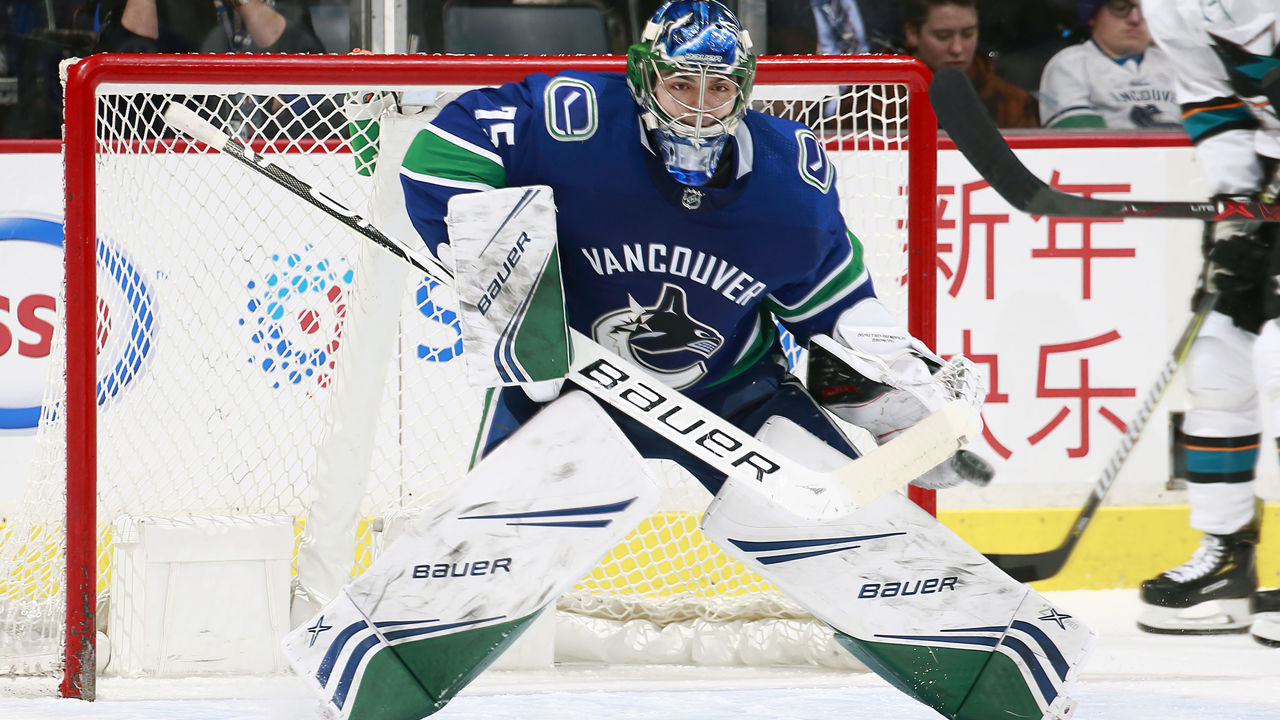 "I played one of the best teams in the NHL, a veteran lineup, and I had a ton of fun doing it," DiPietro says now. "It was a dream come true, and the teammates in Vancouver were absolutely phenomenal with me, keeping my spirits up and cheering me on.
"I let in seven goals, but looking back on it, those seven goals I can learn from."
It's unlikely that any player in hockey has experienced as wild a season as DiPietro, the Canucks' possible netminder of the future. In late December and early January, he endeared himself to Canada by allowing a mere five goals on 103 shots at the world junior championship in Vancouver. One of those goals, however, was an inconceivably fluky ricochet off an opponent's skate in a 2-1 quarterfinal loss to Finland.
Canucks fans were reintroduced to DiPietro on Feb. 4, when the team, beset by goalie injuries, summoned him from the OHL's Ottawa 67s to back up Jacob Markstrom. The Windsor, Ontario, native would watch and learn from the bench for a couple of weeks as Thatcher Demko nursed a sprained knee.
That was the plan - at least until Feb. 11, when Markstrom's back began to spasm and DiPietro was forced to face Kane, Tomas Hertl, Timo Meier, and Joe Pavelski, a quartet of 30-goal scorers who all beat him at least once that night.
Those experiences against Finland and San Jose might have tanked most other teenagers' play, but few prospects seem to be wired like DiPietro, the OHL's goalie of the year in 2017-18. A 6-footer, he's long been knocked for being short for the position, but he's always felt mature for his age. He says he thrives on pressure - "Call me crazy, call me whatever, but that's just something I love to do" - and considers his battle and his drive to be the twin attributes that define his game.
"I'll do whatever it takes to stop a puck," he says.
That mentality has translated into consistently positive results for his whole junior career, which itself has been anything but typical. In 2016-17, DiPietro backstopped his hometown Windsor Spitfires to a Memorial Cup championship - before he ever won an OHL playoff series. (Windsor lost in the first round and spent the next 44 days practicing before playing in the national tournament as hosts.) The Canucks drafted him 64th overall in 2017.
|   | Michael DiPietro's 2018-19 season |
| --- | --- |
| Sept. 20 | Windsor Spitfires open OHL season |
| Dec. 4 | Spitfires trade DiPietro to Ottawa 67s |
| Dec. 10 | Canada's world-junior selection camp begins |
| Dec. 14 | DiPietro named to Team Canada |
| Dec. 26 | World juniors begin in Vancouver |
| Jan. 2 | Canada loses 2-1 to Finland in quarterfinals |
| Feb. 4 | Canucks recall DiPietro from 67s |
| Feb. 11 | DiPietro allows 7 goals in emergency NHL debut |
| Feb. 13 | Canucks return DiPietro to 67s |
| March 17 | 67s finish with OHL's best record (50-12-6) |
| March 27 | 67s sweep Hamilton Bulldogs in Round 1 |
| April 11 | 67s sweep Sudbury Wolves in Round 2 |
| April 24 | 67s sweep Oshawa Generals in Round 3 |
The rebuilding Spitfires traded DiPietro to the ascendant 67s shortly before he left for the world juniors this past December, which brings us to the final phase of his one-of-a-kind season. By winning 12 consecutive games to open the OHL playoffs - sweeping three Eastern Conference opponents in the process - DiPietro and Ottawa are within striking distance of a Memorial Cup trip of their own.
"In the playoffs, right now, I think we're seeing what he's really all about," says 67s head coach Andre Tourigny, whose team will face the Western Conference champion Guelph Storm in the OHL's best-of-seven final starting Thursday.
"He's making key saves, keeping us in the game all the time. The more the game is on the line, the better he is."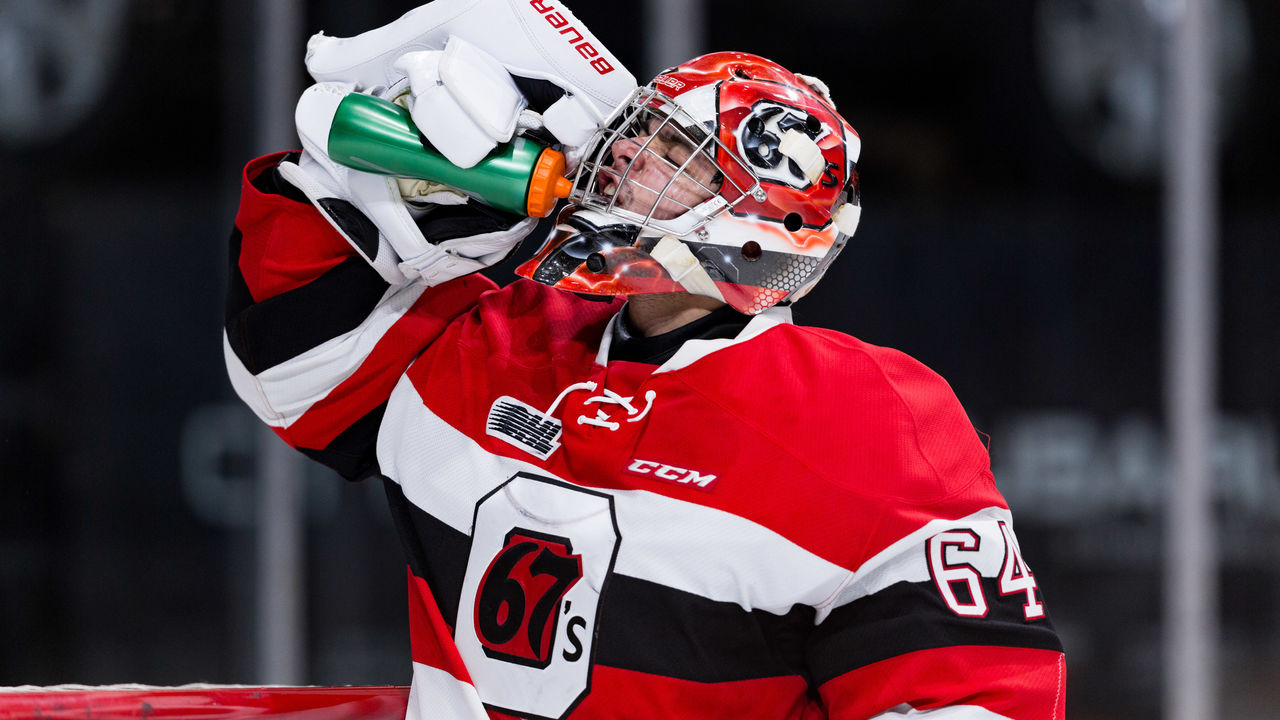 Facing an average of 28 shots per game, DiPietro has recorded a .913 save percentage in these playoffs. In the high-scoring OHL, that slots him third among goalies whose team advanced past the first round. In Game 4 of the second round, his 58 saves powered Ottawa to a 3-2 triple-overtime win that eliminated the Sudbury Wolves. Their starter, Ukko-Pekka Luukkonen, tended goal for Finland when that team won gold at the world juniors and was picked 10 spots ahead of DiPietro in the 2017 draft.
What skills have enabled DiPietro to become a junior star since the Canucks selected him? Different observers point to different strengths. Tourigny praises DiPietro's reaction time, lateral quickness, and competitiveness. DiPietro's agent, Darren Ferris, lauds his client's technical ability, his character, and his insatiable desire to excel and to win.
| Season | GP | SV% | OHL rank (min. 25 GP) |
| --- | --- | --- | --- |
| 2015-16 | 29 | .912 | 6th |
| 2016-17 | 51 | .917 | 3rd |
| 2017-18 | 56 | .910 | 5th |
| 2018-19 | 38 | .911 | 3rd |
DiPietro's drive helped convince Hockey Canada head scout Brad McEwen to invite him to the country's two most recent world-junior selection camps. His assessment: DiPietro doesn't get rattled and finds a way to make saves on broken plays, a trait that compensates for his relative lack of size.
DiPietro was a late cut from Canada's 2018 world junior team. (Philadelphia Flyers rookie Carter Hart wound up leading the team to gold, supplemented by Dallas Stars prospect Colton Point.) But he handled his release graciously, and by the time DiPietro left the Canadians' pre-tournament headquarters, McEwen was already confident he'd want him to start the following year.
"If there's anybody that can handle adversity, it's Michael," says Ferris, whose DHG Sports Agency also represents Taylor Hall, Mitch Marner, and several other NHLers.
"It's going to be an easy transition for him (to professional hockey). His next steps, the path he has to take, I think, will probably be a lot more accommodating for him because of his maturity. He handles everything just like a pro."
When DiPietro was 5, his mother, Rebecca, died of cancer. He says now that he had to grow up quickly and that his father, Vic, raised him to eschew excuses and instilled in him the belief that he could handle any challenge.
A few years later, Vic married Assunta Fenty, whose son Mark used to be a goalie. At one of Mark's games about a decade ago, DiPietro - a young defenseman at the time - was watching raptly from the stands when his older stepbrother stoned an opponent on a breakaway.
In that moment, DiPietro knew he wanted to switch positions.
"He likes to be the guy everyone looks to: 'Listen - I got your back,'" Vic DiPietro says. And as a goalie who isn't 6-foot-5, Vic continued, he's also come to enjoy proving doubters wrong.
"Not in an arrogant way, of course," Vic says. "Just (by) going to work."
On the evening of Feb. 11, Vic and Assunta were sitting at their dinner table in Amherstburg, near Windsor, when Michael told them that Canucks coach Travis Green had tabbed him to start that night against the Sharks. There was no way to foresee this turn of events, so they were limited to watching his first NHL game on TV.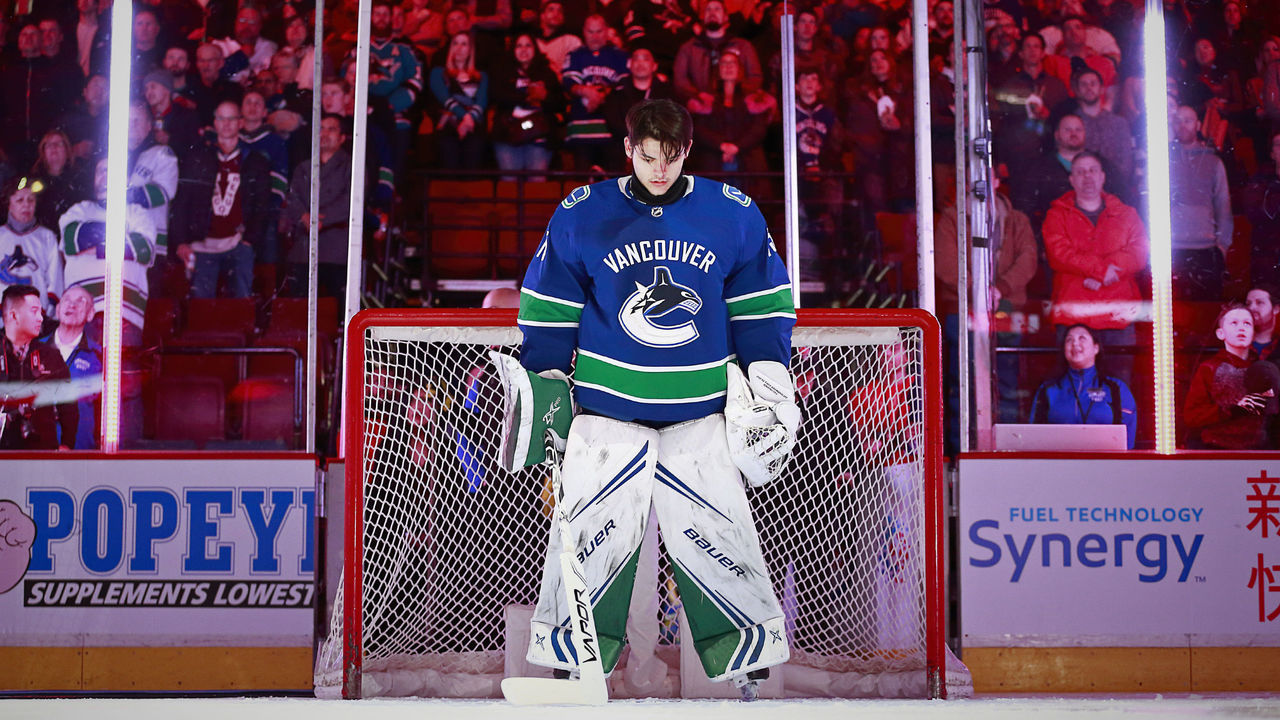 After the final buzzer, Michael, his dad, and his agent all concluded that the blowout constituted an opportunity for growth. The Sharks scored on five of their nine high-danger shots on goal - "He was taking shots no goalie should be taking, in my opinion," Ferris says - and demonstrated to him just how fast NHL action can move.
"For a young kid to step in and take that kind of workload right off the bat, it's kind of difficult," Ferris says. "I think it'll benefit him in the long run."
Barring another emergency recall, it might be a few years before DiPietro's parents get to witness his second NHL appearance. The Canucks have Markstrom signed through next year, and Demko, who is 23 years old, has two seasons left on his entry-level contract. In April, Vancouver nabbed 22-year-old NCAA star Jake Kielly in free agency after a superlative season at Clarkson University.
Like Demko, most netminders begin their pro careers with extensive seasoning in the minors. Hart, who started 30 games for the Flyers from late December onward, was the only goalie younger than age 22 to log significant time in the NHL this season. Come fall, it seems likely that DiPietro will share a crease with Kielly on the Utica Comets, Vancouver's American Hockey League affiliate.
For now, his focus is the OHL final, and the last, pivotal month of a whirlwind campaign. This "crazy" season has taught him about the need for a player to be adaptable, he says. It also has crystallized the vision he has for his future.
"Once you have a taste (of the NHL), that's all you want," DiPietro says. "That's something I'm going to (use to) push myself this summer: to make sure I surprise a few people at camp, and, hopefully, do my thing and make sure I have a good transition to pro hockey.
"I want to be the best I can possibly be. At the end of the day, I don't want anybody feeling sorry for me."
Nick Faris is a features writer at theScore.