All Mike Babcock could do was grin.
Since Game 5 against the Boston Bruins started with back-to-back Maple Leafs stick infractions - first, a questionable tripping call on winger Zach Hyman, then a borderline hooking call on forward Patrick Marleau - the bench boss did what we all do when we feel wronged but can't change the outcome of the matter at hand.
He smiled, once for each perceived slight.
The opening-round series' on-and-off officiating controversy - which peaked during a whistles-away Game 2 - reappeared Friday. The Leafs powered through the noise, though, bagging two even-strength goals over a two-minute span in the third period before holding off a late Bruins surge.
Toronto won 2-1 and now leads the series 3-2. With a victory Sunday at home, the high-profile club can advance to the second round for the first time since 2004.
"Obviously, the hardest game to win is the fourth game to put the other team out, especially a proud group of guys," Babcock told reporters postgame, tipping his cap to the Bruins. "It is something that we haven't been able to do in the last three years."
This version of Boston-Toronto has been very tight. Both clubs have scored 14 goals and have mostly received quality goaltending. Truthfully, nobody's running away with the series.
| TEAM | ESG | PPG | OTHER | TOTAL |
| --- | --- | --- | --- | --- |
| TORONTO | 9 | 3 | 2 | 14 |
| BOSTON | 7 | 5 | 2 | 14 |
[Other = penalty-shot, empty-net, or pulled-goalie goals]
The Leafs have been the better team at five-on-five, limiting the formidable trio of Brad Marchand, Patrice Bergeron, and David Pastrnak to three even-strength goals. The Bruins, meanwhile, have dined on special teams, collecting five power-play markers in Games 1 through 4 while holding Toronto to just three on the PP. (Neither team scored on the PP in Game 5.)
Since the Leafs' two goals on Friday were so clean and well-executed, and occurred in what could be the series' turning-point contest, let's take a closer look at both sequences:
1-0 (Auston Matthews)
This goal was a complete group effort.
Defenseman Nikita Zaitsev made a terrific pass to Hyman, sending the puck from the Leafs' hash marks all the way to the far blue line. Toronto loves its stretch passes, and this particular attempt led to a clean zone entry.
Boston defenseman Charlie McAvoy then ran into Hyman, forcing him to find a streaking Kasperi Kapanen, who immediately handed off to Auston Matthews. Without puck support from Kapanen and Matthews, this play dies.
Matthews quickly deferred to Jake Muzzin hanging out at the point. Muzzin - who's having a tremendous series and became a father Thursday - wound up for a slap shot, faked it, then fed Matthews with an accurate pass. The big center had found a nice, open spot on his off wing and nailed the one-timer.
Boston goalie Tuukka Rask had no chance on Matthews' series-leading fourth goal. "He's a big guy so when he opens up you see him out of the corner of your eye," Muzzin said. "And great finish by him."
Hyman's role in the goal triggered a challenge from the Bruins, however. Coach Bruce Cassidy claimed the workhorse winger interfered with Rask.
The Situation Room - the league's centralized video room - took over for the on-ice officials and determined, yes, Hyman did interfere with Rask but the act wasn't egregious enough to overturn what had originally been ruled a good goal.
The bar is high for the Situation Room to overturn good-goal and no-goal calls made at ice level, and Hyman's interference didn't pass its threshold. There was contact, but the contact was 1) outside the blue paint, and 2) not compelling enough to justify a change.
2-0 (Kasperi Kapanen)
In a Game 5 defined by a dearth of scoring opportunities from either team in the first 50 minutes, the Leafs managed to once again create offense by committee.
Two minutes after opening the scoring, Matthews swooped deep into Toronto's zone to receive a short breakout pass from defenseman Ron Hainsey. Matthews then found Hainsey's partner, Morgan Rielly, cruising through the middle of the ice.
Untouched, Rielly exited the Leafs' zone and entered the Bruins' zone in style before passing to winger Andreas Johnsson. When the Leafs are rolling as a cohesive unit, they're a runaway train. You could sense what was coming.
Johnsson went cross-ice to Kapanen and the 22-year-old Finn fired the puck into the open net. After accumulating 11 shots but zero goals in the first four games, Kapanen had his first of the playoffs. Babcock labeled it "huge" for the speedster's confidence.
"It doesn't matter who you are, at times when it isn't going good for you, you question yourself a little bit," the coach said. "That is what the National Hockey League is about. It takes your confidence away at times. You just keep grinding. I thought he was great tonight."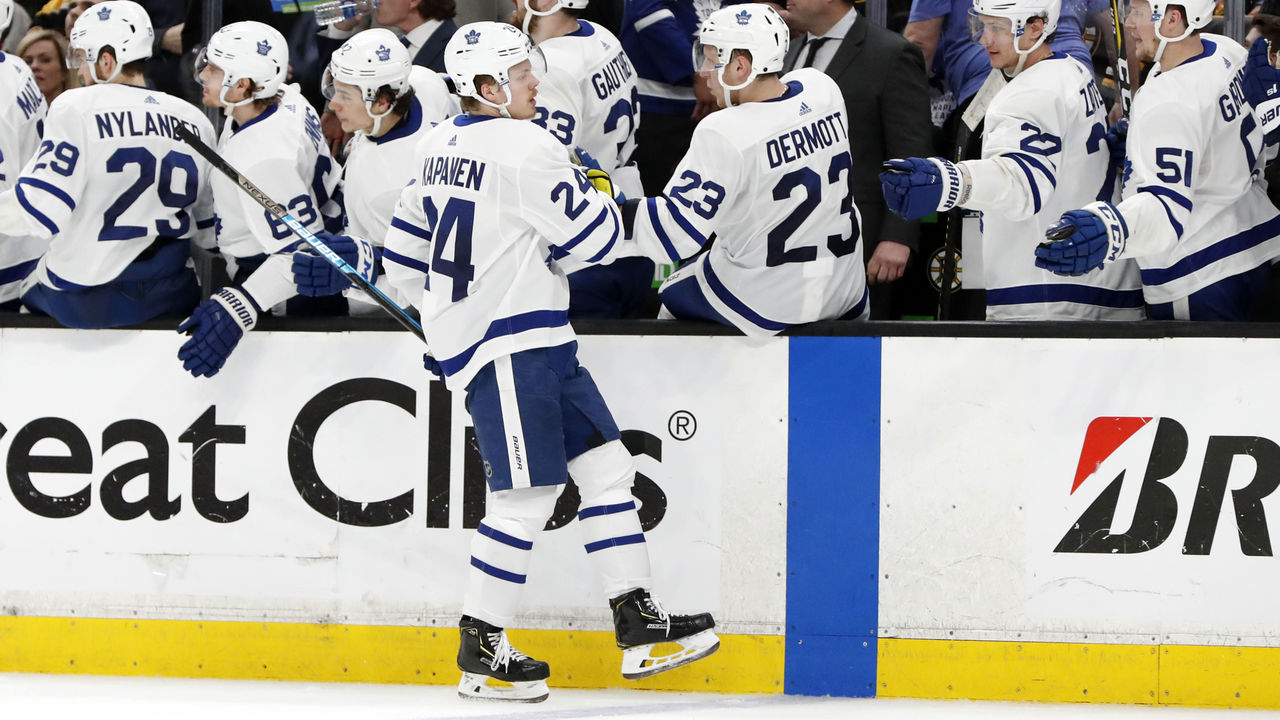 The game itself wasn't great Friday. It was slow and devoid of action until midway through the third. But it picked up, and following the Leafs' goals, Boston's David Krejci scored with Rask pulled to launch a short-lived comeback.
Combined with a shutdown performance from John Tavares, Matthews has been a gigantic difference-maker this series, especially since third-line center Nazem Kadri's been sidelined due to a suspension.
If Kapanen, Matthews, and the rest of the Leafs can replicate that Game 5 performance on Sunday, there's a strong chance the Leafs will be seeing the Columbus Blue Jackets in the next round.
Wouldn't that bring a smile - of a different variety - to Babcock's face.
John Matisz is theScore's National Hockey Writer. You can find him on Twitter @matiszjohn.