What a bunch of final-four jerks.
The Carolina Hurricanes may have shelved the "Storm Surge," but they're certainly not done surging. On Friday, the plucky outfit that waited until the third-last day of the regular season to clinch a postseason spot became the first club to advance to the third round of the Stanley Cup Playoffs.
Following a seven-game battle with the Washington Capitals, the Hurricanes needed only four contests to dispose of the New York Islanders, winning 5-2 at PNC Arena in Raleigh. A franchise-record crowd of 19,495 chanted "SWEEP! SWEEP! SWEEP!" during the third period.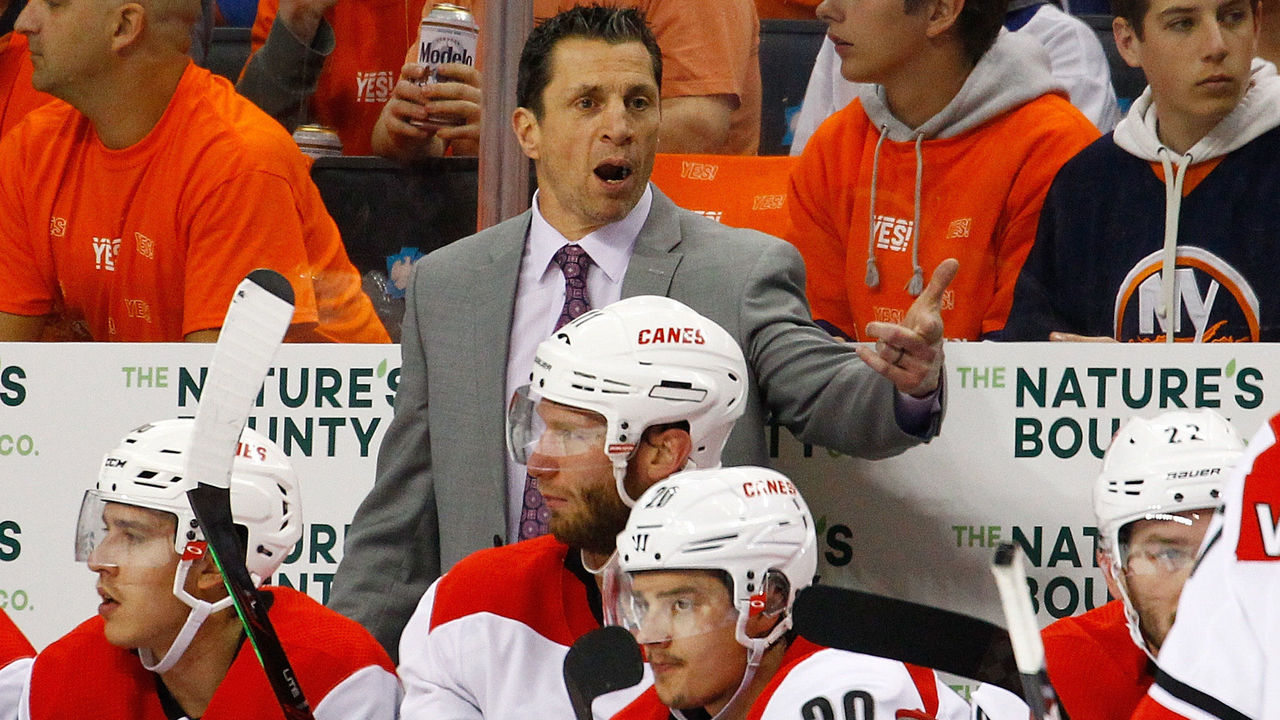 Head coach Rod Brind'Amour and captain Justin Williams deserve heaps of praise for guiding such an inexperienced group to the Eastern Conference Final. Intangibles are difficult to judge from the outside, sure, but nobody should be doubting the tandem's influence on this Cinderella run.
That being said, let's take a look at three quantifiable reasons why the Canes are moving on:
Goaltending duo shuts the door
It's safe to say that the "use two goalies" strategy wasn't in Brind'Amour's pre-series playbook. But, rather quickly, he ended up relying upon both of Carolina's netminders to win the matchup.
In Game 1, starter Petr Mrazek went save for save with New York's Robin Lehner in a 1-0, 31-save overtime win. Then, Mrazek went down with a right-leg injury 26 minutes into Game 2. It could have been disastrous, but backup Curtis McElhinney had other plans.
McElhinney - a 35-year-old October waiver pickup who had two playoff contests to his name prior to Game 2 and carries a sub-$1-million salary cap hit - went on to save 71 of 75 shots to close out the series. He was dialed in.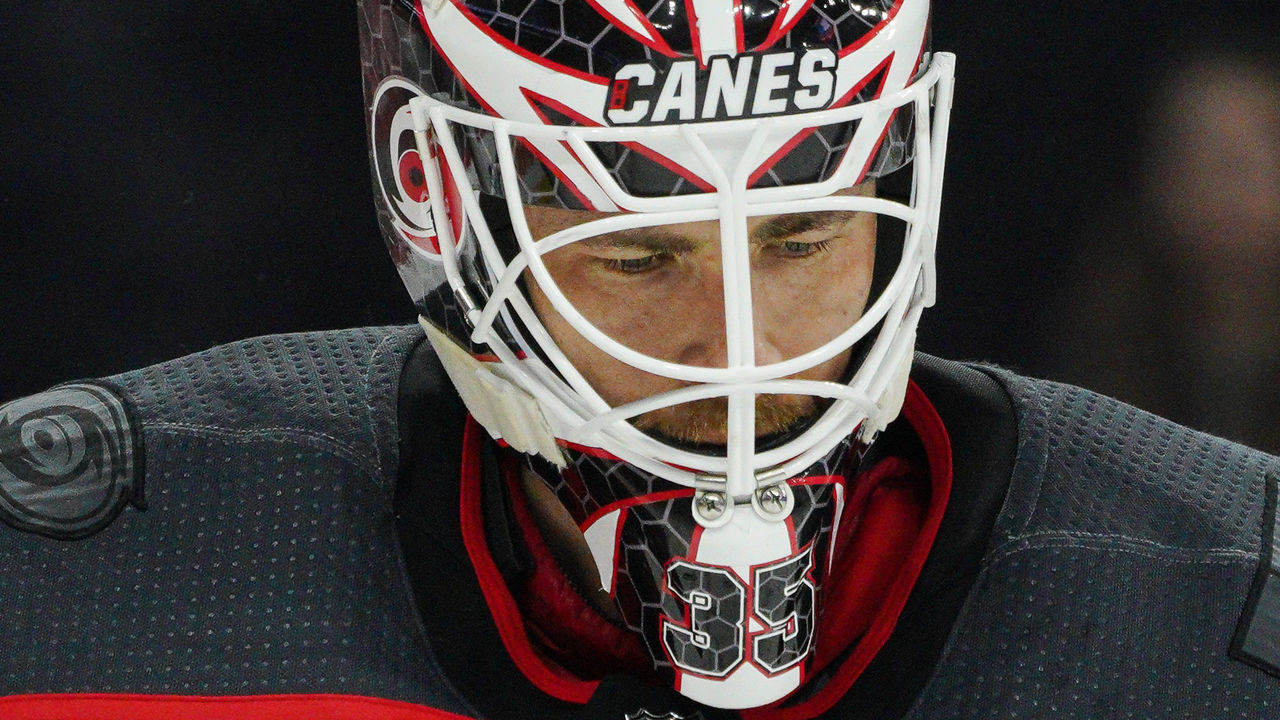 While the Isles goalies - Lehner for the majority of the series, and Thomas Greiss for half of Game 4 - played well and shouldn't be blamed for the quick exit, Carolina's unexpected platoon had a steadying impact on the outcome of the series.
Case in point: NaturalStatTrick.com houses a metric called expected goals. It's an advanced statistic which uses shot-location data to calculate how many goals a team should be expected to score over a specific time period. The formula pegs the Isles at 11.6 expected goals in four games, yet Barry Trotz's squad actually buried just five on Mrazek and McElhinney.
Moving forward, since Mrazek's availability is up in the air, it's uncertain who will be between the pipes for Game 1 of the next round. Fortunately for Carolina, the Boston-Columbus series, which is tied 2-2, could go the distance. A stretch of time off could be huge.
Barzal never shook off the shackles
The Isles were a dominant defensive team during the regular season, allowing the fewest goals in the league. Conversely, they didn't have a potent offensive attack, and that discrepancy haunted them against Carolina.
Mat Barzal, a menace with the puck on his stick and the only New York skater to hit 60 points this season, was mostly held in check. He registered just 11 shots on goal, seven high-danger shot attempts, and two power-play goals.
The goalies definitely contributed, but which skaters shut down the Isles' deadliest weapon? Here's the ice-time distribution for the six-man crew that kept Barzal scoreless at five-on-five:
| PLAYER | TOI |
| --- | --- |
| Teravainen - F | 24:43 |
| Slavin - D | 24:18 |
| Faulk - D | 22:25 |
| Hamilton - D | 22:04 |
| Niederreiter - F | 21:13 |
| Staal - F | 21:01 |
Overall, the Isles - a hardworking team which has an offensive identity strongly linked to creating scoring chances off the forecheck and cycle - were unable to generate a ton of prime looks during five-on-five action, namely in Games 3 and 4. Carolina made sure New York couldn't access the middle of the ice and crash the opposing crease area as it had done all season long.
The Isles scored a grand total of five goals - three on the power play and two at even strength - or roughly 1.25 per game. Unless you're competing in the Dead Puck Era, that's simply not going to cut it in an NHL playoff series.
Production from just about everyone
An impressive 16 Carolina skaters recorded at least one point in this series. And nine of them scored a goal ... or two ... or three.
It was longtime Cane Jordan Staal in Game 1. Newcomers Warren Foegele and Nino Niederreiter in a 2-1 second game. A mix - Teuvo Teravainen twice, Justin Faulk, Williams, and Sebastian Aho - in a 5-2 third contest. And then Aho, Teravainen, and Williams again, plus fourth-liner Greg McKegg and recently injured Andrei Svechnikov in the clincher.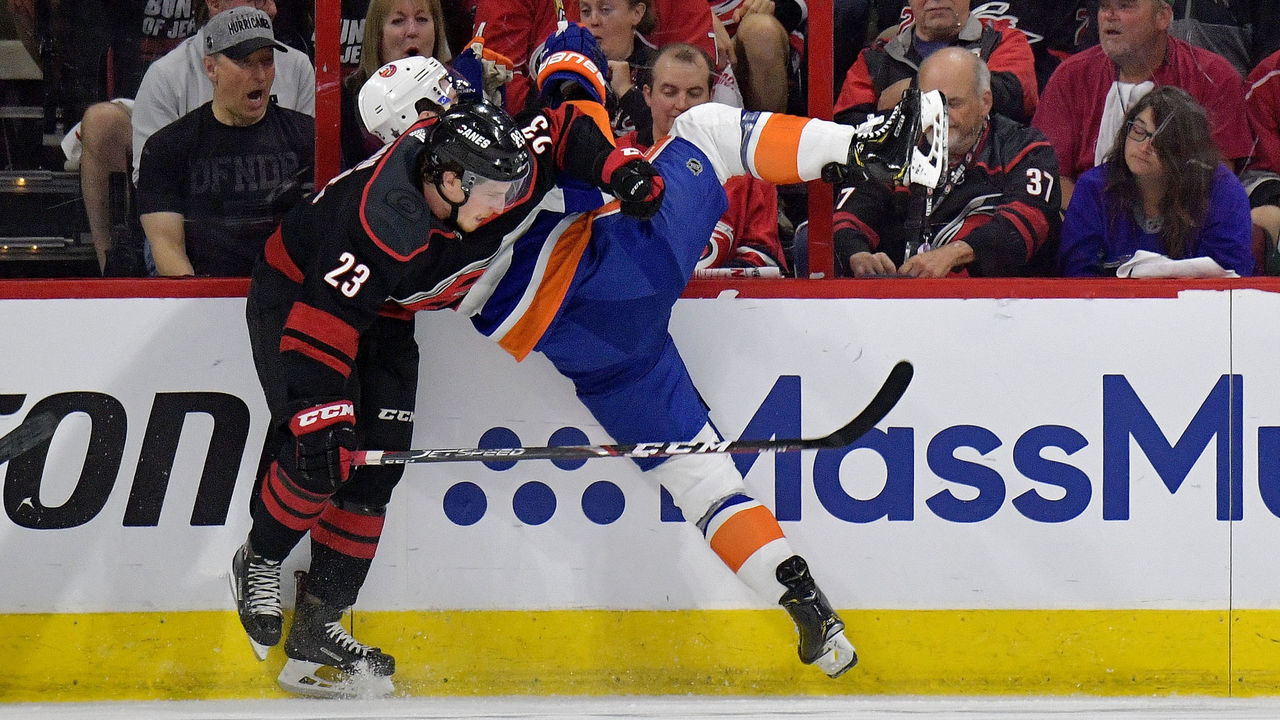 Carolina scoring often? OK then. It's quite the development, really, given the franchise's recent history. It typically doesn't cash in on its chances; aside from goaltending, scoring's been the team's downfall for years.
The playoffs so far have been different: the Hurricanes are scoring on 10 percent of their shots. Corsi kings for the better part of the analytics era, they are enjoying a nice run of shooting success.
Mind you, it's no fluke. For one, Jaccob Slavin has been an unbelievable distributor this postseason and has registered 11 assists in 11 games. Every forward line is feeding off the puck-moving ability of Slavin and other defensemen, bolting straight for the mucky parts of the ice with or without the puck. And, against the Isles specifically, the entire Canes attack targeted the home-plate area and managed to capitalize on seemingly every net-front chance.
When the final buzzer rang Friday, the numbers told a tidy story: Carolina scored all 12 of its second-round goals from the money spot - the real estate below the hash marks and between the faceoff dots. Nothing from the outside, or from the point. All hard-earned, high-percentage chances turned into goals.
The team that gave itself a strong chance to win every single game won this series. There should be no surprise about the Canes' sweep. They earned it.
John Matisz is theScore's national hockey writer.