'Two completely different emotions': A guide to the playoff handshake line
His mind and heart racing, Chris Kunitz moved through the Stanley Cup Final handshake line on June 11, 2017. He had just won his fourth Cup, and his third in a Pittsburgh Penguins uniform, so he knew the drill.
As he neared the end of the procession, Kunitz locked eyes with a visibly shaken Nashville Predator nursing a broken right hand. It was his old pal James Neal. The former Penguin extended his left hand, and Kunitz dropped his head to lean in, initiating a solemn bro hug. They exchanged a few words.
The interaction lasted four seconds, a relative eternity in the handshake line.
"It doesn't matter if you're best friends with somebody. You go out, you compete, you do whatever it takes to win. If that's fighting each other, slashing each other, so be it. But afterwards, you still want to look each other in the eye and show that respect," Kunitz said in March, speaking broadly about a tradition unique to hockey.
On Tuesday night, the Toronto Maple Leafs and Boston Bruins will form another line following Game 7 in their hotly contested first-round series. The Vegas Golden Knights and San Jose Sharks, also battling for one more game, will do the same a few hours later.
Teams aren't required to organize themselves in a single file and bid farewell. It happens organically, no matter who wins. The handshake line is a post-series activity passed down from generation to generation, an unbreakable custom governed by a set of unwritten rules.
So what's considered acceptable behavior in the line? What's frowned upon? How does it all work? And what goes through a player's head as they try to digest the outcome of a playoff series and interact cordially with a bitter rival?
In the leadup to the postseason, theScore enlisted the help of six active NHLers to find out. Here's what we learned.
The winner's perspective
"Two completely different emotions" are associated with the handshake line, noted Patrick Marleau, who's approaching 200 career playoff games. And both parties must be cognizant of the other's headspace.
"Teams that win are excited, but they don't want to rub it in as they're walking through," Marleau said prior to the Maple Leafs' series with the Bruins. "And the other guys are defeated, but they still want to be gracious and give the other team some encouragement going forward."
That give-and-take between winner and loser brings us to the meme-able clip from the final minutes of the Tampa Bay-Columbus broadcast last week.
Moments after the Blue Jackets put a bow on an upset for the ages by scoring three empty-net goals to complete a sweep of the Lightning, Nikita Kucherov joined his dazed teammates at center ice. The presumptive league MVP was stopped by Matt Duchene for a quick chat. Kucherov listened but didn't seem to offer Duchene much of a reply.
Then, Kucherov ran into fellow Russian and close friend Artemi Panarin. The victor grinned widely and went in for a big ol' high five. Kucherov left him hanging.
The hockey gods can't be pleased by Panarin's actions. The star winger violated the first guideline on either side of the handshake: Be gracious.
Kucherov looked for a moment like he might drop the nuclear option - the cold shoulder - but he relented when Panarin grabbed his hand. They eventually embraced, and the misstep isn't so outrageous that it should affect their relationship.
The cold shoulder, most famously unleashed by Martin Brodeur in 2008 to snub Rangers forward Sean Avery, can be more insulting than excessive enthusiasm.
"For me, I think that's a little disrespectful," Florida Panthers forward Troy Brouwer said. "You've got to congratulate the guy and let him know you respect him. It's so hard to win in the playoffs. For a guy to be battling and doing his job, you can't be mad at him, in my opinion."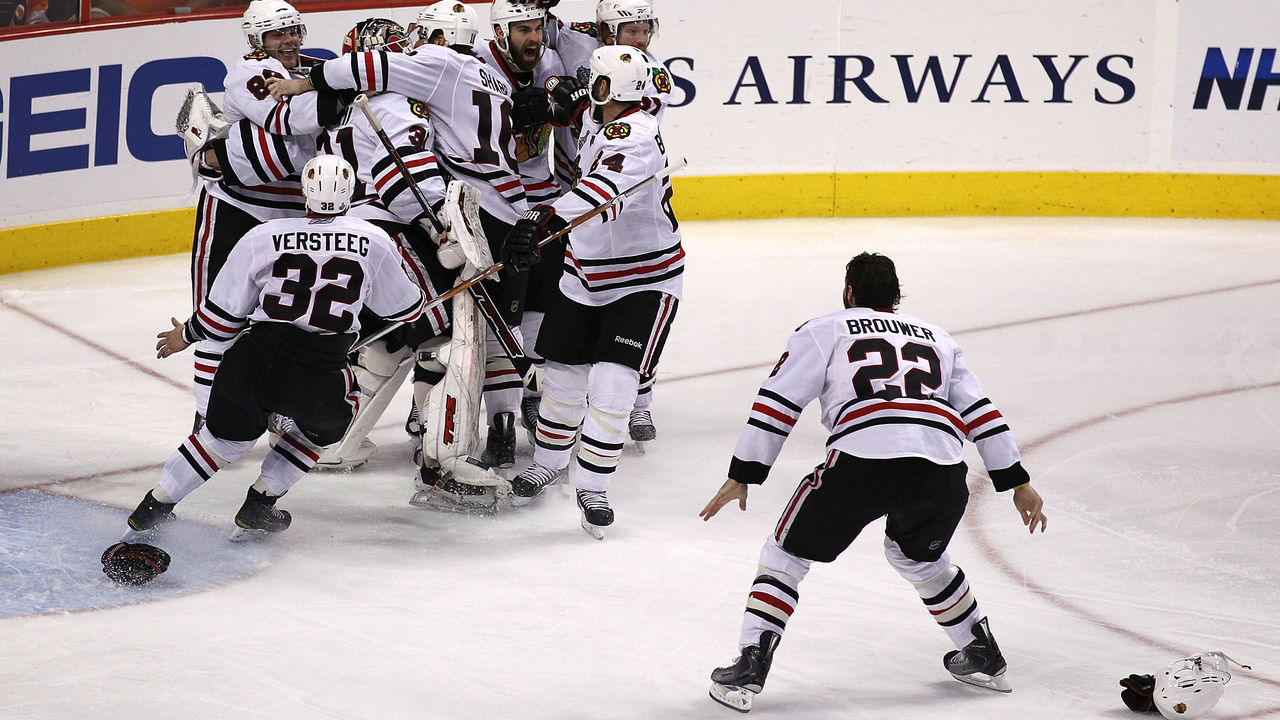 Brouwer's enjoyed playoff runs in Chicago, Washington, St. Louis, and Calgary, but it's hard for him to evaluate his etiquette in the 2010 Cup handshake line between the Blackhawks and Philadelphia Flyers. Since Patrick Kane's Game 6 overtime goal required video review, Brouwer and his teammates celebrated twice, with the second go-round bleeding into the handshake line.
It's all a blur.
"Guys are still hugging each other. You're patting the guy's back in front of you while shaking the guys on the other team's hands and waiting for the Cup to come out," Brouwer said. "So, honestly, I don't really remember that handshake. You're so caught up in the moment. It's not like it takes a backseat - your mind is just elsewhere." (Brouwer, for what it's worth, appears to have been well-behaved.)
The winning team holds the hammer in the handshake line - usually offering a friendly greeting first - but one of Brouwer's Panthers teammates says every participant has a method of payback at his disposal when it comes time to meet a particular foe.
"Maybe squeeze a little harder than normal," defenseman Keith Yandle said with a smile.
The loser's perspective
Because it offers closure, the handshake line can be a cathartic experience for those on the losing end.
"You realize you're done, you're going to hang up your equipment for the last time, and that's all slowly running through your mind as you go down the line," Kunitz said. "You obviously want to give that respect to the other team, even after the nasty series. Let them know that you left it all out there."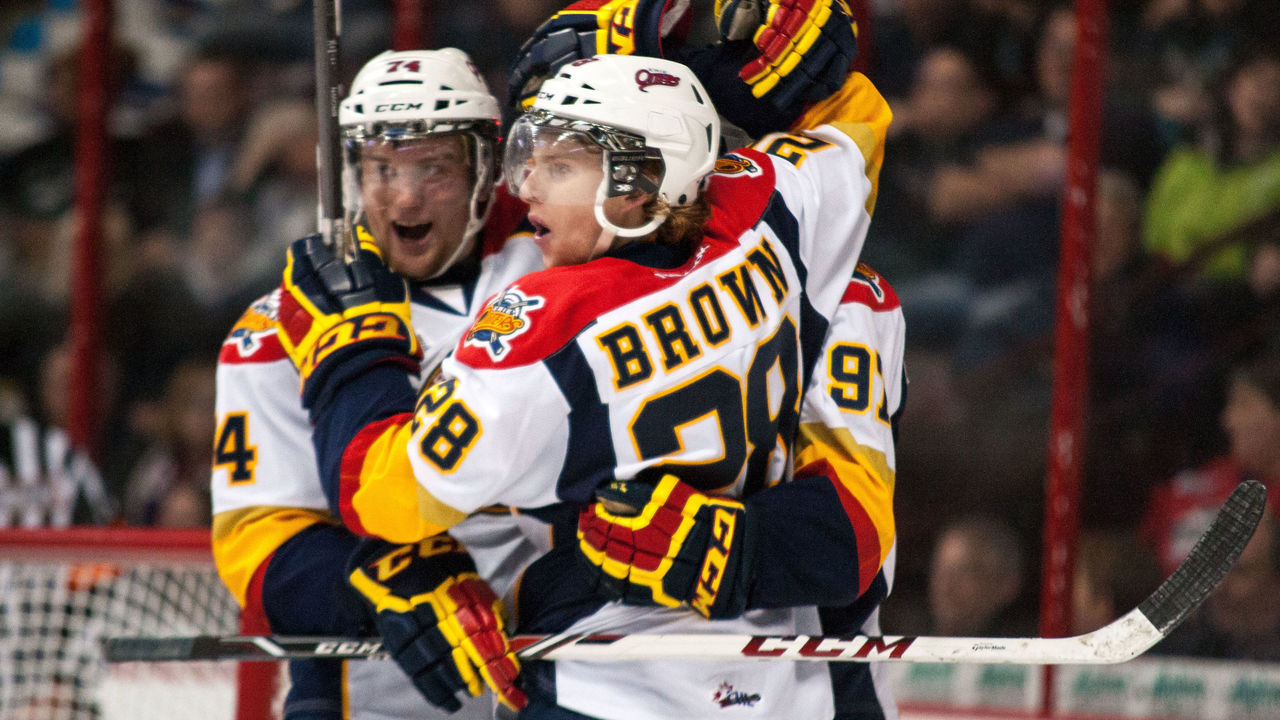 Connor Brown can relate.
In 2014, the Leafs winger was captain of the Erie Otters, and at the conclusion of the OHL Western Conference final, he saw his childhood flash before his eyes. Matt Finn, Brown's longtime friend, wore the "C" for the victorious Guelph Storm.
"That was the end of my junior career so it was a pretty emotional day for me. I don't think I said much," Brown recalled. "I grew up playing with him since I was 4 years old. He's one of my best buds. It almost makes it a little tougher, but it's something in years to come we'll look back on."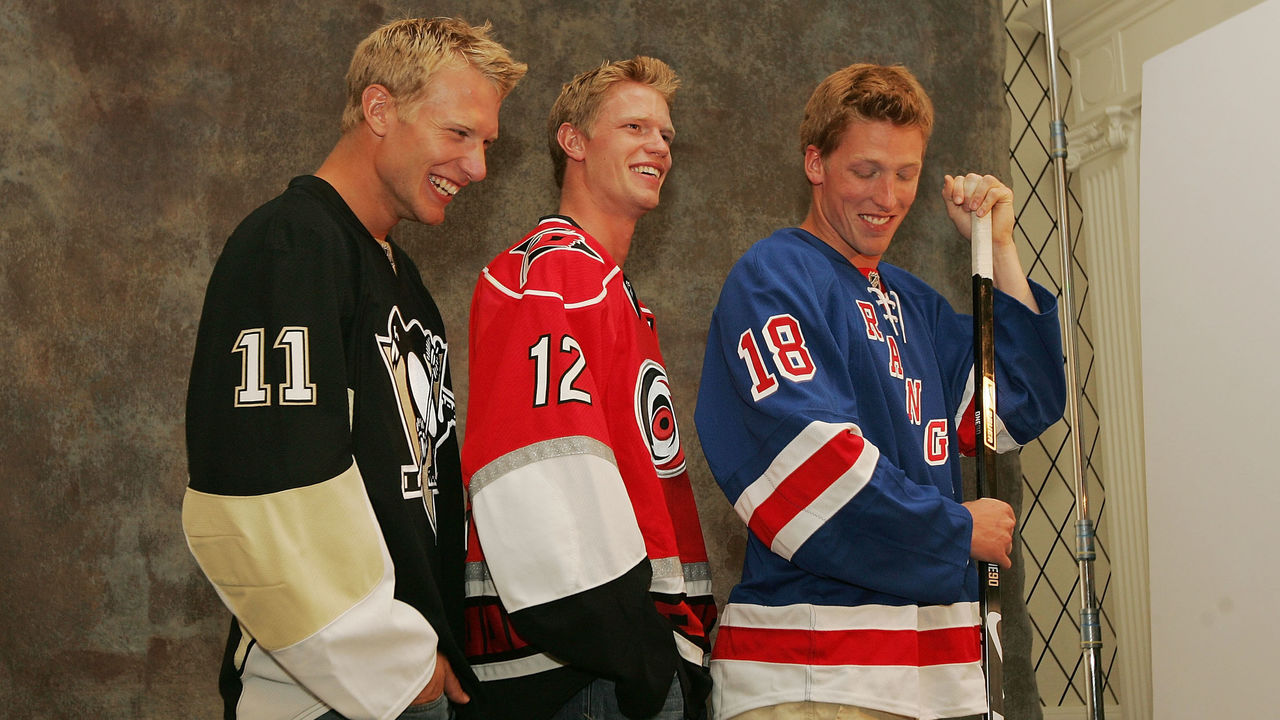 Not many players in the history of the NHL are as familiar with the tradition's highs and lows as the Staal brothers. Jordan Staal's Pittsburgh Penguins ended brother Marc and his New York Rangers' season in 2008. The next year, Jordan did the same to Eric when the Penguins swept the Carolina Hurricanes.
Trying to find the right words to say to your own blood in such a raw moment is dizzying; special, overwhelming, and bittersweet.
"Those ones are hard. But that's the first thing that pops into my mind," Jordan Staal answered when asked for his top handshake line memories.
"I love going out there and competing and working hard," he continued. "And whether you're on the right side of it or not, you show that respect after. It's one of my favorite things about the playoffs."
For the losing side, being gracious is paramount. It may be tempting to make a final statement but, the typical thinking goes, don't make it all about you. Don't be a sore loser.
Milan Lucic notoriously abandoned this guideline in 2014 when he went out of his way to bark at a pair of Montreal Canadiens, Dale Weise and Alexei Emelin, after the Boston Bruins' season ended in the second round of the playoffs. "I'm going to kill you next year," Lucic apparently said, and the controversy buzzed for days.
On the other hand, a positive interaction with a respected rival can help put a gut-wrenching moment into perspective. Might a few complimentary remarks from, say, the legendary Nick Lidstrom soften the blow of being eliminated from the playoffs?
"He was my guy, my idol - a guy that I look up to and still do," Yandle said as he recalled the Phoenix Coyotes' first-round loss to Lidstrom's Detroit Red Wings in 2010. "I remember getting that handshake, that half-hug - the bro hug or whatever you call it - and it was pretty special."
As in everyday life, waiting can be agonizing. The interval between the final buzzer and the formation of the line can drag on for the defeated team, especially since the ecstasy is palpable but not accessible. You might undo your helmet strap, lean on your stick, stare into the abyss, shed a few tears.
"You're real disappointed, but the wait is almost the worst part," Brouwer said, describing watching the San Jose Sharks celebrate making the final at the Blues' expense in 2016. "You just want to get off the ice and go share those moments with your teammates. It's always tough."
By all accounts, dialogue in the line is mostly generic: Good series. Nice job. Best of luck moving forward. You played great. There might be an extra word or two for the goaltenders since they often have a strong effect on the outcome of a series, but overall, it's not a Shakespeare play.
"Hockey players don't know exactly what to say when it comes to that kind of stuff," Brown explained. "But you know the intention, and that's all that matters."
John Matisz is theScore's National Hockey Writer. You can find him on Twitter @matiszjohn.
Comments
✕
'Two completely different emotions': A guide to the playoff handshake line
  Got something to say? Leave a comment below!