Draft really starts with Kings, and 3 other takeaways from NHL combine
Bill Wippert / Getty Images
BUFFALO - All 31 teams and more than 100 draft-eligible players descended upon Western New York this past week for the 2019 NHL Scouting Combine, which includes face-to-face interviews and off-ice testing.
Spencer Knight, a blue-chip goaltending prospect, stole the show during Saturday's fitness gauntlet inside the Harborcenter facility, collecting top-10 scores in eight of 18 testing categories. He notably finished atop the class in the FMS Score category, which measures functional movement.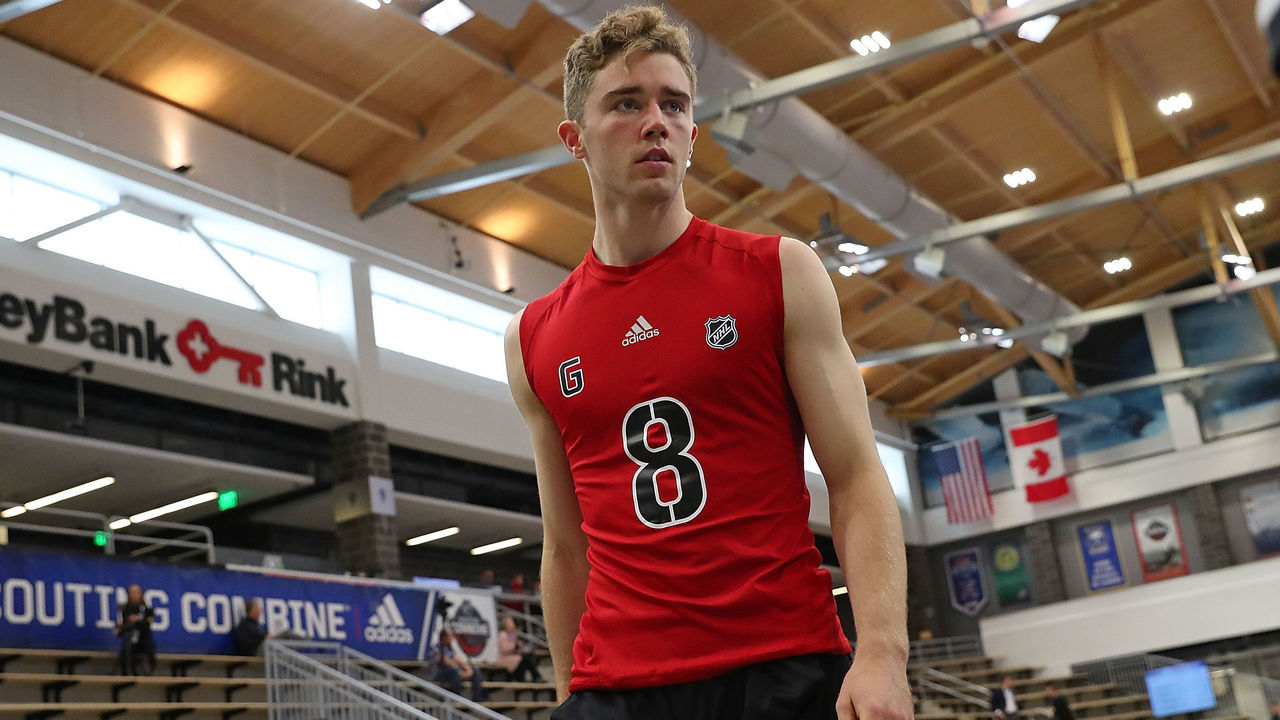 But while the combine is largely geared toward helping teams make decisions, it's also an opportunity for us to identify the odd trend and learn a thing or two ahead of the draft, which will take place June 21-22 in Vancouver.
Here are four takeaways from Saturday's festivities:
All eyes on the Kings
Every spring, as the draft approaches, the hockey world just can't help itself.
When will the intrigue really begin in Round 1? Is it the first selection? The second? At which point will we be on the edge of our seats, anticipating the announcement of a particular pick?!
At events like the combine, that noise is amplified and consensus gains momentum. And this week, the fifth overall selection - which is owned by the Los Angeles Kings - commanded the most attention. Why? Well, it's believed that pick is when the draft will become must-see TV.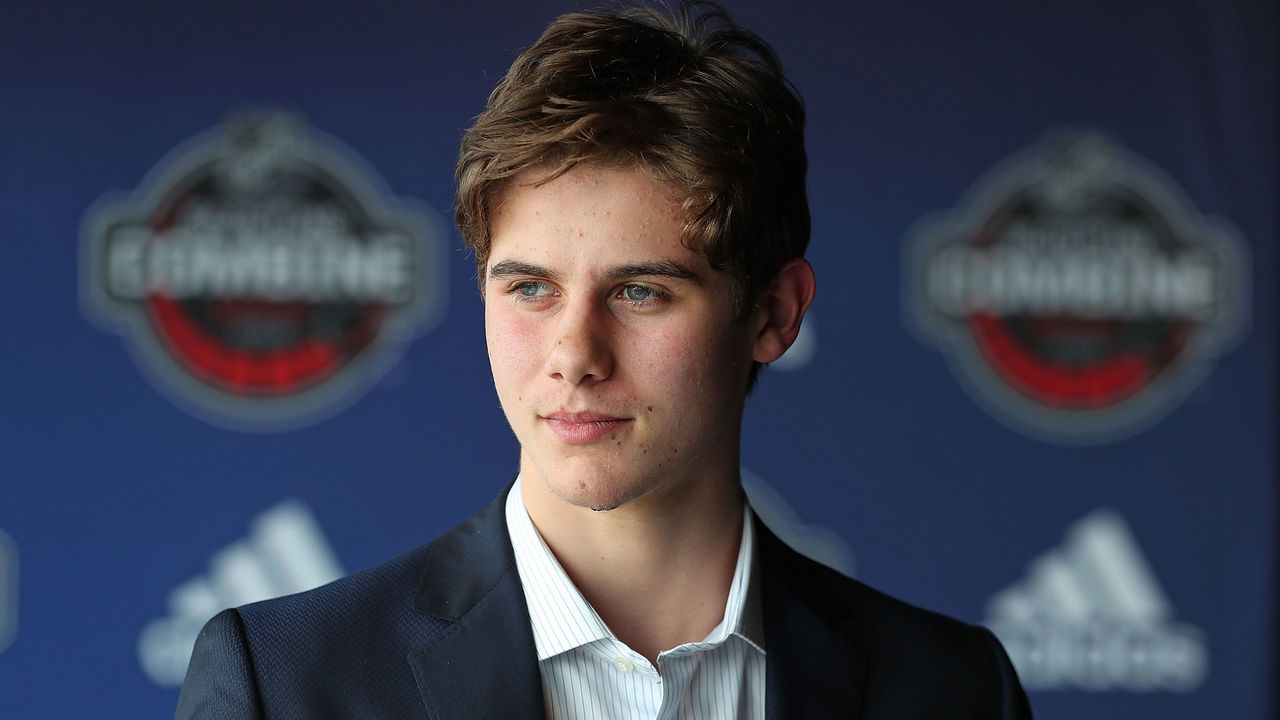 The way it stands now, the New Jersey Devils will almost certainly use the first selection on American sensation Jack Hughes. The New York Rangers, picking second, won't think twice about choosing Kaapo Kakko, who's being hailed as the Finnish Auston Matthews. At No. 3, the prevailing sense is that the Chicago Blackhawks will go one of two ways - Bowen Byram, the dynamic Vancouver Giants defenseman, or Alex Turcotte, a two-way center from the U.S. National Team Development Program. Then, the Colorado Avalanche will most likely fall into line and select whomever Chicago passed on.
From there, relative certainty will go out the window, as Kings GM Rob Blake will have a helluva decision to make at No. 5.
There's a traffic jam of worthy players - many believe seven or eight - creating an unpredictable second wave of draftees. It could be Dylan Cozens, or Vasili Podkolzin, or Kirby Dach, or Cole Caufield, or Trevor Zegras, or Peyton Krebs … the list of possibilities is long, and each selection will heavily influence the next.
Expect chaos on June 21 once the first four players are off the board.
Long journeys
Speaking of Cozens, he and fellow projected first-rounder Alex Newhook share something heading into the draft. Both hail from remote areas of Canada, and both went to great lengths to find elite-level hockey at an early age.
Cozens grew up in Whitehorse, Yukon, skating mainly on outdoor rinks against uneven competition in makeshift leagues before moving to the Vancouver area as a young teenager.
In terms of leaving Yukon, the tipping point came when Cozens, who was only 5-foot-8 and 12 years old at the time, broke his leg during a game against men in what he described as a beer league.
"We're like, 'This isn't real hockey. We've got to get out of here,'" Cozens said Saturday, recalling a conversation with his parents. "'I want to play in the NHL and it's not going to happen if we stay up here for much longer, so I've got to get out.'"
So, Cozens moved at age 14 to suit up for Delta Hockey Academy. Leaving his family and territory behind was a difficult decision, but was "what I needed to do to chase my dreams," he said.
Now 18 and fresh off an 84-point season as a member of the Western Hockey League's Lethbridge Hurricanes, Cozens is primed to become not only the first Canadian drafted in 2019, but also just the third Yukon-born draftee ever. Peter Sturgeon, who dressed for six career NHL games, went 36th overall to the Boston Bruins in 1974.
"It always seemed far away," Cozens said of the NHL. "It just seemed like a dream, not a reality, to be honest. I always wanted to make it come true and be that guy who came from a remote place and had a cool story."
"Lots of people don't know what it's like up there," he added with a smile when asked to name the biggest misconception about Yukon. "They think it's some little community with igloos and stuff, but it's just a normal place, a normal little town. We've got working electricity, houses, wifi."
As for Newhook, his pre-draft journey has taken him from coast to coast - all the way from St. John's, Newfoundland, to the Greater Toronto Area (York Simcoe Express minor hockey and St. Andrew's College prep school), to British Columbia (Victoria Grizzlies junior hockey).
And starting this fall, he's relocating once again, shipping off to Massachusetts to play for Boston College.
"'Tell us your story.' ... It's a pretty common question," Newhook said of his interviews with NHL teams. "I've been on a pretty cool journey so far."
These super athletes are human
The combine is a whirlwind event.
Teenagers from all over the world travel to Buffalo, and over the course of a few days, every single one of them stands in front of representatives from NHL teams to plead their case, interview-style. Then, on the Saturday, they power through rigorous fitness tests before meeting with the media. Later that day, it's all over. They fly out to resume their life ahead of the draft.
Leaving Buffalo in one piece is impressive, yet the combine always emphasizes a truth about this whole draft process - these teenagers are, well, just teenagers. They're not immune to growing pains, no matter how silly or serious the challenges may be.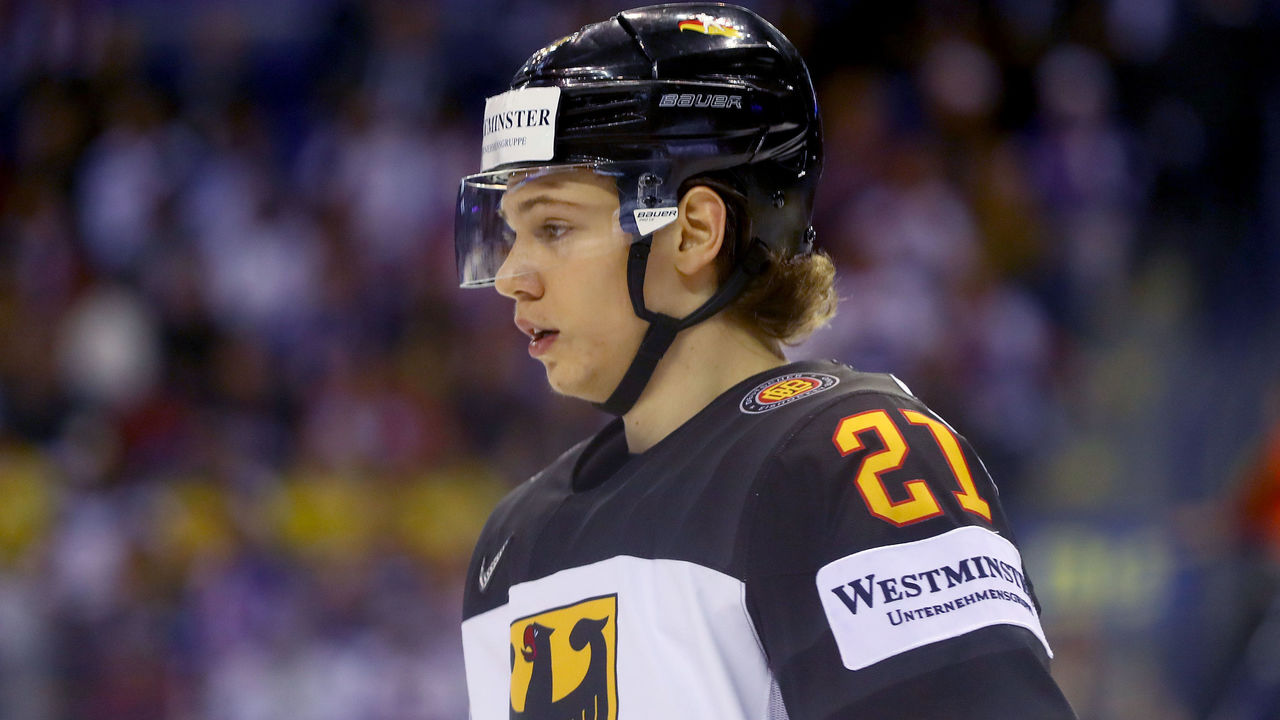 For instance, Moritz Seider, a highly touted defenseman who fancies himself a fashionable guy, shared a fun story about a packing snafu. Back home in Germany, the 18-year-old wondered whether he should bring dress clothes for the interview portion of the combine, but ultimately packed only casual wear.
But since every other prospect was dressed to the nines, it ended up being a decision that followed Seider everywhere he went in Buffalo, and one that became a fun, slightly awkward conversation piece with NHL executives and scouts. Seider, who met with all 31 teams, rocked a business-casual look with sneakers in his interviews. "I'm famous for that, maybe," the 6-foot-4, 207-pound blue-liner said with a grin, eliciting laughs from a small group of reporters.
A few hours earlier, Egor Afanasyev of the USHL's Muskegon Lumberjacks settled into a chair in the media section and fielded questions about his journey to the NHL draft. He was rather chatty after posting a combine-best score of 62 in the dreaded VO2 max test.
It turns out the native of Tver, Russia, knew very little English when he and his mother first arrived in the United States three years ago for private school and junior hockey. He was an outsider who struggled to fit in. "First three months, I kind of hated it," said Afanasyev, who comes from a Russian military family. "I wanted to communicate, talk to guys like we were friends, but I just couldn't."
Imagine that. Barely a teenager, you move across the world for all the right reasons, but can't muster anything resembling a proper conversation for a few months. With the benefit of hindsight, though, Afanasyev shakes it off, saying the situation was a necessary sacrifice. Kids these days.
Psychologist runs the show for Habs
Trevor Timmins always offers a unique perspective from Buffalo. Every year at the combine, the Montreal Canadiens assistant general manager will hold court with the media, shining a light on the organization's draft prep.
Here are a few things Timmins shared Saturday, which help paint a picture of what happens behind closed doors during these one-on-many player interviews:
While many Habs scouts and executives, including GM Marc Bergevin, participate in player interviews, it's a sports psychologist who leads the conversation.

The psychologist is meant to provide a "non-biased approach" to the process, having not scouted or spoken to the players beforehand. They are also equipped with results from personality tests sent out by the Habs throughout the year.

The psychologist will base some of the questions posed to players off individual green flags (good) and red flags (bad), which are extrapolated from the personality tests.

This year, the Habs chatted with a total of 85 players, trying their best to identify "growth potential" in the kids staring back at them. And since they hold the 15th pick in the first round and don't see a realistic scenario of moving into the top 10, the Canadiens felt no need to interview a guy like Jack Hughes, the cream of the crop.

According to forward prospect John Farinacci of Dexter prep school in Massachusetts, the Montreal group was unafraid to ask out-of-the-box questions. He told NHL.com that one revolved around a snake: "There's a 50/50 chance of a 20-foot python who hasn't eaten in five months is in the hallway. There's five of us in this room. Which one's going out there?"
The green flag/red flag approach is incorporated into the evaluation of fitness testing, too, Timmins said. For example, if a player does well in the long jump, he'll earn a green flag because the Habs have found that particular test correlates with quick feet on the ice.
"The data is interpreted by our sports science department, and we look at their feedback to see if it supports what we've identified on the ice and what we have evaluated in each of these prospects," Timmins said of the entire process.
The more you know.
John Matisz is theScore's National Hockey Writer.
Comments
✕
Draft really starts with Kings, and 3 other takeaways from NHL combine
  Got something to say? Leave a comment below!