Split up and briefly reunited, Bruins' top line finally busts out vs. Leafs
Mark Blinch / National Hockey League / Getty Images
No moment emphasized the magnitude of Game 4 in Toronto on Wednesday night quite like the point when, a few minutes in, a TV camera panned high above the ice and settled on Drake. The local rapper deigned to support his hometown Maple Leafs in person - despite not appearing courtside, as is his custom, at either of his beloved Raptors' first home playoff games.
Facing the prospect of a 3-1 series deficit, the importance of the occasion moved Boston Bruins coach Bruce Cassidy to make a drastic change. Move David Pastrnak down a rung in the lineup, his thinking went, and maybe each member of hockey's most dangerous line could shake his respective quiet start to the series.
In a sense, Cassidy's gambit worked beautifully. The Bruins won an enthralling 6-4 showdown with Pastrnak, Brad Marchand, and Patrice Bergeron playing but two shifts together at even-strength.
Still, Boston now has a curious decision to make as the series returns to TD Garden for Game 5. Cassidy could let this result speak for itself and leave Danton Heinen in Pastrnak's usual spot on Bergeron's right wing. Or he could reunite his No. 1 line in accordance with another argument: that the fleeting sequences in which the Bruins' stars skated together are what powered Boston to victory on a night the opponent dominated the run of play.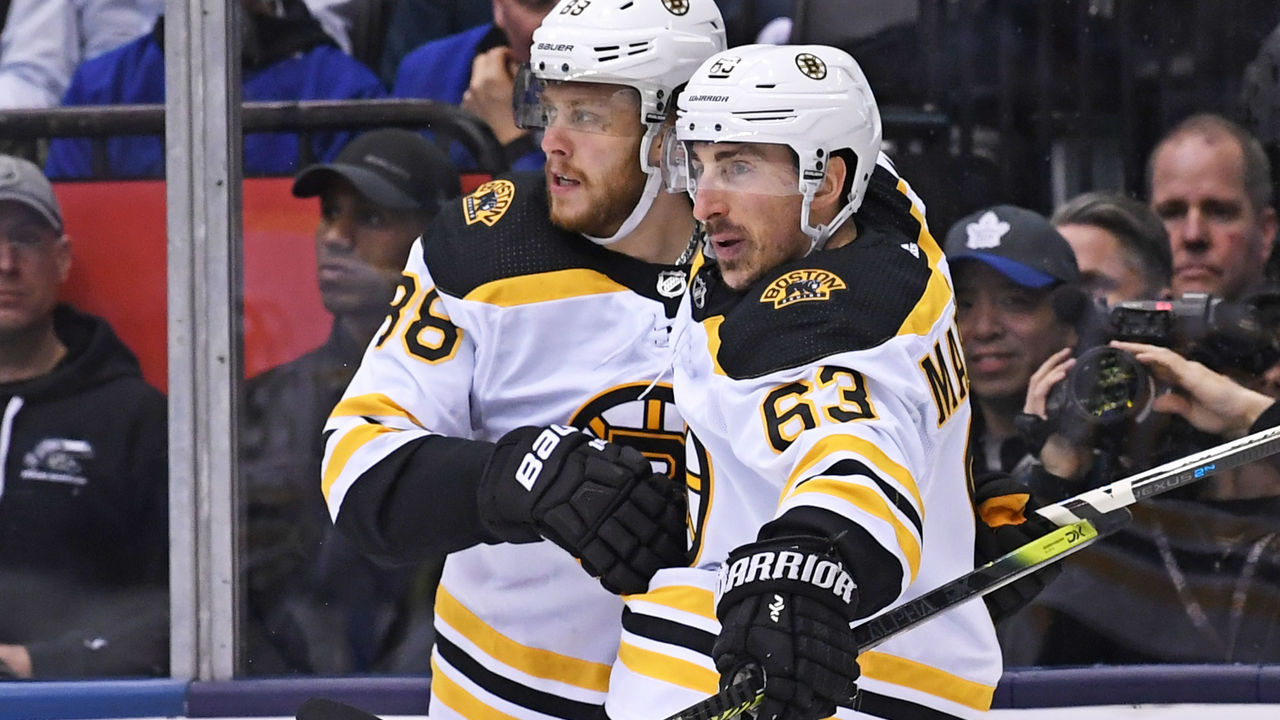 Three minutes into the second period, shortly after Auston Matthews scored to erase Boston's early lead, Cassidy deployed Pastrnak with Marchand and Bergeron on a faceoff for the first time at even strength. The shift culminated in Pastrnak tipping home his first goal of the playoffs on a slick feed from Marchand, whom Bergeron had sprung on a two-on-one with a timely chip out of the defensive zone.
Fewer than two minutes later, with Matthews banished to the box for a roughing penalty, Pastrnak slipped unabated into the slot - all four Leaf defenders were caught puck-watching on one side of the ice - and fired a one-timer past Frederik Andersen on another pretty Marchand pass.
"(Pastrnak is) a guy we rely on to score and create offense," Cassidy said after the game. "Scorers, when they don't score, can get antsy. I'm not saying David was there, but we wanted to keep him from going there."
The Bruins nearly unraveled in the frantic last 10 minutes of the third period - the seemingly inevitable product of allowing 47 Toronto scoring chances to their 26 - but those flashes of synchronized brilliance were almost enough on their own to put Boston ahead for good.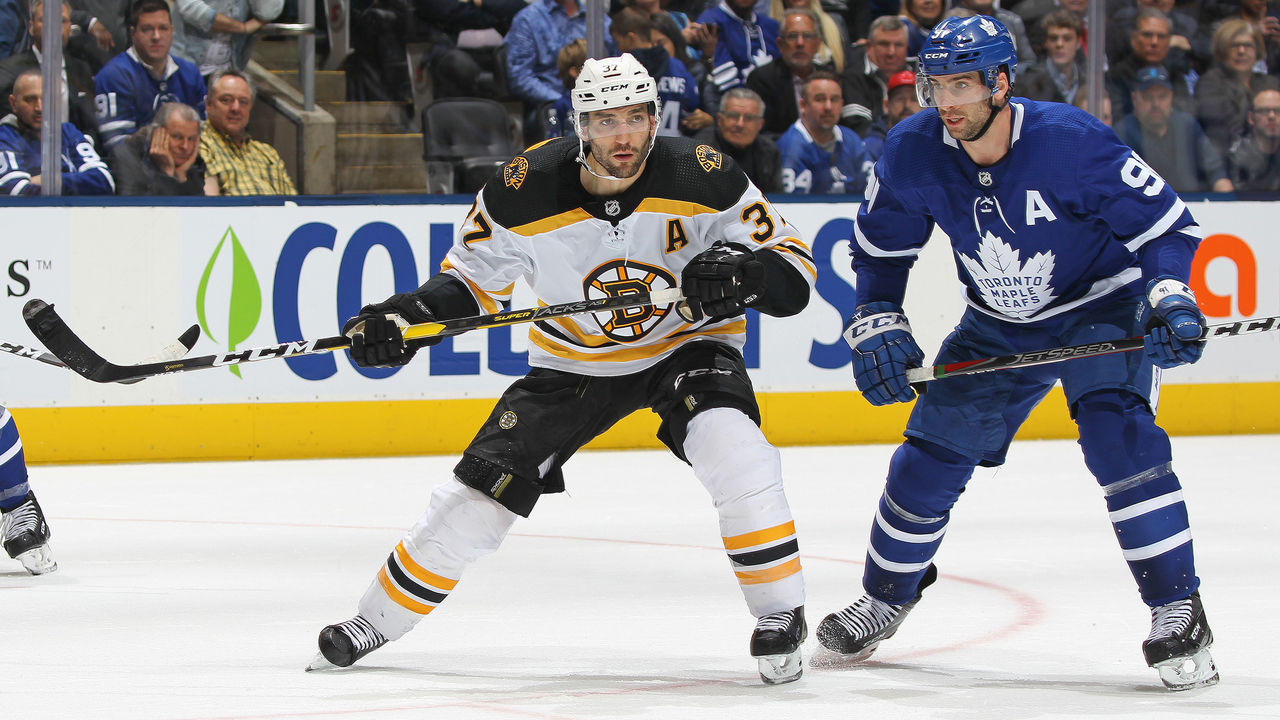 And even though Zdeno Chara's clinching goal officially went down without an assist, it, too, was keyed by contributions from the big guns. Marchand lifted Zach Hyman's stick on an end-around to let the puck slide to Chara at the point, and Bergeron blocked Andersen's view of the ensuing shot with a textbook screen.
After getting slammed at even-strength in Boston's losses in Games 1 and 3, Chara and defense partner Charlie McAvoy joined Bergeron, Marchand, and Heinen as the only Bruins to generate a scoring-chance margin at or above 50 percent. Together they outshone Toronto's top five-man unit of John Tavares, Mitch Marner, Hyman, Jake Muzzin, and Nikita Zaitsev - the source of the Bergeron line's shared headache in the matchups that preceded Wednesday's puck drop.
For the Bruins, the dispiriting subtext of this information is that, to a man, each of their other lines and pairings got caved in. Morgan Rielly excelled in extended action against Boston's new second line of Pastrnak, David Krejci, and Jake DeBrusk. Toronto's third forward trio was overwhelmingly good, though none of William Nylander, Patrick Marleau, and Connor Brown found the back of the net.
"We did a lot of good things tonight. We generated a lot of chances, got a lot of pucks to the net," Tavares said postgame. "We just probably made too many mistakes at certain points in the game."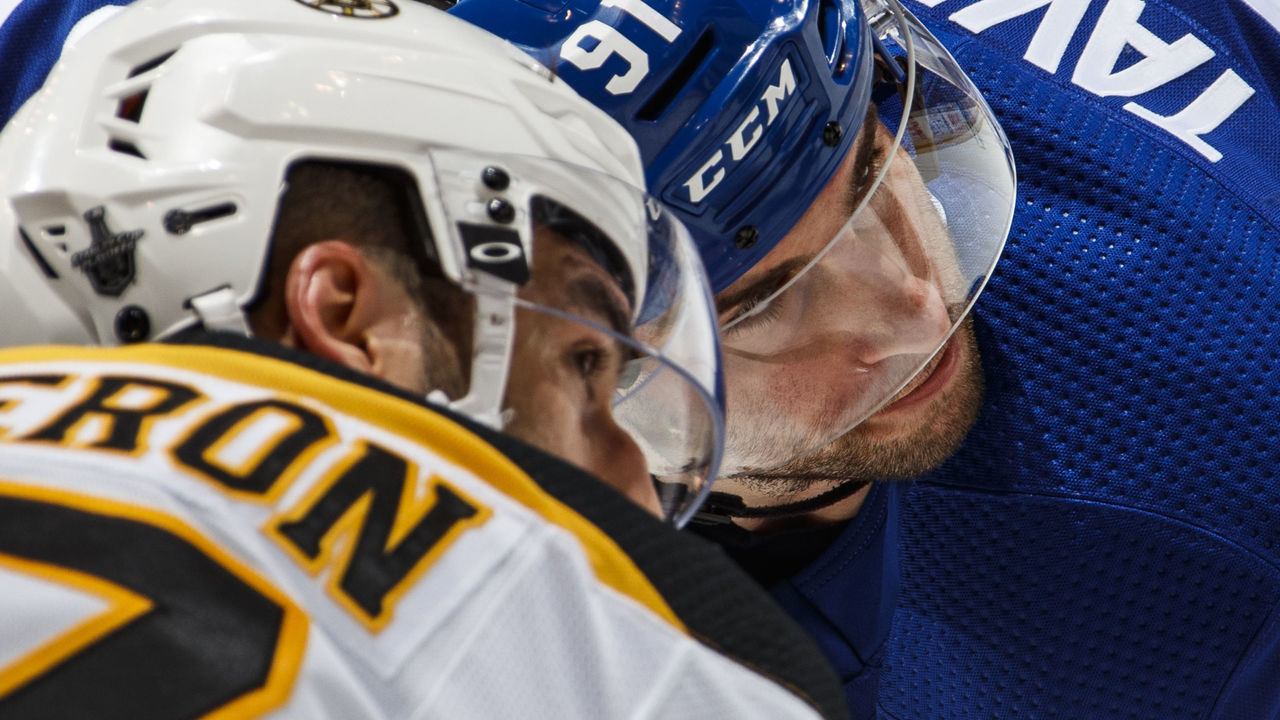 Beyond the play of Pastrnak and his usual running mates, the Bruins will head home buoyed by a couple of other encouraging trends. Their power-play clicked at 25.9 percent - the third-highest rate in the league - during the regular season; Pastrnak's second goal in Game 4, combined with McAvoy's first of the series, upped Boston's first-round success rate with the man advantage to a sparkling 5-for-11. Toronto's power play is 3-for-10 overall.
Tuukka Rask, meanwhile, should have saved the Matthews wrister that tied the score 2-2, but he made some other crucial stops, including a point-blank denial when Brown found himself alone at the side of the crease with Toronto down 4-2 in the second period. Rask now has a .942 save percentage at even strength for the series, just below Andersen's .943.
The slimness of the margin separating these goalies and their teams, combined with the scarcity of time to make adjustments in the playoffs, is what prompted Cassidy to split up his scuffling stars. Whether Pastrnak returns to the first line on Friday or not, it's clear that Game 5 will loom just as large as the spectacle that attracted Drake.
"I think when we're able to separate those guys a little bit, you're able to see more opportunities for them, and overall, I think they can just play with anyone," McAvoy said. "They're great players. They can adapt to whoever is on their wings.
"And we need them. We need them. It was nice to see them all play a hand - a big hand - in tonight's game."
— With files from theScore's John Matisz
Nick Faris is a features writer at theScore. He's on Twitter @nickmfaris.
Comments
✕
Split up and briefly reunited, Bruins' top line finally busts out vs. Leafs
  Got something to say? Leave a comment below!