How the Blue Jackets upset the juggernaut Lightning in Game 1
Mark LoMoglio / Getty Images
"So, you're telling me there's a chance!? Yeah!!"
Don't be surprised if that classic "Dumb and Dumber" soundbite becomes the Columbus Blue Jackets' rallying cry following their dramatic, come-from-behind 4-3 victory in Game 1 against the mighty Tampa Bay Lightning.
The upset stopped everybody in their tracks during an action-packed opening night of the Stanley Cup Playoffs. It turns out the Lightning, a historically great squad, is not perfect. Sure, they may end up running the table in Games 2-5, but at least this series has life.
With that in mind, let's take a look at what factored into the Jackets erasing a three-goal deficit - and then scoring a fourth goal - to beat the 62-win Lightning on Wednesday.
Bob's your difference
Sergei Bobrovsky played out of his mind in the second and third periods, turning aside all 16 shots he faced after allowing three goals on 13 shots in the first.
His brilliance was especially key in the middle frame, as he kept the Blue Jackets in the game before their offensive explosion in the third. Here's a sampling of the two-time Vezina Trophy winner's work.
A lunging pad save on Nikita Kucherov 30 seconds into the period:
A nifty glove stop on Mathieu Joseph 13 minutes later:
Consecutive point-blank pad saves with 40 seconds left in the period:
That's some fine work from Bobrovsky, a brand-name netminder who enjoyed a tremendous end to the regular season but came into Wednesday's contest with a career playoff save percentage of just .891.
It's safe to say his confidence will be high heading into Game 2 on Friday night.
Kucherov (relatively) quiet
The Lightning's forward group isn't just incredibly dangerous; it's relentless, too, as all four lines contain offensive punch.
Kucherov, the regular season's scoring champ and presumptive MVP, presents both of those qualities most nights. So, if you intend on stopping Tampa, you better put a muzzle on its top dog. Or at least try your hardest to limit his impact.
Columbus accomplished that feat in Game 1, holding Kucherov to two shots on goal in 22 minutes. Linemates Brayden Point and Yanni Gourde, two creative and energetic players in their own right, combined for just five shots.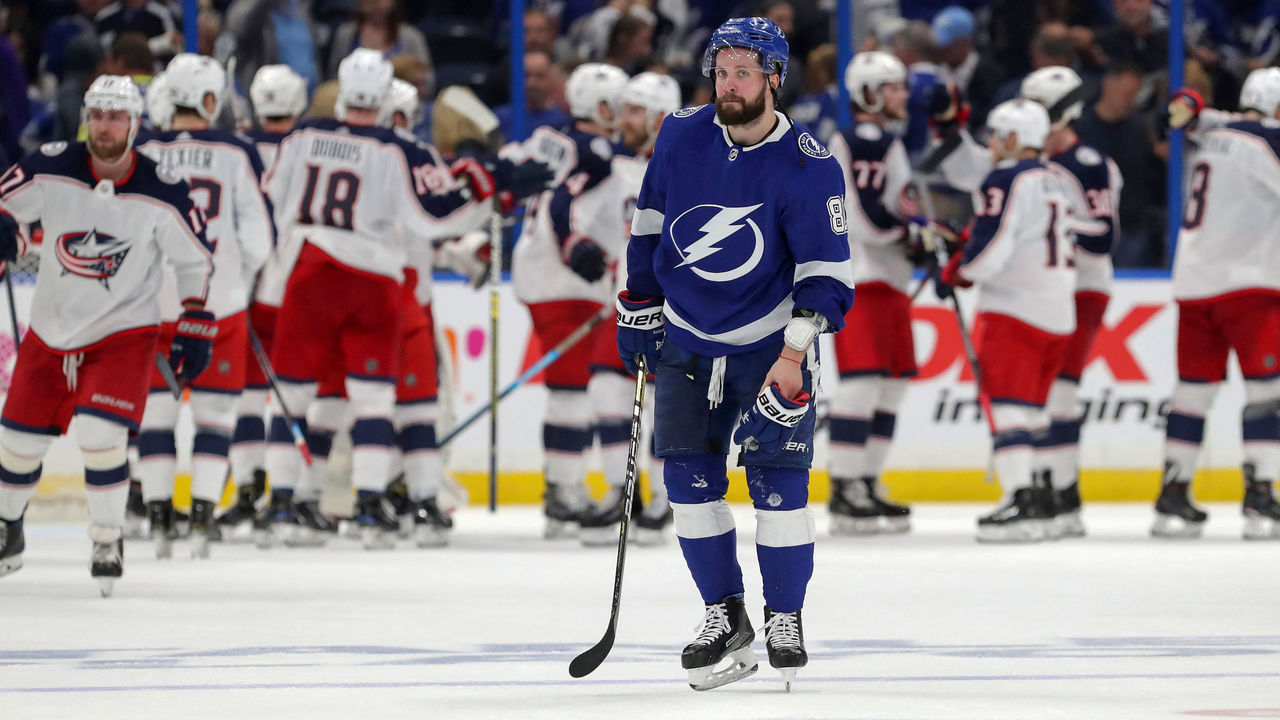 Overall, the Lightning lost the shots battle 11-8 when Kucherov was on the ice at five-on-five - a rarity for the player and his line. With coach Jon Cooper holding the last change, Tampa's top trio faced a mixture of the David Savard-Markus Nutivaara pairing (eight minutes) and the Seth Jones-Zach Werenski duo (four and a half). Both Columbus tandems deserve a pat on the back.
Meanwhile, Steven Stamkos was another Tampa star who failed to mark the score sheet. The Lightning, almost to a man, were too cute with the puck in Game 1. It's an understandable symptom of dominating the competition for months, and not something that's unfixable.
PP wakes up
This series pits the NHL's best penalty-killing teams against each other. Power play success, on the other hand, is not shared.
Tampa converted on 28.2 percent of its power-play opportunities in the regular season, finishing first in the league. Columbus, at 15.4 percent, ranked a woeful 28th.
It's been a puzzling and frustrating reality for the Jackets. Why can't this boatload of talent - Matt Duchene, Artemi Panarin, Cam Atkinson, Jones, and Werenski, just to name a handful - capitalize with the man advantage?
Well, on Wednesday, the talent came through at the perfect moment. After some deft puck movement inside Tampa's zone, Jones buried a shot from the high slot with about six minutes left to take the lead.
With that, the Lightning, who won 39 of 43 games when leading after two periods in the regular season, fell to the Jackets, who won only two of 26 games when trailing after two. Incredible.
In the playoffs, there's always a chance.
John Matisz is theScore's National Hockey Writer. You can find him on Twitter @matiszjohn.
Comments
✕
How the Blue Jackets upset the juggernaut Lightning in Game 1
  Got something to say? Leave a comment below!