TORONTO - Around the halfway point of Game 6 on Easter Sunday, Boston Bruins head coach Bruce Cassidy looked up at the scoreboard hanging over the red line at Scotiabank Arena.
A giant eight - denoting the Maple Leafs' shot count - stared back.
The single digit confirmed to Cassidy what his eyes were leading him to believe: The Bruins were in complete control and it would be the series-leading Leafs - not the team facing elimination - needing to rediscover their offense in a hurry.
"When they get their shot attempts, their shots on net, they're really humming," Cassidy said of the Leafs, relaying his mid-game thought process. "So I thought, 'Listen, we're on our way now.'"
The Bruins, up 3-1 then, finished off the second period strong, withstanding a push from the Leafs in the third to earn a 4-2 victory. The teams have alternated wins through six games to send the first-round series back to Boston for a Tuesday night finale.
"Let's put on our surprise face. Game 7, TD Garden, Boston and Toronto," Cassidy quipped to wrap up his postgame press conference.
Then he rubbed his hands together and clapped. Cassidy is pumped, but Toronto - the city and the team - is decidedly not.
Despite opening the scoring on Sunday, the Leafs again whiffed on their attempt to advance to the second round. The last time the Original Six franchise won a series, back in 2004, Pat Quinn was behind the bench. Up next for the current coach: Slaying those ugly Game 7 demons.
"We started really well, we played really well and then, boom," Mike Babcock said. "Once they scored, we didn't recover very good. We talked about it and prepared for it, but it didn't happen."
A sleepy stretch against a talented Bruins team that doesn't back down from a challenge wasted exceptional showings from goalie Frederik Andersen (37 saves) and blue-liner Morgan Rielly (one goal, six shots).
For the Bruins, five players - Torey Krug and Brandon Carlo on the back end, Jake DeBrusk and Brad Marchand up front, and Tuukka Rask between the pipes - registered notable performances, and the team limited Toronto's potent attack.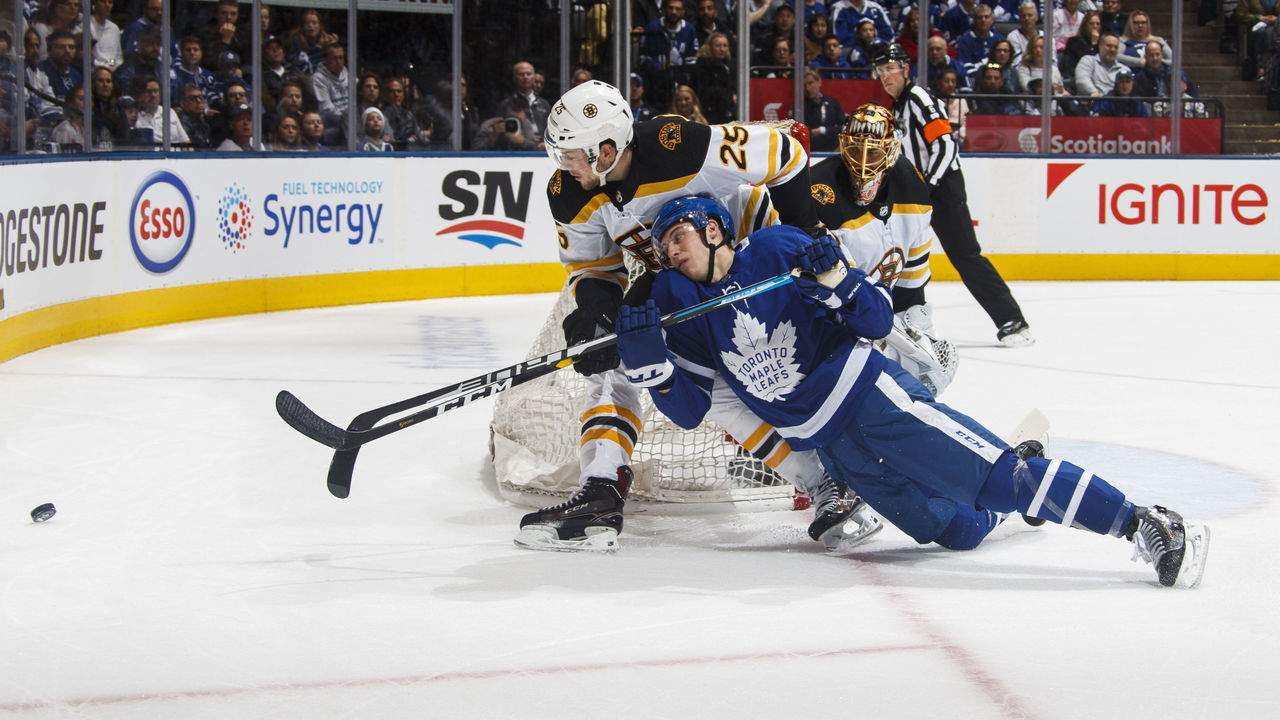 In Game 6, the Leafs generated just 54 shot attempts, 24 shots on goal, and 26 scoring chances. In the five games prior, they averaged 62 attempts, 33 shots, and 32 chances per game, according to NaturalStatTrick.com. Keep in mind, those early-series numbers were deflated by a low-event Game 5.
The Leafs couldn't find much space to operate for large chunks of a crucial game.
"I think today we did a really good job containing those stretch passes that were getting behind us (earlier in the series)," said Carlo, who skated for nearly 24 minutes. "The D had good gaps, forwards were great on the forecheck, and we didn't really allow them to get behind us too much."
"When you don't let them get into the offensive zone too much it silences the crowd and the team," he added.
On the other side of the puck, the Bruins' power play continued to soar. Ranked third in the regular season, the unit hasn't missed a beat through six playoff games, scoring at least once in every contest but Game 5. Overall, Boston has capitalized on seven of 16 power-play opportunities in the series.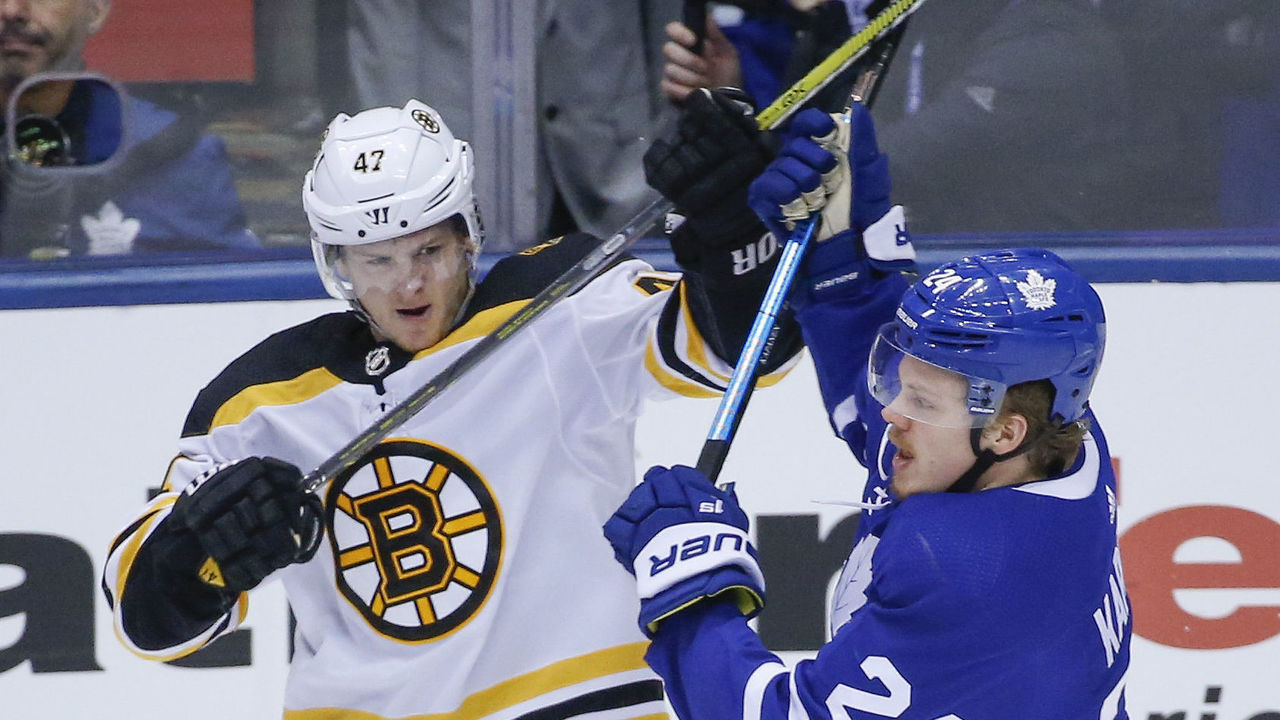 On Sunday, as Toronto adjusted its penalty kill to collapse in front of Andersen, Marchand scored off a Patrice Bergeron faceoff win to make it 1-1. Six minutes later, Krug pounced on a blocked shot and buried a wrister.
"He really stepped up tonight, shot the puck a little more," Cassidy said of Krug, who recorded a game-high nine shots. "We talked about getting some more traffic, some more action at the net, and I thought we did a good job with that. He sort of set the precedent."
There's a precedent for Game 7, too, after the Leafs lost the deciding game of Round 1 last year, and in 2013 at TD Garden. So, who has the mental edge after Game 6 this time around?
"I don't know," Krug said. "I mean, it's Game 7, anything can happen. That's a question you'll have to ask over there, in their locker room."
Over to you, Leafs.
John Matisz is theScore's National Hockey Writer. You can find him on Twitter @matiszjohn or shoot him a note at john.matisz@thescore.com.