Everyone's got a story about Joe Thornton, who may be chasing Cup for last time
(Warning: Story contains coarse language)
It was late February in Columbus, Ohio, and the San Jose Sharks were in the middle of a seven-day road trip. As Brent Burns processed a question about the aura of Joe Thornton, his longtime teammate and close friend, a tsunami of laughter and chatter robbed his attention.
"He's always talking - I mean, listen to him, he's fucking nonstop," Burns said of Thornton, who was holding court nearby with a handful of Sharks personnel. Burns couldn't see what was going on, but it didn't really matter. "Fuck," the defenseman barked. "He's a mess. He's unreal."
Minutes earlier, hollering teammates had rushed to hug Thornton after the 6-foot-4, 220-pound center scored during a routine practice drill. The goal held no significance whatsoever, yet a group of grown men felt compelled to swarm a grey-haired guy affectionately known as "Jumbo."
"There's a lot of people who create a great culture around here, starting with our management and our coaches," Burns continued. "But he's a huge, huge part of creating that."
At that point, a familiar frame came into view, half-naked. "I mean, look at the idiot," Burns said, needling Thornton. "Look at him. He's just incredible. He's a special guy."
It's clear the admiration comes from all corners - both inside and outside the Sharks organization.
Joel Ward, a former teammate in San Jose, called Thornton "the epitome of the game, if I had to pick one person." Steven Stamkos perked up at the mention of his countryman - "He's a legend, right?" the Lightning superstar asked rhetorically. And Los Angeles Kings blue-liner Drew Doughty, who's skated against Thornton for 800 minutes during their careers, only needed one word to express his feelings: "Respect."
Now in his 21st NHL season, Thornton's time in the public eye is winding down, with his playing future uncertain beyond the Sharks' upcoming playoff run, which will begin Wednesday at home versus the Vegas Golden Knights. He'll be 40 in July and, aside from finally winning the Stanley Cup, has nothing left to prove.
But whenever Thornton does decide it's all over, the sport will dearly miss one of its greatest players - and greatest characters - ever.
'No bad days at the rink'
The legend of Joe Thornton has been marinating for 25 years.
Ever since the lanky kid from small-town St. Thomas torched Ontario's 1993-94 minor midget loop for 168 points in 67 games, he's left an unmistakable impression on everyone in his path.
When bumping into Thornton on the street, though, you wouldn't guess he's earned north of $100 million, captained two NHL franchises, and won Olympic gold among a host of other international medals. A boyish charm persists to this day, even for a seasoned veteran who recently passed Gordie Howe and Steve Yzerman in career assists and leap-frogged Stan Mikita and Teemu Selanne in career points. He's now eighth and 14th, respectively, on those all-time lists.
"I have a smile on my face every day. Because I know it can be taken away at any time," Thornton told theScore at his stall in a quiet moment after the room cleared in Columbus.
"I knew as a kid how much I enjoyed playing street hockey with my brothers, or my dad flooding the backyard to skate until 1 o'clock in the morning. I just always remember that feeling."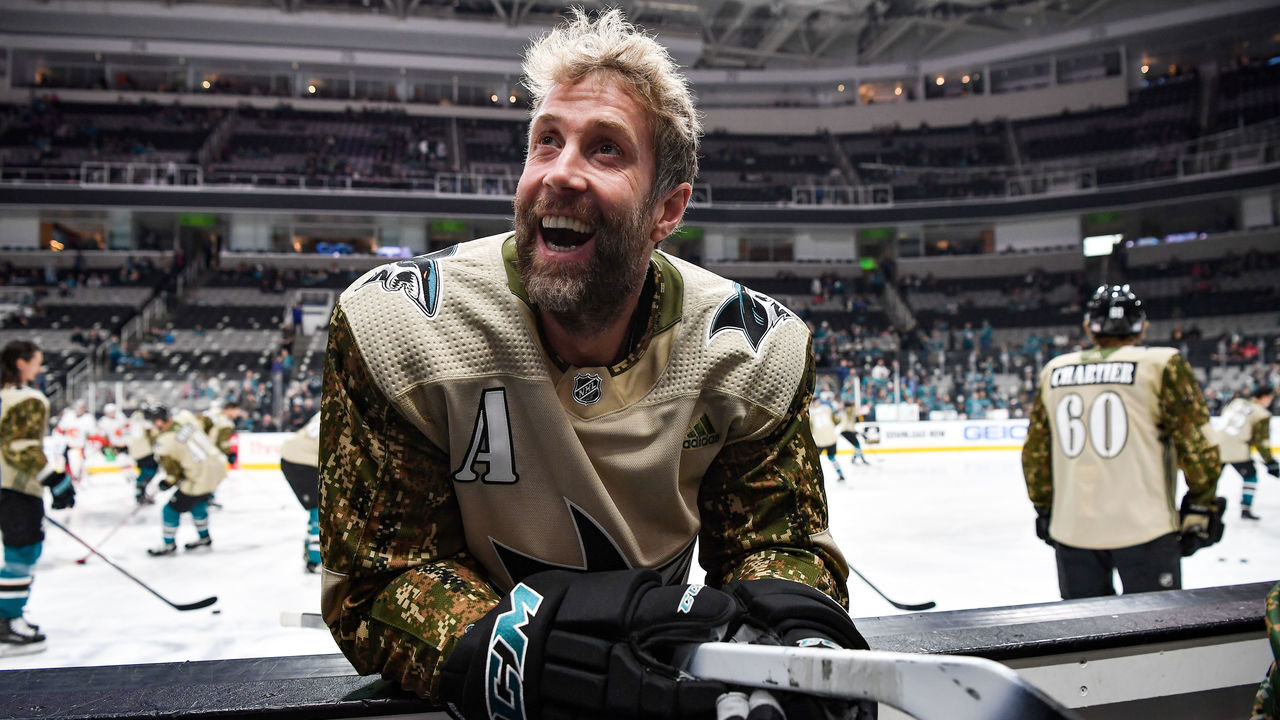 Thornton's remained unapologetically himself throughout two years of junior hockey in Sault Ste. Marie, Ontario, seven-plus NHL seasons in Boston, two lockout years in Switzerland, and 13-plus campaigns in San Jose. By all accounts, his personality is some mixture of happy-go-lucky, competitive, loyal, warm, and zany. Burns lovingly labels Thornton "a piece of work."
"I first met him in 1997 at the world juniors, and he had it then and he hasn't changed to this day," longtime Sharks general manager Doug Wilson said. "Pure, unadulterated passion and love for the game. I've been in the business for 40 years, and I've never been around anybody like that."
Even now, in the twilight of his career, amid peers nearly half his age, Thornton is still the nucleus of joy within the Sharks' dressing room. "Magnetic personality," head coach Pete DeBoer said. "You want to find him in the morning, really, because after a bad game he energizes you, always in a positive way. There's no bad days at the rink for Joe."
Nor is there any shortage of tales about Thornton's habit of turning the mundane into a carnival.
Is a Sharks trainer suddenly growing a beard or shaving his head? That was probably the result of a friendly bet with Thornton. Did a San Jose player laugh hysterically on the bench because someone screwed up the lineup card and accidentally scratched teammate Mirco Mueller? Yup, that was Thornton. How about when the team badly needed a lift following a tough loss? That's a Jumbo Joe special.
The latter is one of Burns' favorite Thornton stories. "We get cleaned out, and you can hear a pin drop on that bus (back to the team hotel). It's like a morgue," Burns said with the excitement in his voice rising. "And then you hear him go, 'Fuck, boys! What a life we got!'
"It's just fucking unbelievable."
Hal Gill, an old Bruins pal, added that Thornton would help the team bond away from the ice. "We used to always play the credit-card game at lunch," he said. "Put your cards in a hat. That was his doing.
"And he was the first one doing a whiteout - where he'd be waving his towel around in the middle of a restaurant to get all fired up."
Senators defenseman Dylan DeMelo spent the first three years of his career in San Jose. On the topic of Thornton, he got straight to the point. "Jumbo's a once-in-a-generation player," DeMelo said, "and a once-in-a-generation human being."
Team Canada teammates Claude Giroux and Ryan O'Reilly both said Thornton is hilarious in the room and on the ice, but stopped short of revealing any specific details.
"Getting a chance to play on a line with him, it's the little comments he makes during a game," O'Reilly said. "He's still going out there and playing intense, but he's also keeping it loose."
Thornton's antics have been even more of a hoot in the social-media era. Everybody chuckled when he and Burns posed naked for ESPN Magazine in 2017. Ditto for Thornton's R-rated insinuation ("I'd have my cock out, stroking it") following a four-goal performance from teammate Tomas Hertl in 2013. And there was the classic lawn mower photo from two summers ago, in which Thornton beamed with a gigantic beard while signing a contract extension in flip flops.
"I don't think there's anybody like him," Burns said. "Look, everybody works hard. I know that. It's just that he doesn't have an off switch. His pain threshold is insane, his work ethic is insane, his talent level is insane. The energy that he creates is so high.
"You want to be around him all the time."
When asked how he's able to maintain such a sunny disposition - shift after shift, game after game, season after season, summer after summer - Thornton shrugged. "It's a grind," he said of the NHL's peaks and valleys. "We've got to enjoy the grind together."
'Wow, did you see that play?'
On March 18, with two Sharks streaking toward the Golden Knights' crease, Thornton slung a no-look shot from the high slot with his head turned to the left. The puck swooped under goaltender Malcolm Subban's glove, nicked the post, and then bounced past the goal line.
It was the 16th and final regular-season goal for No. 19 in teal this season - and the 413th of his NHL career.
The unexpected snap shot from just inside the blue line was prototypical Secret Sniper Thornton. He's always been a picky shooter - processing the game through a less-is-more lens - while saving that hard, accurate shot for the right moments.
While the gaudy career assists count (1,065) is his statistical calling card, Thornton certainly wouldn't have all those goals without a trick or two up his sleeve. Sneakily, he's one of only 11 NHL players with at least 400 tallies and 1,000 assists.
"If you cheat (for the pass), you're going to give him an easy goal," Ducks goalie John Gibson said. "You definitely respect his playmaking; it's in the back of your mind, but you do what you can. ... He can shoot it or make a great pass."
NHL points leaders since Jan. 1, 2000
| PLAYER | GP | G | A | PTS |
| --- | --- | --- | --- | --- |
| Joe Thornton | 1393 | 385 | 1013 | 1398 |
| Sidney Crosby | 943 | 446 | 770 | 1216 |
| Alex Ovechkin | 1084 | 658 | 553 | 1211 |
| Jarome Iginla | 1285 | 556 | 592 | 1148 |
| Marian Hossa | 1206 | 497 | 583 | 1080 |
Since his early days, Thornton's playing style has been the result of elite vision, a special feel for the game, an enviable wingspan, a healthy dose of dad-strength, and a rare ability to alter the pace of any matchup.
When added together, those traits allow Thornton to play with equal parts grace, finesse, and power.
"I could talk about him for hours," Jets captain Blake Wheeler said. "I just love watching him play, and to be on the same ice with a guy like that, and to see some of the things he's able to do, you come back to the bench and say, 'Wow, did you see that play?'"
"At the end of the day, hockey sense trumps speed," Wheeler added. "The guys that are able to think the game at a very high level are going to be the best players. In terms of hockey IQ, he's up there with the best there ever was."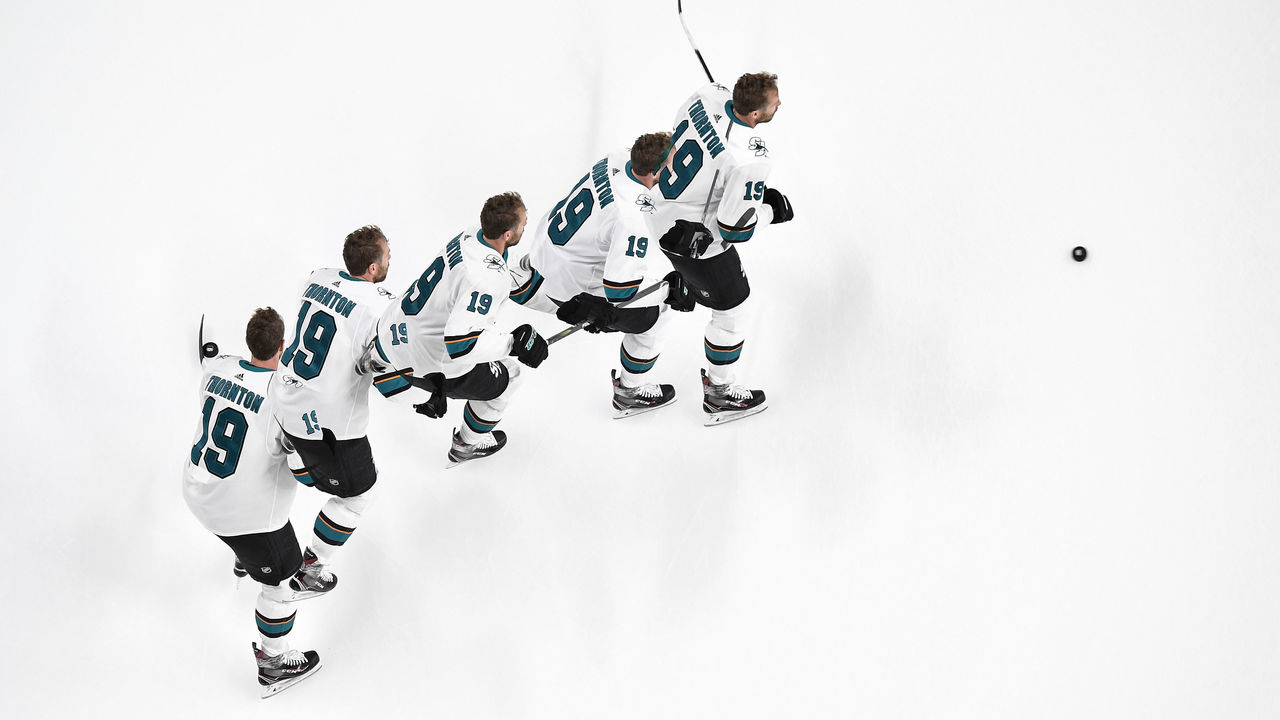 Overall, an incredible 63 total goal-scorers have been on the receiving end of Thornton's offensive wizardry in San Jose. The list stretches from Rob Blake, who's now 49 years old and GM of the Los Angeles Kings, to current 22-year-old teammate Timo Meier.
"His fingerprints," Wilson said, "are all over this organization."
Remember Devin Setoguchi? He recorded a career-high 31 goals in 2008-09 while playing with Thornton. How about Jonathan Cheechoo, who somehow bagged 56 in 2005-06 to win the Rocket Richard Trophy. Even bona fide stars such as Dany Heatley, Patrick Marleau, and Joe Pavelski can attest to the Thornton effect, owing chunks of their respective successes to the all-time great distributor. The same goes for Glen Murray, Thornton's top running mate back in Boston. "You find a spot, put your stick where it's supposed to be, ready for the pass, and it'll be in the spot where you need to shoot it," Murray said.
And for years, frustrated opponents have failed to contain any line driven by Thornton. "If there's a hole the size of a puck in between your skates, he'll find it and thread it through," former NHL defenseman and childhood friend Brian Campbell said. "You know what he's going to do and you still can't find a way to defend it."
This year, Thornton is flanked by late bloomers Kevin Labanc, 23, and Marcus Sorensen, 27. In 399 minutes together at five-on-five, the trio has accounted for 53 percent of the on-ice shot attempts and 51 percent of the scoring chances while outscoring the opposition 23-12, according to NaturalStatTrick.com.
Labanc (17 goals, 56 points) and Sorensen (17 goals, 30 points) ranked sixth and 10th, respectively, on the Sharks' end-of-season leaderboard for 2018-19. For his part, Thornton broke the 50-point barrier once again, finishing with 51.
"Statistically, you go way up when you play with Joe Thornton, and that's the ultimate compliment," Wilson said.
Growing up, but staying the same
Thornton, for all of his on-ice accomplishments and off-ice shenanigans, can be an acquired taste. That was especially true in his early days, long before he earned league-wide respect.
For instance, in Thornton's 1997-98 rookie season, Bruins bench boss Pat Burns wasn't always impressed with the 18-year-old hotshot who'd been taken first overall in the previous draft.
"Pat called him into his office between periods, and we could hear him just screaming at Joe," Gill said, retelling one of several hairy moments from Thornton's Boston days. "Joe came out of there after getting yelled at - we all heard it and had our heads down trying to pretend like we didn't hear it - and he looked at all the boys and started giggling and laughing."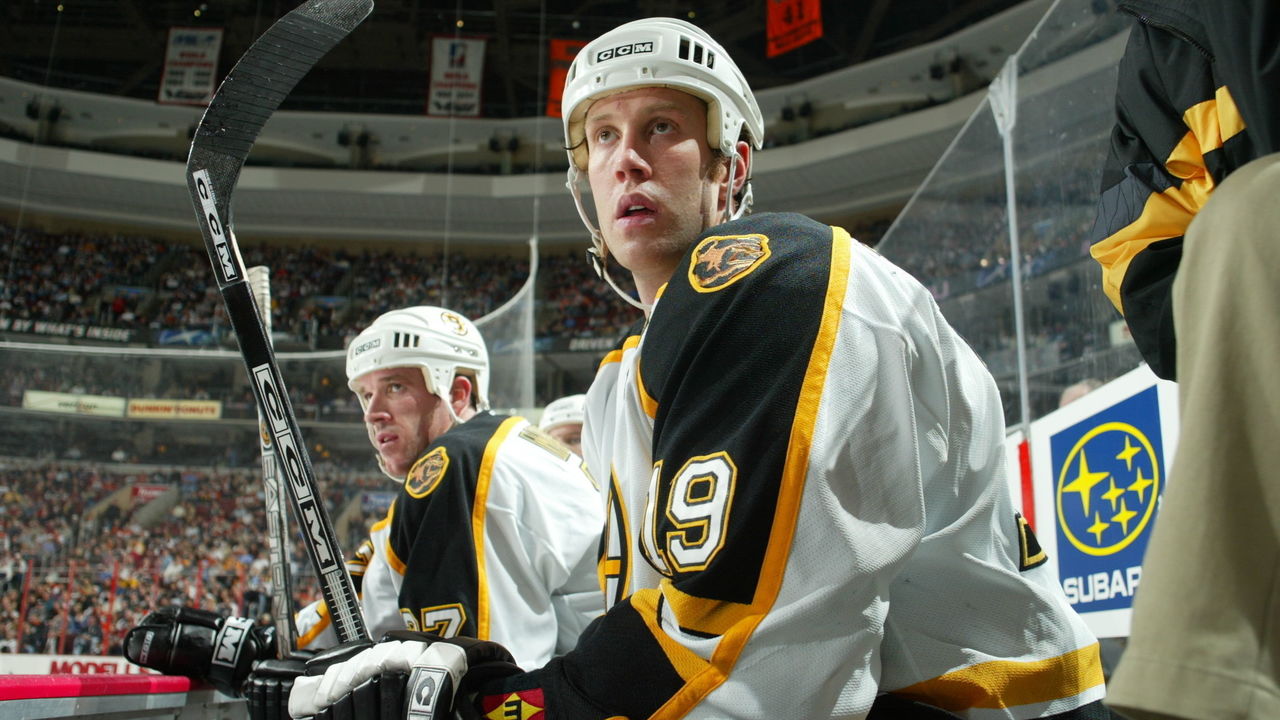 It's easy to forget that Thornton, a surefire future Hall of Famer, began his career buried on the fourth line and in the coach's doghouse. That debut season yielded a measly seven points in 55 games, and it took four years to truly establish himself as a premier point producer.
Amid that growth period, some within the hockey world questioned Thornton's worth as a player and a leader. A slow burn to elite production could be tolerated, sure, but would this dude with a big grin and natural talent actually care about team success? "That's such bullshit," Murray said. "He's the most competitive guy."
Clearly, the Bruins didn't see Thornton as part of their long-term plan. On Nov. 30, 2005, general manager Mike O'Connell shipped his captain to San Jose for forwards Wayne Primeau and Marco Sturm, and blue-liner Brad Stuart. The blockbuster trade flabbergasted the room. Gill still remembers Bruins defenseman Nick Boynton standing up and grilling O'Connell in front of everyone:
What did you do? Why would you do that? And why did you just give away our best player?
Seven months later, with a career-high 125 points in his back pocket, Thornton was named league MVP. "Players of that ilk rarely come available," said Wilson, who 13 years later would snag another superstar, Erik Karlsson, via trade. "And when they do, you do not hesitate."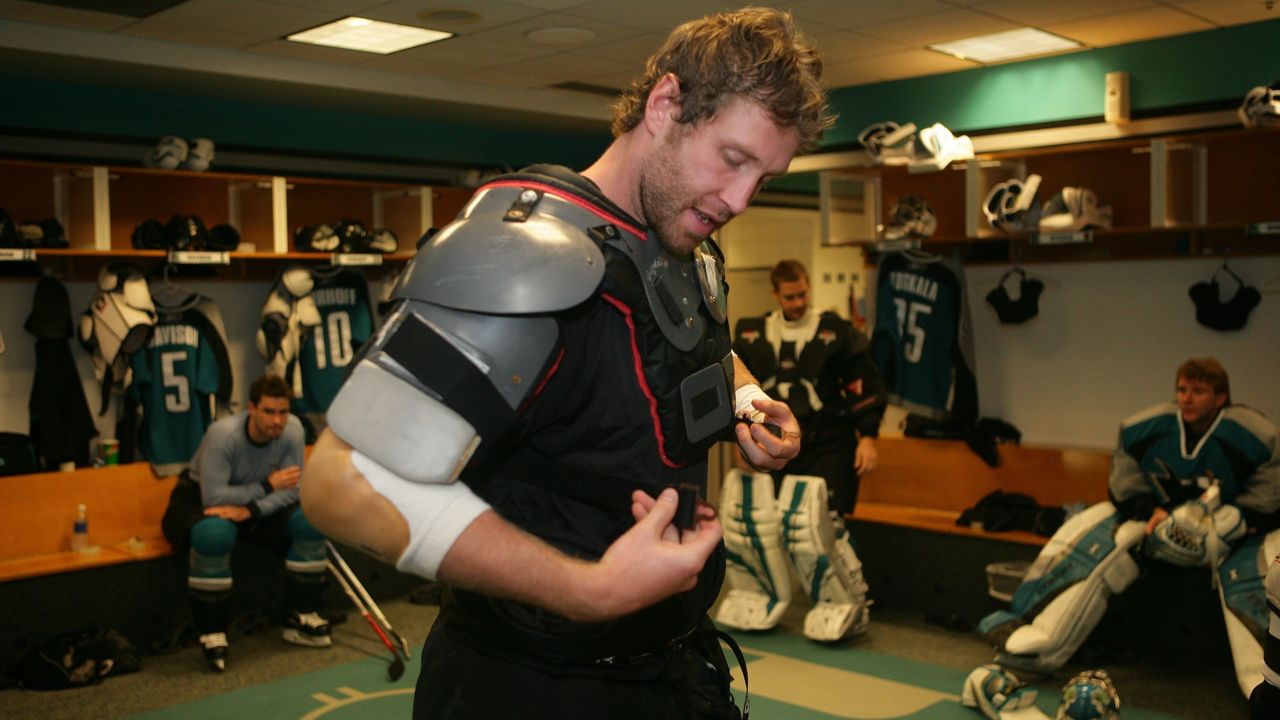 Even in San Jose, there have been obstacles to overcome. Wilson says he and Thornton have maintained a "very close" and respectful relationship since the franchise-altering trade, which is notable because it was the GM who infamously stripped Thornton of his captaincy in 2014, citing the need for a cultural reset in San Jose.
The polarizing decision set off a five-alarm fire and a war of words between the organizational pillars. In hindsight, would Wilson do it again? As an ex-Sharks captain himself, he had difficulty finding the right words on the topic. For 37 seconds, he false-started his answer before finally settling on a reply.
"I would say this: It was done to probably spread the leadership out on our team and have other people step up and be involved in it," Wilson said.
"Joe's a huge, huge part of this team, always has been. And we've got a group of guys who bring that to the table. You have to go forward in your life, with your decisions, but my respect for Joe's never changed, never has, and never will. I guess that's the best way of putting it."
One final Cup chase?
The captaincy controversy is now a distant memory. And, quite simply, both Wilson and Thornton just want to win a damn Cup. It's been disappointment after disappointment - 26, to be exact - for a franchise founded in 1991.
This time around, San Jose finished second in the Pacific Division with 101 points, and the veteran-laden roster stacks up fairly well against other Western Conference contenders. Objectively, the West is crowded, and every team is imperfect. The Sharks' concerns - namely shaky goaltending and a 3-9 end to the regular season - are largely counteracted by a glance at their lineup card, which features four 30-goal scorers and two Norris Trophy-caliber defensemen. There's no doubt that this club has an opportunity to succeed.
For his part, DeBoer didn't hesitate when asked if the 2018-19 Sharks are the strongest team he's coached in 11 NHL seasons. "Absolutely," he said. "Not even close. I look back at the two teams that I took to the finals (the 2011-12 Devils and the 2015-16 Sharks), and this team on paper is much deeper."
On the whole, the Sharks are faced with another seize-the-moment postseason. Besides Thornton, captain Pavelski turns 35 in July, Burns is already 33, and younger star pieces - the 29-year-old Karlsson and No. 1 center Logan Couture, 28 - are not exactly spring chickens. The latest infusion of talent, led by Hertl and Meier, won't have this multi-layered, battle-tested support forever.
On an individual level, this could be Thornton's final stab at achieving the dream. Father Time is taunting him. There's that ever-present 1979 birth certificate, and now lower-body injuries galore. ACL and MCL tears in both knees - the left in 2017, the right in 2018 - forced Thornton to undergo multiple surgeries and extensive rehab periods. And, earlier this season, he endured a right knee infection and a broken toe.
But despite his relatively limited role compared to seasons past, San Jose's third-line center and Bill Masterton Trophy nominee remains as motivated as ever to lift the Cup. It makes him tick.
"Yep, that's it," Thornton replied, acknowledging both the complexity and the simplicity of the task at hand. "That's what I've been driving for, trying to do for my entire career. I think it could be the year."
Has he thought about the next step? Will it be a third one-year deal next season? How about retirement?
"I haven't. Even five years ago, I've always been day to day," he said softly, later adding: "I'm just going. I had a great skate today, I'll have a great lunch, and I'll come out and compete tomorrow and just repeat it all over again."
John Matisz is theScore's National Hockey Writer. You can find him on Twitter @matiszjohn.
Comments
✕
Everyone's got a story about Joe Thornton, who may be chasing Cup for last time
  Got something to say? Leave a comment below!