Deceptive and dominant, Kucherov's the NHL's no-brainer MVP
TORONTO - When Nikita Kucherov inevitably accepts the Hart Trophy this summer at the NHL Awards ceremony in Las Vegas, nobody will remember point No. 111.
That point didn't break a record or signal a milestone. Heck, it's not even a nice, round number. The secondary assist, recorded in the first period Monday night at Scotiabank Arena, will be a mere footnote in the Lightning's late-season rout over the Maple Leafs.
Yet that's precisely the beauty of point No. 111. Kucherov, who's run roughshod over the world's best for five months straight, did what he does nearly every night. He found his way onto the scoresheet in a distinctly Kucherovian manner.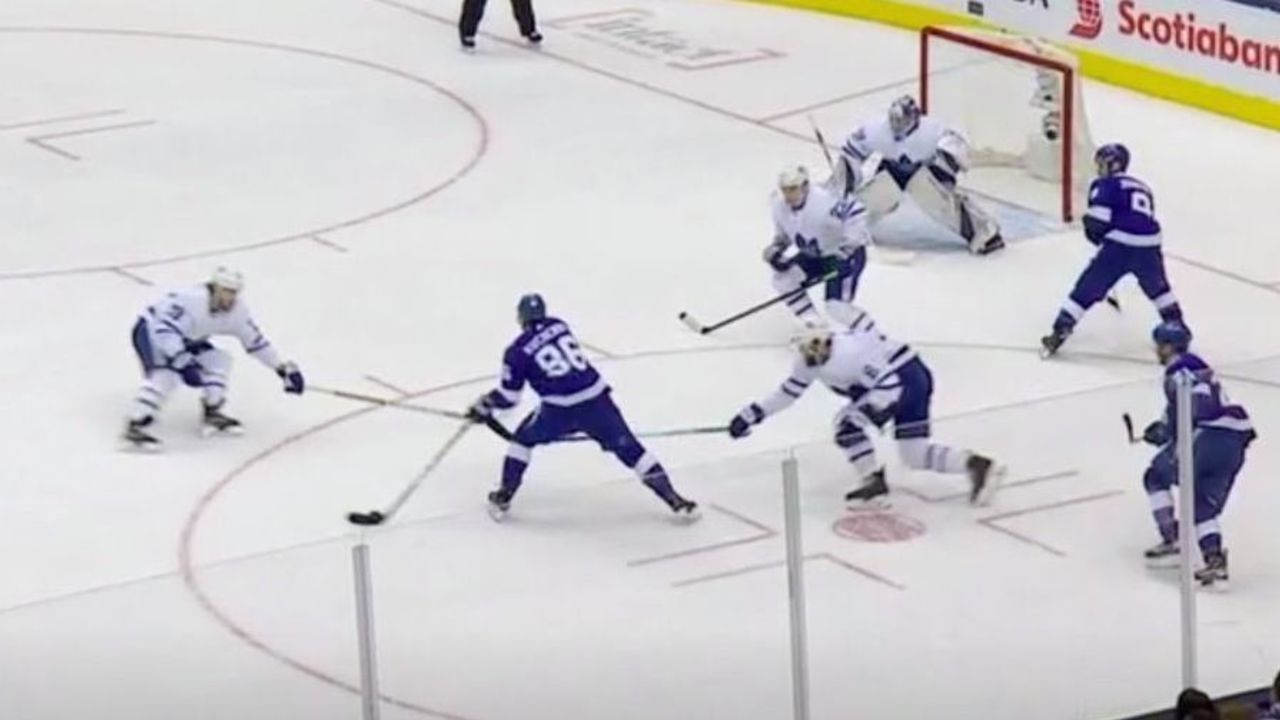 After pouncing on a loose puck after an Auston Matthews turnover deep in Toronto's zone, Kucherov commanded the building's attention, roping in three lunging defenders before deftly dishing to Ryan McDonagh, who hit Tyler Johnson's stick for a tip-in at the net.
"That's his whole game," Johnson told theScore prior to the 6-2 victory, reflecting on his linemate's gravitational pull and unpredictability. "He's deceptive in everything he does."
"He has the ability to beat you in different ways," Leafs center John Tavares added of Kucherov. "He's such a good shooter but also such a tremendous passer. He's so good at finding the late man, being able to slow things down even though he's a guy that can play at a high pace."
It can't be forgotten that the Lightning, now 18 points clear of the rest of the league with a 53-13-4 record, can beat you in many different ways. They're elite at even strength, on the power play, and on the penalty kill, ranking first among all NHL teams in each situation. Flush with star power, versatile mid-level talent, and capable role players, Tampa Bay is intimidatingly stacked and well-coached by Jon Cooper, earning the label of Stanley Cup favorite from fans, media, and those within the NHL's inner circle.
Atop the team's pile of talent is Kucherov, who's on pace for a gaudy 130 points with 33 goals and 78 assists through 70 games. Even though league-wide scoring rates keep rising year over year, those are still absurd numbers in 2019. When adjusting for era, Kucherov's already produced the equivalent of 121 points, according to Hockey-Reference.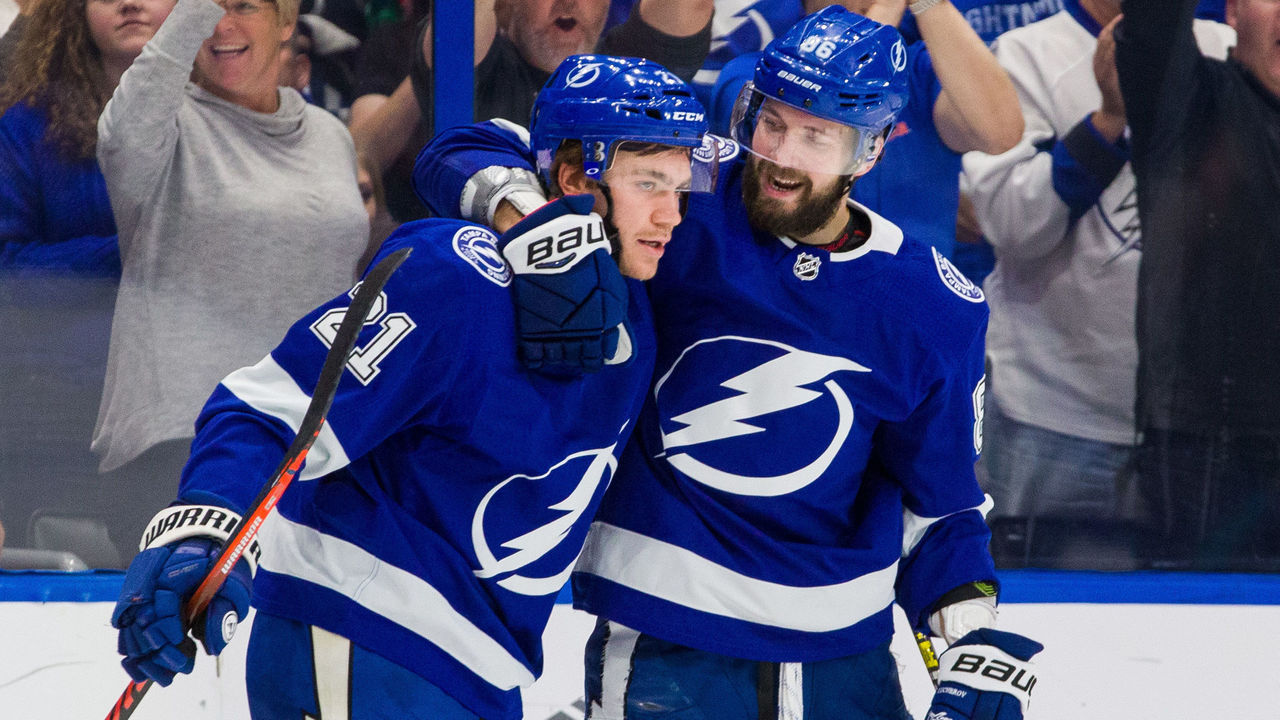 He's a virtual lock for MVP, because, much like Tampa on the team level, it's as if Kucherov's playing a different sport than his peers. He's putting up video-game numbers and doing so in style for the best team. Clearly, Kucherov is benefiting from his environment - especially playing alongside star center Brayden Point and the ever-effective Johnson - but the cold, hard facts should wash away any skepticism of his Hart candidacy.
Consider these notes following Monday's games: Kucherov has a 13-point lead on Patrick Kane for the scoring title, owns a 28-point cushion on Point for the team lead, has racked up almost as many multi-point games (17) as pointless ones (18), and sports underlying numbers that show teammates routinely see their performances dip when they take the ice without him. As a bonus, the play-driving winger is a tremendous bargain at a salary cap hit of $4.8 million.
Truthfully, the other Hart considerations - Kane in Chicago, Sidney Crosby in Pittsburgh, Johnny Gaudreau in Calgary, Alex Ovechkin in Washington, and, if you choose to ignore the no-playoffs asterisk, Connor McDavid in Edmonton - all seem like afterthoughts at this point.
The Hart is voted on by the Professional Hockey Writers' Association, but Kucherov's sensational season isn't lost on his rivals. Maple Leafs coach Mike Babcock believes Kucherov is the "most dangerous guy in hockey right now." (Remember: best-on-planet McDavid and Crosby are also enjoying excellent seasons). Even Cooper, a mild-mannered, process-oriented bench boss, finds himself marveling at Kucherov, admitting he sometimes watches the stealthy Russian winger like a fan.
The tantalizing skill set and the eyebrow-raising production make it very hard to avoid the Kucherov buzz. Not a single NHLer has surpassed the 125-point threshold since the salary cap arrived in 2005, and the Lightning have 12 games left. The next tier is reserved for Mario Lemieux and Jaromir Jagr, the last players to surpass 130 points (161 and 149, respectively, back in 1995-96).
The points have come in bunches, both on the power play and at five-on-five. Kucherov's picked up 43 of them on Tampa Bay's potent PP, occupying the right flank on the first unit. And at even strength, he and his teammates rank highly in shot generation, scoring chances, and point production:
| Category | Kucherov | NHL Rank |
| --- | --- | --- |
| Points per 60 minutes | 4.1 | 4th |
| Scoring chances per 60 | 32.6 | 17th |
| Shot attempts per 60 | 66.6 | 27th |
*Minimum 700 minutes at five-on-five
Kucherov, who logs an average of 19:41 per night, can be deceiving when he shifts his 5-foot-11, 178-pound frame around the rink, changing speeds and body positioning to confuse opposing skaters. The 25-year-old seems to always be hiding in plain sight, using his edgework to weave east-west and his quick first steps to bolt north-south.
But while Kucherov processes the game at such a high rate, his teammates don't find him difficult to play with.
"He's deceptive but he's easy to read off, if that makes sense?" Point said. "He goes to the right spaces, he makes the right play almost every time. So, being on his line, you just try to get to those soft areas and he'll find you."
Said Johnson, "Really, I just know that when he has the puck, if I can get open or find a lane, he's going to drag a few guys to him and allow me to take over some empty space."
Kucherov's shot can be deceiving, too, as he's figured out how to fool goaltenders by firing the puck from a variety of release points or by using a defender as a screen. A skills coach even dedicated seven minutes to Kucherov's unique mechanics and technique in a recent YouTube video:
It's been a steady climb for Kucherov through six NHL seasons, with his points-per-game rate rising from 0.4 in his rookie campaign to 1.2 in Year 4 and 1.6 now - not bad for a player who went 58th overall in the 2011 draft.
"Is it a credit to us or is it a shame on the 57 picks that went before that?" Cooper said half-jokingly.
Of course, you can joke about it when the soon-to-be MVP is on your side, tormenting the rest of the league.
John Matisz is theScore's National Hockey Writer. You can find him on Twitter @matiszjohn.
Comments
✕
Deceptive and dominant, Kucherov's the NHL's no-brainer MVP
  Got something to say? Leave a comment below!