'It's about time': Small-market Blue Jackets suddenly an NHL alpha dog
Cam Atkinson (Getty Images)
COLUMBUS - BOOM!
The blast from the replica Civil War cannon inside Nationwide Arena is stunningly loud and, as Matt Duchene put it following his trade to the Columbus Blue Jackets, "scares the shit out of" just about everybody in attendance.
Duchene underwent a Nationwide rite of passage Saturday, flipping a loose puck into the San Jose Sharks' net to initiate the sound the former Ottawa Senator once dreaded.
BOOM!
"It sounded a lot better tonight, being on the other side of things," a cheerful Duchene said after recording a goal and an assist in his home debut, a 4-0 victory over San Jose.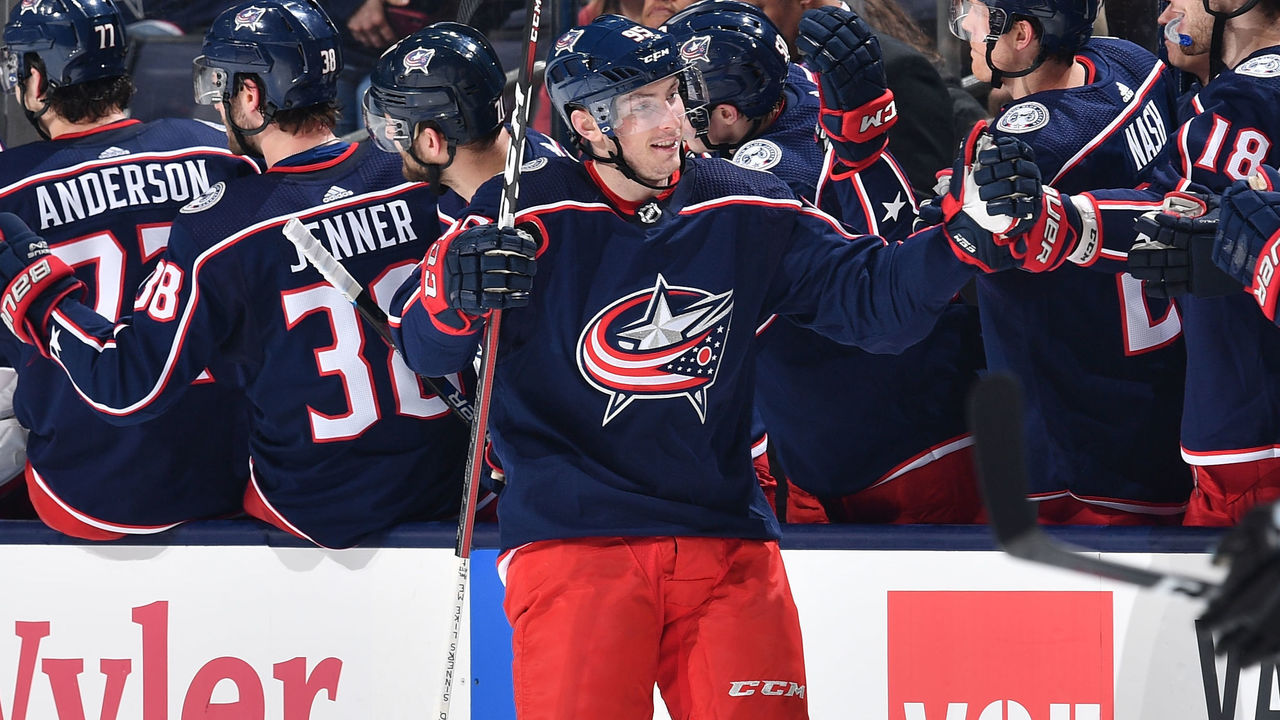 Then, about an hour after the final buzzer, another boom, but without the cannon theatrics: the Blue Jackets acquired Ryan Dzingel and a seventh-round draft pick from the Senators for Anthony Duclair and two second-rounders. It was Columbus' second significant trade with Ottawa in as many days.
So, with another Nationwide initiation in the cards - this time for Dzingel - and considering the possibility general manager Jarmo Kekalainen isn't done dealing ahead of Monday's 3 p.m. ET deadline, it's worth asking: are the Blue Jackets suddenly an NHL alpha dog?
"Management's 100 percent in on winning," Kekalainen said prior to puck drop Saturday.
It didn't take long for his words to carry greater meaning. In fact, they could seem even more prophetic over the next 36 hours. Kekalainen, after all, has made central Ohio the center of the hockey universe for the time being.
The general manager injected his forward group with two top-six talents nearly overnight, and all it cost him from his NHL roster was Duclair, a 23-year-old journeyman. Columbus has won two in a row (by a combined score of 7-0), seven of 10, and the small-market, oft-forgotten Blue Jackets now boast a league-high six 20-goal scorers. For a long-suffering fan base, it doesn't get any better than this.
"You know what, it's about time we started to make some noise in that regard," captain Nick Foligno told theScore ahead of Saturday's game and the Dzingel acquisition. "I'm tired of everyone looking at Columbus like that. I know what this city is and what this team's capable of. So I hope guys use it as a little bit of a chip on their shoulders, too. I mean, I'm tired of people counting us out before we even get out on the ice."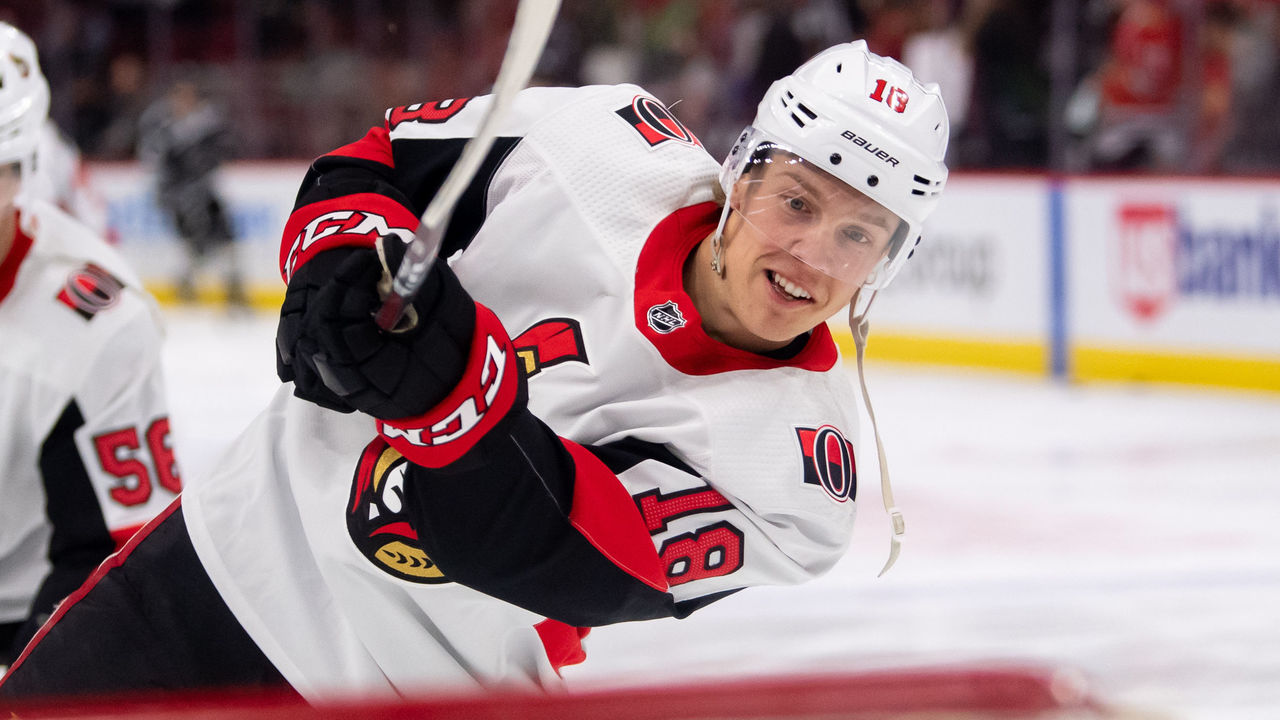 In an odd twist, Duchene and Dzingel - both rentals as pending unrestricted free agents - arrived from one franchise bursting at the seams to another. Ottawa, on the cringe-worthy end of the spectrum, has never been so irrelevant and flailing, while Columbus has never been so prominent and daring.
The Blue Jackets, best known to casual fans as the Minnesota Wild's expansion cousins and the team that wasted Rick Nash's prime, have little to show for their 17 seasons: no division titles or playoff series victories (only five postseason wins, period). But they're banking on a lot more - the jackpot - in Season 18.
Including winger Artemi Panarin and goalie Sergei Bobrovsky, Columbus now has four key players on expiring contracts. And there exists a scenario in which all four walk this summer, leaving young studs Seth Jones, Zach Werenski, and Pierre-Luc Dubois to fend for themselves.
But July 1 is months away, and sometimes in life, you have to be a little reckless. So it's tough to blame Kekalainen for taking such a bold approach, for seizing the moment. Duchene's having a career year, while Dzingel - who fittingly played his college hockey at Ohio State - is a goal away from tying his career high (23) in about 20 fewer games.
Foligno, as one of the longest-tenured members, has been around for three of the franchise's four first-round exits, and while Kekalainen added some names at previous deadlines, such as Ian Cole and Thomas Vanek last year, he's never done anything quite like this. And the veteran knows the opportunity can't be wasted.
"It's on us now," he said. "It goes hand in hand. (Kekalainen's) doing his job, we've got to do our job, and that's what's great about this next month and a half, where we get to go out and do our job with whatever we have."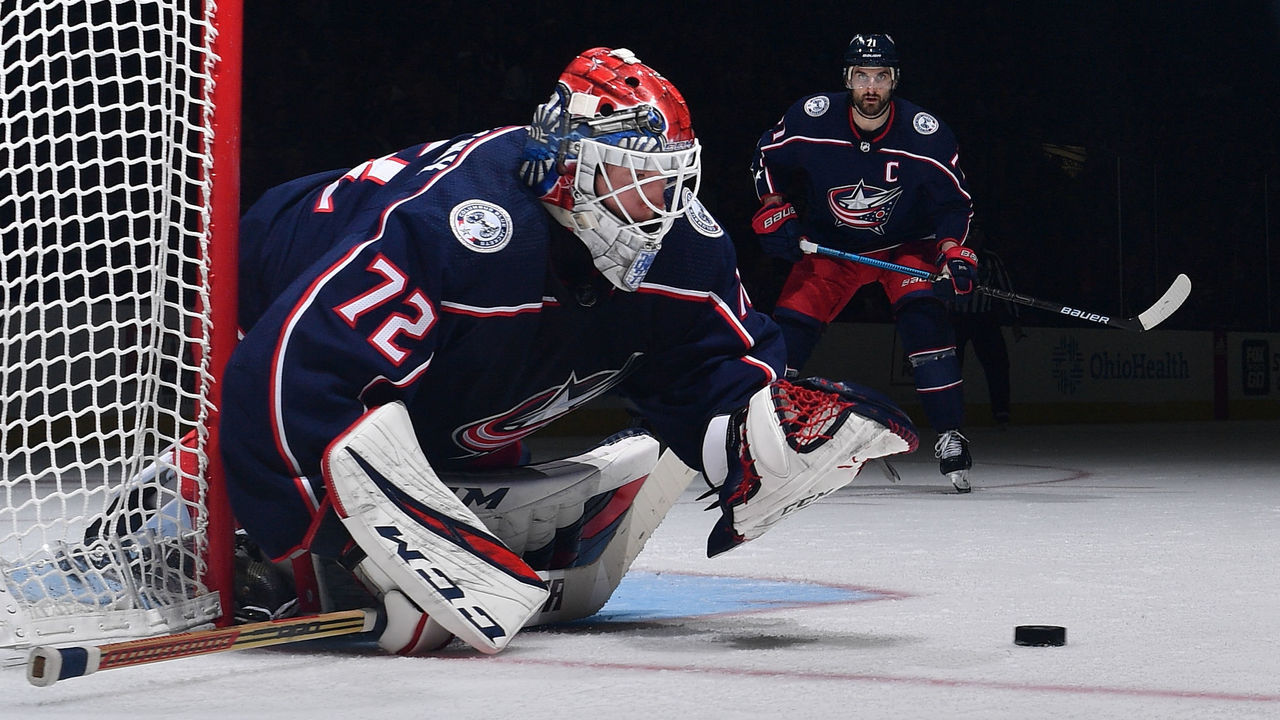 The early returns are promising.
BOOM!
Duchene immediately joined the No. 1 line, finding quick chemistry with 5-foot-8 sniper Cam Atkinson and the wizardly Panarin, the latter being arguably the most talented player in franchise history. The trio has three of the team's seven goals since Duchene's arrival, while Bobrovsky quietly turned aside all 48 shots he saw Friday and Saturday.
The Duchene trade had a trickle-down effect on the lineup, most notably bumping Dubois, who's only 20 years old, into a less demanding role as the second-line center. The powerful pivot scored Saturday and is looking every bit worth the No. 3 selection of the 2016 draft.
Dzingel's impact is still to be determined, but Columbus beefed up significantly over a 48-hour period. Here's an early look at what its top nine may be Tuesday against the division-rival Pittsburgh Penguins:
| LEFT WING | CENTER | RIGHT WING |
| --- | --- | --- |
| Artemi Panarin | Matt Duchene | Cam Atkinson |
| Ryan Dzingel | Pierre-Luc Dubois | Oliver Bjorkstrand |
| Nick Foligno | Boone Jenner | Josh Anderson |
Not too shabby, especially when you consider the above doesn't factor in further additions ahead of Monday's deadline.
Kekalainen, the league's first and only European GM, is still under pressure and could look to bolster his back end after adding to the offense. Despite being anchored by Jones and Werenski, it's a group unfit for a deep playoff run.
Goaltending, meanwhile, is an area in which the Blue Jackets seem set. After a subpar December and January, Bobrovsky is back in Vezina form - he has a .937 save percentage and three shutouts since the All-Star break. Despite his contract situation, changing starting goalies down the stretch is less than ideal for a team with lofty aspirations. And the 30-year-old holds the hammer, in the end, thanks to a no-move clause and an unwillingness to waive it, despite indicating his intention is to test free agency, like Panarin.
Impressively, Kekalainen's held his ground with Panarin and Bobrovsky. The team, from head coach John Tortorella to the 20-plus everyday players, has embraced the uncertainty, though it's really had no choice.
"If you're here, you're helping us win hockey games and the rest is out of our control," Foligno said. "Why even worry about it? Why waste energy on things like that in a game where you need all of it? I think our team's done an outstanding job of keeping our focus and now we're at the point where it's going to be a distant memory in a few days."
Depending on how Columbus' season concludes, Kekalainen's going to either look like a genius who loaded up at the perfect time, or a schmuck who couldn't help himself on the trade market despite his hands being tied by his star players.
"Once 3 o'clock hits, whoever's with us, we're going to be rocking and rolling until the end," Atkinson said Saturday night.
Until that cannon goes off one last time in June, the club no doubt hopes.
BOOM!
John Matisz is theScore's National Hockey Writer. You can find him on Twitter @matiszjohn.