Once an unlikely star, Brad Marchand's now learning to lead
BOSTON - When the Boston Bruins lost captain Zdeno Chara and alternate captain Patrice Bergeron to month-long injuries in mid-November, they needed someone new to wear an "A."
And in a decision that surprised some observers, Bruins coach Bruce Cassidy slapped the letter on forward Brad Marchand's sweater. Yes, the same Marchand who's been suspended and fined by the NHL on numerous occasions, and who'd recently shown up officials by mocking Nashville Predators forward Colton Sissons for embellishing a high-sticking penalty, earning an additional 12 minutes in the box.
"I picked (Marchand) to show that he's a leader, and maybe that'll help him with the refs a little bit if they see that," Cassidy told theScore.
Things didn't start well. After receiving a questionable slashing penalty against the Dallas Stars during his first game wearing the "A," Marchand earned an additional 10-minute misconduct for "waving the white flag" with a towel on his stick - not exactly the behavior expected from those in leadership positions.
"There's times when things go right or things go wrong. I think that things just happen, and I was ending up in the box," Marchand told theScore. "I was definitely retaliating for some things and maybe I wasn't happy enough with my game or how things were going."
Indeed, Marchand went into a slump when Bergeron was injured, scoring just once in the first 11 games without his linemate. But then - more importantly - he also began to stay calm.
In fact, Marchand hasn't been whistled for a major infraction or misconduct since the Dallas game, and he's spent just two minutes in the penalty box over his last 13 appearances.
"I feel a lot more in tune with my control, my emotions, and stuff like that," Marchand said of his newfound discipline. "Out on the ice, I don't feel like I'm getting as heated as I was early in the season."
It's a key development for Marchand, who's one of the NHL's most productive players - he entered the All-Star break with 19 goals and 53 points - but who's also served six suspensions and paid three fines since breaking into the league (not to mention his involvement in many more confrontations, including the infamous licking incidents from last year's playoffs, which drew a warning from director of hockey operations Colin Campbell).
"(Staying calm) can easily change in a split second but I wasn't doing a very good job of being disciplined for the group or the team early on," Marchand continued. "So I definitely had to be better at that. I feel that I have been the last little bit. I can't be in the box every game."
The Bruins certainly hope those split seconds will take place less and less as the 30-year-old Marchand matures. And there's optimism that he can make it happen given his burning desire to succeed, which has already carried him further than most expected.
__________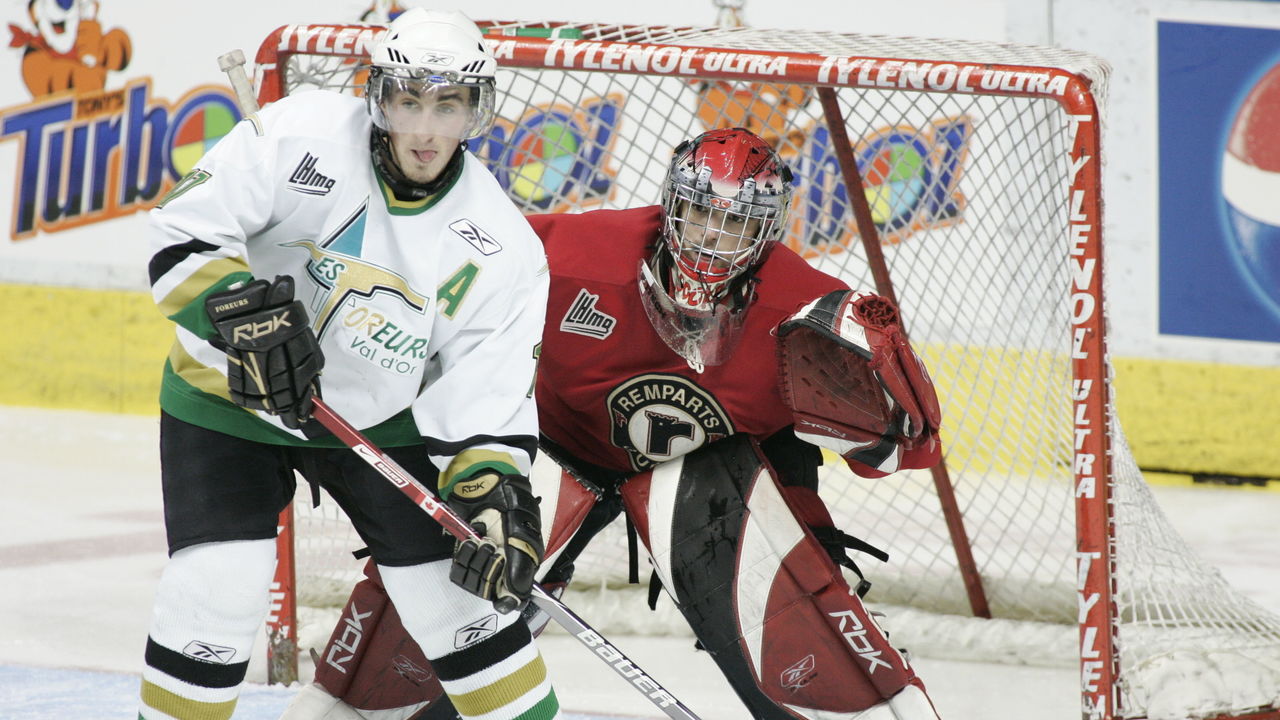 Considering all the notoriety Marchand's gained since becoming an NHL regular eight years ago, it's hard to believe he once flew under the radar.
Nova Scotia-based performance coach J.P. MacCallum was there during the forward's humble beginnings - long before the 30-goal seasons, the 2011 Stanley Cup championship, the 2016 World Cup of Hockey gold medal, and the much-publicized run-ins with NHL disciplinarians.
"It's certainly been a wild ride with Brad," MacCallum told theScore.
"It's been 17 years now, 17 offseasons that we've worked together. So starting with when he was a 13-year-old, at the Bantam level in Nova Scotia. He always had the competitive spirit. … You saw the competitive factor, he was a good player, but there was nobody that would've said at the time that he was going to play in the NHL."
As an undersized player coming up just before the NHL's evolution into a smaller man's game, Marchand wasn't an obvious target for scouts. Still, he committed to proving himself and saw that hard work pay off as a second-round selection in the 2004 QMJHL Draft, and then as a third-round pick (71st overall) by the Bruins in the 2006 NHL Draft. His junior career was highlighted by an 80-point season with Val-d'Or in 2006-07 and two selections to Team Canada's world junior rosters, leading to a pair of gold medals.
"And still the doubters were always there," MacCallum recalled. "The guy that never doubted was Brad. 'I'm going to make it, I'm going to make it, I'm going to do it.' He competes hard for everything and he hasn't stopped. That's what got him on the Bruins and what keeps him there and made him an elite player in the world."
While following in the footsteps of smaller players like Theo Fleury and Martin St. Louis, Marchand - now listed at 5-foot-9 and 181 pounds - has worked to cancel out his size disadvantage by improving his elusiveness. And to do so, Marchand and MacCallum designed workouts that largely target the forward's legs.
"I think in hockey if you look at a lot of the guys, their body makeup, a lot of them have very big lower bodies," Marchand said. "That's a focus nowadays. Before I think a lot of guys worried about their strength and getting big and strong, but the game, the way it is now, it's all speed and endurance and skill, so you know it's pretty much all legs."
Scouts and coaches alike marvel at Marchand's ability to win battles in tight areas and to pull up on rushes to make plays. The drills he does and the videos he watches - often of other players around league - help him improve and conjure up new moves every summer. In 2015-16, he cracked 30 goals for the first time and finished with 37. That earned him a spot on Team Canada for the 2016 World Cup of Hockey, but Marchand wasn't satisfied with just being named to the elite team.
"If it was possible, his focus sharpened even more (heading into the World Cup)," MacCallum said. "I think he really got a taste of, 'Now I can do it.' Not that he ever doubted himself, but he knew he needed a little bit more focus in the offseason - a little bit more work on his on-ice focus in the offseason could take him to that next level. And when you've already got a guy that's ultra-competitive and finds a way to dial it in even more, you see incredible results."
Amid a star-laden Team Canada roster at the World Cup, Marchand wound up playing on a top line with Bergeron and Pittsburgh Penguins superstar Sidney Crosby. He helped lead the team to gold while recording seven points in 10 games.
Marchand's positive momentum continued in the NHL, as he scored 39 goals for Boston the following season and another 34 in 2017-18. This year, he's on pace to surpass 30 yet again.
__________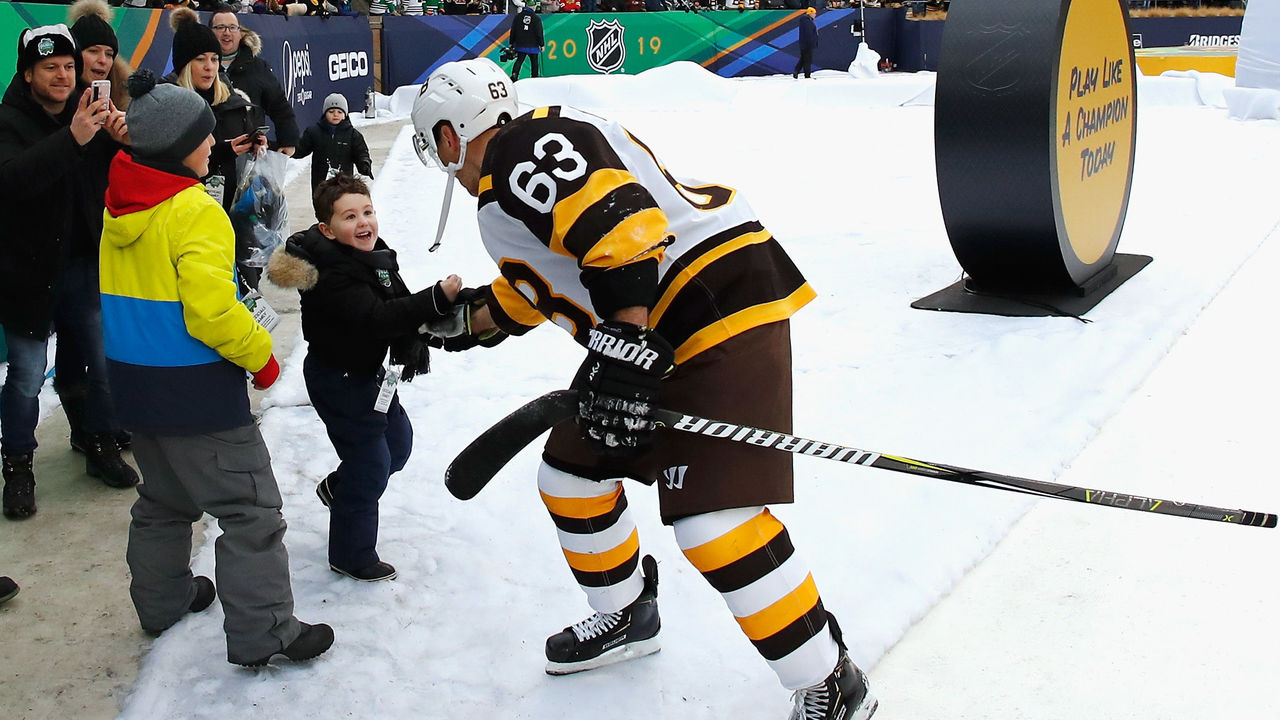 There are other sides to Marchand beyond the dynamic two-way player and the noted super-pest. There's the Marchand who paid for a family to attend the 2016 NHL All-Star weekend, which is the same Marchand who once rescheduled a summer training session with MacCallum to work with a young, aspiring player instead.
"He shows this 12-year-old kid, 'Wow, this is what it takes, this guy's doing it,'" MacCallum said. "And (the kid is) completely baffled that an NHLer is his training partner for the day. But (it was) an incredible experience that kid will never forget."
These days, Marchand's also a family man, as he got married in 2015 and gained a stepson in the process. Now with a young daughter as well, his new responsibilities off the ice are contributing to his maturity as a player.
"It's no coincidence, you're committed to a partner at the same time you're committed to a family. ... I think (it) only increased his focus," MacCallum said.
For their part, the Bruins previously showed faith in Marchand's development by inking him to an eight-year, $49-million contract extension in September 2016 - 10 months before he could've become an unrestricted free agent. The deal all but assured Marchand would be a big part of the team for years to come, and it came with the hope that his maturity would catch up to his skill set.
It appears he's now taking that step by accepting a bigger leadership role with the Bruins. It earned him the "A" during Bergeron's absence, and the leadership ability was evident when Marchand took the lead in personally addressing 21-year-old defenseman Charlie McAvoy's tardiness issues this season.
To Marchand's teammates, this side of his persona was always present, but it was often hidden beneath his public image.
"He's certainly the clown still, but he sometimes wears a different hat while he's in the clown suit," David Backes, another one of Boston's alternate captains, told theScore.
"He's a guy that on the ice, he's got some antics, but they're good-intentioned to help our team win or try to distract the opponent. And when you're outside the circle and you're looking at it, especially if you're not a Boston fan, he's annoying and he's a pest and you throw darts at his picture on a dartboard perhaps.
"But when you're in the room, those guys tend to be the best teammates and he's not an exception there. He cares about his teammates, he'll do anything for you, and he's a 'win at all cost' kind of guy, and you love those kind of guys."
Of course, you don't reach the heights Marchand's reached without exhausting all means to get there. And it's an approach that will probably push him over the line again, regardless of how hard he tries to stay out of trouble. On the other hand, Cassidy's decision to hand over an "A" - even a temporary one - showed that Marchand's leadership skills and discipline are trending in the ideal direction.
"It's going to be a process and I'm not going to sit here and say that I'm not going to make mistakes, because I'm not going to promise the world and not deliver," Marchand added. "So, it's a fine line that I got to watch and work on, and hopefully things can play themselves out the right way."
Comments
✕
Once an unlikely star, Brad Marchand's now learning to lead
  Got something to say? Leave a comment below!