Hart Trophy Power Rankings: Kucherov lifting league-leading Lightning
Harry How / Getty Images Sport / Getty
As the unofficial second half of the NHL season rolls on, the Hart Trophy race is coming further into focus.
A handful of MVP candidates have emerged during the campaign's first four months, a list that includes past winners, and the most electrifying player on the league's most dominant team.
Here are our top five Hart Trophy contenders at this point:
5. John Gibson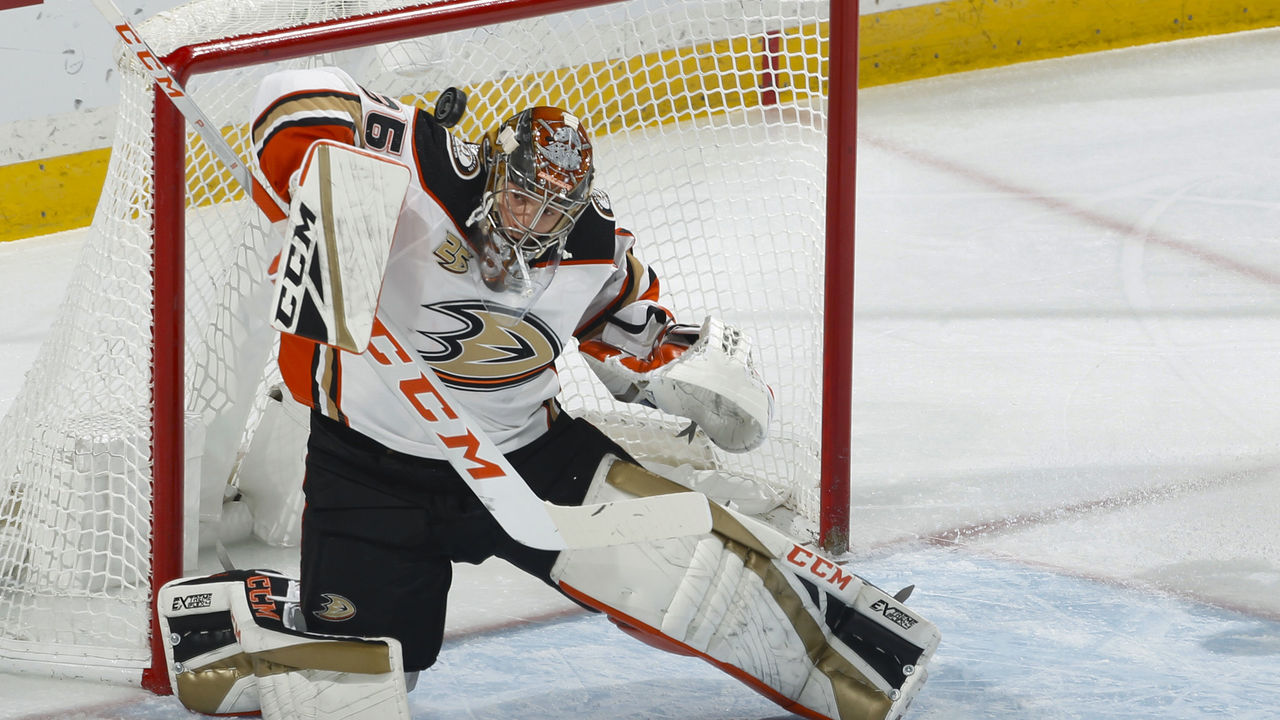 | GP | W-L-OTL | SV% | HDSV% | GAA | GSAA |
| --- | --- | --- | --- | --- | --- |
| 43 | 17-16-8 | .919 | .863 | 2.74 | 11.7 |
While other goaltenders like Robin Lehner are playing better lately, none are singlehandedly keeping their teams competitive all season like Gibson.
Only the lowly Ottawa Senators and Chicago Blackhawks are allowing more shots on goal per game than his Anaheim Ducks, and only the moribund Los Angeles Kings are generating fewer goals per contest. Anaheim's analytical figures aren't any better, as the club ranks third-worst in five-on-five Corsi For rating and second-worst in scoring chances for percentage.
And yet, Gibson is still posting admirable numbers, recording the fifth-best GSAA and the fifth-best high-danger save percentage among goalies with at least 25 appearances.
Even more remarkably, the Ducks are a single point out of a playoff spot despite their problems. The Pacific Division has been the NHL's worst, but Gibson still deserves the lion's share of the credit for keeping Anaheim on the postseason doorstep.
4. Alex Ovechkin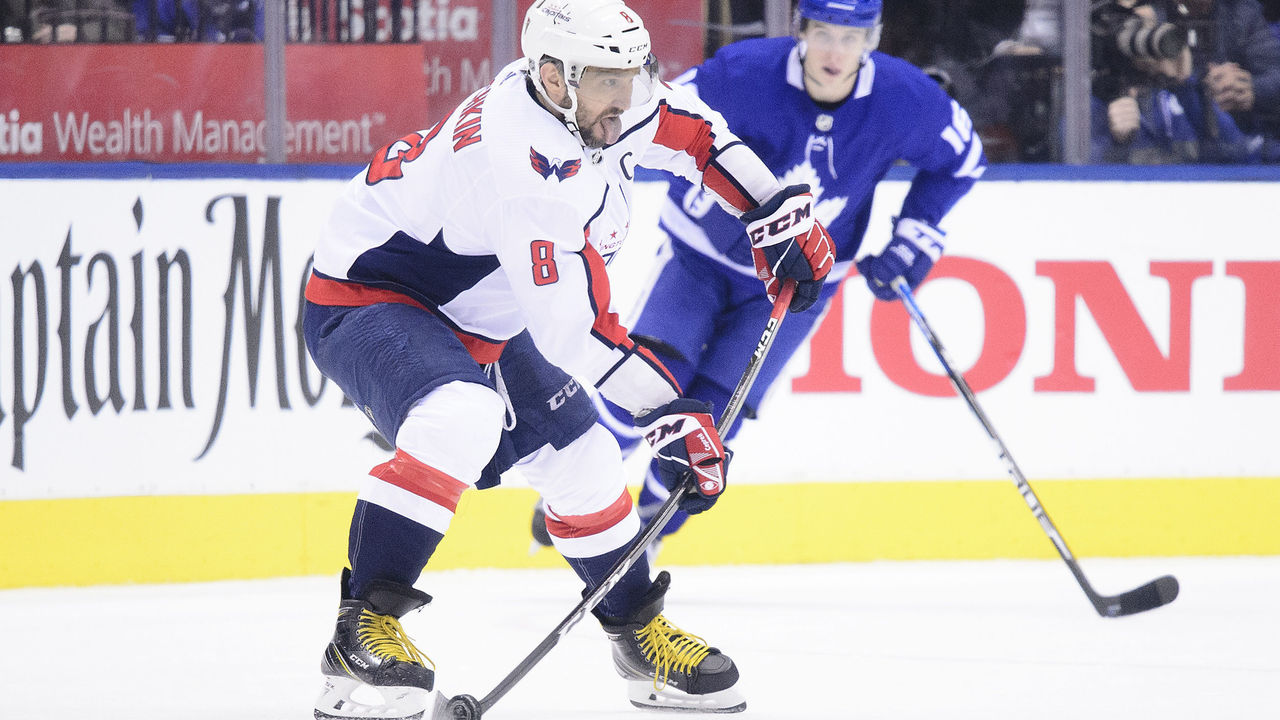 | GP | G | A | P | ATOI | SCF% | CF% |
| --- | --- | --- | --- | --- | --- | --- |
| 50 | 37 | 20 | 57 | 21:01 | 48.38 | 47.77 |
The Washington Capitals have lost seven straight games, but don't blame the captain for that. Ovechkin has scored five goals during the skid, and seven in his last eight games.
He's accounted for almost a quarter of the Capitals' goals this season, and his total still leads the league, with a six-goal cushion over the Buffalo Sabres' Jeff Skinner.
No Washington player is matching even half of Ovechkin's goal production at this point (Jakub Vrana and T.J. Oshie are closest with 15 apiece), proving how valuable The Great Eight is to his club.
Despite their recent woes, the Capitals still sit fairly comfortably in a playoff spot, and Ovechkin should be in the Hart Trophy conversation as long as that's the case.
3. Connor McDavid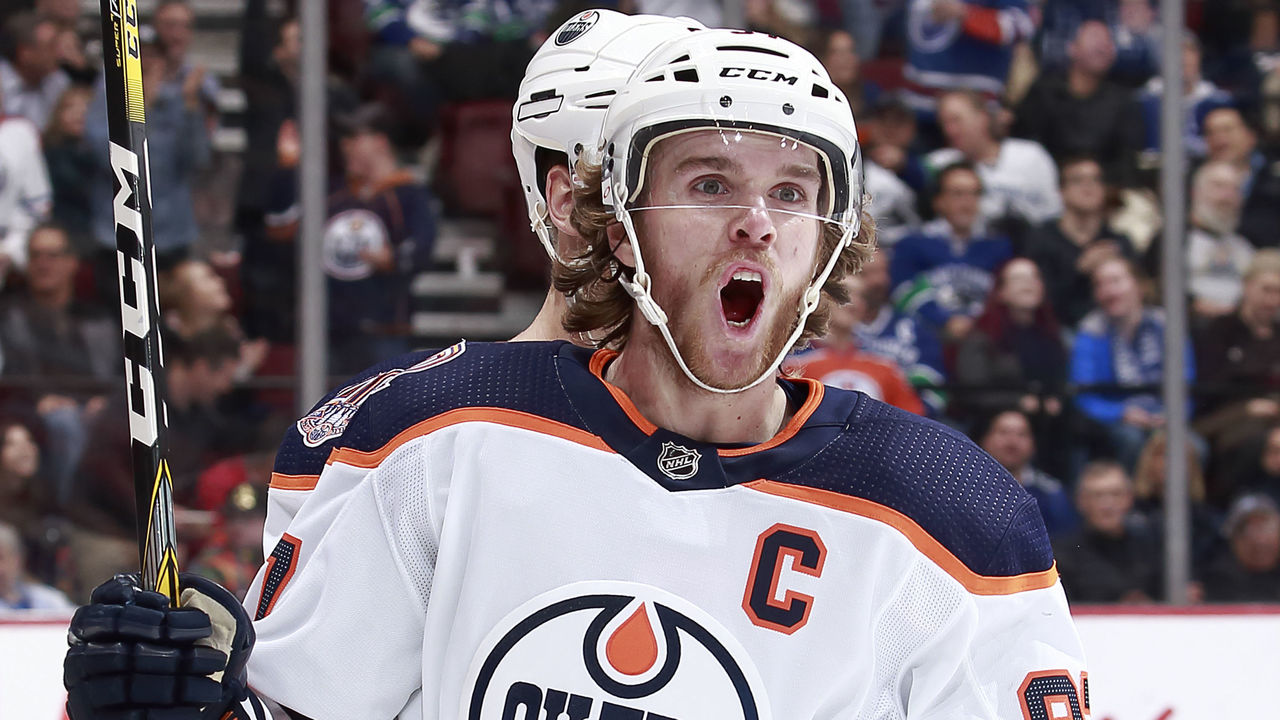 | GP | G | A | P | ATOI | SCF% | CF% |
| --- | --- | --- | --- | --- | --- | --- |
| 49 | 29 | 44 | 73 | 22:49 | 50.29 | 50.15 |
We've said it many times: McDavid is arguably the most valuable player to his team, and he should therefore be the Hart front-runner if the Edmonton Oilers make the playoffs, or even finish within striking distance.
The Oilers losing three straight games has hurt his candidacy recently. That includes a defeat at the hands of the Detroit Red Wings that sealed Peter Chiarelli's fate last week.
Despite those struggles and the subsequent front-office shuffling, Edmonton is only three points out of a postseason position. However, the club will need to leapfrog five teams.
McDavid doesn't deserve blame for that, and in a perfect world, he wouldn't be penalized for it. Without him, Edmonton would probably be a cellar dweller. But Hart voters won't consider him the top dog - despite McDavid contributing to an incredible 51.7 percent of the Oilers' goals - unless Edmonton has a more realistic shot at the playoffs.
2. Johnny Gaudreau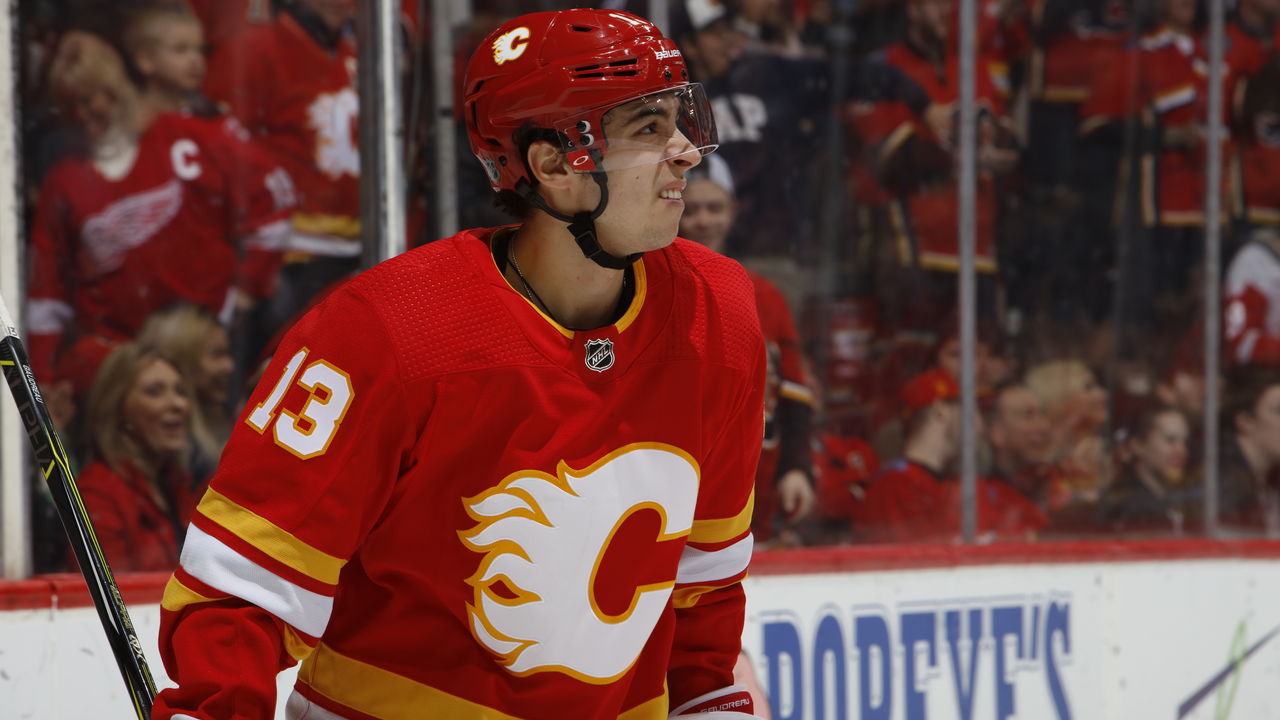 | GP | G | A | P | ATOI | SCF% | CF% |
| --- | --- | --- | --- | --- | --- | --- |
| 51 | 29 | 44 | 73 | 20:22 | 53.17 | 54.43 |
Gaudreau has been performing at a high level for pretty much the entire season, so it's time to recognize him as worthy of MVP consideration.
The dynamic winger leads the first-place Calgary Flames in the key offensive categories, he's scored 10 goals and 22 points in his last dozen contests, and has contributed to 38.4 percent of the club's goals in 2018-19.
Calgary will likely have more than one award finalist if the team sustains its success, and Gaudreau should be in the MVP hunt thanks to his recent exploits and consistency since October.
1. Nikita Kucherov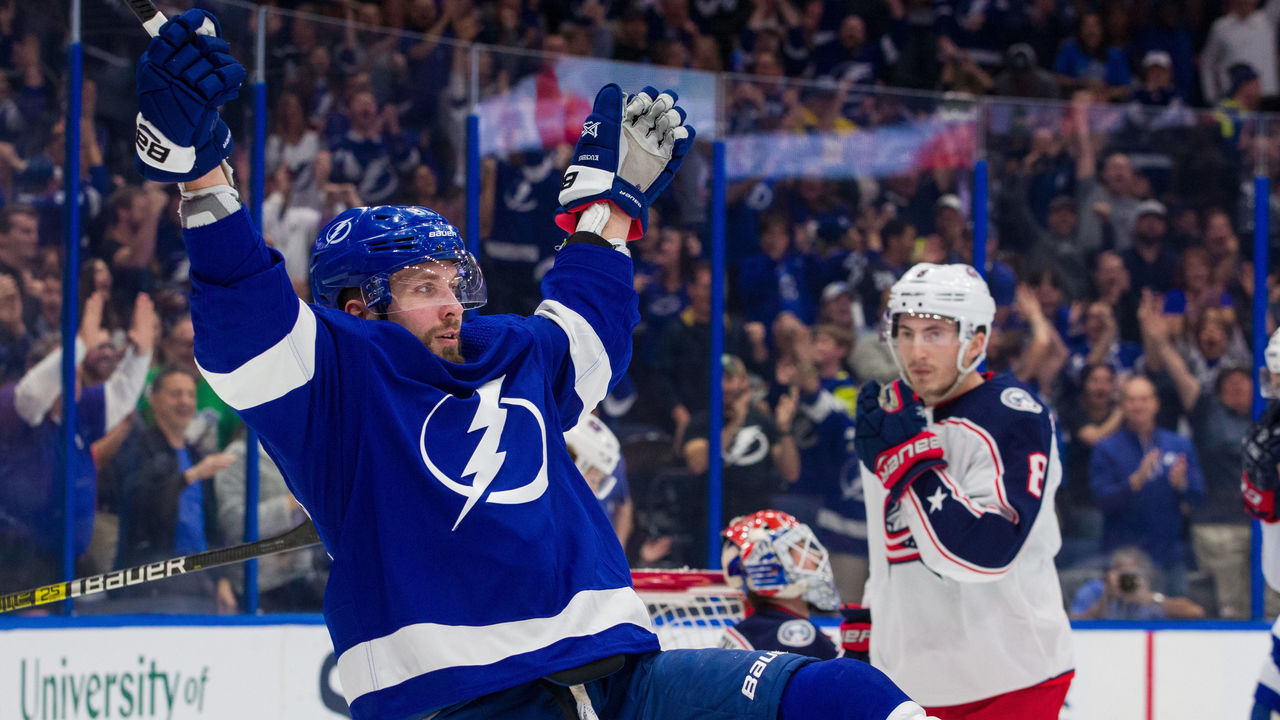 | GP | G | A | P | ATOI | SCF% | CF% |
| --- | --- | --- | --- | --- | --- | --- |
| 50 | 22 | 57 | 79 | 19:25 | 54.56 | 53.2 |
Yes, there's plenty of talent around him, but Kucherov has been the catalyst for the Tampa Bay Lightning, helping to transform the team from a perennial Stanley Cup contender to the unquestioned favorite this season.
The 25-year-old forward leads the NHL in points, points per game, and assists. He's also contributed to a higher percentage of his team's goals (39.7) than Gaudreau has for the Flames, even with the Lightning's impressive depth.
Kucherov has been particularly explosive lately, piling up 30 points in his last 15 games, with multi-point efforts in 10 of those contests, and six of his eight goals in that span coming at even strength.
With all that success, it wasn't surprising to see him lead the Pro Hockey Writers Association's midseason Hart voting, and it won't be at all shocking if he claims the award in June.
Honorable mentions: Nathan MacKinnon, Mikko Rantanen, Lehner, David Pastrnak, Elias Pettersson.
ATOI = Average time on ice
SCF% = Percentage of scoring chances generated by the player's team with him on the ice at five-on-five
CF% = Percentage of shot attempts generated by the player's team with him on the ice at five-on-five
HDSV% = Save percentage on high-danger shots
GSAA = Goals saved above average (calculated by applying a goaltender's save percentage and total shots faced to the league average save percentage)
(Analytics courtesy: Natural Stat Trick)
Comments
✕
Hart Trophy Power Rankings: Kucherov lifting league-leading Lightning
  Got something to say? Leave a comment below!