Lightning's biggest challenge: Staying out of their own damned way
Leaning against a wall outside the visitor's dressing room at KeyBank Arena, Jon Cooper nodded at the suggestion that he and his coaching staff have their work cut out for them.
As crazy as that may seem, with the Tampa Bay Lightning owning a double-digit point lead in mid-January in the chase for the Presidents' Trophy, the club faces the largely unrelatable challenge of sustaining excellence over 82 games, plus four playoff rounds.
"Winning: It's a blessing and it's a curse," Cooper told theScore Sunday, hours before a 5-3 win over the Buffalo Sabres. The NHL's longest-tenured head coach wasn't being sarcastic or overly critical; he was being pragmatic.
"It's a blessing because you're in first place and your goal is to make the playoffs and you're giving yourself an unreal chance to do it. It's a curse because things are going well but you don't want to take your foot off the gas. You're balancing - being hard on them, yet letting them play."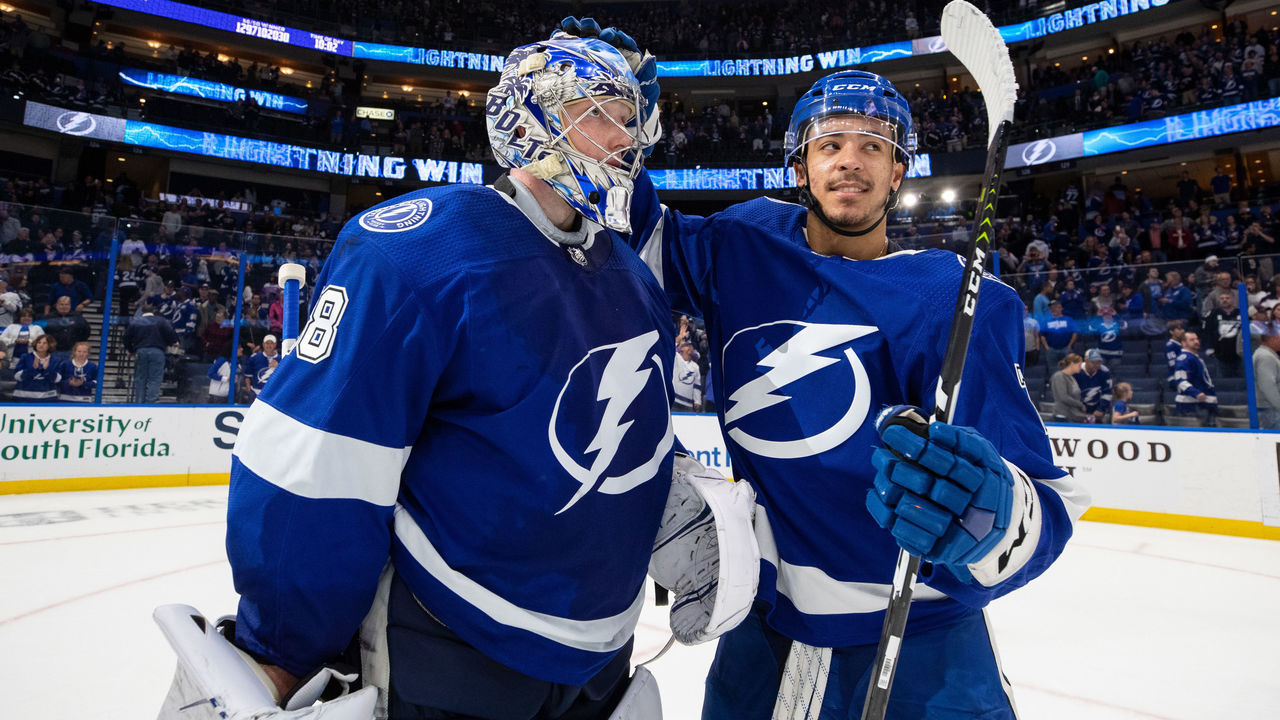 The 2018-19 season hasn't even reached the All-Star break and yet it feels like any type of inconsistency won't make a sizeable impact on Tampa's location in the end-of-season standings. The Lightning, hockey's version of the NBA's Golden State Warriors, have the requisite star power and depth to maintain their pace - if everything continues to go according to plan.
Cooper admits he's monitoring for signs of satisfaction inside the club's bubble, a necessary daily process most outsiders might not appreciate. "If you're battling for a playoff spot, you're grinding every single day," he said. "When you're at the top of the standings, you're grinding in a different way."
Before diving into the "different" grind, it's necessary to reflect on the accomplishments of Cooper's squad thus far.
Through Tuesday, the Lightning have picked up 74 of a possible 94 points, with two of their 11 losses coming in overtime. Both their points percentage (.787) and goal differential (plus-58) are absurdly high; the Calgary Flames rank second at .681 and plus-40. Thanks to a near-perfect past two months - with no regulation defeats in December and a 22-3-1 record since Nov. 21 - Tampa is on pace for an eye-popping 129 points. The salary cap era record (124 points set by the 2005-06 Detroit Red Wings) is within striking distance, while the all-time mark (132 by the 1976-77 Montreal Canadiens) is also within the realm of possibility.
As for the roster, Cooper has enviable depth at his disposal, and there's an argument to be made for the inclusion of a Tampa player on every positional top-10 list.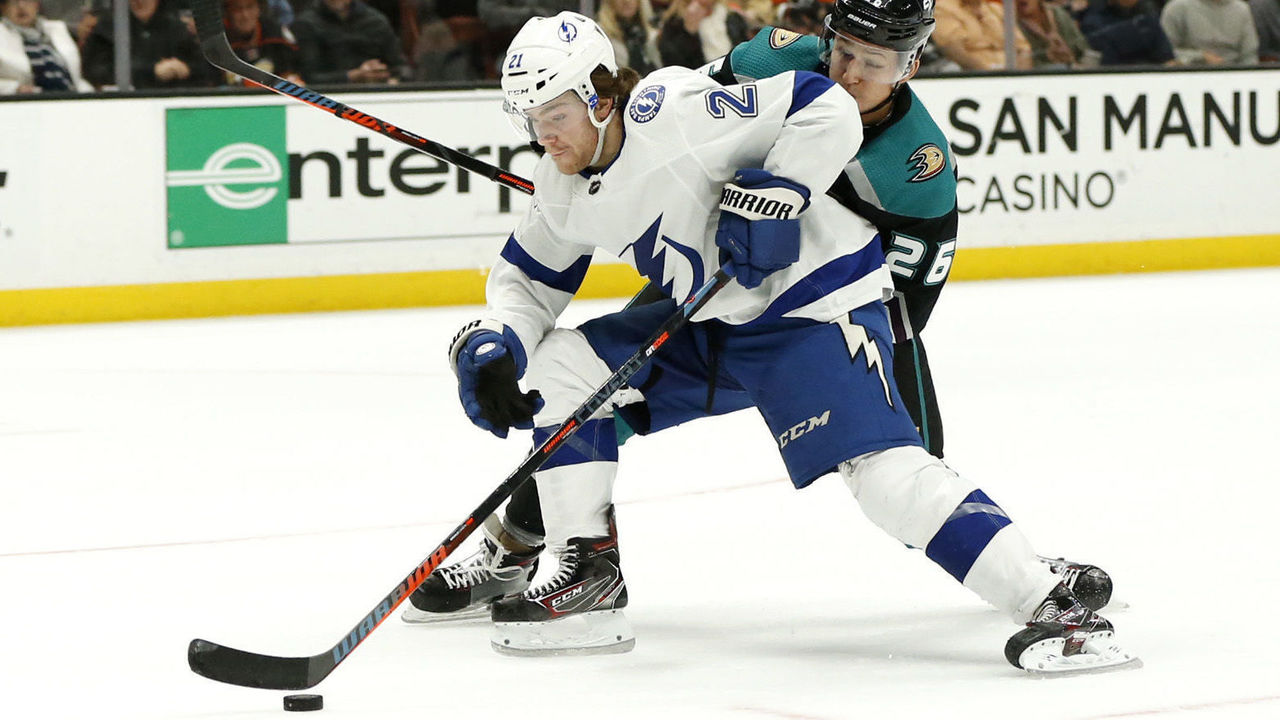 Team success has overshadowed some fine performances - Brayden Point's 61 points over 47 games, in particular. He's beloved within the Lightning organization, and though the admiration is starting to infiltrate the mainstream, those who know him best insist the 22-year-old remains grossly underrated. Still on an upward trajectory, he's a versatile three-zone center quietly piecing together an MVP-caliber season.
Following an on-ice session at KeyBank, teammate Mathieu Joseph heaped serious praise on Point while the latter untied his skates a couple of stalls away: "He's so important for our team and, personally, I think he's one of the best players in the world."
Across the room, Nikita Kucherov, the no-nonsense Russian, concurs: "We're in Florida, we're in Tampa. Not a lot of attention," he said of Point. "If he played in Toronto, he'd be a superstar."
Then there's captain Steven Stamkos, a former 60-goal scorer on pace for a cool 42 this season. He legitimately - and stunningly - might be Tampa's fifth-best player. And that's far from a hot take - it's simply the reality of the situation and a compliment to the Lightning's strong drafting, development, and asset management.
"Each team is different, with different skill, different depth, different camaraderie," Stamkos said, reflecting on his 11 years in a Lightning uniform, "but this is definitely the best in terms of overall talent."
Which brings us back to Cooper's conundrum: How can the Lightning, in one breath, appreciate a special season, and in the next, not care about what happened yesterday, last week, or two months ago?
By emphasizing group progress over personal gains.
Yes, Tampa is so deep it has scheduled "rest" games for certain players - in part because the Lightning feel the drop-off in talent from, say, the 11th forward to the 14th can be offset elsewhere.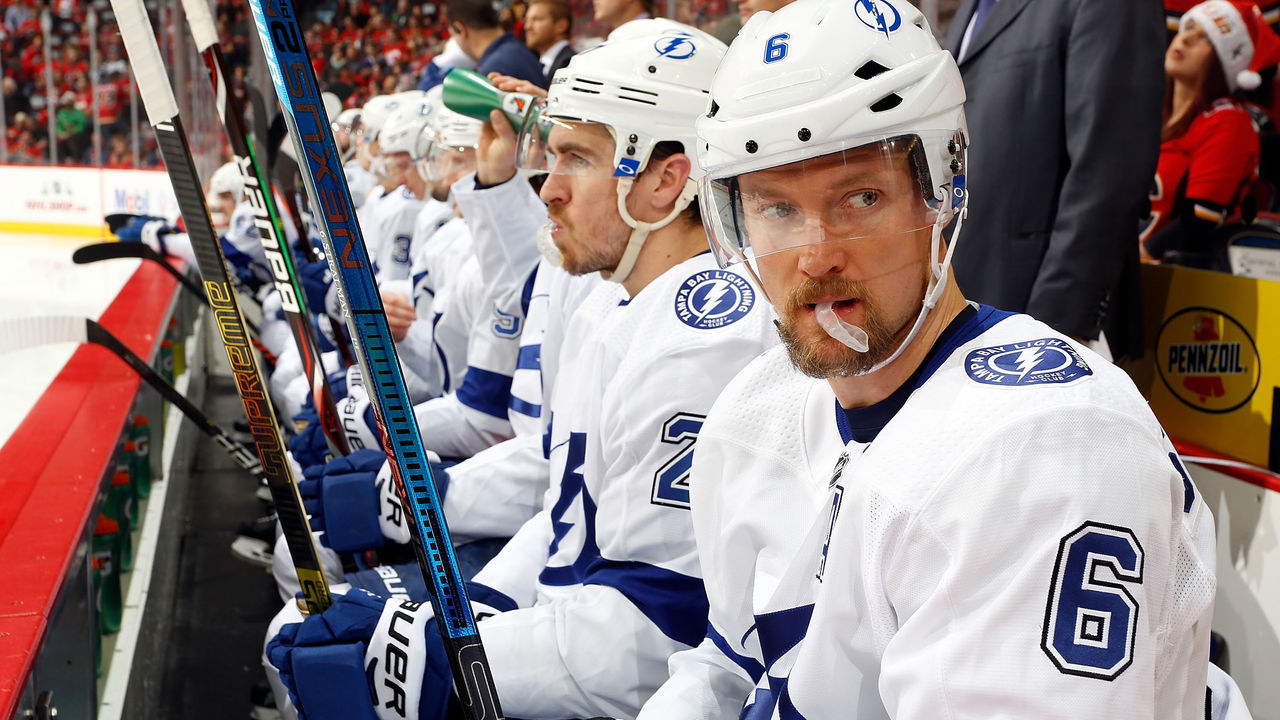 That's why a healthy Joseph, who is tied for second in NHL rookie goal-scoring, sits every once in a while. It's also why a 32-year-old Anton Stralman isn't drawing into every single game. Even Andrei Vasilevskiy, a Vezina Trophy finalist last year, is on a strict schedule that focuses on rest and recovery rather than marquee matchups.
"It's hard to convince guys," assistant coach Jeff Halpern said. "Everybody wants to play, wants to contribute. You never want anyone to feel their legs have been chopped off. When you ask guys to be leaders and they're put in situations where they're not in a game, it can be difficult."
The difference between what the Lightning are doing and how NHL teams typically handle scratching is the transparency. There's rarely a game-day decision for Tampa as lineup alterations tend to be predetermined. It's a process designed to be "better on the psyche," mentions Halpern, a former NHLer who endured the scratch system himself.
That said, nobody is going to accept the news with a beaming smile, polite approach or not.
"You can do that when you have depth. It's an advantage," Joseph said. "Even though we all want to play 82 games, you can rest some guys. It's a mentality (the staff has) and you've got to respect that."
| CATEGORY | 2017-18 (RANK) | 2018-19 (RANK) |
| --- | --- | --- |
| Goals/game | 3.5 (1st) | 4.0 (1st) |
| 5v5 attempts for/60 minutes | 59.7 (9th) | 59.9 (6th) |
| Power play percentage | 23.9 (3rd) | 29.1 (1st) |
| Goals against/game | 2.9 (13th) | 2.8 (8th) |
| 5v5 attempts against/60 mins | 55.9 (8th) | 54.6 (8th) |
| Penalty kill percentage | 76.1 (28th) | 83.7 (6th) |
The mentality is shaped by a lesson learned. The Lightning were dominant last season, too - not to the extent they have been in 2018-19, but still good enough to be the toast of the Eastern Conference.
It was around this point of the schedule last season that the team hit a rut, losing five of seven from Jan. 4-20. Complacency set in, zapping them of their trademark swagger.
"We were in a very similar situation and probably let things go a little bit," Cooper admitted. "I kinda rode the wave of success a little bit more (last year) and didn't nip things in the bud when we probably should have."
Tampa finished atop the conference, then won two series before flaming out in seven games versus the eventual Stanley Cup champion Washington Capitals.
Fast forward to now, and the roster looks virtually the same - again, no major holes. Jake Dotchin, Chris Kunitz, and J.T. Brown are long gone, replaced by Joseph, defenseman Erik Cernak, and Anthony Cirelli, who's quickly become a go-to forward on a vastly improved penalty kill. The Lightning have encountered the occasional injury, sure, but nothing too serious. Overall, compared to the dog days of last season, the good times keep rolling.
Now, for the glass-half-empty perspective. Discussions about limiting turnovers have crept into multiple team meetings, Joseph said, and on Sunday, Stralman lamented the group's lack of "hunger." It could be a blip on the radar, or perhaps a sign of things to come.
"Puck management, D-zone. There's a lot we can improve still," Joseph added. "Rushes, boxing out, stuff like that. I think the biggest part is that we want to be good defensively and I think we've been getting better as the season's gone on."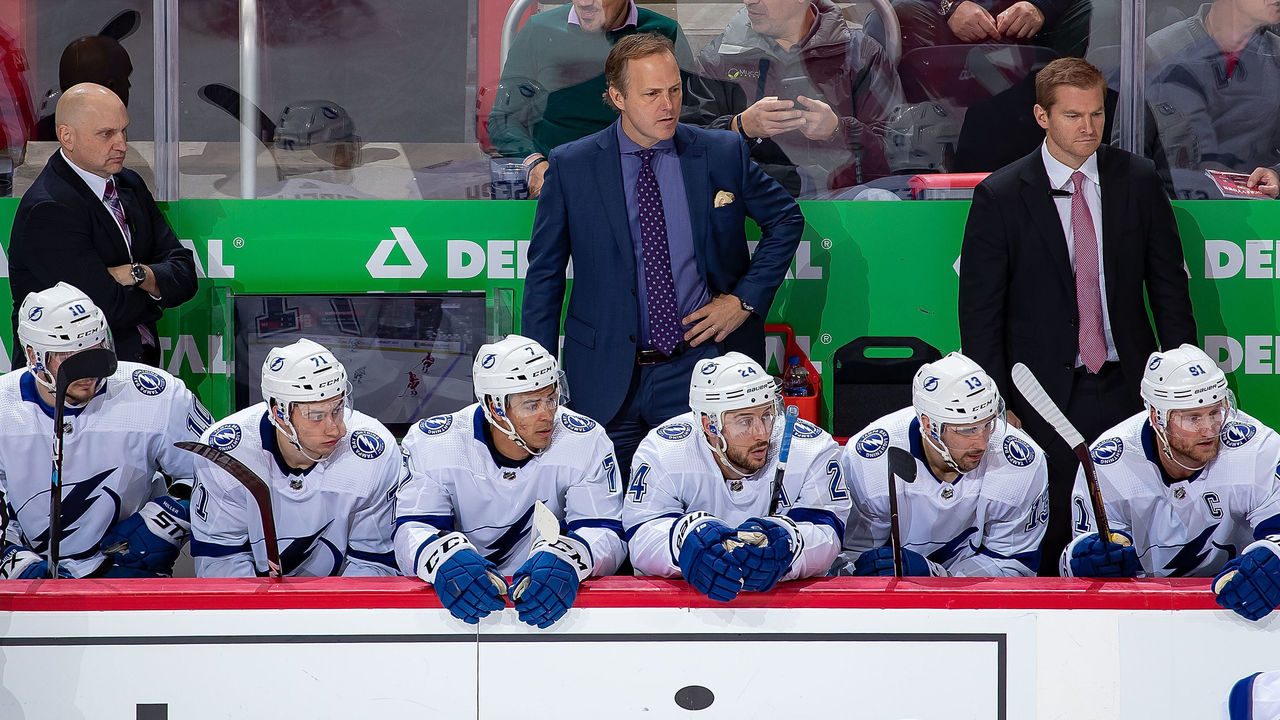 No team is perfect. Ultimately, complacency has yet to take over, and familiarity and experience help with that. "I have a better feel for each individual player and what makes them tick," said Cooper, a champion in the USHL and AHL and a Cup finalist with the 2014-15 Bolts.
Halpern calls the regular season "a dress rehearsal, so to speak," with the coaches huddling on occasion to ask, "If Game 1 of the playoffs was tomorrow, what would our lineup be?" It'll be easier to land on an answer the second time around with essentially the same group.
The rotation has given them more video and data for lineup optimization. All that being said, they are cognizant of disrupting rhythm. "There's rest and there's the possibility of losing your timing," Cooper said. "Players are habitual and in routines. You screw that routine up and all of a sudden what do you have? It's always a fine line with me." Given that the Lightning appear to be head and shoulders above the other 30 teams, their biggest challenge could be staying out of their own way.
Of course, Tampa feels comfortable experimenting since, in essence, they are an exaggerated version of what every modern NHL squad aspires to be. They're built well, icing two-way players at forward and defense; they prioritize skill, speed, and smarts; they play a fluid, frenetic brand of hockey; and they have one of the top goaltending tandems in the league. It's a foolproof plan when you've created a buffer zone in the standings.
It helps that the man calling the shots at ice level isn't afraid to think outside the box by throwing the odd curveball, like his on-the-fly goalie change Sunday.
Cooper will scratch good players, is up-front about the potential for complacency and/or implosion, and is realistic about the best team in hockey's place in the world.
"You never strive for perfection. Just strive for excellence," Cooper said, still leaning against the wall, reciting one of his favorite quotes. "Because you can't get perfect. Perfect's unattainable."
John Matisz is theScore's National Hockey Writer. You can find him on Twitter @matiszjohn.
Comments
✕
Lightning's biggest challenge: Staying out of their own damned way
  Got something to say? Leave a comment below!