Toe drags and outrageous hits: NHLers dish on peers' signature skills
Earlier this season, after a handful of fruitless one-on-one battles versus Seth Jones, a lightbulb went off in Pierre-Luc Dubois' head.
Man, this guy's impossible to defend. He's strong, mobile, and assertive.
"He'll have a guy on his back and, with one hand on his stick, he'll push the guy away. He'll keep skating," Dubois said, shaking his head at the commanding nature of his Columbus Blue Jackets teammate. "We laugh about that. I started to pay attention to it and I see it pretty much every game."
This is one of Jones' signatures. The Metropolitan Division All-Star tends to carry the puck with self-assuredness, deploying his 6-foot-4, 209-pound frame as a shield against all puck-hungry opponents.
The sequence below, from a game in November versus the New York Rangers, shows the understated skill. Watch the puck-carrier on the far side of the ice:
Jones transports the puck from the red line to the offensive zone with three Rangers in his vicinity. Initiating from opposite sides, two of them try to steal the puck. They fail miserably, while the third glides deeper into the defensive end. Moments later, Jones wires a shot from the point. Goal.
If you look close enough, these skills - let's call them signatures - can be identified in every NHL game. Two obvious examples: Auston Matthews' knack for releasing the puck from unique angles and Connor McDavid's habit of going full-tilt before stopping on a dime. Other signatures, on the other hand, go largely undetected by the naked eye.
Frankly, some NHL players are much better than their peers at certain things.
"To be at this level, you have to do something really well," Vegas Golden Knights winger Alex Tuch said of the signature theory. "You can't just be OK at everything and be a difference-maker. No, you have to do at least one thing really well to stick out."
So, who is exceptional at the covert? Who is so proficient at a specific skill that teammates and opponents can only shake their heads in disbelief from the bench? In short, who has a signature worth highlighting?
Ahead of this week's All-Star festivities, theScore surveyed 15 NHLers to ask those exact questions. Here are the 10 best responses:
The stick magician
Aleksander Barkov is so often labeled underrated that he may actually be overrated at this point.
Mind you, there's a reason why the Florida Panthers captain's stock is hard to peg. The guy's incredible at a number of subtleties, including the art of using his stick to his advantage as a defender, and more importantly, doing so legally.
"We just played Florida a couple of games ago and I remember Barkov was so good at his hand-eye coordination," Tampa Bay Lightning forward Tyler Johnson said in December. "You couldn't get a puck around him because, no matter what, he was catching it with his stick. It was really impressing all of us."
There's no doubt that members of the Senators felt similarly on Nov. 11, when Barkov lifted Christian Jaros' stick at the Ottawa blue line en route to a pretty half-breakaway goal:
Typical kosher stick work from Barkov, who has an astounding plus-27 penalty differential right now. Twenty-eight penalties drawn, one penalty taken through 1,043 minutes.
It's not as though the rangy Finnish center is disengaged without the puck, wandering around aimlessly. He's a perennial Selke Trophy candidate in large part due to his attention to detail, timing, and hand-eye coordination on the defensive side of the puck.
"You try to chip it past him, it doesn't work," Johnson said. "You might try to throw a sauce pass through the seam and he always seems to knock it down and put it right back on his stick."
The breakout bandit
Ask a group of hockey observers - fans, media, players, coaches, whomever - to name the NHL's top puck-handling goalie and Mike Smith's name will undoubtedly dominate the replies. After all, it's the Calgary Flames netminder's calling card.
What about Central Division All-Star Pekka Rinne? At least one conference rival finds the Nashville Predator's passing capabilities incredibly annoying.
"Mostly what I hate about goalies is when they handle the puck really well. Like Pekka Rinne," San Jose Sharks winger Tomas Hertl said. "You will hammer the puck around the boards and he will jump on it. Every time you forecheck on him, he just waits. After you move, he plays it."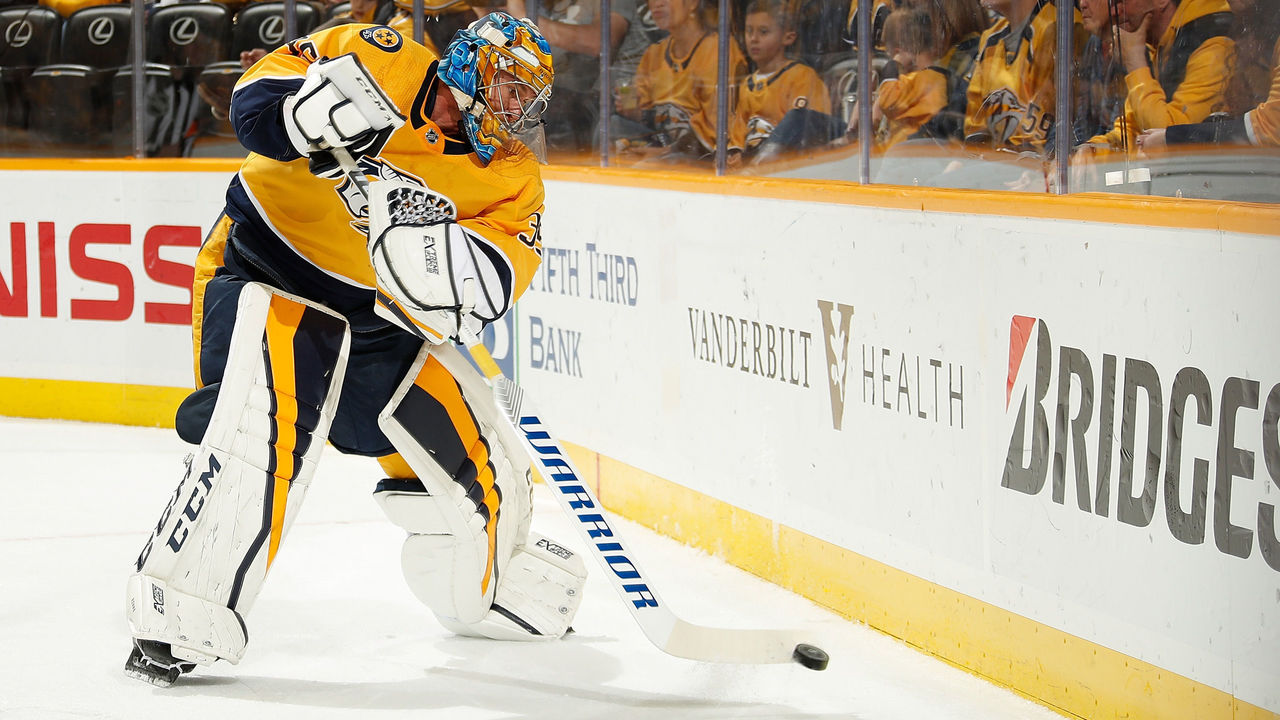 Rinne, the reigning Vezina Trophy winner, is "like a sixth player on the ice," Hertl said.
"He fakes you out or waits you out," he added. "Because you have to go on him, and if you go on him, he just makes the easy play up the ice or off the boards. You're done and they go the other way. It's pretty hard."
The no-look artist
For Martin Frk, the Czech-born Detroit Red Wings forward with a booming shot, Swedish playmaker Nicklas Backstrom is on the short list of greatest passers of his era.
That's not exactly a unique take, given nobody has pocketed more assists than Backstrom since the Washington Capitals center entered the league in 2007. Instead, it's the manner in which Backstrom generates scoring opportunities for his teammates on the power play that keeps Frk enthralled from the opposing bench:
While the above clip is from an even-strength shift and involves a quick snipe by T.J. Oshie, Frk's point still resonates.
"When you watch him, he's got the touch," he said of No. 19's trademark no-lookers, laughing to himself.
"He sometimes does this no-look pass," Frk added. "He sees the ice very well, so he can do that. Especially on the power play, when you need to score, he can make those passes and it's usually an easy tap-in for the guys there."
The constant threat
On a Vegas roster filled with useful players, it's William Carrier who comes to mind for Tuch, because the fourth-liner is the cream of the crop in one specific area.
"Honestly, dude, it's insane," Tuch said. "He finishes every single check. So, every time the defenseman goes to retrieve a puck, he's there. By the third period, they're looking over both shoulders going, 'What the hell is going to happen to me now?' If they don't, they're going to get smoked by Will Carrier."
Talk about a ringing endorsement for a player who sees fewer than 10 minutes of ice time per night.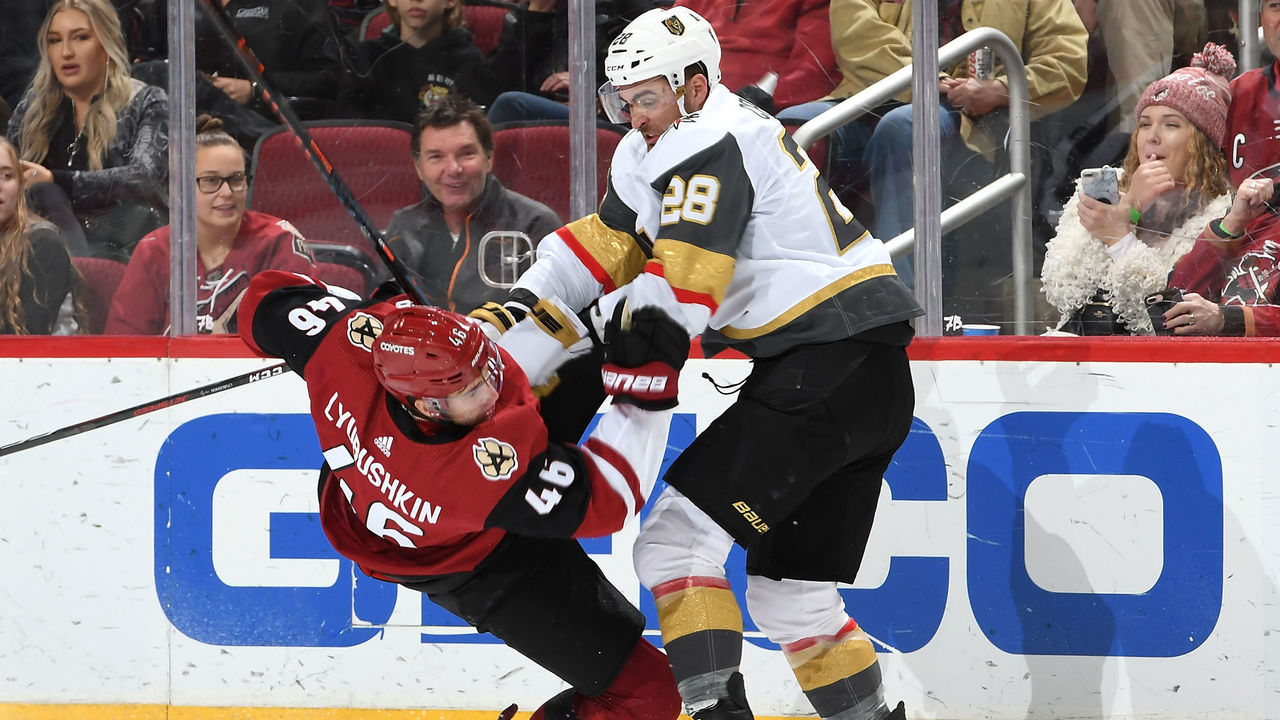 Although gaudy hit totals are not for everyone (you're usually in a position to make a hit when your team doesn't have the puck, so is it really a net-positive?), Tuch is most definitely barking up the right tree.
Carrier, a 6-foot-2, 212-pound winger acquired by Vegas from the Buffalo Sabres in the 2017 expansion draft, leads the league in hits with 219 in 44 games this season, while racking up just 20 penalty minutes. Sounds pretty effective.
The bouncy glider
The NHL is overrun by elite skaters. McDavid, Nathan MacKinnon, Dylan Larkin, Kasperi Kapanen, Andreas Athanasiou, and that's just a handful of forwards.
While not blazing fast, Jake Gardiner is certainly in the conversation for the best skating defenseman. The Toronto Maple Leafs blue-liner, who has taken a beating lately from a segment of the fan base, has this unique way of gliding at a high speed, during which it appears he's almost hovering slightly above the ice.
"He has that bounce to him, that evasive, deceptive speed," Leafs goalie Garret Sparks said. "He's an effortless skater. It's stuff like that that you can't teach."
Gardiner transitions from skating forward to skating backward - and vice versa - in immaculate fashion. Sometimes, like in the above clip, it looks as though the puck is his dance partner.
There's no awkward tangling of the feet thanks to some elite edgework, and he does it all seemingly without breaking a sweat.
"His skating's just an extension of his mind," Sparks said of the 28-year-old pending unrestricted free agent. "He doesn't have to work for it."
The drag master
Damon Severson doesn't know if Bo Horvat has the best toe drag in the league, but he can attest to the effectiveness of the two-way center's "patented" move.
"One of my first couple of years in the NHL he came down on me, and I knew it was coming," said Severson. "But I tried to poke the puck away and I just missed it and he went by me.
"He comes down with speed and just kinda pulls it out, back, and then he's way out here (Severson mimics an exaggerated toe dragging motion) and goes around you. He's really good at that move."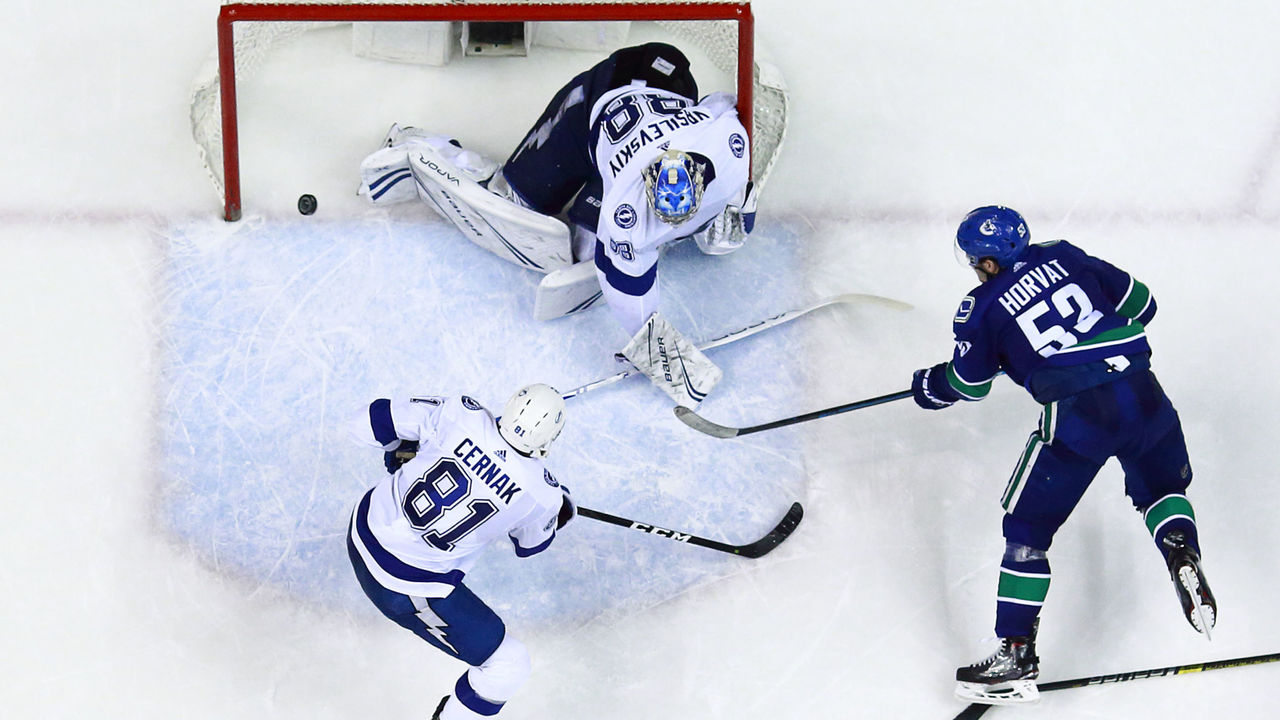 Not every Horvat toe drag leads to a celebration for the Vancouver Canucks. Many of his attempts over the years have been derailed by flailing stick checks, point-blank saves, or poorly-aimed shots.
The 'Bo' drag is a risky maneuver belied by a highlight-reel payoff. In Severson's case, he had the last laugh. Well, sort of.
"Thank goodness he didn't score or else that would be really bad," Severson said. "I had my girlfriend's dad text me after the game. He was telling me to get my jock out of the rafters."
The lane maker
Like clockwork, Brent Burns is again challenging for the league lead in shots on goal among defensemen. A top-five finisher every year since 2013-14, the Sharks blue-liner sits four back of Roman Josi's 176 shots.
In the offensive zone, just about every puck that enters Burns' orbit eventually finds the opposing cage. The Pacific Division All-Star has an innate feel for aiming for the target and, more crucially, avoiding shot-blocking forwards.
"For guys who have the ability to get shots through from the point, I think Brent Burns is a name," Boston Bruins winger Danton Heinen said. "He's the best in the league at that, in my opinion."
Sounds basic, right? Find a hole and put the puck through it. Really, though, it's complicated. Lanes disappear in an instant and there's a legitimate risk a blocked shot can send an odd-man rush the other way.
According to Heinen, Burns is effective because he's fearless, can skate his way into openings, and is not afraid to get creative. This deadly combination allows Burns, who was drafted by the Minnesota Wild in 2003 as a forward, to manufacture a prime scoring chance out of a broken play.
"If the puck is going back to the point, a lot of times you can get in the lane and be fine," Heinen said. "But he's good at changing the angle and getting it through, getting it by you. He somehow creates those shots. You think you're in the lane and then he either pulls it, or pushes it, or just lets it go so quickly. All of a sudden, it's through you."
The point guard
When Artemi Panarin receives the puck on his stick, the game almost always seems to slow down. The patient playmaker isn't a poor skater, he just seems to prefer a certain pace when playing keep-away with the other team.
For the Russian center with 179 assists in 289 NHL games, hockey is not unlike basketball. Bring on the double-teams, he'll find a seam. And it doesn't matter if he's on his backhand or forehand, he'll figure it out.
"A guy with his skill set has the capability to hold onto the puck a lot longer," Blue Jackets teammate Josh Anderson said. "Anytime he does have the puck there's going to be guys double-teaming him, which leaves an open man. And he'll find that guy pretty easily."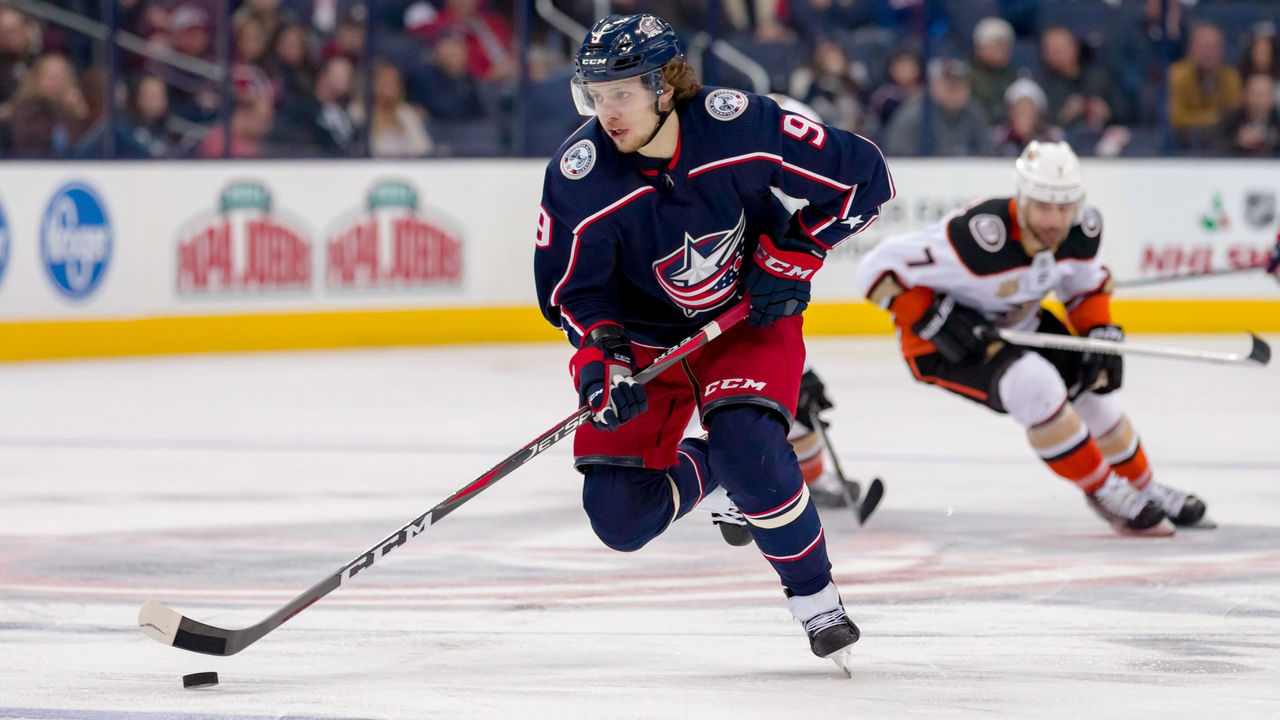 There are only a handful of NHL players who fall into the point guard category. Mathew Barzal of the New York Islanders is another. What separates Panarin from the pack, though, is his elusive style and willingness to engage with any and all defenders.
"I think it's his shiftiness," Anderson added. "He's got a lot of head fakes. Defense, half the time, don't even know what to do."
The outrageous hitter
Radko Gudas is playing in the wrong era, plain and simple.
The hulking Philadelphia Flyers defenseman is a perfectly useful player, but his bread and butter is his physical force. And the modern NHL doesn't see eye to eye with body checking, especially those of the thunderous variety.
Back in 2009-10, when Gudas was 19 and patrolling the blue line for the Everett Silvertips in the Western Hockey League, Blue Jackets defenseman Ryan Murray had a front-row seat to the best hip-checker he's come across.
"It was the most outrageous thing I've ever seen," said Murray, Gudas' defense partner in Everett. "One-on-one, last man back. The player would cut to the middle and he'd just clip them ... it was just an art."
The old Gudas reappears on occasion. You could say he's an artist:
Back in the day, Gudas' willingness to attempt a bone-crushing hit worked to Murray's advantage. A former second overall pick in the 2012 draft, he would pounce on a loose puck produced by a Gudas hit in the neutral zone and bolt north.
"It's kinda that moment where you're like, 'Am I going to fight this guy? Is there going to be a penalty?' Everybody would hesitate," Murray recalled. "The puck would squirt free and there were a few times when I would zip it up and score a goal."
From afar, Murray has noticed a steep decline in Gudas hip checks over the years, though it's more so a commentary on the sport's changing priorities than the 5-foot-11, 205-pound Czech's abilities.
"I think it's a little harder in this league," Murray said. "Guys were just more unaware (in junior). They would be going through the neutral zone and you could see it coming. He would line them up. It was wild, and the fans would be going crazy. Everyone would be screaming. Full front flips on numerous occasions."
The one-handed thief
"Like a spider."
That's how Maple Leafs forward Zach Hyman describes teammate Connor Brown when the latter is deploying his one-handed puck-stripping technique, usually on the penalty kill.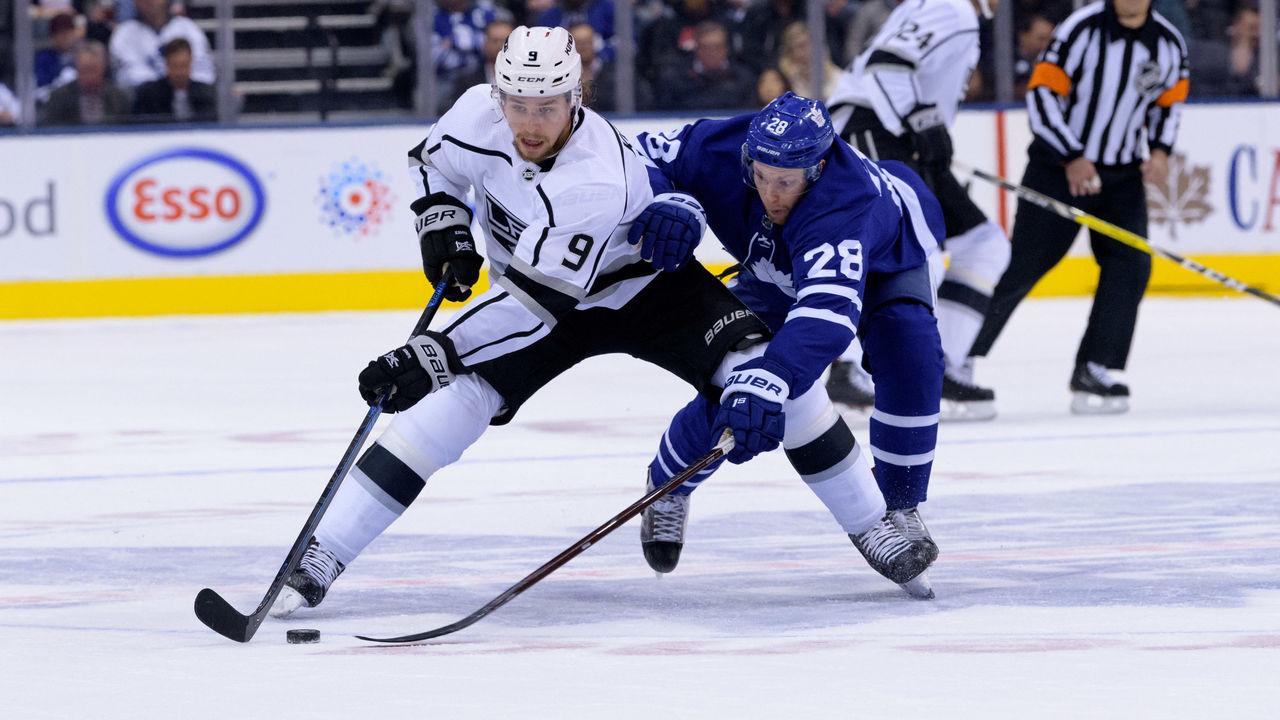 "He'll try to grab a guy from behind and he'll turn his blade upside down and then pull the puck back," said Hyman.
Like a spider, or a craps dealer at a casino.
"We always joke about it. I've played against him for however long in scrimmages and we always try to get each other with that."
Next time Columbus and Toronto face off, keep one eye on Brown, the sneaky stealer, and the other on Jones, the assertive puck-rusher, and you might see two signature skills collide in real time.
John Matisz is theScore's National Hockey Writer. You can find him on Twitter @matiszjohn.
Comments
✕
Toe drags and outrageous hits: NHLers dish on peers' signature skills
  Got something to say? Leave a comment below!