World Junior Championship preview: Canada still the team to beat
Kevin Light / Getty Images Sport / Getty
The arrival of the holiday season has an additional meaning for hockey fans, even as NHL arenas go dark for a three-day stretch.
It's officially time for the world junior hockey championship. Close friends become fierce rivals. Rivals become teammates and brothers in arms. And while the games should provide plenty of drama, fans shouldn't be shocked if it's an all-North American showdown for gold.
Here's a team-by-team breakdown of this year's World Junior Championship (2018 results and team stats included).
Canada (Group A)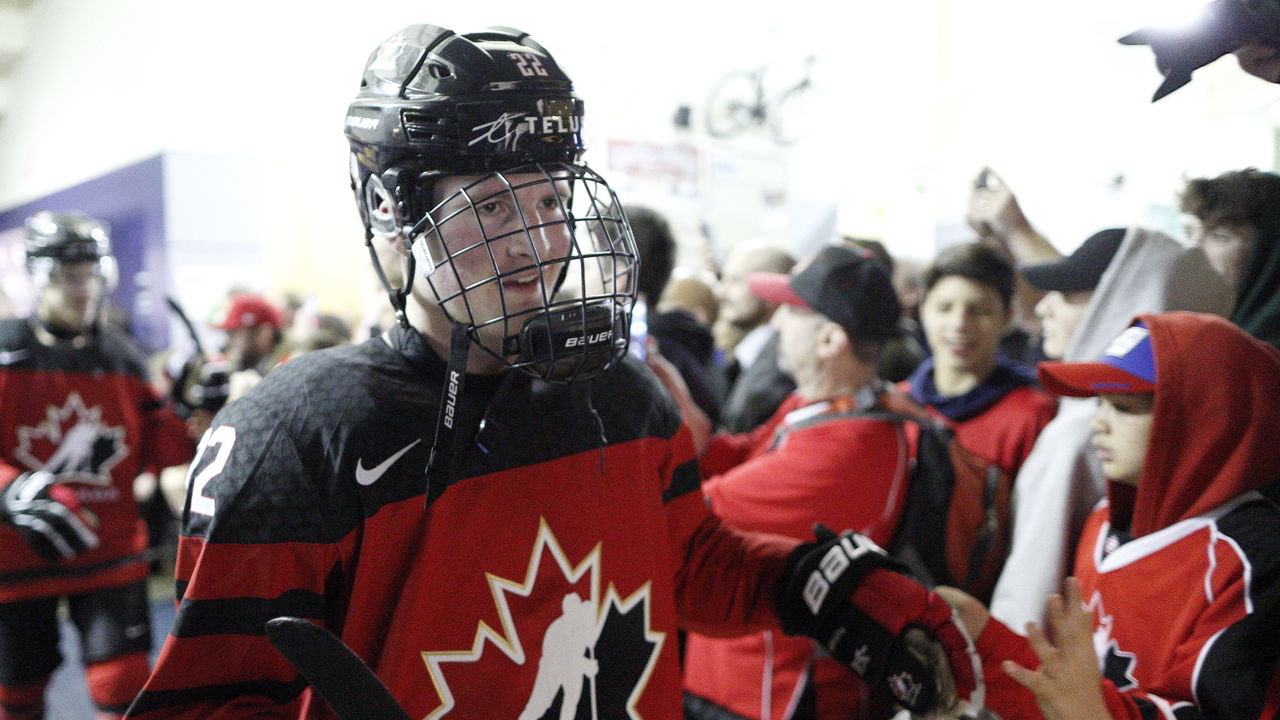 | W-L-OTL | PTS | GF | GA | RESULT |
| --- | --- | --- | --- | --- |
| 6-0-1 | 19 | 39 | 11 | Champion |
Head coach: Tim Hunter
Strengths: Forward depth is always a strength for Canada, and this edition of the tournament is no exception - especially since roster selection, for the most part, favored skill players over role players (which hasn't necessarily been the case in recent years).
Weaknesses: Canada's defense and goaltending are good but green. Opponents would be wise to exploit this. Though the Canadians should have the depth to recover, they've got some injury concerns: It's yet to be determined whether Jaret Anderson-Dolan, recovering from wrist surgery, will be able to play center and take faceoffs, and they're still waiting on the status of forward Brett Leason, who injured his hand in a game against the U SPORTS All-Star team.
Notable draft prospect: F Alexis Lafreniere, Rimouski (QMJHL)
Outlook: Setting out to defend last year's gold-medal win with just one returning player (Maxime Comtois) from the championship squad, Canada's chances are good. Keep an eye on players like Cody Glass, Owen Tippett, Evan Bouchard, and Ty Smith, and enjoy getting your first look at Lafreniere on the big stage. One thing to keep in mind: Beating Canada will be a battle as always - especially with this lineup - but this tournament is no longer theirs for the taking. That's good for hockey.
Sweden (Group B)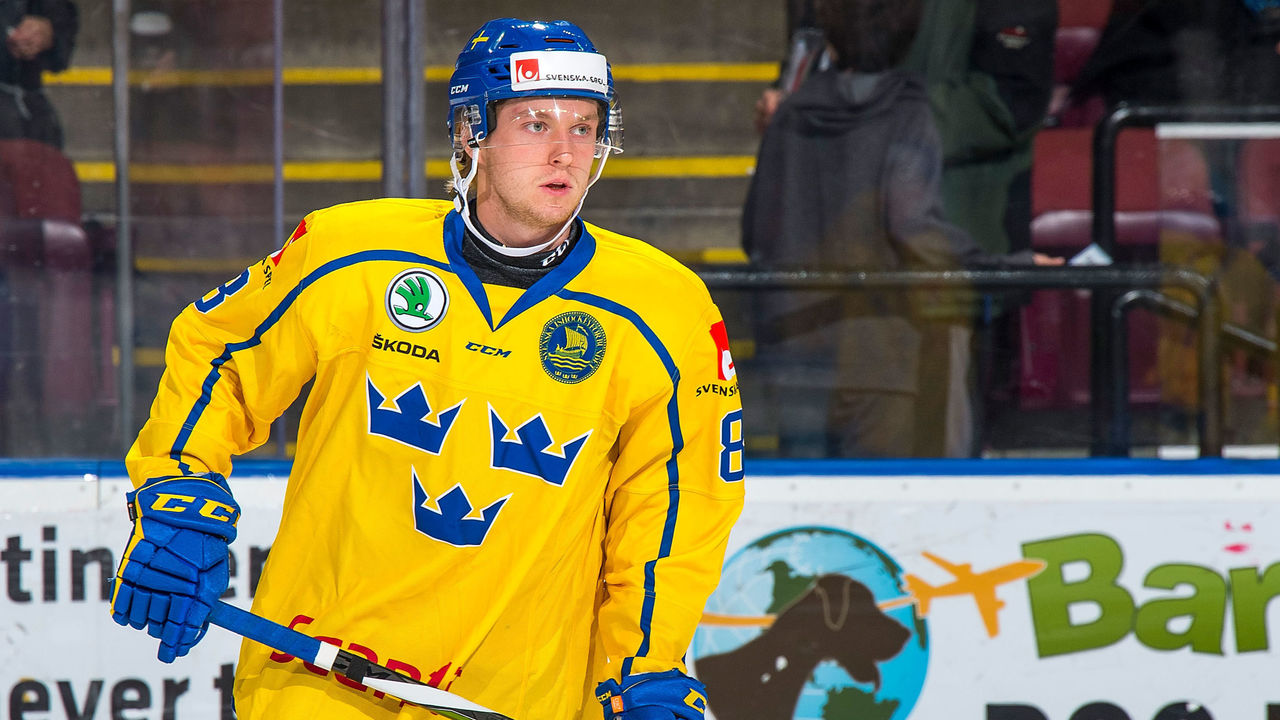 | W-L-OTL | PTS | GF | GA | RESULT |
| --- | --- | --- | --- | --- |
| 6-1-0 | 17 | 28 | 14 | Runner-up |
Head coach: Tomas Monten
Strengths: The mobile, skilled blue line ranks among the best in the tournament and features recent first-rounders such as Rasmus Sandin, Erik Brannstrom, Adam Boqvist, and Nils Lundqvist.
Weaknesses: Sweden lacks big-name offensive talent to match the depth of its defense, though rearguards like Boqvist and Brannstrom can contribute on the scoresheet. No stars are here to save the day. The team's going to have to score by committee.
Notable draft prospect: D Philip Broberg, AIK (HockeyAllsvenskan)
Outlook: Unlike past years, Sweden isn't one of the top squads here. Still, the Swedes could well surprise people and play spoiler. The Anaheim Ducks released Isac Lundestrom to play in the tournament, joining a forward group that includes Filip Hallander (Penguins) and Jacob Olofsson (Canadiens). And Sweden hasn't lost a round-robin game since 2007.
United States (Group B)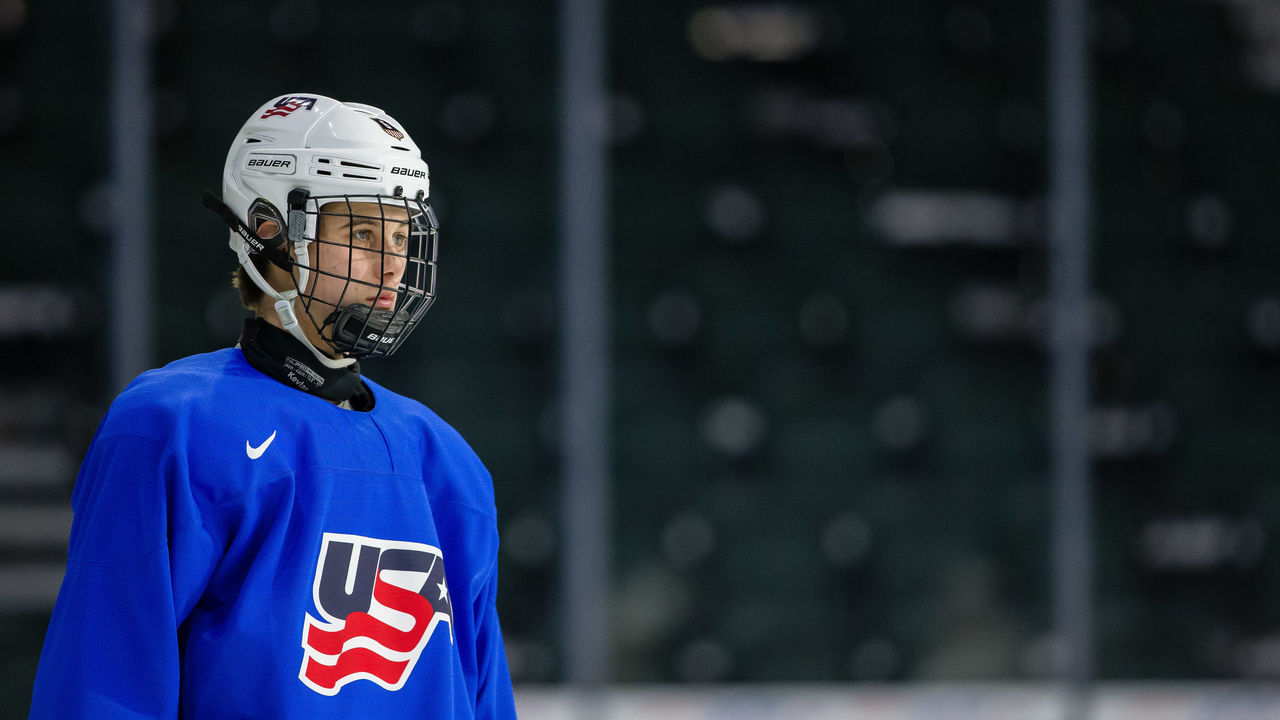 | W-L-OTL | PTS | GF | GA | RESULT |
| --- | --- | --- | --- | --- |
| 5-2-0 | 14 | 35 | 19 | Third place |
Head coach: Mike Hastings
Strengths: Forward depth. Last year's team scored 35 goals across the tournament, and this group is poised for an equally high-scoring performance.
Weaknesses: One thing Team USA doesn't have this time around is pest Brady Tkachuk. In addition to agitating his opponents, Tkachuk lit up the scoresheet, ending the 2018 world juniors with nine points in seven games.
Notable draft prospects: F Jack Hughes, U.S. National Team Development Program; G Spencer Knight, U.S. National Team Development Program
Outlook: While the U.S. is not the gold-medal favorite, it's a strong contender. Between a deep forward corps, a blue line boasting several big-name NHL prospects, and a solid goaltending trio that should be internally competitive for the starter's spot, don't count the Americans out. If Hastings keeps them together (and he should), look out for the line of Joel Farabee, Hughes, and Oliver Wahlstrom. There's significant scoring potential thanks to their history together, both at home and in international tournaments. On the back end, keep an eye out for the highly touted Quinn Hughes (Canucks), as well as K'Andre Miller (Rangers) and Mattias Samuelsson (Sabres).
Czech Republic (Group A)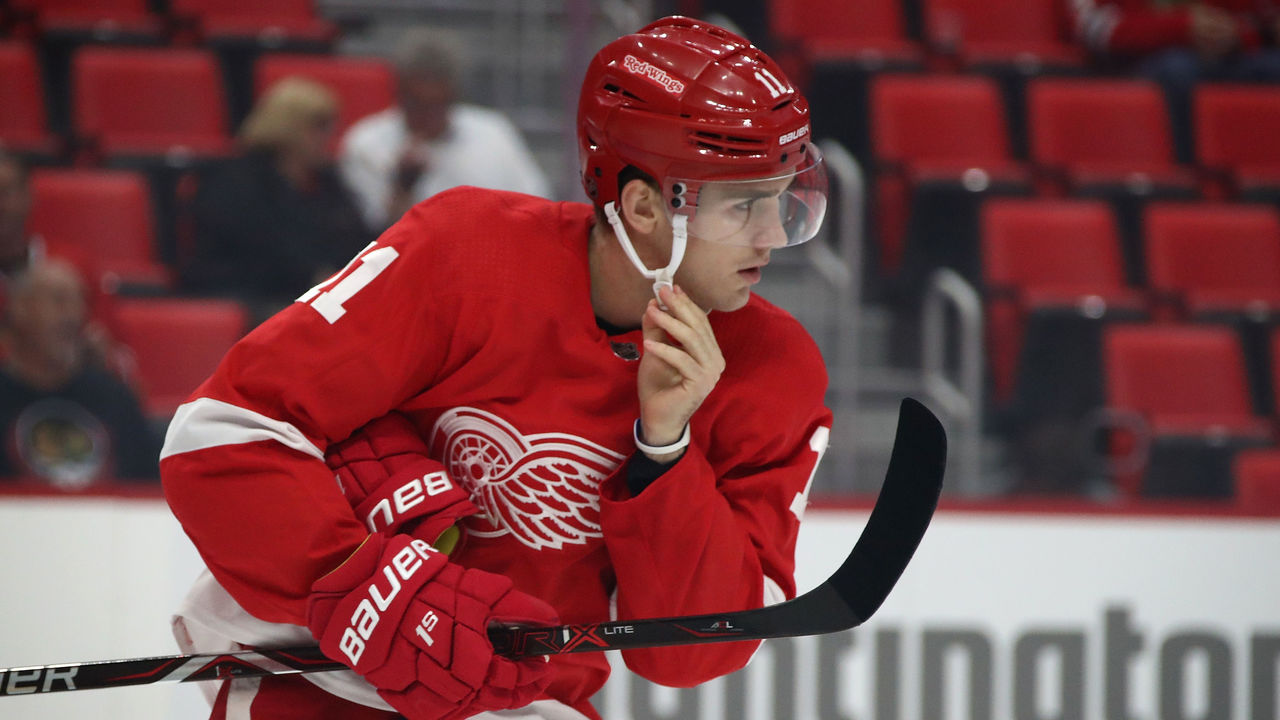 | W-L-OTL | PTS | GF | GA | RESULT |
| --- | --- | --- | --- | --- |
| 4-3-0 | 11 | 27 | 34 | Fourth place |
Head coach: Vaclav Varada
Strengths: Don't underestimate the additions of Filip Zadina (Detroit Red Wings), Martin Necas (Carolina Hurricanes), and Martin Kaut (Colorado Avalanche) - all of whom have played in the AHL this season - to the Czech Republic's already competitive lineup of forwards.
Weaknesses: For all their strength up front, the Czechs are not in an easy group - and if they make the quarterfinals, they'll likely have to get through an intimidating opponent.
Notable draft prospect: D Hugo Has, Tappara (U20 Jr. A SM-liiga)
Outlook: The Czechs haven't medaled at the world juniors since 2005, but as usual, they're an intriguing spoiler. With forwards including Zadina, Necas, Kaut, Boston Bruins prospect Jakub Lauko, and Edmonton Oilers prospect Ostap Safin, plus Jakub Skarek (Islanders) in net, they could potentially push for a medal if things go well. More than half the players they invited to camp already play on North American ice. At the very least, expect them to make life difficult for the other teams in Group A.
Russia (Group A)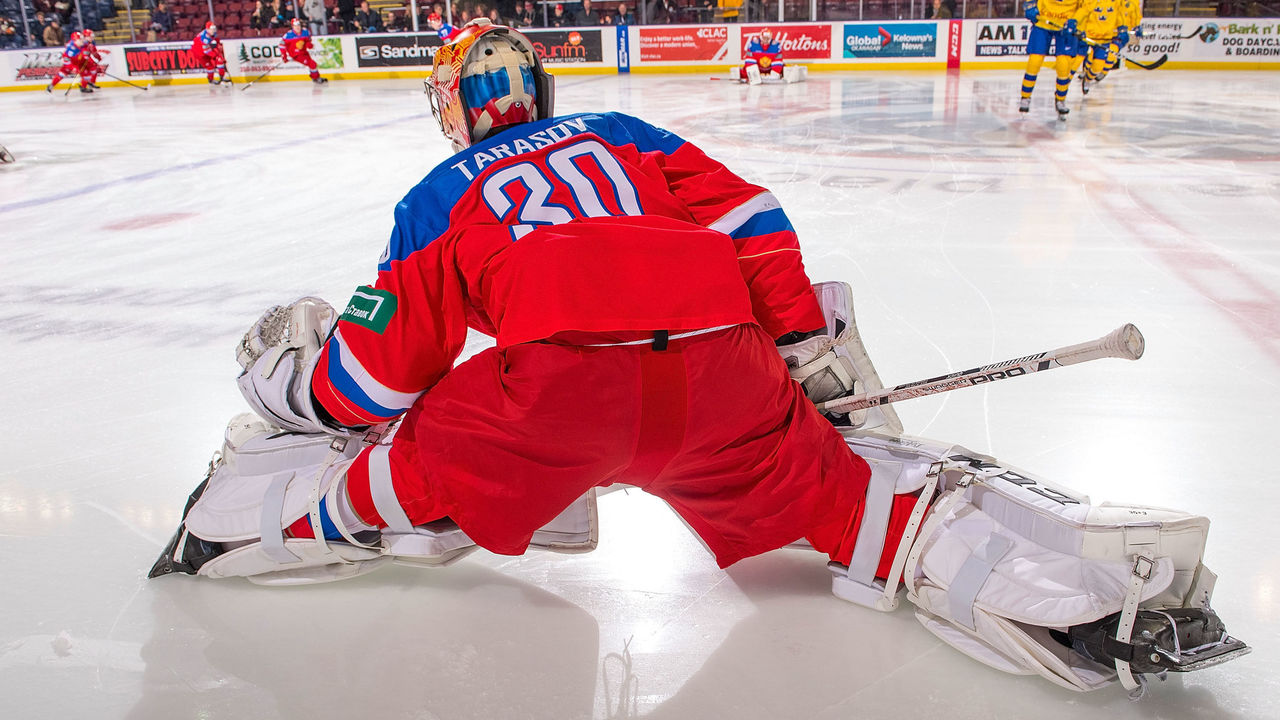 | W-L-OTL | PTS | GF | GA | RESULT |
| --- | --- | --- | --- | --- |
| 2-2-1 | 7 | 19 | 17 | Fifth place |
Head coach: Valeri Bragin
Strengths: Goaltending. Columbus Blue Jackets prospect Daniil Tarasov is Russia's projected starter with Pyotr Kochetkov and Amir Miftakhov backing him up.
Weaknesses: Russia's only returning player is Klim Kostin, meaning the majority of its roster lacks any world junior experience. But the real question about the Russians is whether all their good pieces will add up to something more.
Notable draft prospect: F Vasili Podkolzin, SKA-1946 St. Petersburg (MHL)
Outlook: After finishing fifth last year, expect Russia to come back with a vengeance. Most of the players have some professional experience, with a few in the KHL or the AHL full time. A few play in Canadian major-junior leagues. Keep an eye on forwards Vitali Kravtsov (Rangers), the 2018 KHL rookie of the year; Kostin (Blues); and Grigori Denisenko (Panthers). Alexander Alexeyev (Capitals) and Dmitri Samorukov (Oilers) are also worth monitoring.
Finland (Group B)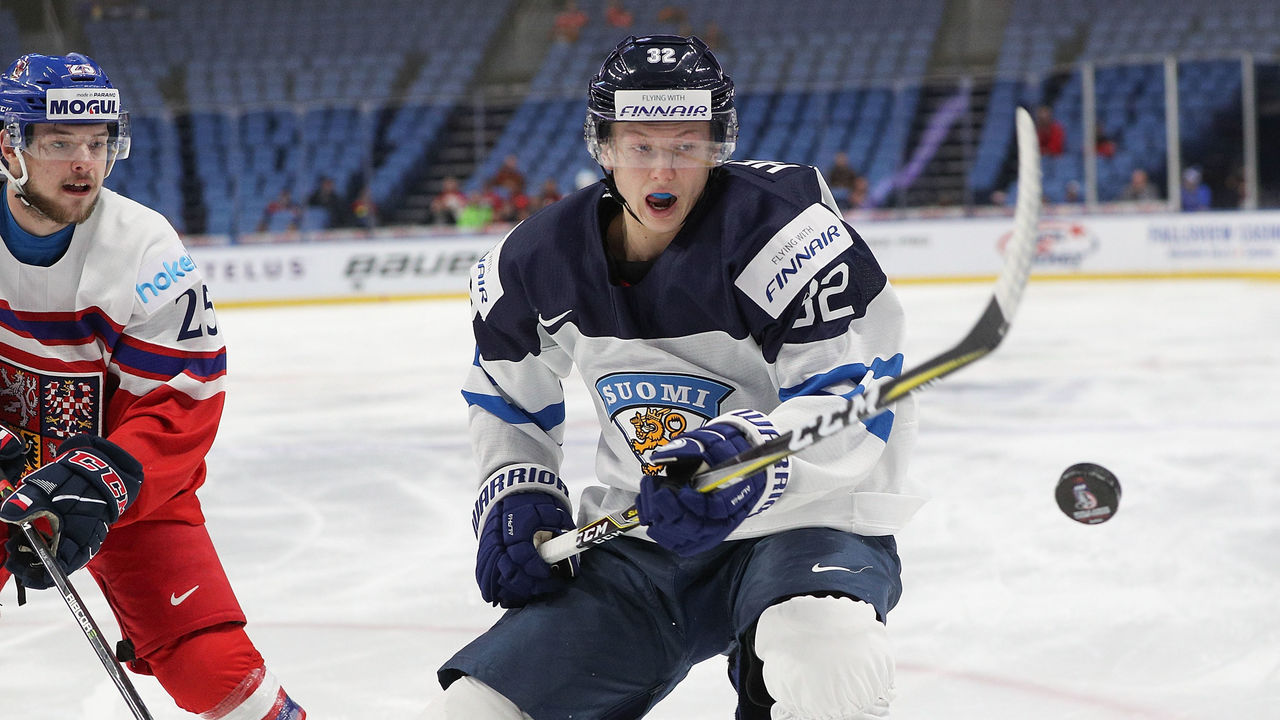 | W-L-OTL | PTS | GF | GA | RESULT |
| --- | --- | --- | --- | --- |
| 2-2-1 | 7 | 18 | 16 | Sixth place |
Head coach: Jussi Ahokas
Strengths: Finland's forward corps is as solid as they come - starting with Aleksi Heponiemi, who has 26 points, including eight goals, for Karpat of the Finnish Liiga this season. The puck-moving blue line is nothing to sneeze at, either.
Weaknesses: Finland's missing many of its best eligible players. Winnipeg Jets forward Kristian Vesalainen, currently playing with Jokerit of the KHL, turned down his invitation, and the Canadiens opted to keep forward Jesperi Kotkaniemi. Chicago Blackhawks prospect Niklas Nordgren, a forward who plays for HIFK in the Liiga, was recently injured and likely won't make the trip to Vancouver.
Notable draft prospects: F Kaapo Kakko, TPS (Liiga); D Anttoni Honka, JYP (Liiga); D Lassi Thomson, Kelowna (WHL); D Mikko Kokkonen, Jukurit (Liiga)
Outlook: For a country that's perennially among the world's top hockey powers, Finland had a rough time at last year's tourney. Fortunately for Suomi fans, things are looking up. Top-two centers Heponiemi and Rasmus Kupari can hang with the best of them, and the Predators' late release of Eeli Tolvanen makes the absences of Vesalainen and Kotkaniemi sting a little less. Finland's back end is bolstered by the late additions of Blackhawks defenseman Henri Jokiharju and Bruins blue-liner Urho Vaakanainen, who's recovered from a concussion that kept him out for nearly two months.
Slovakia (Group B)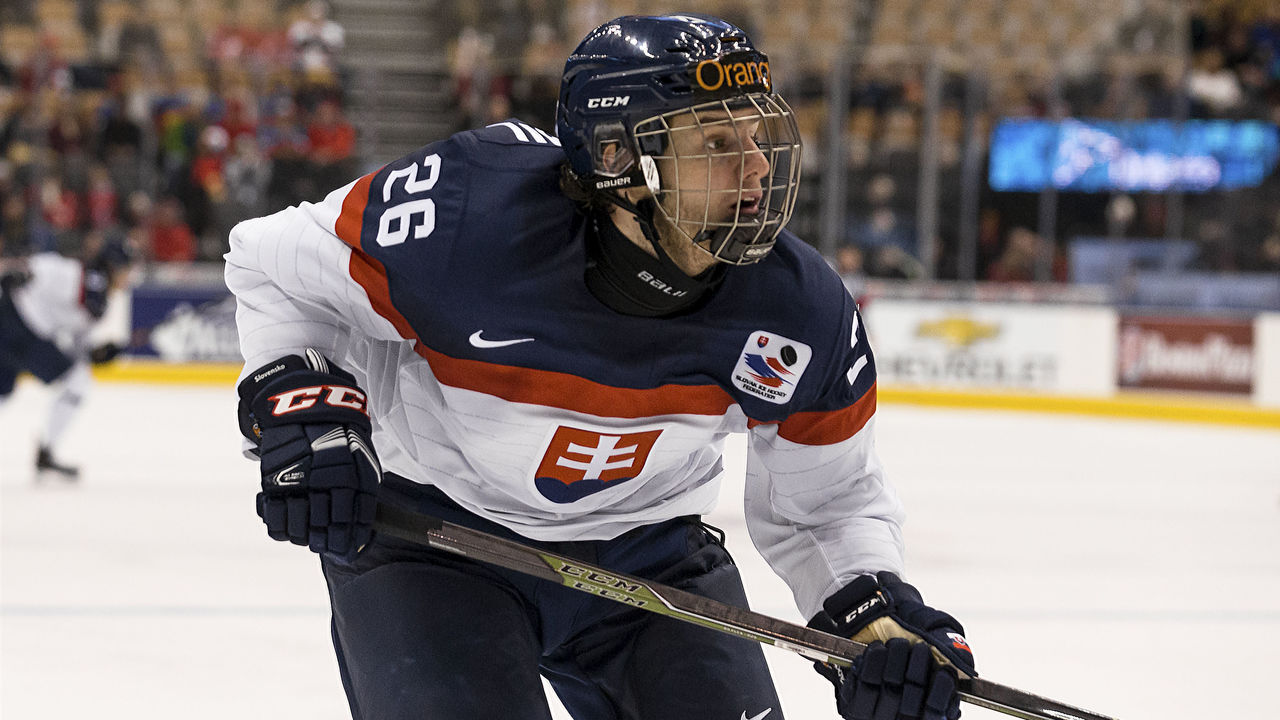 | W-L-OTL | PTS | GF | GA | RESULT |
| --- | --- | --- | --- | --- |
| 2-3-0 | 6 | 12 | 17 | Seventh place |
Head coach: Ernest Bokros
Strengths: Much of this team plays together for most of the year, and should benefit from that chemistry and familiarity. Slovakia's also bringing back nine players from last year's roster, including five forwards.
Weaknesses: While Slovakia can usually hang around to make everyone else's lives difficult, the country's chances of extending its quarterfinals streak could hinge on goaltending - and all three of the team's netminders are new to the tournament (Jakub Kostelny was Slovakia's third goalie last year, but saw no playing time).
Notable draft prospects: F Maxim Cajkovic, Saint John (QMJHL)
Outlook: While their last medal was in 2015, this team has made the quarterfinals every year since 2001 - not an easy feat. One gets the sense, however, that Slovakia feels a bit like it's time to put up or shut up. The roster is good, not great, but Slovakia's always a threat to win games it shouldn't win on paper. Keep an eye on draft-eligible Cajkovic, as well as three Calgary Flames forward prospects who will likely be counted on for leadership: Adam Ruzicka, Milos Roman, and Martin Pospisil.
Switzerland (Group A)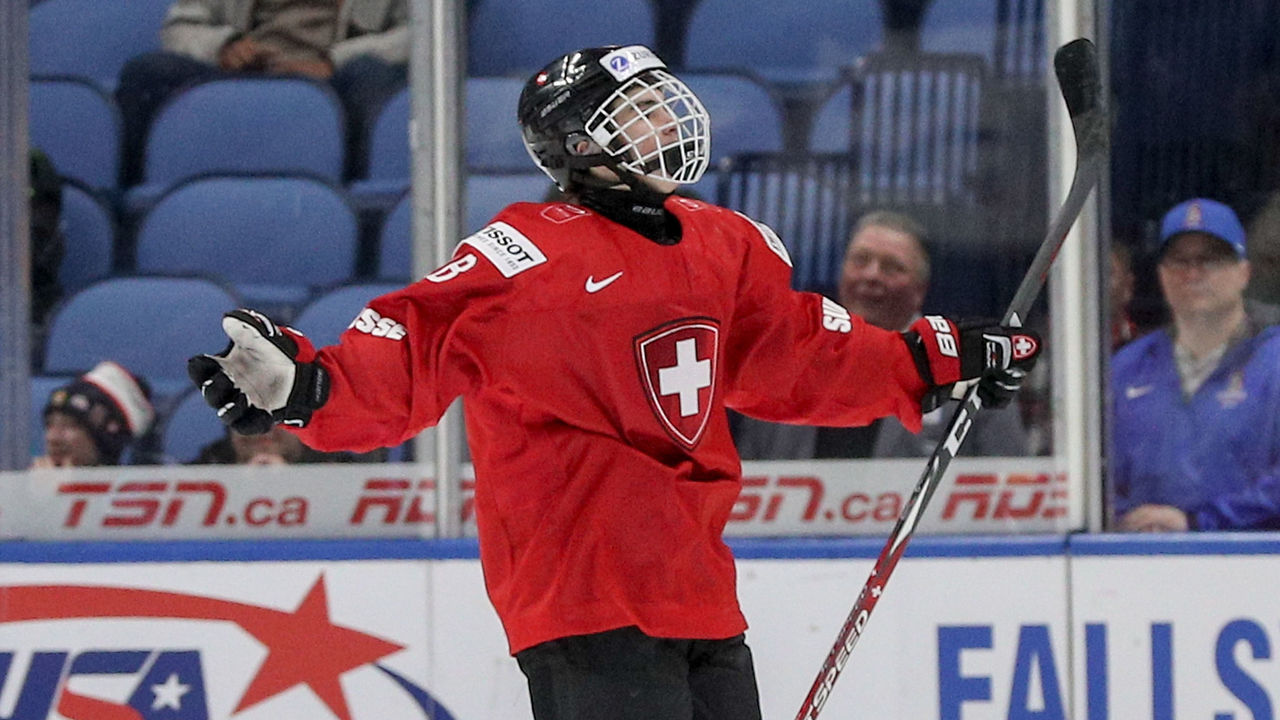 | W-L-OTL | PTS | GF | GA | RESULT |
| --- | --- | --- | --- | --- |
| 1-4-0 | 3 | 12 | 28 | Eighth place |
Head coach: Christian Wohlwend
Strengths: More than half the players on Switzerland's roster already play in North America, so far fewer of them will need to adjust to the smaller ice.
Weaknesses: Switzerland lacks a game-breaker. Nobody on the squad can completely take over the game like Jack Hughes or make things happen from the back end like Adam Boqvist. Any wins the Swiss achieve are truly going to be a team effort.
Notable draft prospects: F Valentin Nussbaumer, Shawinigan (QMJHL)
Outlook: Since the country's never won a world-junior medal, that's presumably the target, but to get there, Switzerland needs to score more than it did last year. Another key question is whether the team's goaltending will hold up against its opponents' offensive firepower. If it can, the Swiss should be able to make the quarterfinals. From there, who knows?
Denmark (Group A)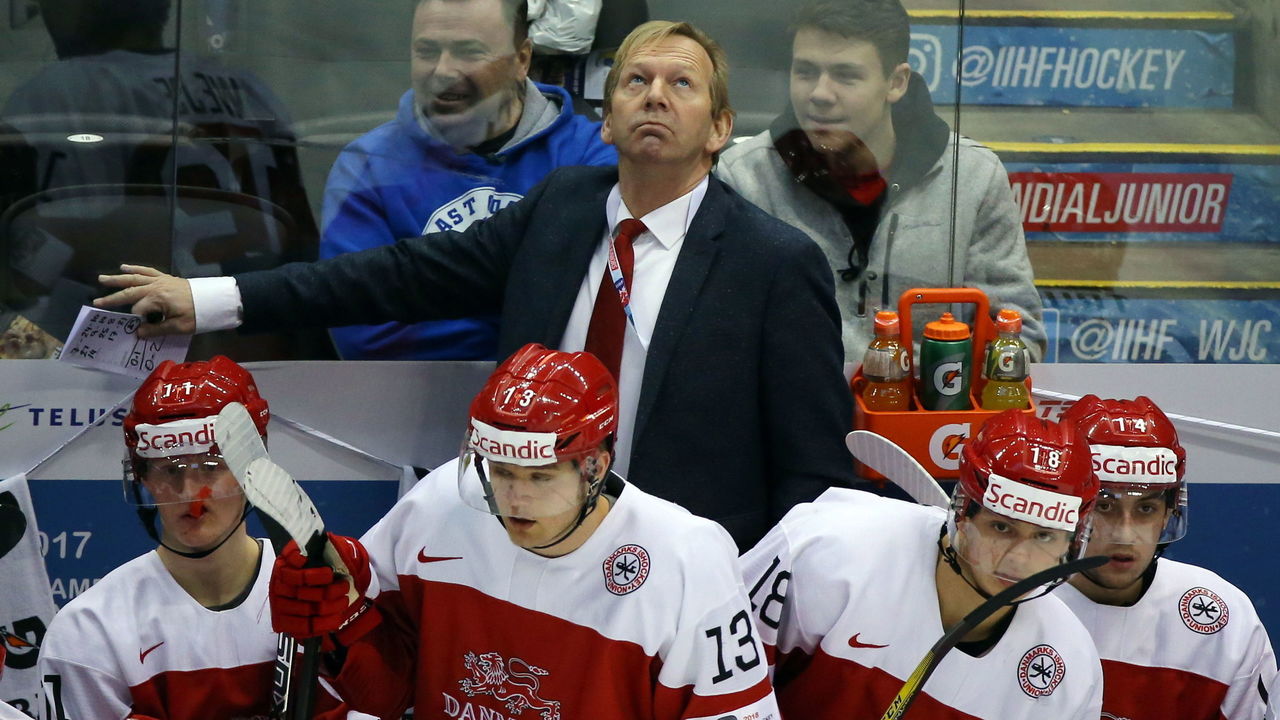 | W-L-OTL | PTS | GF | GA | RESULT |
| --- | --- | --- | --- | --- |
| 2-4-0 | 5 | 10 | 32 | Ninth place |
Head coach: Olaf Eller
Strengths: Tenacity is Denmark's biggest strength. It's the country's fifth consecutive year in the top division, and despite lacking big-name players, the Danes have kept hanging around and even occasionally made things tough for their competition. Eller's coaching is part of that tenacious identity and will be important again this year.
Weaknesses: With no real standout offensive talent - they had two goals in non-relegation games last year - the Danes might have trouble scoring against the heavyweights.
Notable draft prospects: G Mads Sogaard, Medicine Hat (WHL)
Outlook: Denmark doesn't want to end up in the relegation round again. To avoid that fate, it'll need to score more in round-robin games than it did in last year's tournament while relying on its netminders to keep the goal differential reasonable. While it'd be satisfying to give some of the top teams a scare, Denmark's real objective is simply to gain a sixth consecutive year in this division and a spot in next year's tournament in the Czech Republic.
Kazakhstan* (Group B)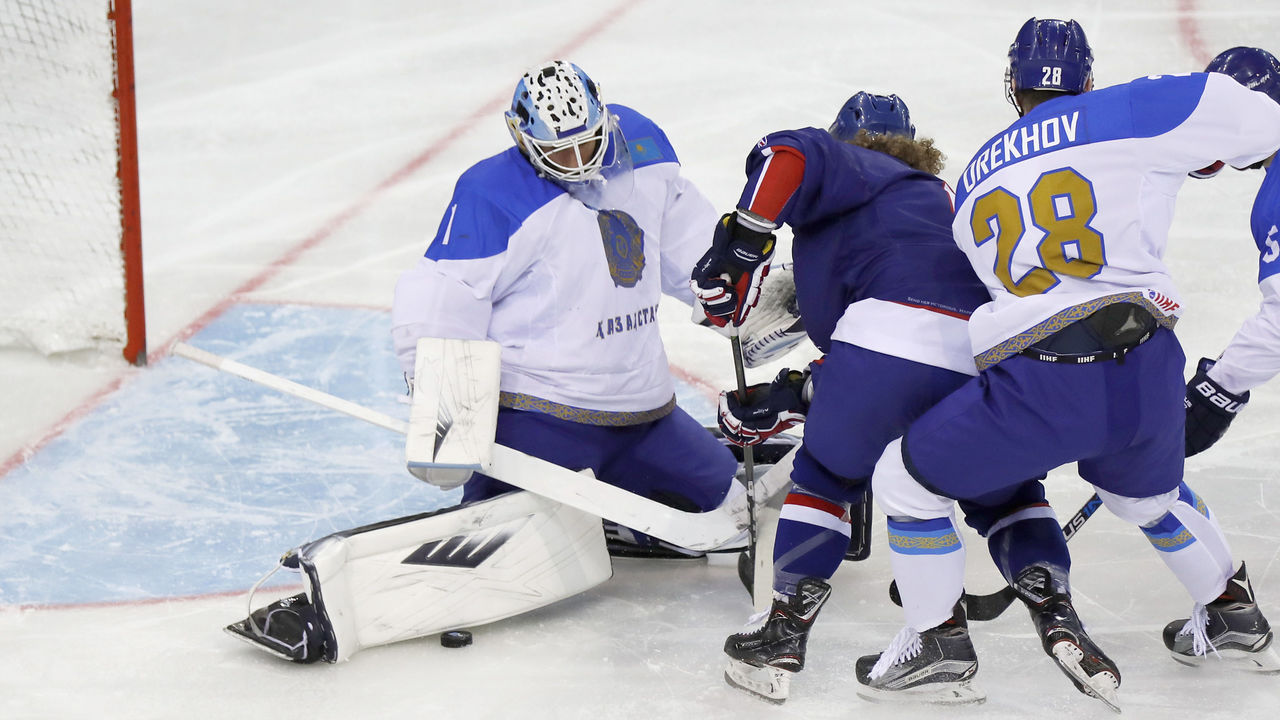 | W-L-OTL | PTS | GF | GA | RESULT |
| --- | --- | --- | --- | --- |
| 5-0-0 | 13 | 20 | 10 | Promoted |
*Promoted to top division by virtue of winning Division IA
Head coach: Sergei Starygin
Strengths: Many players on the Kazakhstan U20 squad have been playing together all season in the MHL, Russia's junior hockey league, for Snezhnye Barsy Astana. That familiarity benefits any team in a short tournament.
Weaknesses: Kazakhstan faces a rough road. In a group with Finland, Sweden, and the U.S., it's going to be difficult to build momentum, never mind earn a win.
Notable draft prospects: None
Outlook: For the first time in a decade, Kazakhstan is back in the top division. And while the country won't contend for a medal, avoiding relegation could be a realistic target. Players returning from the Division I win will help, including forwards Artur Gatiyatov (37 points in 38 games, including 14 goals) and Sayan Daniyar (11 goals and 27 assists). Valeri Orekhov, a 19-year-old defenseman who's spent this season in the KHL with Barys Astana, has six points in 24 games.
Hannah Stuart keeps a close eye on both drafted and draft-eligible prospects and can usually be found trying to learn more about hockey analytics. She has previously written for FanRag Sports, The Hockey Writers, and Hooked On Hockey Magazine, and can also be found at High Heels and High Sticks. Find her on Twitter @HockeyWthHannah.
Comments
✕
World Junior Championship preview: Canada still the team to beat
  Got something to say? Leave a comment below!