Brian Burke on Kyle Dubas' fight, 'pirate' GMs, and being 'Bettman smart'
Bruce Bennett / Getty Images
When Kyle Dubas was spotted inside Madison Square Garden this past weekend, some fans went down a rabbit hole of speculation.
Why would the Maple Leafs' general manager attend a random game? Is he dealing restricted free agent William Nylander to the Rangers? What about the visiting Flames?
According to reports, Dubas had actually travelled to New York to chat with Nylander's Manhattan-based agent about a contract extension, and he stayed for the game. In other words, don't hold your breath waiting for a blockbuster.
Some time ago - say five-to-10 years - the GM of the Leafs might have thrown gasoline on the fire, revelling in any and all speculation, especially if none of it was true.
"I can tell you right now," Brian Burke said Monday during a phone conversation, "there were many times where I went to a game in another arena for just that reason - let's stir the pot."
"Even when I was going to scout, I would say, 'Watch the bees come out of the hive now,'" he added with a chuckle. "A couple of times I'd say to (former colleague) Dave Nonis, 'We've got to stir this up. You go to Philly tonight and we'll start that rumour.'"
Burke is one of a kind. Currently a TV analyst for Sportsnet, the 63-year-old untied tie enthusiast has lived a number of hockey lives: college and pro player, junior hockey franchise owner, pro scout, president of hockey operations, GM for multiple NHL teams, disciplinarian at the league office, and player agent.
Speaking ahead of the PrimeTime sports management conference - a star-studded event he co-chairs every November in downtown Toronto - Burke discussed a variety of topics with theScore.
The long view of the Nylander saga
By Burke's calculation, the Nylander saga is not just about dollars and term. When the ink has dried, Dubas will be graded in other categories.
"People are saying, 'Why don't they just sign him?' Well, Kyle needs to have this fight for two reasons," said Burke, who occupied the GM's chair for four clubs - the Leafs, Ducks, Canucks, and Whalers - over a 20-year span.
"One, this (deal) has to be somewhat cap friendly. It has to be something that will allow him to keep this group together, if he can. I don't see a number that'll work, that'll keep this group together, but he has to try. In the hard-cap system, you have to fight for every dollar.
"No. 2, he's a rookie GM. The gloves are off for the first time, everyone is watching. He has to get a victory here, so the other agents know he's not a guy who you can push around."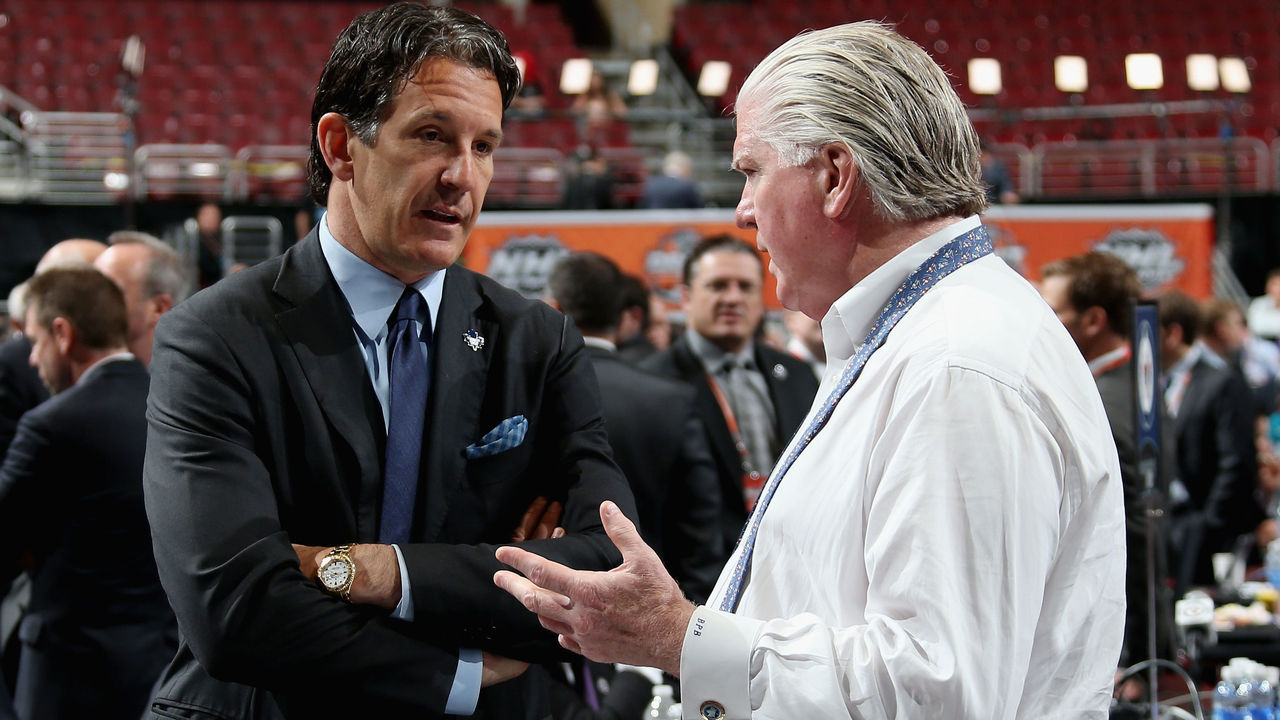 Burke is quick to praise Dubas for refusing to cave during a marathon game of chicken with Lewis Gross, Nylander's agent. That Switzerland visit to get in quality face time in a neutral setting? Invaluable, as it could help filter out the noise associated with such a public story.
Barring a serious souring between the two sides, the Nylander situation seems destined for a happy ending. Nick Kypreos of Sportsnet reported on Tuesday that strong dialogue continues, and a six-year term is being discussed.
Not every drawn-out negotiation is rainbows and lollipops, though.
"I had it with Peter Schaefer in Vancouver," Burke said of the nine-season NHL left-winger. "He was a good young player for us, went to Finland, refused to sign. He came back (after a season) and I had a trade worked out with Ottawa for Sami Salo - one of my best trades - and I said to Peter, 'I'll trade you once you sign the deal that I have sitting on the table. A three-year deal at my money, because this isn't about you, it's about every other player.'"
The downside of running the Leafs
Behind the fat paycheck, the exclusive experiences, and the power of running the Leafs, there's something else. Loneliness.
Nobody is going to feel sorry for the general manager of a professional sports team, because anyone with that job is living out a dream. But there's a human element that perhaps the outside world tends to forget, or refuses to acknowledge (just ask longtime Habs GM Marc Bergevin).
"In our business, there's far more public criticism when you're not successful than there is in most businesses. If you're running IBM and have a bad quarter, you might get thumped for a couple of days when the quarterly results come out. But, if you're GM of the Leafs and you're struggling, you're getting thumped every day," said Burke, who's had his fair share of spats with media members over the years.
"You're getting thumped every minute on sports radio and TV. It's not just the loneliness of leadership in any company - which is across the board - it's also the fact that loneliness of leadership (is being paired) with constant criticism while you do it."
Burke hasn't been an NHL GM since 2012, when his tenure with the Leafs came to an abrupt end. However, his interactions with high-ranking execs didn't stop during his recent five-year run as president of hockey operations for the Calgary Flames.
Which begs the question: Is there an active GM whose mere presence strikes fear into his counterparts?
"Everyone is tense dealing with Lou," Burke said. "Lou Lamoriello is a class guy. But he's a thief, he's a pirate. I made my first big deal with him and it worked out well for both teams - and I love Lou and I respect him and I owe him a lot - but he's a pirate. (Ducks GM) Bob Murray is a pirate. Both of those guys will gladly make a deal with you that'll get you canned. And I say that with much praise."
The commissioner's forgotten trait
Based on the periodical boos and the constant jeers, NHL fans don't seem particularly fond of longtime commissioner Gary Bettman.
Burke, on this topic and many others, is happy to play contrarian. Asked what fans might have wrong about Bettman - a man he worked under during a stint at the league office in the early-to-mid 1990s - the 2007 Stanley Cup champion doubled down.
"Everything. In Canada, everything," Burke said.
"No one likes Gary Bettman in Canada. It used to make me mad, now it makes me sad. I used to get mad at people - you don't even know this guy … It's become fashionable for fans to boo the commissioner at the draft and when he's presenting the Cup. I think it's unprofessional and disgusting, but I'm tired of ranting about it."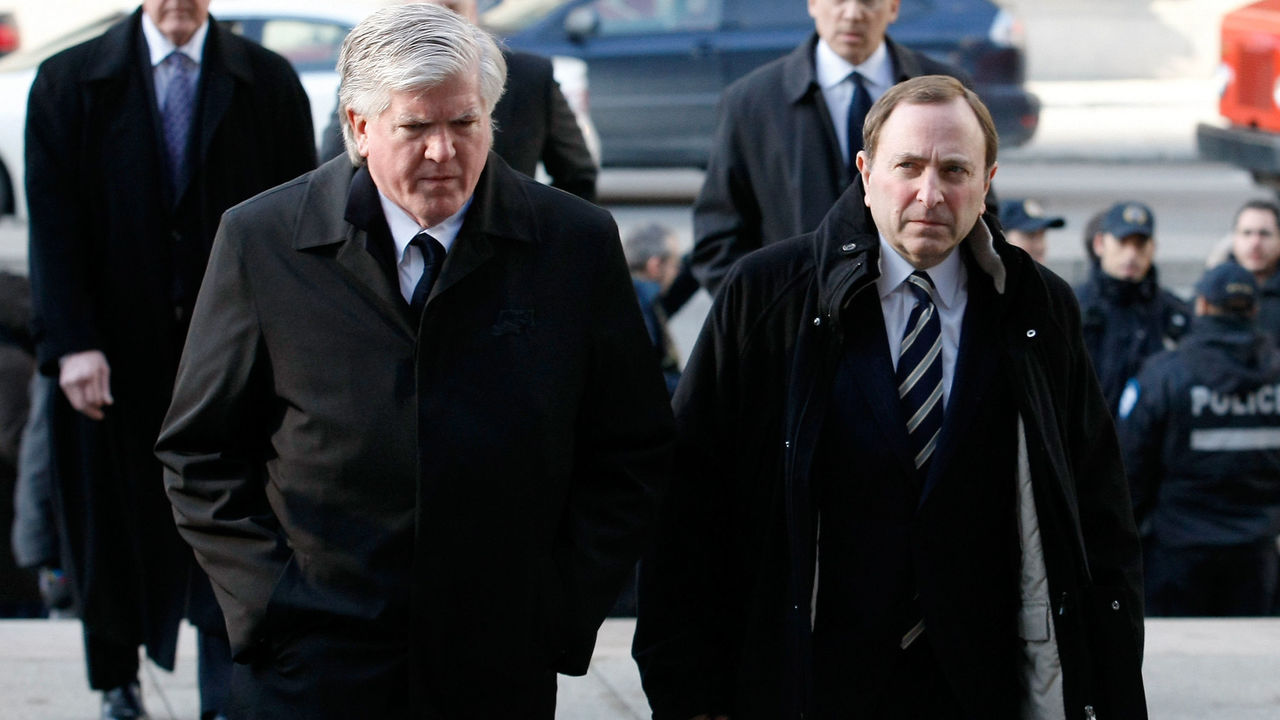 Instead, Burke wants to talk about the "brilliant" side of Bettman, this generation's most powerful off-ice figure. Burke and Nonis even have a running joke about the soon-to-be Hall of Fame inductee.
"This guy is smart and the other guy is Bettman smart," the pair sometimes say to each other when discussing hockey people.
"There's a lot of smart people who can't see five miles ahead. Gary can see 100 miles ahead," Burke continued. "He's not just looking over the next hill, he's looking over the next 20 hills to the point where we had to tell him sometimes in (league) meetings, 'hey boss, slow down.' … I went to Harvard law school, I'm a pretty smart guy, and I couldn't keep up with Bettman at some of these things."
The sport's slow, steady acceptance
After hanging up the phone for this interview, Burke was off to Winnipeg to work Wednesday's Jets-Leafs game. On Tuesday, he had plans to hunt geese in Manitoba.
In a nutshell, that's Burke. He's a man of many passions.
On the subject of women making waves in the NHL, and specifically, if he sees a woman like Hayley Wickenheiser becoming a GM someday soon, he has a strong opinion.
"I think it's still really far off. These are institutional biases that have emerged. We have been in business for over a century. These are not doors you kick in. These are walls that erode over time. Long before there's a woman head coach in the NHL, someone will have to become a head coach in the CHL. Coach boys, coach men. Someone will have to be an NCAA Division I men's coach. They're going to have to establish themselves - just like we all had to - at a lower level. As much as I love women's hockey, I'm not handing the keys to the coach's office to a woman unless she's been successful at a level below mine."
On the topic of homophobia in sports, he has both a vested interest as a co-founder of the You Can Play project, and a strong stance.
"Would I like the day to come when we don't talk about women in hockey? Yes. And I would like the day to come when I don't have to march in the pride parade. As much as I love marching in pride parades, hopefully the day will come when we won't need to celebrate a different community. They'll be so absorbed into the rest of society that we won't need pride parades. We might still have them because we want them, but right now they are a really important tool for our community to advertise itself and reach out to the world to say, 'Hey, we're important, we count.'"
But, when Burke's gig at Sportsnet is mentioned alongside the idea of possibly reentering the hockey operations world, the hedging stops.
"This is not some parking lot job where I'm waiting for the phone to ring. The phone has already rung. Two teams called and asked me about potentially joining their staff. And I said, 'no, I'm out.' I promised my daughters here in Toronto that I'm not commuting again. I'm out, I'm not going back and working for a team."
John Matisz is theScore's National Hockey Writer. You can find him on Twitter @matiszjohn.
Comments
✕
Brian Burke on Kyle Dubas' fight, 'pirate' GMs, and being 'Bettman smart'
  Got something to say? Leave a comment below!