From invisible to indispensable: The story of Warren Foegele
Gregg Forwerck / Getty Images
Warren Foegele's NHL career is not even 10 games old and already the animal comparisons are piling up.
The Carolina Hurricanes left winger has been labeled a moose by linemate Jordan Staal; a horse by eclectic broadcaster Tripp Tracy; and a dog by, well, just about everybody who has watched him closely over the years.
"He's like a dog on a bone," said Jeff McKercher, a former scout for the OHL's Kingston Frontenacs.
"He's a guy who dogs the puck," added David Manning, hockey coach at St. Andrew's College. "The engine that never stops."
Moose, horse, dog - yes, these are compliments in hockey's vernacular, words reserved for the havoc-creating skaters, the space-gulping forecheckers, and the stress-inducing penalty killers. And they all suit Foegele perfectly.
The cerebral power forward has followed up a productive cup of coffee (two goals, one assist in two games late last year) with a steady start to the 2018-19 campaign, racking up three goals, one assist, and 19 shots on goal through the first six contests. However, it is the nuances of Foegele's game that have the Hurricanes and die-hard NHL observers enthralled heading into Tuesday night's tilt against the Tampa Bay Lightning.
Foegele basically perspired doggedness during a penalty-killing sequence in Carolina's win over the New York Rangers last week. The 22-year-old hemmed three-fifths of New York's power-play unit in their own zone, closing gaps with his acceleration, swiping his stick at loose pucks and passing lanes, and spinning his body to maximize routes times. Reluctantly, Kevin Shattenkirk, Mika Zibanejad, and Pavel Buchnevich played keep-away before finally exiting the zone.
It was classic Foegele wrapped up in 30 seconds of clap-worthy hustle:
'Canes head coach Rod Brind'Amour remarked earlier this month that Foegele often "wins his shifts" on the strength of working his tail off. Fellow rookies Andrei Svechnikov and Martin Necas will likely steal the spotlight as the year progresses - Svechnikov could easily contend for the Calder Trophy - but for now, Foegele, a lesser known commodity, is serving as an example to the entire organization.
"He's a perfect Carolina Hurricane," Brind'Amour told theScore.
"He came in ready. He did what we asked him to do in the off-season. He worked hard, got in shape. He earned his spot on the team. He doesn't cheat his shifts, keeps his mouth shut. He wants to learn, does what you ask of him."
'His work ethic was second to none'
In the early stages of the 2013-14 season, as his peers competed in front of thousands of fans and multiple NHL scouts every night, Foegele was hiding in plain sight.
Deemed unworthy of a selection in consecutive OHL drafts in large part due to his small stature - 140 pounds and somewhere between 5-foot-6 and 5-foot-9, depending on who you ask - he packed on more than 30 pounds and sprouted above 6-feet over the course a year or so. Motivated like never before, Foegele had rededicated himself to his craft and was beginning to turn heads. He was the best player on a St. Andrew's Saints varsity team running roughshod over the competition in the CISAA, one of North America's top private school leagues.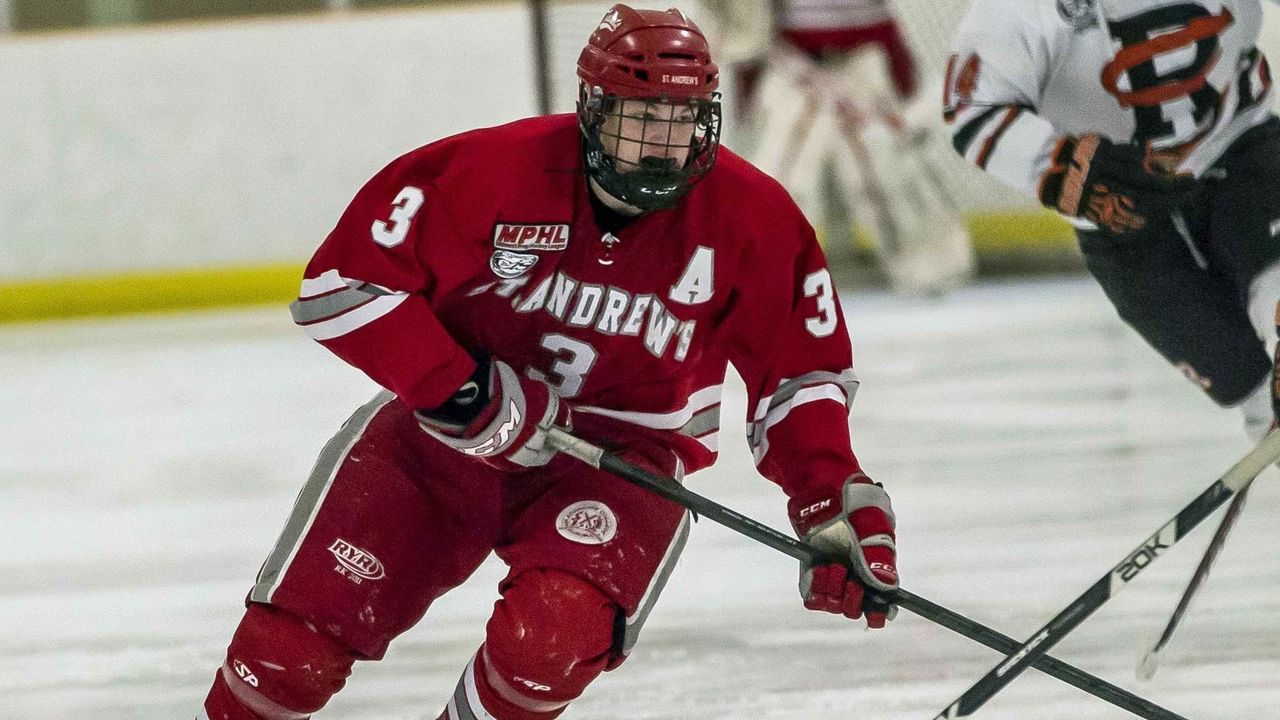 Word spread within the scouting community: The 1996-born center with a commitment to the University of New Hampshire might be worth the traffic-ridden drive to Aurora, Ontario. A mid-January story on TSN, penned by the incomparable Bob McKenzie, stoked the fire at both the OHL and NHL levels.
"Some teams were skeptical about Warren because he was playing prep school hockey," Top Shelf Sports Management's Joe Resnick, who would later become Foegele's agent, said recently. "The question was whether he could take that offensive dominance and translate it to the next level."
Manning added: "At first, it was one or two NHL teams. Then it would turn into seven or eight. Then you'd have 16. Then we'd host our annual tournament and all 30 teams are in the building."
That April, Foegele - in his final semester at St. Andrew's, his home away from home since Grade 6 - was scooped up by the Frontenacs in his third year of OHL draft eligibility. McKercher, Kingston's head scout, pushed for the pick, taking a seventh-round flier on a highly motivated 18-year-old bound for the NCAA.
"He was just one of those guys you'd be glued to when you went to the rink. His work ethic was second to none," said McKercher, now a scout for the St. Louis Blues. "You know what you see right now in Carolina? That's the way he's been his whole career. He just doesn't stop working."
Hurricanes assistant general manager Mike Vellucci credits Bob Luccini, the club's Boston-area amateur scout, with first identifying Foegele ahead of the NHL draft. The Saints had visited the east coast to play schools outside the CISAA. The trip exposed Foegele to a fresh set of eyes in the stands.
In June, then-GM Ron Francis pulled the trigger, selecting Foegele - who had been ranked 66th among North American skaters by NHL Central Scouting - in the third round, 67th overall, making it two drafts in 12 weeks for the Markham, Ontario teen after years of going largely unnoticed.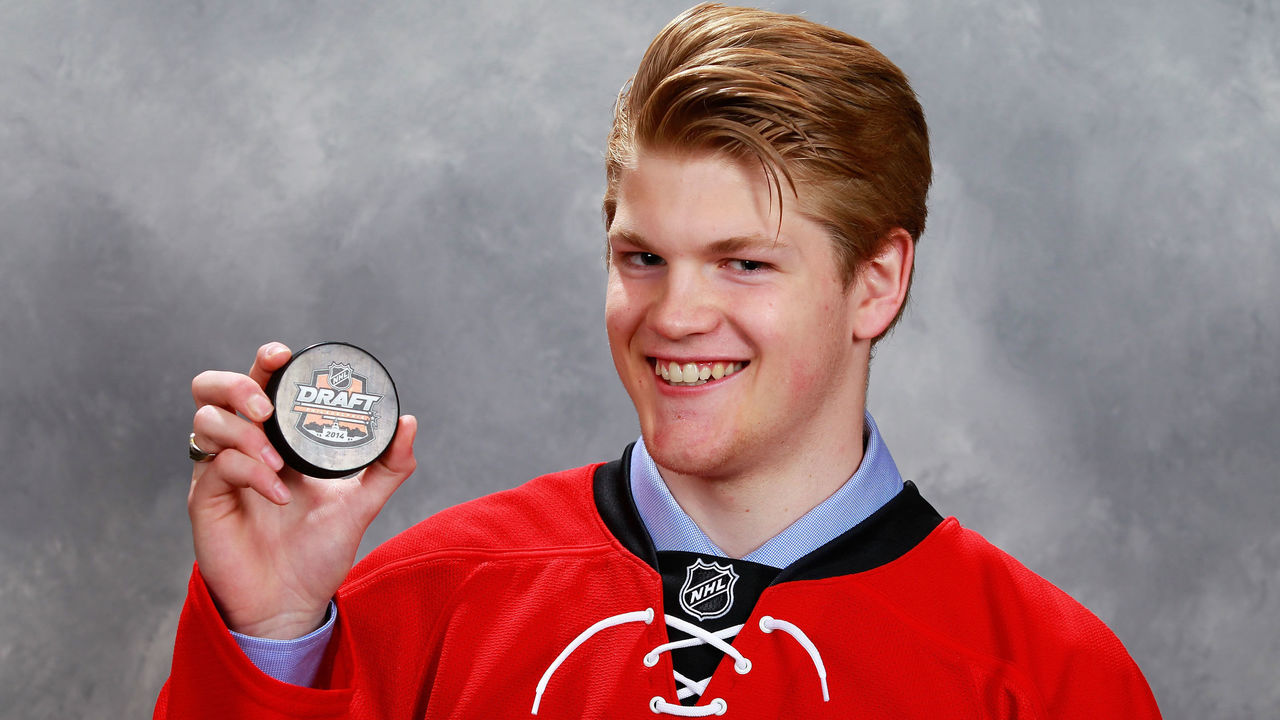 "When I was younger, it was myself, Robby Fabbri, Dylan Sadowy, and Darren Raddysh. We were some of the top players in the loop in minor atom, atom, and maybe minor peewee," said Foegele, rattling off the sixth, 37th, and 84th picks in the 2012 OHL draft. "Then I fell off the tracks for a couple of years. I was a late bloomer. In minor midget, I was a lot smaller than everyone and was right off the radar. It wasn't until I hit my growth spurt that I started to really develop as a player (start to dominate again)."
Despite the Frontenacs' interest, Foegele honored his commitment to the University of New Hampshire for the 2014-15 season - though that engagement would last a mere 39 games. He left the veteran group at UNH, which featured future 'Canes teammate Brett Pesce, to skate for Kingston a couple of weeks into the 2015-16 college schedule.
"You never like to see a player leave your program. We knew he had a ton of potential," UNH associate head coach Glenn Stewart said. "But he was young then, raw, and he hadn't reached it yet."
Almost immediately, Foegele established himself in the OHL, recording nearly a point per game in his debut campaign. And then, about 15 months after the NCAA transfer, the Frontenacs shipped him to the Erie Otters at the 2016-17 trade deadline.
From there, in his third city, province/state, and team in two seasons, Foegele's career trajectory would begin to rise at a rapid pace.
'Lives, breathes, and thinks about hockey'
Wes Wolfe is like most hockey coaches - always searching for answers.
Last year, for instance, the Otters assistant coach felt the need to scratch a philosophical itch. He wanted to match cliches with actionable things in order to back up his message to Erie players.
"You always hear coaches talk about 'compete.' It's kinda gray in terms of what it means," Wolfe noted. Naturally, he turned to Foegele for a little assistance.
Foegele - at the time with the Charlotte Checkers of the AHL - told him via text message that, from his perspective, competing meant winning one-on-one battles, exerting maximum effort, beating opponents to loose pucks, driving to the net, absorbing contact, etc.
Today, Wolfe is finding himself shaking his head watching Foegele do all of those menial yet critical tasks on the sport's biggest stage. The kid who grew up idolizing 2004 Conn Smythe winner Brad Richards is now averaging 15:27 of ice time alongside 30-year-old Staal and 37-year-old Justin Williams, who own a combined four Stanley Cup rings.
"Compete" is written all over the Hurricanes' No. 13 and his underlying numbers, including a 69 percent Corsi rating and a plus-4 penalty differential.
"His determination to succeed is pretty high," Otters GM Dave Brown said. "Some guys see a 50/50 puck and go, 'You know what, I'm not going to pursue it, it's not worth it.' He won't do that. He works so damn hard that he ends up on the right side of the puck all the time."
"Foegs is a self-proclaimed grinder," Wolfe added. "It's a term that sometimes has a negative connotation, and I think the way he uses it to talk about himself makes sense. It's more about relentlessness ... Every day at practice, it didn't matter if he was going up against First Line Guy or Fourth Line Guy, you knew you were going to get his best."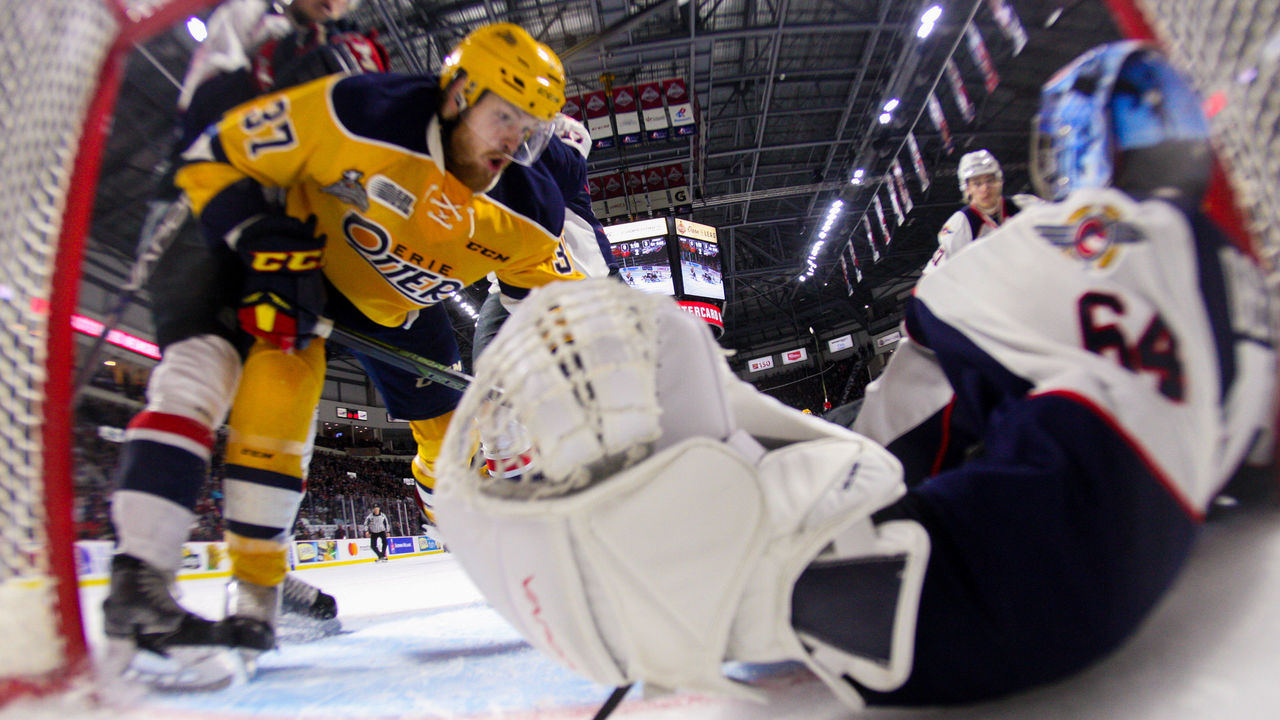 A drive to grow a little bit every single day is part of Foegele's DNA. From a young age, he has deployed meticulous pre-practice and pregame routines, focusing on the present moment, starting with high kicks in the hallways with his headphones on and the music cranked. He hails from the renowned Gary Roberts school of nutrition and fitness; this summer, he worked with former figure skater Ashlea Jones to improve his edgework and lateral movement.
"There's countless people who are doing analytics (work) online, creating graphics, and tweeting it out," Wolfe said. "He'll send something to me at 10 p.m. and be like, 'What does this mean?' He wants to know. He definitely lives, breathes, and thinks about hockey. In all the intricacies of becoming a better player, he's always, always thinking about it."
This supreme attention to detail is supplemented by an NHL-caliber skill set: excellent skating, especially for his size; a hard, accurate shot; strong puck protection; soft hands; above-average hockey sense. It's not crazy to suggest Foegele is cut from the same cloth as Josh Morrissey of the Winnipeg Jets. Smart, skilled, relentless - they are the modern-day power forward and the new-age shutdown defenseman.
"He doesn't give you an inch out there," Lightning forward Anthony Cirelli said. "He's always on the right side of the puck, whether it's the O-zone or D-zone. He plays the game the right way."
"His skill is starting to be appreciated more and more," Manning said. "You see that one-time goal he scored (against the Canucks)? That's not an easy play to make at the NHL level."
Foegele and Cirelli - another veteran deadline acquisition - were instrumental in the Otters' quest for a national championship in the spring of 2017, contributing 33 and 39 points, respectively, in 27 postseason games. Erie captured the OHL title, with Foegele winning playoff MVP, but fell short at the Memorial Cup, losing 4-3 in the final to the host Windsor Spitfires.
Brown will never forget Foegele's contributions, namely his Game 7 goal in the second round. After taking a cross-checking penalty early in the third period and watching the London Knights score moments later, he reset and, 10 minutes into overtime, played hero.
"It re-established to the guys that, 'Hey, I made a mistake, I shouldn't have done that. I was overzealous in my pursuit of the forecheck, we were up 4-3.' For him to come back and score that goal, I mean, to me that's resilience in a nutshell," Brown said.
If Foegele wasn't already on the greater hockey world's radar, his name entered the mainstream during that final stretch of junior hockey. "I'm positive that if we don't get Foegs," Wolfe said, "we don't win the OHL championship."
'You've got to earn those kind of names'
Talk to enough people around Foegele and his AHL goal total will soon be etched in your brain: 28 goals in 73 games as a rookie. None of them on the power play. Nine of them game-winners.
It's a source of pride for good reason. Foegele finished first in the entire league in game-winners and second in even-strength goals, with 24, right behind 29-year-old Eric Tangradi, who had 25 in 74 games.
Moving forward, expect a similar distribution of Foegele's production at the NHL level. His two-way prowess has landed him a top-six role at five-on-five, a second-unit penalty-kill spot, and the kind of trust from his coach that breeds ice time during high-pressure situations.
Under a new owner, new GM, new coach, and new captain, Carolina is trying to end a nine-year playoff drought. To leave no doubt as to where the organization's headspace is, Brind'Amour split his 2018-19 training camp roster into two groups, Team Grit and Team Grind. The bench boss is all-in on tenacity, has encouraged a unique post-win celebration, is accepting of all personalities and, broadly speaking, appears to be breathing fresh air into a stale dressing room.
So far, the 4-1-1 Hurricanes have played an engaging brand of hockey, generating and allowing scoring opportunities like it's going out of style. And, although nobody is confusing Foegele with the club's flashier youngsters - offensive wizards like Sebastian Aho, Svechnikov, Necas, and Teuvo Teravainen - he certainly serves a purpose.
"You need to have a good mix," Vellucci said. "You can hold onto the puck all you want, but if it's from the outside, and there's no traffic, NHL goalies are too good (and will stop those shots)."
As for Foegele's permanent nickname, Brind'Amour is bypassing any animal comparisons.
"Right now I don't call him anything because it's still early," he said. "You've got to earn those kind of names that stick long term. He's on his way to being either one of those, for sure."
John Matisz is theScore's National Hockey Writer. You can find him on Twitter @matiszjohn.
Comments
✕
From invisible to indispensable: The story of Warren Foegele
  Got something to say? Leave a comment below!