NHL Prospect Notebook: Rangers pick K'Andre Miller dazzles
It really is the most wonderful time of the year - and not just because the holidays are around the corner.
The top under-20 prospects will soon head to pre-tournament camps to prepare for representing their countries on the world stage. Fans will live and die with every shift. Prospects' stocks will rise or decline based on a handful of games.
Consider this your three-week world-junior warning. Are you ready?
Prospect Spotlight
New York Rangers fans, rejoice.
Defenseman K'Andre Miller, selected 22nd overall by the Rangers in 2018, is killing his freshman year at the University of Wisconsin. Miller seized the team scoring lead Saturday, posting a four-point game (including the tying goal) against Penn State. Miller's got 15 points, including three goals, in 16 games, and was named the Big Ten's first star of the week Tuesday.
At only 18, Miller is a true freshman, which means he still has plenty of time to grow his game before turning pro. And he's only been a defenseman for about three years.
One of Miller's biggest assets is his skating - rare for a player of his size at 6-foot-4. He generates speed well and can lead the rush effectively. It'll serve him well in an NHL that prizes not just raw speed, but the ability to respond to and process the game at that top pace. Expect to see Miller on the preliminary USA roster for the World Junior Championship, and its final roster as well.
In the minors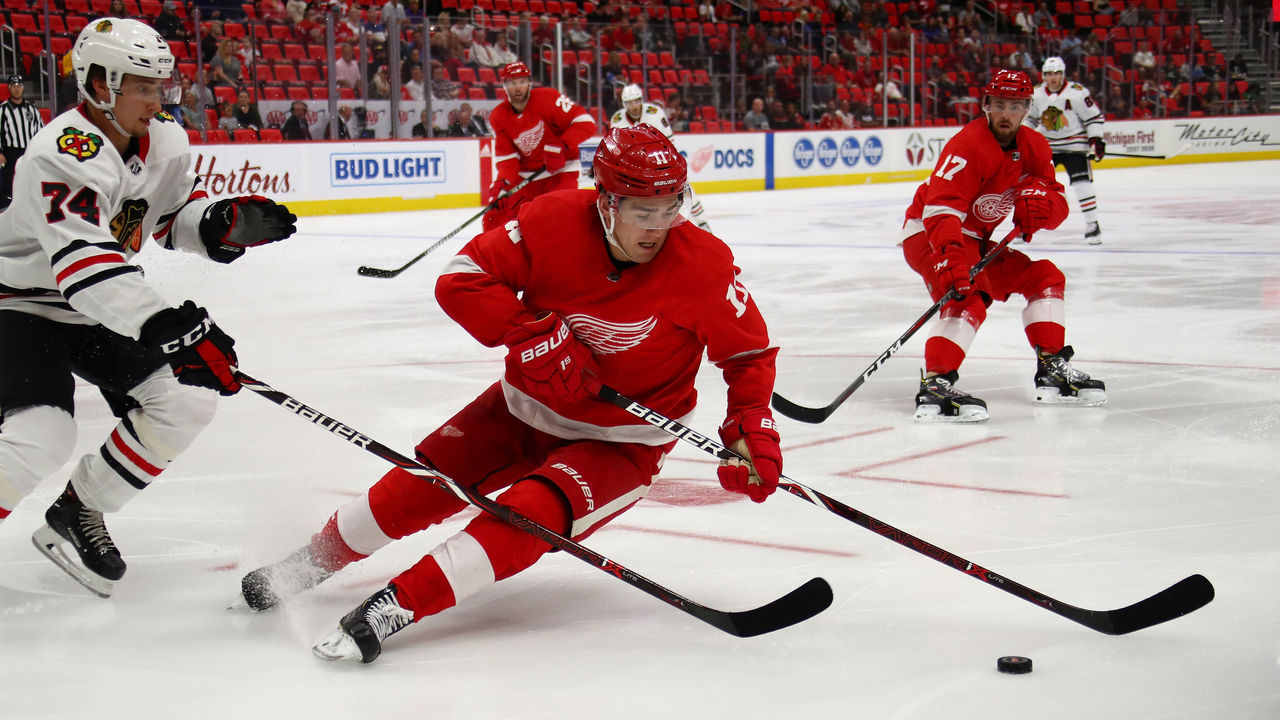 The Detroit Red Wings announced Wednesday they'll release Filip Zadina to the Czech Republic for the world juniors. Zadina has 15 points, including seven goals, in 22 games with the AHL's Grand Rapids Griffins.
The Red Wings were smart to keep Zadina in the AHL, where he plays in the top six and features on one of the team's power-play units, rather than returning him to the QMJHL's Halifax Mooseheads. The Q's often seen as a "defense lite" league, where Zadina would have faced much easier competition; throwing him into the metaphorical fire sooner is better for his development and should prepare him for the rigors of the NHL more quickly.
The class of 2019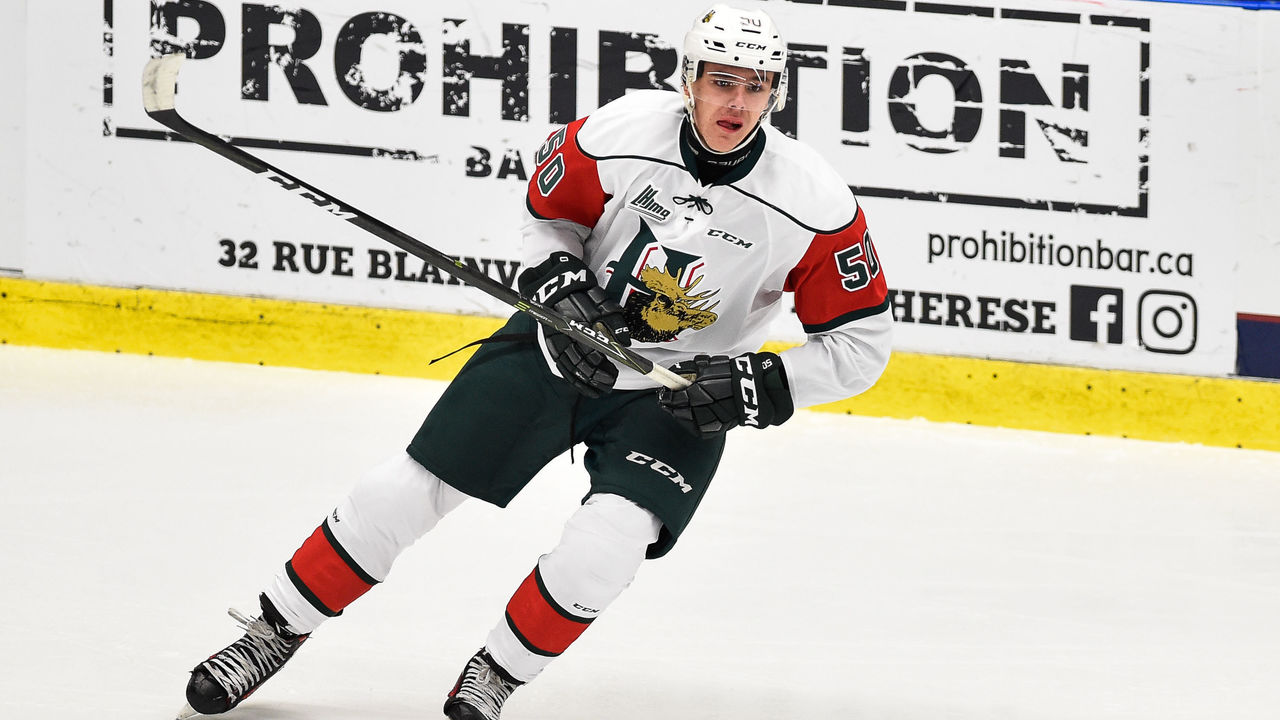 Canada named two draft-eligible prospects to its preliminary world-juniors roster: potential first-rounder and A-rated skater Raphael Lavoie of the Halifax Mooseheads (QMJHL) and C-rated skater Brett Leason of the Prince Albert Raiders (WHL). Canada also invited forward Alexis Lafreniere of the Rimouski Oceanic (QMJHL), the projected top 2020 prospect.
The USA also named two draft-eligible players to its camp roster: projected 2019 first overall forward Jack Hughes and goaltender Spencer Knight.
Other notable draft-eligible prospects named to their nations' preliminary rosters include Lassi Thomson of the Kelowna Rockets (WHL), Kaapo Kakko for Finland, and Nils Hoglander for Sweden.
Around the CHL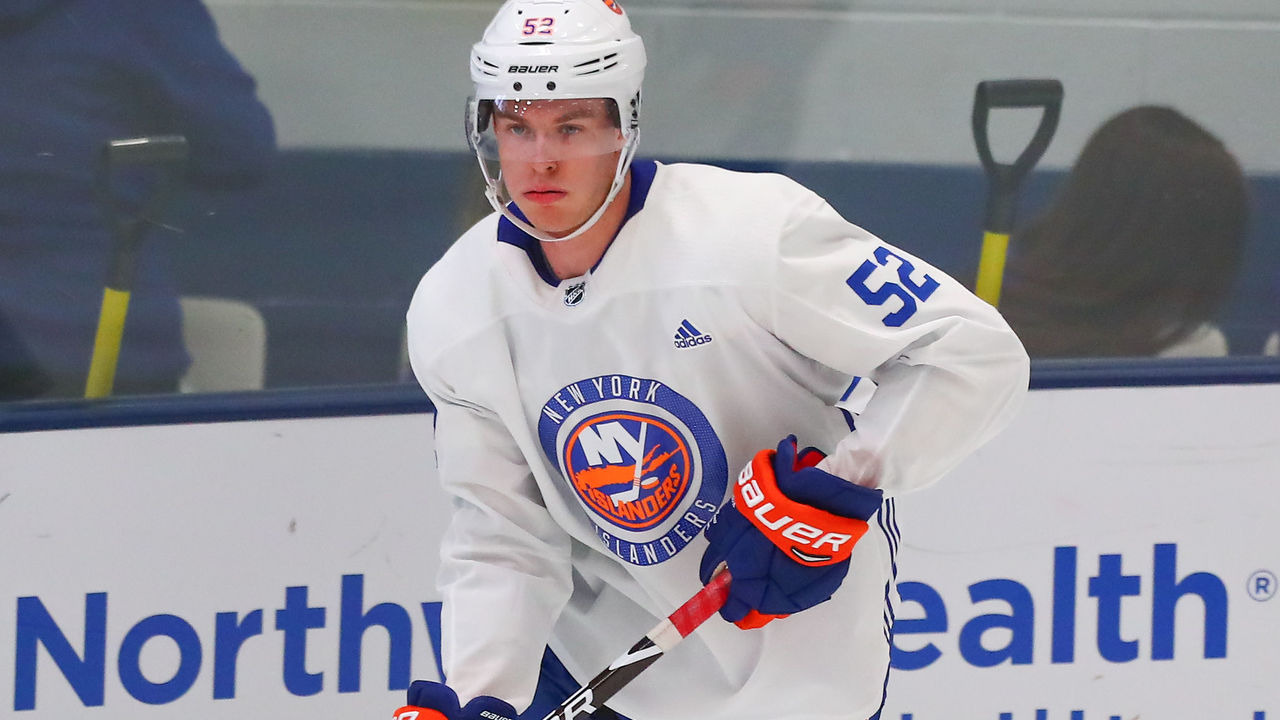 Bode Wilde signed his entry-level contract with the New York Islanders on Monday after a great start to the season with the Saginaw Spirit. Wilde has 22 points, including five goals, in 21 games.
Vancouver Canucks goaltending prospect Michael DiPietro was the centerpiece of a blockbuster OHL trade Tuesday. After three seasons with the Windsor Spitfires, DiPietro will backstop the Ottawa 67's, though he'll likely miss a few weeks of league action while playing for Canada.
In return, the Spitfires received the rights to Russian forward Egor Afanasyev, who currently plays for the Muskegon Lumberjacks of the USHL, and four second-round picks across the next five drafts. Windsor could get three more conditional picks if Afanasyev doesn't report. (Ottawa also received two draft picks.)
Elsewhere, defenseman Evan Bouchard has played well since the Edmonton Oilers returned him to London. His 15 points, including five goals, in 11 games make that immediately clear; go deeper, though, and Bouchard's been even better than that production suggests. According to Jeremy Crowe, data and video analyst for the Mississauga Steelheads, for every 60 minutes of Bouchard's even-strength ice time, the Knights have scored approximately 5.51 goals.
On campus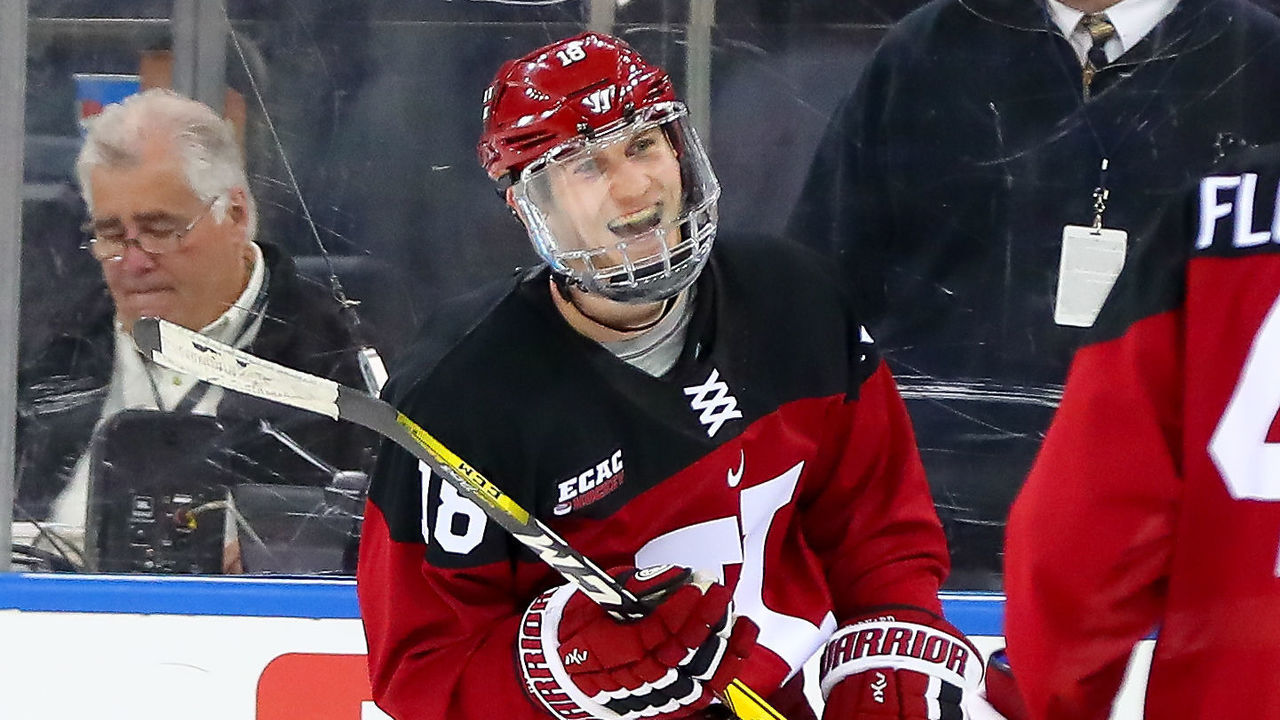 Defenseman Adam Fox's terrific season at Harvard continues. The Carolina Hurricanes prospect has 20 points, including five goals, in 11 games. His numbers aren't necessarily even the most impressive part. Fox demonstrates an ability to read the ice, and to judge the time and space available to him, that some professional players don't even have. That's not even getting into his skating, which is one of the best aspects of his game. If Fox keeps up this level of play and Carolina can sign him this offseason, don't be surprised if he shows up on the Hurricanes' NHL roster next fall.
Mattias Samuelsson (BUF) is making his mark as a true freshman at Western Michigan University. He went straight to college at 18 rather than spending time playing elsewhere, and in top-pairing minutes on the Broncos, Samuelsson's showcased the preternatural poise and high hockey IQ that caught the eye of the Buffalo Sabres (and other teams). Samuelsson has six points, including three goals, in 14 games so far this season. He's also expected to be part of the USA's defense corps at the world juniors.
Penn State forward Evan Barratt (CHI) is tied with teammate Alex Limoges for the national NCAA scoring lead with 25 points. Barratt has 12 goals and recently recorded a hat trick against the University of Michigan.
Last Friday and Saturday, Boston University and Boston College played their annual home-and-home series (colloquially known as the Battle of Comm Ave). Saturday's game was the first scoreless tie in 279 meetings between the schools. BU goalie Jake Oettinger (DAL) recorded his 10th career shutout, while BC netminder Joseph Woll (TOR) posted his fourth.
Hannah Stuart keeps a close eye on both drafted and draft-eligible prospects and can usually be found trying to learn more about hockey analytics. She has previously written for FanRag Sports, The Hockey Writers, and Hooked On Hockey Magazine, and can also be found at High Heels and High Sticks. Find her on Twitter at @HockeyWthHannah.
Comments
✕
NHL Prospect Notebook: Rangers pick K'Andre Miller dazzles
  Got something to say? Leave a comment below!