To properly understand the perpetual infancy of Japanese hockey, consider the strange case of 1974 NHL draft pick Taro Tsujimoto.
Tsujimoto, an imaginary hockey player from Tokyo - literally created out of thin air in the middle of a professional sports league draft - was selected in the 11th round, 183rd overall, by his inventor, "bored" Buffalo Sabres general manager Punch Imlach. In the days following the draft, Imlach strung along media and fans, insisting Tsujimoto would be Buffalo-bound in due time. Spoiler: The kid never showed.
It's one of the strangest tales in hockey history and, in a roundabout fashion, remains symbolic of Japan's very, very long-distance relationship with the National Hockey League.
Only two real Japanese nationals have been selected by NHL teams since Tsujimoto: Defenseman Hiroyuki Miura went in the 11th round to the Montreal Canadiens in 1992, and in 2004, the Los Angeles Kings used an eighth-round pick on goalie Yutaka Fukufuji.
Meanwhile, there is no question China - the Asian powerhouse with a population of nearly 1.4 billion people - is the NHL's next frontier, as evidenced by this past week's pair of exhibition games in Shenzhen and Beijing, Gary Bettman dropping hints about holding regular-season games there, and Wayne Gretzky shaking hands.
The last Winter Games were hosted by neighbor South Korea and the 2022 Olympics will be in Beijing. So hockey in Japan must at least be benefiting from its proximity … right?
"Many people see Japanese hockey that way, but it was actually bigger before," Hiroki Wakabayashi, a globetrotting professional goalie coach originally from Osaka, told theScore. "It's actually (trending) down quite a bit right now."
Enter Yushiroh Hirano. Born, raised, and trained in Japan, the 23-year-old winger will be making the trip from Japan to the United States this weekend to compete for an AHL job in Wilkes-Barre, Pennsylvania.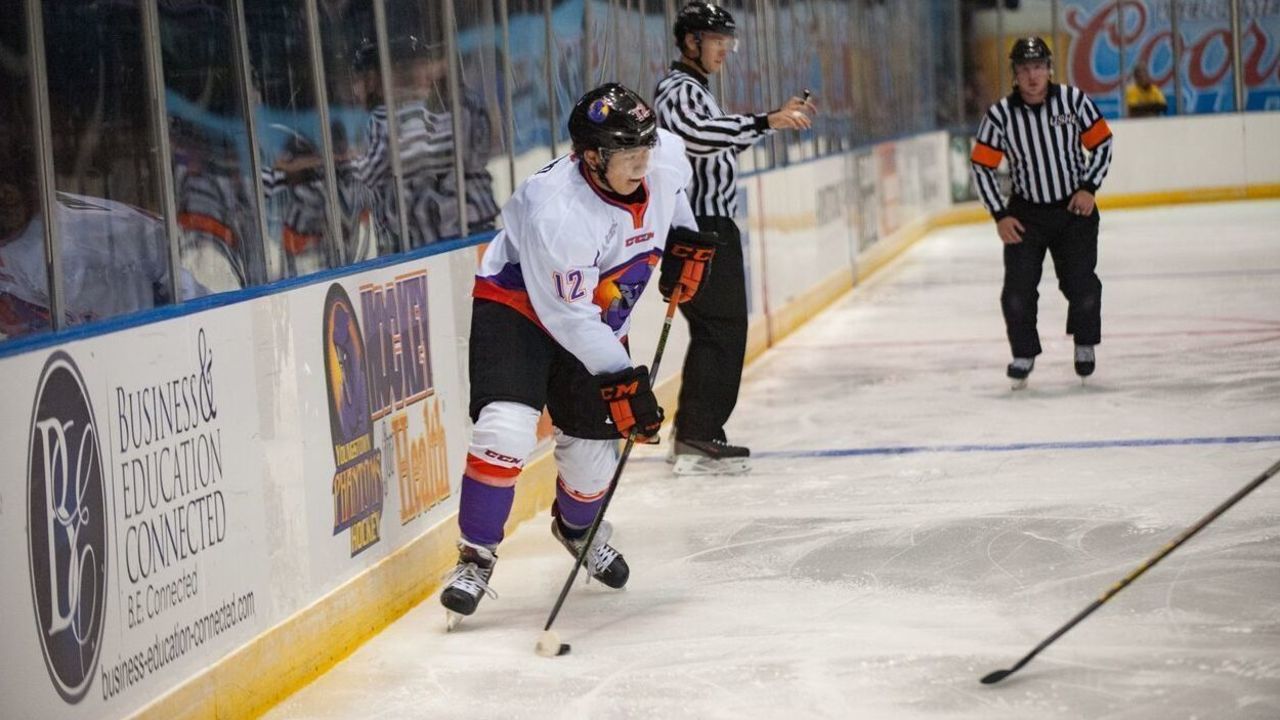 The Pittsburgh Penguins' top farm club was intrigued enough by the late-blooming prospect's upside to offer him a professional tryout. The AHL may not be the pinnacle of the sport, and there are no contractual guarantees for unsigned players, but success is relative.
"If he does well at the AHL level, or even the East Coast level, there's going to be more eyes towards Japan looking for players," said Chris Wakabayashi (no relation to Hiroki), who coached Hirano in the Asia League the past two years. "It's like Hideo Nomo when he first came over to the major leagues. That opened the door."
__________
If there is indeed a door to be opened, it's safe to assume Hirano will not tiptoe through the entrance. His 6-foot-1, 216-pound frame, snarling on-ice presence, and ability to shoot a hockey puck aren't the most subtle combination.
Hirano's shot is the stuff of legend. It is his weapon, his calling card, and a general hazard to netminders. While playing for the Youngstown Phantoms in 2015, he sent the opposing goalie to the trainer's room with a mangled mask.
"I gave Yush a pass like 10 feet inside the blue line and he just lined up and ripped a slap shot," recalled Chase Pearson, Hirano's linemate on the Phantoms. "It hit the goalie square in the mask and broke the front metal part in half.
"The goalie had to leave the game because he got cut. I think the entire rink went quiet because the impact of the puck was so loud."
Video footage of the blast is nowhere to be found online. However, the game report indicates Hirano scored seven seconds after the injured goaltender's exit, capitalizing on a clearly cold (and perhaps frightened) backup.
Then 20 years old, Hirano skated in 54 games and finished the 2015-16 season with 46 points - 24 of them goals, and many of those no-doubters. Fittingly enough for someone with his skill set, Hirano counts Alex Ovechkin and Steven Stamkos as two of his favorite players.
"My shot did not come naturally - I have been working on it since I was in high school. I decided then that I was going to try and have the quickest and hardest shot in Japan," Hirano told theScore in a recent interview conducted via email.
"Before and after school I would shot about 100 pucks in my yard. Even to this day, I go out to my yard and shoot over 100 pucks two or three times a week. ... I strive to have the best shot. I am a firm believer that if you want to improve you have to be willing to put in the time."
__________
The NHL is Hirano's best-case scenario. The ECHL is his North American floor. And even the AHL would represent a major accomplishment for Hirano and Japanese players in general.
Fukufuji, the goalie L.A. snagged in 2004, had a four-game cup of coffee in the NHL. According to Hockey-Reference.com, the 36-year-old (still stopping pucks in the Asia League) stands as the lone Japan-born player to crack the best league in the world. The AHL says Fukufuji is also the only Japan-born player to appear there. (Ryan O'Marra, who played in the NHL and AHL, was born in Japan but moved to Canada with his Canadian parents shortly after.)
Japanese players have carved out long pro careers in Europe and Asia; however, only eight have appeared in North America's third league, the ECHL, and none since 2009. With the exception of Fukufuji (again), none of them played more than 80 games, and two didn't even crack 10. The same weekend that Hirano played his first Phantoms game, Yuri Terao debuted for the Waterloo Black Hawks, making them the first players born in Japan to slip on USHL jerseys since it became a junior league in 1979.
Japan, a country of 127 million whose sports fans are loyal to baseball and soccer, has been a member of the International Ice Hockey Federation since 1930. It counts roughly 19,000 people as registered hockey players, according to the IIHF. (For context, China has 12,000.)
"I started playing hockey when I was 3 years old," Hirano said. "My father and his twin brother both played professional hockey in Japan. So I guess it kind of runs in the family."
Hirano turned 3 in 1998, in the midst of the NHL's effort to capitalize on the attention generated by the Nagano Olympics by staging seven regular-season games in Japan between 1997 and 2000. The league has not returned since. Japan's men's program is ranked 23rd worldwide, sandwiched between Great Britain and Ukraine (the women's program is much farther along, ranking seventh).
The Wakabayashis both expressed disappointment over the current iteration of Japanese hockey. Cheaper sports such as golf, speed skating, judo, and sumo command the attention of kids and parents, and they lamented a lack of long-term planning and direction at the national level, saying it's inhibited growth in recent years.
"The national federation is mostly volunteer guys," Chris Wakabayashi said. "They don't emphasize enough on generating revenue and sponsorship. They rely a lot on Japanese Olympic committee for money."
Hiroki Wakabayashi took it one step further: "Make it to the Olympics, you get money. When you don't, you've got no money."
__________
With financial assistance from Chris Wakabayashi's Tohoku Free Blades, Hirano flew to the U.S. to showcase his skills for the Phantoms, who didn't have a book on the power forward at the time. Beyond his attendance at Chicago Blackhawks development camp in July 2015, he'd exclusively plied his trade across the pond, including a season in Sweden's SuperElit junior league and three games with the team's Division 1 affiliate.
"It was outstanding to watch this kid - how bad he wanted it and how hard he worked to get it," said ex-Phantoms coach John Wroblewski, adding, "He had gone through a 36-hour travel day and all of a sudden you watch him shoot a puck and you're like, 'Oh my dear Lord.' He shot it just like a guy would in the American Hockey League."
His future linemate Pearson didn't know what to expect when the Phantoms GM told him Hirano was coming to camp.
"I was like, 'Ah, we'll see what happens,'" said Pearson, who's now a Detroit Red Wings prospect and the University of Maine's captain. "But he ended up being one of our best players."
While the USHL wasn't familiar with Hirano, the league and the country were unknowns to him too. The language gap was so wide that, at night, he felt the need to huddle up with a Japanese-English dictionary. Impressively, Wrobleski says he didn't miss a beat during practice, rarely making mistakes on drills requiring complex explanation.
Toward the end of the USHL season, Central Scouting, the NHL's in-house talent evaluation department, ranked Hirano 184th on its 2016 list of draft-eligible skaters playing in North America. In June, he went undrafted in his fourth year of eligibility. He secured a spot at San Jose Sharks development camp, but it didn't lead to future opportunities.
Though NCAA schools were interested, Hirano did not qualify for college hockey because the Free Blades had previously paid him a salary, according to Chris Wakabayashi. So, he returned to Japan and, in 2016-17 and 2017-18, recorded 1.2 points per game in the Asia League before jumping to Sweden's Division 2 to close out last season with eight goals and five assists in 18 games.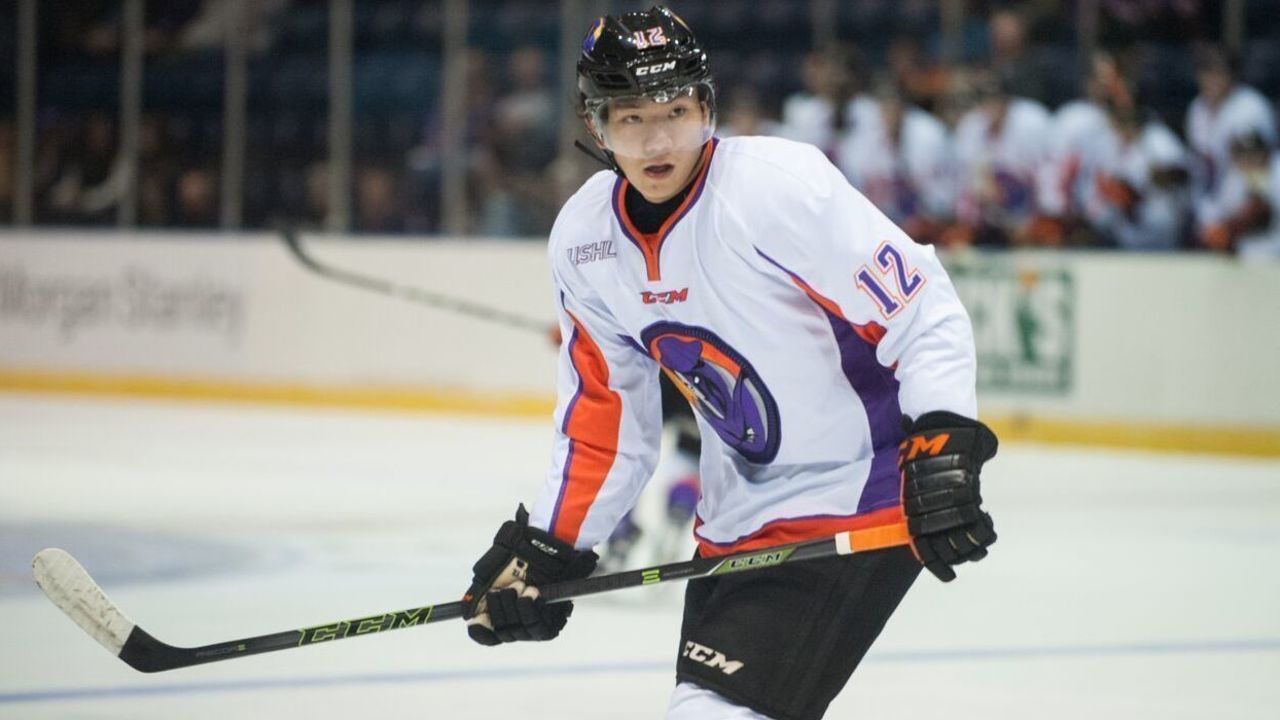 Mark Dennehy, the Penguins' ECHL coach this summer (he never stepped behind the bench, accepting a job with the AHL's Binghamton Devils in August) connected with Hirano's representatives. Dennehy saw potential and extended an invite for camp, which begins with physicals Sunday and holds its first on-ice session Monday. Wilkes-Barre general manager Bill Guerin saw no reason to cancel the PTO after the coach's departure.
"You have to manage expectations. We don't want to put pressure on any player, but it's all up to them," said Guerin, noting Hirano's shot - surprise! - received high marks in scouting reports filed during his USHL stint. "For us, the risk is minimal. We just felt that there was enough there to give him this opportunity."
__________
For all his skills, tools, and potential, Hirano was a flawed player when he last lived in America. Skating was not his strong suit.
"His brain's there, his shot's there, he's got vision. It's whether or not he can play at the pace," said Wroblewski, who's now a coach for the U.S. National Team Development Program. "That's really what defines anybody who is trying to transcend a level."
Guerin agreed, adding, "With a lot of players, it's not necessarily that they can't play with the pace, it's that they're mentally not willing. So, if we get willing skaters - guys who are willing to play with pace - and if they have the ability to score like he does, then they can make something of it."
By all accounts, Hirano has a growth mindset and the level of desire required to crush a new challenge. At 23, though, he's not exactly young. Not every prospect follows a linear path, but it's unlikely for a player in his mid-20s to win a roster spot if he hasn't managed to stick anywhere in North America after two NHL development camps and interest from ECHL teams.
"Since my ultimate goal is to get to the NHL, I have to work on everything," said Hirano. "I need to raise the bar. I need to skate better, be stronger, read the play better, and I have to get NHL hungry. ...
"I would like to make all my family and friends proud of me. But, more than that, I would like to change the image of hockey in Japan. I would like to take hockey in Japan to the next level."
A few current prospects appear to have a chance to change the course - and perception - of Japanese hockey. Aito Iguchi, a highly touted 15-year-old master stickhandler, has garnered plenty of social media fame. Both Iguchi and Ikki Kogawa, 15, have played minor hockey in Canada. Kohei Sato (21) and Yuki Miura (22) are playing Division I college hockey for New Hampshire and Lake Superior, respectively.
But none of those players have an AHL tryout yet, and as the 2018-19 season begins, Hirano is as close as it gets for Japanese hockey. Taro Tsujimoto, if he existed, would be proud.
"Yush loves the game. He cares," Chris Wakabayashi said. "You're not going to get many chances in North America, so I hope he makes the best of it."
John Matisz is theScore's national hockey writer. You can find him on Twitter @matiszjohn.