Make it fashion? NHL players' personal style must walk fine line
The NHL's relationship with individuality, especially as it relates to personal style, can be a contentious one.
It remains the only major professional sports league in North America that requires players to wear suits and ties on game days, even writing that rule into the collective bargaining agreement "unless otherwise specified by the head coach or general manager."
Compare that to the NBA, which requires "business casual" attire on game days but, in practice, allows players to explore the limits of the term. From Dwyane Wade's varsity jacket or shawl-collar cardigan and checked pants to Russell Westbrook's athleisure or leather-jacket-plus-leather-pants combo, NBA players use attire to display their personalities.
Many NHLers are hesitant to draw attention to themselves in such a manner. "Flashy" clothing can be perceived as the player putting himself - the individual - above the collective, which is unacceptable in hockey's humble, team-first culture. No one knows this better than Nashville Predators defenseman P.K. Subban.
A mainstay on lists of the best-dressed athletes within and beyond hockey, Subban isn't afraid to take serious fashion risks. Wide-brimmed hats and waistcoats are a consistent part of his wardrobe, and he's not afraid to wear pastel or patterned suits. His style-savvy approach earned him a spot on the cover of Sports Illustrated's Fashionable 50 issue.
"For me I think it's a huge gesture to be on the cover," Subban said in a recent radio interview with Sportsnet 590 The FAN. "I think that speaks for itself. There's a lot of fashionable athletes out there if you notice now compared to, let's say, 20 years ago.
"There probably were a few athletes - and I think of a few off the top of my head, Joe Namath being one, David Beckham, guys who really showed the style and kind of fashion through their profession and what they do. But nowadays you see more and more athletes, especially on the male side, that are stepping up and having an interest in how they look."
It's a smart move from a business standpoint too - style and authenticity are great ways for athletes to connect with fans.
"What may seem kinda crazy for other people is maybe normal for me," Subban said. "It's all relative to the player - the player, the athlete, the person, it just depends on what you like. I buy what I like and then I wear it."
But Subban's individuality comes with a price. He takes significant heat for breaking the mold and refusing to keep his head down. Much like criticism of the way he plays, criticism of him off the ice can quickly devolve into racially coded complaints.
Subban pays it no mind. Instead, he forges on and continues to show fans exactly who he is - someone with fashion sense elite enough to match his hockey skills.
__________
While the younger generation shows signs of following Subban's lead - Auston Matthews and Mitch Marner's 1920s mobsters look leaps to mind - most players aren't so comfortable stepping outside the box, which maybe isn't shocking considering this kind of reaction.
Montreal-based menswear designer and image coach Daphnee Hanrahan suggests this is due to the sport's conservative culture. In locker rooms across North America, traditional suit colors like black, navy, or grey abound. Groups of players walking off buses and into arenas often congeal into a homogenous mass of dark merino wool, brown shoes, and headphones.
However, there are opportunities to showcase personality without rocking the boat too much. For game day, Hanrahan encourages her clients - a list that includes Roman Josi and Pekka Rinne of the Nashville Predators and James Neal of the Calgary Flames - to branch out in small ways, like by wearing a funky patterned tie or choosing unique suit colors.
"A couple years ago I did burgundy suits and then I came out with some green ones," Hanrahan recently told theScore. "It's a little bit different and it does create quite a bit of impact in a locker room."
In a sport as team-centric as hockey, Hanrahan points out, locker-room concerns are important for players to consider.
"It has to be something that guys are comfortable with because at the end of the day you are in a team setting," Hanrahan said. "If it's too loud, too disruptive to the entire team, I suggest that they shouldn't go for it. It's really about being respectful to your environment and picking something that you can showcase a bit of personality, but not going overboard."
According to Hanrahan, being respectful to the environment means considering context. She feels there is a difference between dressing for a game and dressing for a red-carpet event or All-Star weekend. The latter occasions are when she encourages her clients to step out of their comfort zones.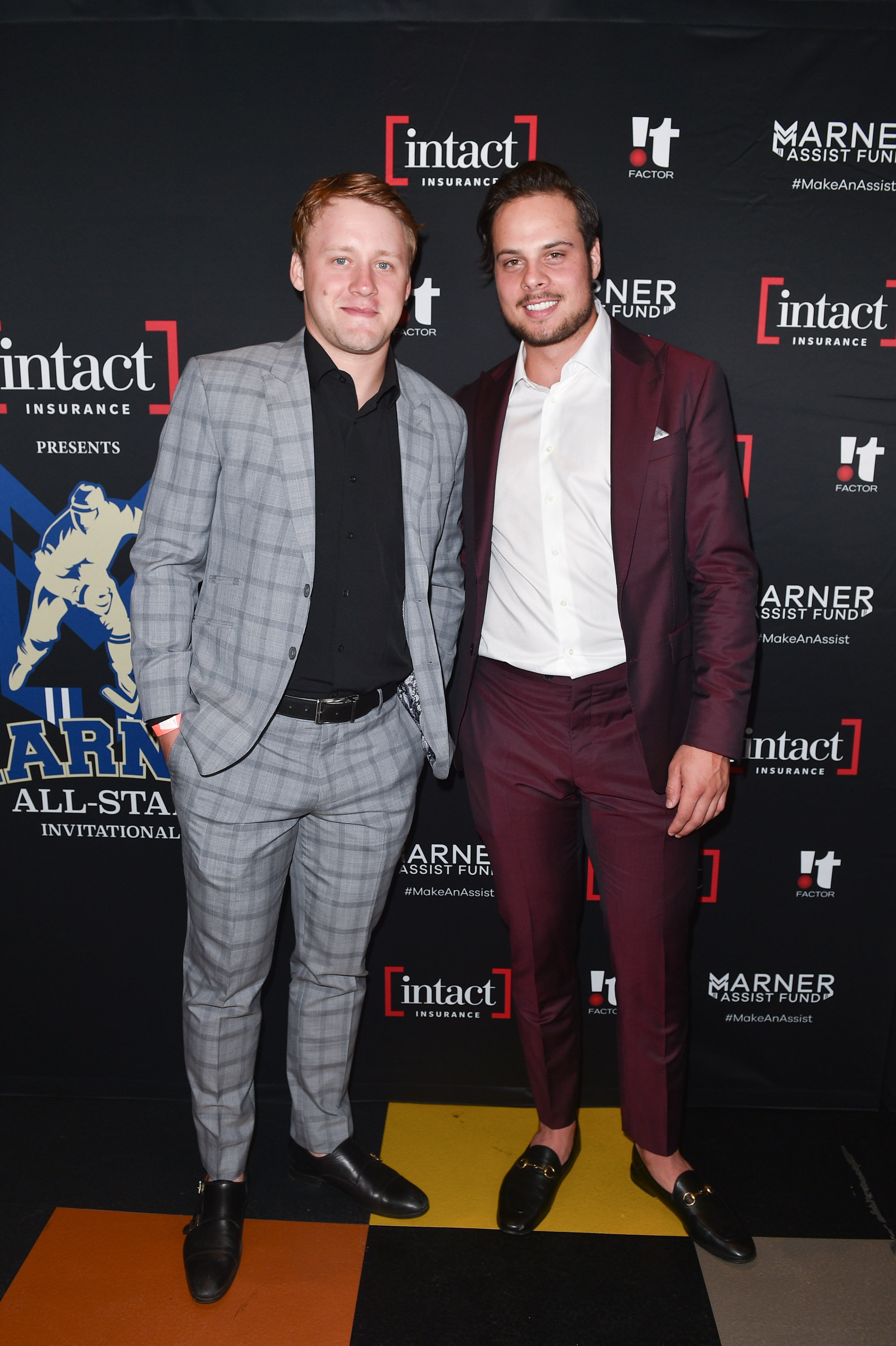 "If you look well put-together, that's worth a lot more than being out there and flamboyant," Hanrahan said. "Then, when the time is right and the place, the occasion is right ... I throw in a stylish item or pick a color that's a bit more bold."
Hanrahan dressed Rinne in a pale blue linen suit and loafers - no socks - for the 2018 NHL Awards. Her influence on Neal can be seen in his bevy of wildly patterned button-downs (sometimes worn under a suit, sometimes worn on their own). Josi regularly wears uniquely colored suits, and in 2016, she even got him into a khaki green short suit.
Perhaps one day fans will see Josi rocking a suit jacket, shorts, and sneakers on the way to the rink. Until then, it's all about colors and patterns.
__________
With NHL training camps about to open, a new class of rookies is in need of style advice. Hanrahan's first and most important tip? Make sure your suit fits.
"I see that all the time - they're walking around with things that are either too baggy, too tight, that look sloppy, or they just look a bit unprofessional," Hanrahan said. "They don't always realize that everybody is seeing them and that we see them on TV, because they're just walking into the rink or in front of a bus or car.
"It's more about taking care of what you own than thinking of what the next most stylish item that (you) should purchase is. The older guys with more experience, you see they put in that extra effort to be put together and they style their hair properly, and that is quite impactful - looking professional and looking like you're seriously going to work. It's very important because that is what they should be projecting."
While Florida Panthers rookie forward Owen Tippett feels that his time in the OHL prepared him to make the leap to the pros off and on the ice, he acknowledges there are some differences at the NHL level.
"Getting a taste of the NHL last year, you see what it takes and little things here and there that you can change to be at that next level full time," Tippett said.
Tippett says he likes to think a little bit outside the box when it comes to his suit choices, which leads to fun looks when paired with his Archie-Andrews-red hair.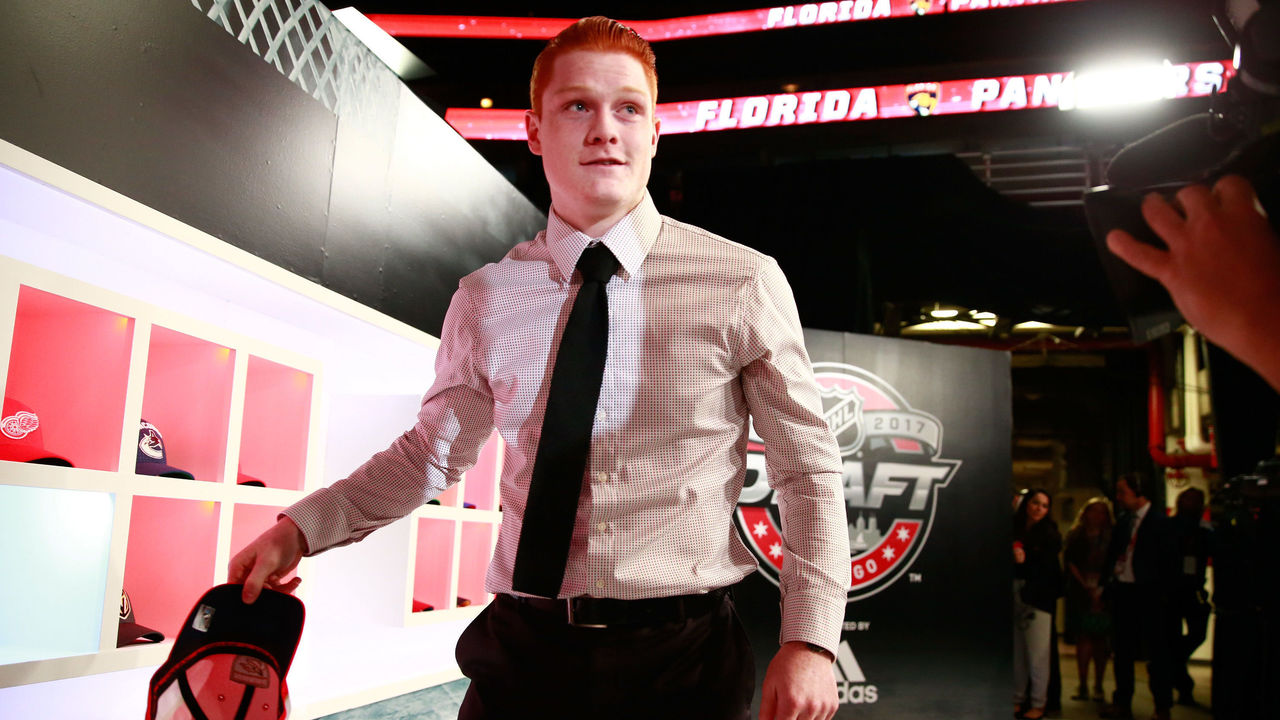 "Obviously you wanna kinda be a standout guy," Tippett said. "It all depends on how you think you'd look ... My most recent (suit) would probably be a pretty flashy blue one I have."
Tippett, however, doesn't feel that the league's game-day dress code should follow the NBA and shift to business casual.
"I think the NHL's known for that professional look," Tippett said. "Around the league, everyone comes sharp-dressed and looking good, so I think it's good the way it is."
Still, there's some room for self-expression within that suit-and-tie dress code. And as the game slowly evolves to suit a faster, more up-tempo style, game-day fashion might just be evolving with it.
Hannah Stuart keeps a close eye on both drafted and draft-eligible prospects and can usually be found trying to learn more about hockey analytics. She has previously written for FanRag Sports, The Hockey Writers, and Hooked On Hockey Magazine, and can also be found at High Heels and High Sticks. Find her on Twitter at @HockeyWthHannah.
(Photos courtesy: Getty Images)
Comments
✕
Make it fashion? NHL players' personal style must walk fine line
  Got something to say? Leave a comment below!